This article was published in the March 2021 issue of Pet Food Processing. Read it and other articles from this issue in our March digital edition.
For a pet, packaging is just the barrier between them and a good meal or snack. For a pet parent, packaging can make a difference in a sale and repeat purchase. And for pet companies, packaging distinguishes their brand in an increasingly crowded playing field.
Given the key role of packaging for the buyer and seller, it's no wonder that today's packaging materials and designs are more carefully thought out and executed. There's a strategy behind processors' packages, underscoring the fact that there's more than meets the eye when it comes to products on the shelf or screen.
"We see more and more requests for packaging differentiation through various features such as new print technology, sustainable materials, new sizing formats, seasonal items and unique displays," said Dennis LaPointe, senior director of packaging at Alphia, a custom pet food and treat manufacturer in Bern, Kan. "Every company is asking, 'How can I stand out on-shelf?'"
"Competition in the pet food space is fierce," agreed Julian Stauffer, chief operating officer, Packaging Technologies and Inspection (PTI), Hawthorne, N.Y. "When one company is showing success with an initiative, the other top companies are scrambling to execute on that initiative themselves in their own way. The double chamber cup for pet food is a great example of this."
Alignment with company mission and goals
A basic tenet of package design is to reflect a brand's identity, one that is in sync with both the product and the company behind it. It applies to everything from the choice of material to colors, fonts and photos, to varieties in sizes and shapes.
"One of the key trends that is impacting packaging design is the desire for consumers to know more about the brand story," said Bill Kuecker, Mondi Consumer Packaging.
"One of the key trends that is impacting packaging design is the desire for consumers to know more about the brand story," explained William "Bill" Kuecker, vice president of marketing, Mondi Consumer Packaging, Jackson, Mo. "Creative brands are using packaging as a tool to deliver on this consumer need by utilizing sustainable materials combined with packaging styles that deliver more billboard space, creative print and design features to reinforce the brand story and uniqueness."
There are many ways to share that story. In a competitive marketplace, the package form puts brand identity up front with the pet food or pet treat consumer.
"From a format perspective, the quad-seal bag format of flexible packaging is growing because it provides an improved billboard for better branding and is a more stable package on the store or home shelves," said Sal Pellingra, vice president, global application and innovation, ProAmpac, Cincinnati, Ohio. "As for large format bags, a trend to move the bottom seam to the back is an opportunity for graphics to be visible to consumers when the bags are lying flat on the shelf."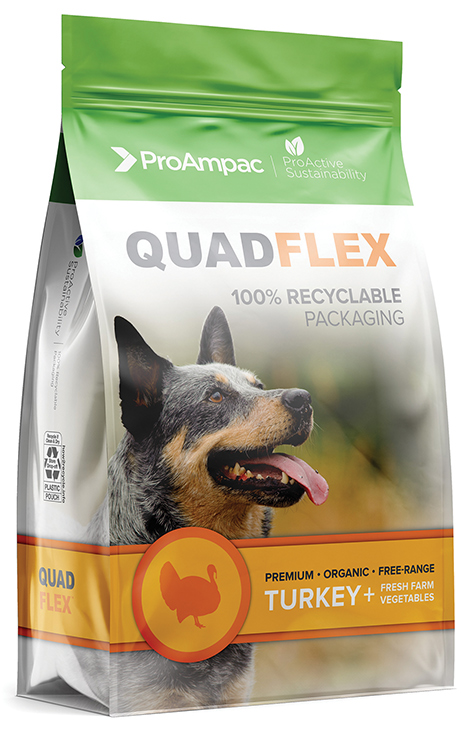 A brand that has staked itself in the premium market likewise must use packaging to showcase its higher-end premium attributes.
"As consumers are becoming informed in the science behind pet nutrition, brands are increasingly offering fresher, higher-quality ingredients," Pellingra said. "This has led to an increase in premium and specialty pet food options. To that end, there has been a rise in high-protein content, refrigerated and frozen pet food options, 'gravy toppers' for dry kibble, and even meal kits. These specialized options have very different packaging requirements. For example, shelf-life, moisture, grease, flavor, and density are all critical factors in engineering the packaging material structure. Food options that are refrigerated or frozen require packaging that can withstand cold chain distribution, which is different than dry food distribution."
Kuecker agreed that brands honing in on premium characteristics are prioritizing packaging as a way to signal uniqueness. 
"Premium pet food and pet treat market sectors are intensely competitive," he said. "Brands are scrutinizing every detail of their offering to find an edge in this environment."
To meet market challenges, Kuecker noted, Mondi created a comprehensive customer-centric approach called EcoSolutions that provides a framework to evaluate the potential impact of packaging sustainability and design options on pet food packaging.
"This approach allows a detailed level of packaging evaluation that has been considered a valuable tool by brands looking for a competitive and sustainable edge," he explained.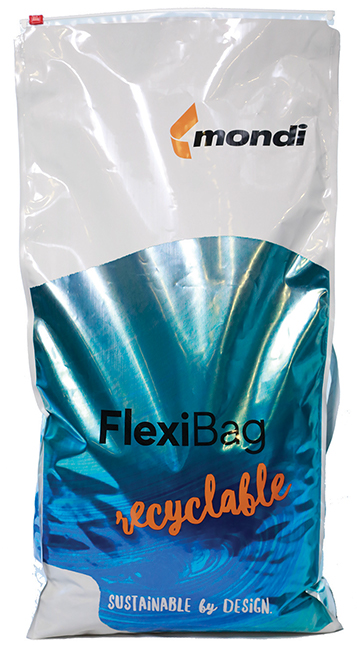 As an important element of manufacturers' sustainability missions and purpose-driven initiatives, Pellingra reported that sustainable solutions are broadening.
"Sustainable packaging includes recyclable mono-material packaging, packaging with post-consumer resin (PCR) or renewable resin, and even compostable packaging options," he said. "Rigid replacement is also trending to reduce overall packaging and virgin resin required, along with the associated energy and emissions that come with using more packaging materials, practices and products."
Among other solutions, ProAmpac offers a suite of mono-material products that can be recycled in North America through the How2Recycle Program or designed as "recycle-ready."
Reaching the target market
In addition to creating packaging that appropriately reflects a product and brand, packaging strategies involve ways to make a package stand out in front of the right audience.
With the global pandemic changing the way people shop — not to mention spurring more pet rescues and adoptions — screen appeal is more important than ever. Market research firm Acosta reported that online sales of pet supplies increased by 9% in the past year and that more than half (54%) of shoppers said they will continue to buy pet food both online and in-store when activities return to normal.
Pellingra emphasized the need for a packaging strategy that takes online buyers into account.
"All packaging formats must now consider the demands of e-commerce," said Sal Pellingra, ProAmpac.
"All packaging formats must now consider the demands of e-commerce," he said. "Bag strength, in addition to functionality, is a much bigger part of the packaging design conversation than in years past. By offering convenience, cost, and efficiency, e-commerce is emerging as a key driver of growth in the category. Consumers are not limited to their local store and can seek out specific products with numerous online retailers."
A customer-centric packaging strategy also involves getting people to try the product.
"We're beginning to see a large number of requests for 4-ounce sample bags," LaPointe noted. "You'll start seeing these more often on-shelf next to the full-size product. Brands can sell these sample bags for a minimal cost to the consumer, but they include a coupon on the bag for the full-size product. Consumers appreciate this when they're looking for something new for their pet."
In addition, the notion of premiumization extends to reaching customers with the interest and means to pay more for their pet's food and treats, whether shopping online or at a brick-and-mortar store. Packages that convey premiumization will get noticed by those seeking it.
"We've seen tremendous shelf space changeover during the last year," said Maxwell Davis, business unit manager, Americas, PTI. "The increase in market share for wet, fresh and specialty foods has been a real driver in aisle expansion in most big box stores."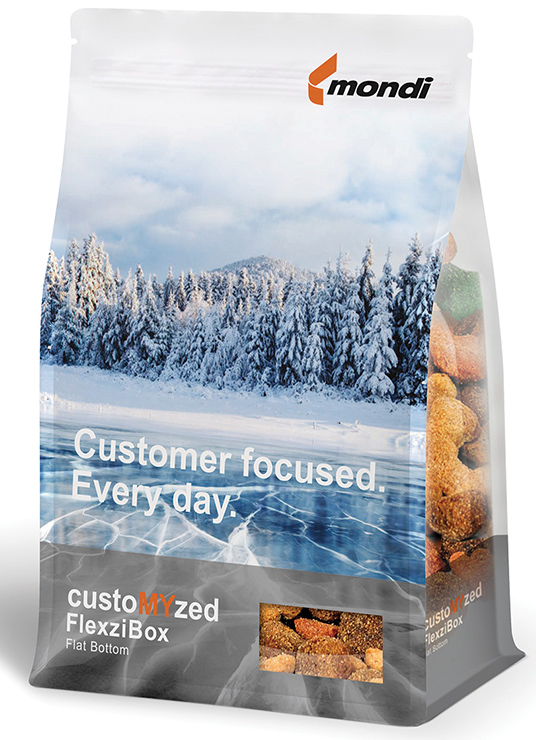 Making products stand out
One of the fundamental strategies of package design is the use of graphics to make the product "pop" at the point of sale. How that is done, again, depends on the brand identity and the target market, but the importance of visuals is as important as ever.
"Graphics play a large role in differentiation and we are seeing an uptick in paper-touch and soft-touch treatments to provide a unique look and sensory improvement for the consumer," Pallingra said. "For example, a more natural look or print finish for the package would support a wellness-focused brand, while a more premium product might seek a soft-touch matte esthetic."
As packaging technologies improve, another way to spur a sale or a second look at the point of sale is through engaging features. 
"Interactive packaging is also growing to help consumers ensure they are buying the right product by logging into a smart app," Pallingra added. "Smart apps provide options for loyalty programs, information, and discounts on other product offerings within a brand family."
If color and graphics turn a consumers' head, information on the package can seal the deal, making storytelling a facet of effective packaging strategy to connect brands with pet parents.
Packaging production is a factor
Those who design packages must also think of their own operations. These days, the need to maximize labor and reduce costs are part of packaging decisions.
"COVID-19 has forced many manufacturers, including pet food companies, to address labor challenges in new ways," said Mark Navin, vice president of sales, Spee-Dee Packaging Machinery, Sturtevant, Wis. "The workforce is flexing more than ever, which means that automation and line efficiencies are becoming even more important. We continue to be asked to do more with less."
In response, Navin said Spee-Dee has been replacing more complex systems with flexible machines that allow customers to increase throughput.
"These simpler, more intuitive, machines can be operated and maintained by a broader range of the workforce which can also improve line efficiency," he said.
Likewise, Craig Souser, president and chief executive officer, JLS Automation, York, Pa., said labor issues are necessitating packaging innovations.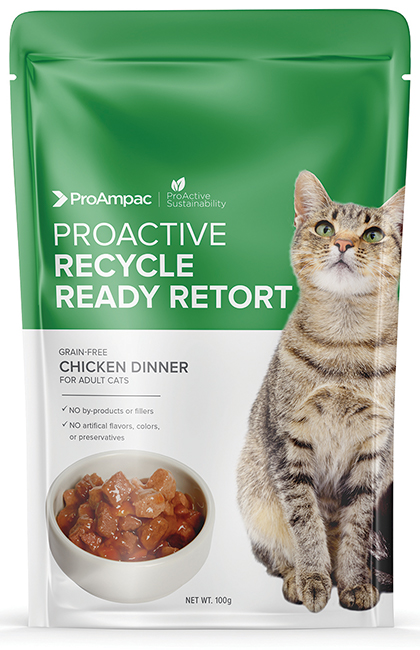 "Labor challenges have reached a crisis level with many of our customers," he shared. "They cannot adequately staff existing lines and cannot look to grow their businesses as new lines are not feasible given the lack of production staff. We see this to be especially true on new line considerations where automation is being added to reduce the labor requirement as much as possible. In addition, we are seeing a trend for more flexible solutions so that more products — SKUs — can be run on any given line, which pushes the automation to be more flexible and minimize or ideally eliminate changeover time."
Davis agreed that line efficiencies play into the way packages are designed and produced. 
"Especially at the highest operating speeds, the downstream knock-on effects in packaging, seal quality, or other defects function as exponentials," he said. "The faster your equipment operates, the more important packaging quality, product consistency and fill accuracy becomes. We're seeing increased importance of dynamic cost analysis that accounts for more than just the typical labor and raw materials inputs."
Finally, it's a team effort to successfully create and deploy a packaging strategy in the pet food market.
"To be effective, it takes planning from sales, marketing, engineering and operations to successfully launch these new projects," LaPointe concluded. "You would be surprised at the amount of work that goes into the package you just pulled off the shelf for your furry friend."
Read more about packaging solutions and trends for pet food and treats.