FRANKLIN, TENN. — At this point, it's no secret – wet pet food demand is growing in the United States, and Mars Petcare is growing to meet that demand. The company announced Jan. 15 plans to invest $145 million for the expansion of its existing wet pet food manufacturing facility in Fort Smith, Ark.
"At Mars Petcare, everything we do is in service of our purpose: A BETTER WORLD FOR PETS," said Ikdeep Singh, regional president of Mars Petcare North America. "The investment in our Fort Smith manufacturing facility enables us to continue to serve the ever-growing needs of pets and pet parents and represents our commitment to our associates and this community." 
Chicago-based market research firm IRI reports wet dog food and wet cat food sales grew 7.7% and 7.2% respectively over the 52-week period ending Aug. 9, 2020, compared to the previous 52 weeks.
To date, Mars Petcare has invested more than $420 million in the Fort Smith facility since it was first opened in 2009. This latest expansion, scheduled for completion in 2022, will add more than 200,000 square feet, two production lines and room to grow. It is projected to create 120 full-time jobs in the area.
"When a company expands operations time and time again because of its positive experience with a community, it's extraordinary," said Tim Allen, president and chief executive officer of the Fort Smith Regional Chamber of Commerce. "Mars Petcare's decision to expand its operation in Fort Smith again is wonderful news. In operation since 2009, Mars has shown its commitment to the region and strengthened their place as a true growth partner and world-class company."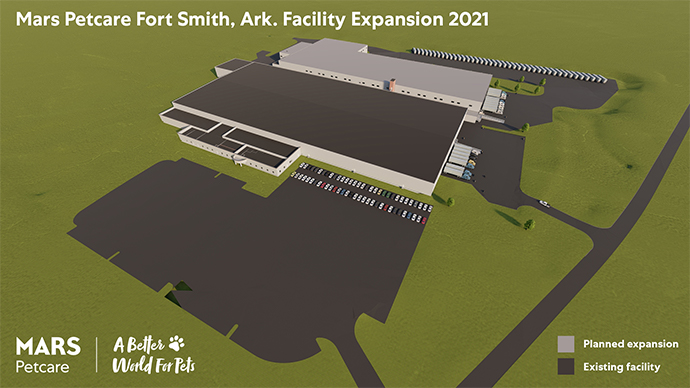 The Fort Smith facility expansion will increase production capacity at the plant by more than 40% and provides additional space for anticipated future growth. The facility accommodates the production of tray format pet foods.
"Mars Petcare is a growing company with strong customer loyalty," said Arkansas Commerce Secretary Mike Preston. "They had several options for this latest expansion, but they knew that Fort Smith has what it takes to help the company continue to prosper. I'm excited to continue our relationship and wish them great success here."
Mars Petcare produces several of its hallmark wet pet food brands in Fort Smith, including SHEBA, CESAR, IAMS and NUTRO. The facility is one of 14 manufacturing facilities operated by Mars Petcare in the United States.
The company also noted it will be announcing new wet pet food products in early 2021, including a SHEBA Bistro cat food, a new line of chef-inspired wet pet food dinners, and new CESAR products for dogs.
Read more about pet food processing on our Operations page.