This article was published in the December 2019 issue of Pet Food Processing. Read it and other articles from this issue in our December digital edition.
Many processing applications in the pet food and treat industry can be particularly harsh with high rates of very abrasive products, so equipment must be designed with tougher standards in mind from the ground up. In addition to being durable, equipment must be accurate, easy to clean and efficient to operate, and support food safety.
Dave Carney, area sales manager at Bühler Aeroglide, Cary, NC, notes the increased sanitation requirements of today's equipment have driven changes in how they are designed. "This requires more modularity and ease-of-access to enable customers to adhere to these demands," he said.
Jessica Stank, marketing manager for Lake Odessa, Mich.-based Automated Process Equipment Corporation (APEC), said the biggest trends she is seeing in material handling equipment are related to improvements in the level of efficiency they can provide.
"[End users] are looking at ways to automate their process and are looking for equipment that is highly accurate and requires little human intervention to achieve the desired result," she said. "Thus, equipment manufacturers are making design improvements to help meet this demand for increased efficiency in processing facilities."
Improvements include specialty components such as capacitive load cell technology on weighing equipment, special bin designs and bulk bag unloaders with massagers or added vibration to assist with product flow. The biggest challenges stem from the types of ingredients used in pet food processing. Stank said certain common dry ingredients are prone to flow issues due to density or other characteristics, and liquids that contain fats and suspended solids can be challenging as well.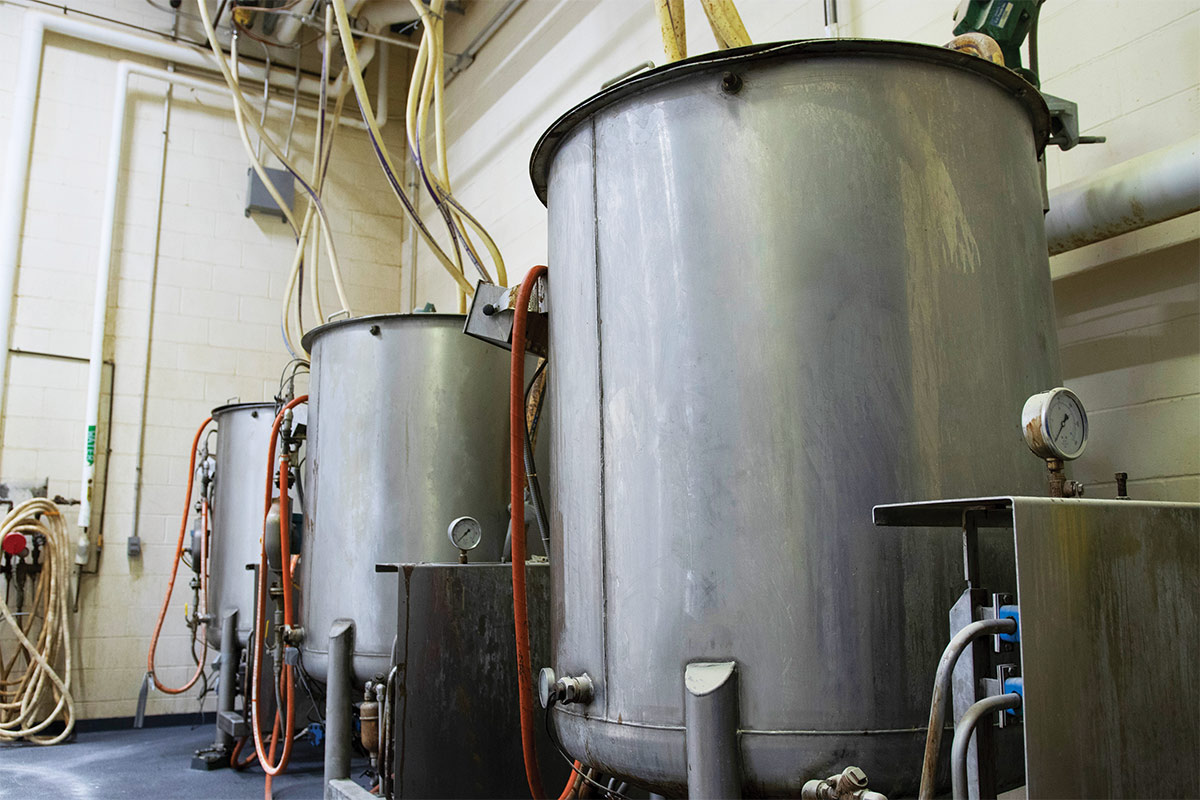 "Things like stainless steel contact surfaces, equipment that is fully enclosed with locking lids and automation programs that include track and trace technology have addressed concerns regarding safety and sanitation," she said.
Due to Food Safety Modernization Act (FSMA) requirements, pet food processing facilities have moved to food-grade equipment and components that have increased the level of sanitation in plants tremendously. Keeping ingredients contained inside fully enclosed equipment prevents fugitive particles from making their way into the air and onto the floor, which also improves worker safety.
Steve Sawyer, factory sales, Dynatrol Division of Automation Products, Inc., Houston, said equipment needs to stand up to the harsh environments found in pet food and treat applications.
"Our customers handle large and small amounts of bulk ingredients and are requesting equipment to operate successfully on products having wider ranges of bulk densities and consistencies," he said.
Sawyer's company manufactures the Dynatrol DJT Level Detectors, which are sensors that provide information on product levels within hoppers, offering high-, intermediate- or low-level detection in temperatures exceeding 300 F.
"We have added a line of specialty coatings for detectors to protect components from steam cleaning and aid in decreasing build-up while not affecting sensitivity," Sawyer said. This maintains the product's accuracy, decreases down time and increases productivity and product life.
Joseph Cross, engineering and process manager, Zeppelin Systems USA, Inc., Odessa, Fla., said producers are demanding increased automation that reduces human interaction to provide labor savings and improves employee engagement by eliminating repetitive tasks.
 "This has led Zeppelin to develop our Kokeisl dosing system, a way to dose ingredients in large and small amounts both very quickly and extremely accurately," Cross said.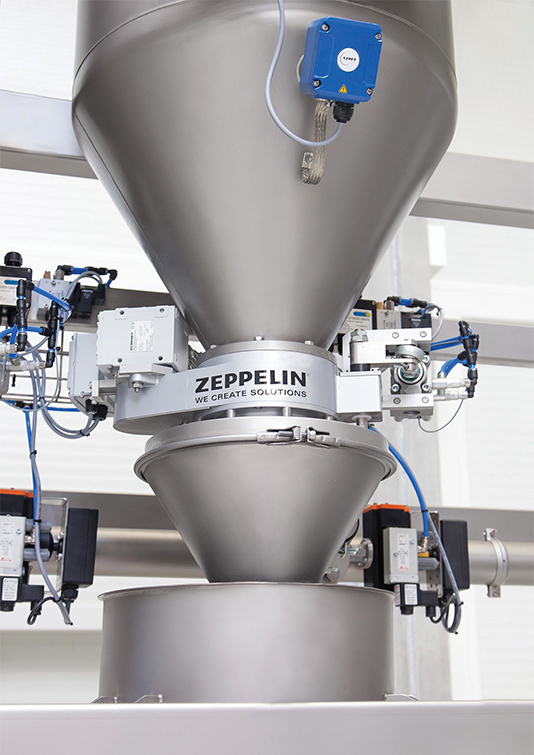 The Kokeisl system offers a unique discharge aid in combination with a large port and a fast-acting discharge valve that can be opened and closed from a 0 to 100% aperture in milliseconds, allowing a large flow of ingredients during the initial delivery followed by a very small trickle-feed to complete the batch with extreme accuracy and repeatability.
"By automating an increasing number of ingredients, many processes may be completed simultaneously, reducing the overall batching time and increasing the throughput of the line," Cross said. "Furthermore, increased automation allows for more accurate lot tracking of all major and minor ingredients, allowing for better inventory control and decreased reaction time in the rare case of recalls."
Batching systems
Don Goshert, vice president and general manager, Sterling Systems & Controls, Inc., Sterling, Ill., noted the latest trends he is seeing are automatic and semi-automatic minor ingredient weighing/batching systems that dispense raw ingredients while tracking lot information and validating batched ingredient weights.
"Lot tracking with total ingredient material traceability is a requirement in many industries, particularly in the pet food, feed and agriculture, and food industries," he said.
Data collection and management of ingredients and batches from the feed processing batching control system has improved processors' ability to meet product safety requirements. For example, Sterling Systems engineers and produces customized batching control systems that can include as little or as much ingredient lot tracking and traceability as the customer wants to implement. It just depends on the customer's ability to fund and implement the tracking system, as several inventory strategies are available.
Utilizing batching controls and automatic dispensing/dosing systems to handle minor ingredients can reduce or eliminate the need for reliance on personnel to manually track or document ingredient lots and weights. 
Automation streamlining improvements
Processors are under pressure to maximize both throughput and accuracy.
"Increasing demand, custom ingredients and pet food quality enhancements have all driven the demand for increasing efficiency in the process controls and automation process systems that produce pet food, such as the minor ingredient batching systems," Goshert said.
The addition of both automation and highly accurate weighing technology can contribute to a major increase in accuracy in a pet food processing facility.
"By replacing a worker with a scoop and a scale with a computer and scale, it virtually eliminates the cost of human error," said Jessica Stank, Automated Process Equipment Corporation (APEC).
"By replacing a worker with a scoop and a scale with a computer and scale, it virtually eliminates the cost of human error," Stank said. "The addition of highly accurate load cells into the ingredient handling portion of the process ensures that costly ingredients are not wasted, and that the recipe is followed to the exact specifications time after time."
A mistake many pet food and feed processing plants make is attempting to justify the automation of all ingredients. Goshert said most successful operations justify ingredient batching automation by applying the 80/20 rule, as the quantity of ingredients is important, but the frequency of an ingredient's use also needs to be considered.
"If you use small doses of an ingredient in almost every formula, that ingredient may be a good candidate for automation too," he said.
When automatic systems are combined with semi-automatic ingredient processing — adding some ingredients by hand when instructed by the control system — justification can be achieved, Goshert added.
Cross said equipment providers have been pushed by end users "like never before" to provide systems that guarantee employee and food safety.
"Increasing levels of automation translates to reduced human interaction with individual ingredients and potentially hazardous equipment, reducing overall workplace injuries and improving batch accuracy and traceability," he said. "Also, as allergen concerns grow across the industry, fast and efficient CIP (clean-in-place) systems and the ability to fully sanitize and certify cleanliness has become more important to guarantee consumer satisfaction as well as product quality."
Heading to the future
The need to design and maintain ingredient handling equipment for efficient sanitization is one challenge. Another is the evolution of the ingredients being used and how to convey them. These are both areas in which companies believe more innovation is needed.
"I could foresee being able to monitor surfaces for microbials and alert operators that a cleaning is recommended as a market request," Carney said.
Managing all possible data sources from one primary platform is becoming a priority in the pet food and treat industry. Goshert said integrating preventative maintenance planning software with ingredient batching and process controls is an important improvement.
"The demand for keeping the increasingly sophisticated and automated process systems and equipment running at optimal performance has never been greater," said Don Goshert, Sterling Systems & Controls, Inc.
"The demand for keeping the increasingly sophisticated and automated process systems and equipment running at optimal performance has never been greater," he said.
Localizing access to the preventative maintenance planning software from the shop floor or the corporate office area is key.
"Data tracking on the production floor integrated with ERP (enterprise resource planning) systems is essential to maximize benefits," Goshert said. "Processors should be sure to work with equipment and control and automation vendors that are on the forefront of data management and can provide complete data tracking with ERP integration."
Read more about pet food processing operations on our Operations page.