As pet food processors grow their businesses, automation becomes a necessity, not just an improvement. As throughput grows, demand for consistency also increases, and the margin for error shrinks. While many aspects of processing kibble or treats may already be automated to handle growing capacity, ingredient handling automation can streamline the process and offer some improvements.
"Typically, automation will be driven by a need for greater hourly production, increased accuracy of ingredient additions to the process, greater consistency or labor, and material savings," says Jason Stricker, technical sales director, Shick Esteve, Kansas City, Missouri.
At this point in a company's growth, the cost of lost ingredients and inconsistent products due to human error has become too great. "One of the most common reasons we hear from pet food manufacturers wishing to automate is a desire to reduce waste of very expensive minor ingredients attributed to human error, even at relatively low usage rates," says Joe Cross, process manager, Zeppelin Systems USA, Odessa, Florida.
Beyond waste and inconsistent products, Cross says another indication could be high traffic in the warehouse that leads to near-misses between personnel and heavy machinery. "Many people use a rule of thumb of about 1 ton per week as the break-even point of justifying the automation of a specific minor ingredient," he says.
Regardless of the why, pet food processors will find several benefits to automating the storing, scaling and handling of their major and minor ingredients.
"One of the most common reasons we hear from pet food manufacturers wishing to automate is a desire to reduce waste of very expensive minor ingredients attributed to human error, even at relatively low usage rates," says Joe Cross, process manager, Zeppelin Systems USA, Odessa, Florida.
"Automation brings with it a sense of security in knowing that the weighing and dispensing of materials are consistent and accurate, which leads to a consistent and uniform product," says Jessica Stank, marketing manager and sales assistant, APEC USA, Odessa, Michigan. "It also helps with proper tracking and record-keeping, which are paramount in today's pet food processing industry to keep up with FSMA regulations."
Beginning to automate
When looking at automating ingredient handling systems, it's important that pet food processors know what they need both from an equipment standpoint and a supplier standpoint. According to Stank, processors should look for equipment suppliers with pet food experience and those that can supply equipment to meet Food Safety Modernization Act (FSMA) standards, as well as being able to test the formulation on the equipment before commissioning.
To meet their increased demand, pet food manufacturers need to understand what kind of investment the switch to automation requires and what the return will be. "Having a good understanding of your material losses and your manpower costs are usually the first step in determining payback on automation of ingredient deliveries," Cross says. "If you have high losses on expensive minor ingredients week in and week out, that is a flag to investigate automation to decrease scaling errors or spillage."
Stank emphasizes that pet food processors also need to clarify whether they will be looking to retrofit existing equipment or purchasing new.
It's also important for pet food processors to collaborate with suppliers to make sure all their needs are met. Sometimes the sheer number of ingredients can require a very large space in the facility, Stricker says. "The challenge is helping them design a system with a fairly compact footprint, incorporating all of the necessary barriers within the facility," he says, stressing that a combined effort can help remedy this challenge.
Answering those questions and partnering with suppliers will help address some of the challenges that can come with automation.
Understanding the process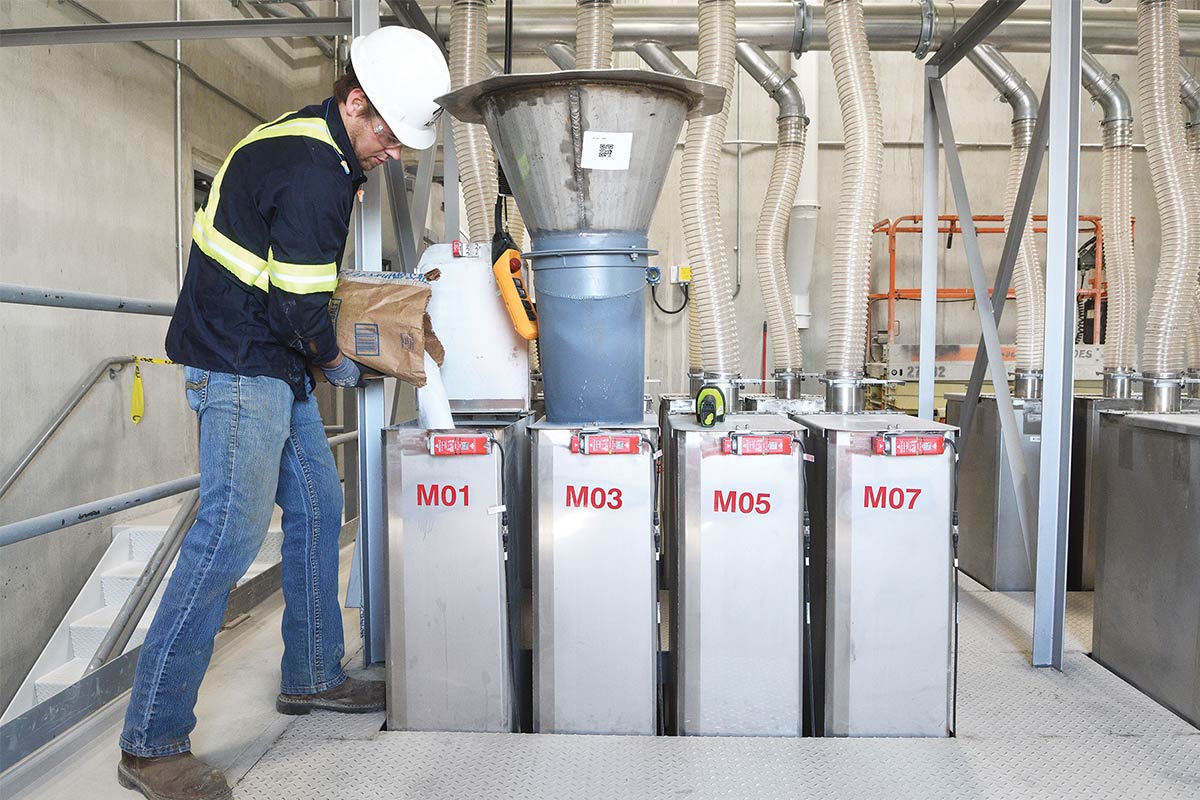 A large part of successfully automating ingredient handling is understanding the specific ingredients being handled. "Understanding the nature of each material and how it will interact with the automation solution is key," Cross says. "For instance, some pet food ingredients can be extremely abrasive. Others are quite sticky, and some are hygroscopic." Ingredients' individual challenges and needs will inform the equipment design and materials.
For dry ingredients, specifically, the variety of densities and textures can pose handling challenges. "These dry solids come with a variety of challenges regarding storage and dispensing such as packing, rat-holing, bridging and flushing," Stank says. "Static electricity can also cause certain solids to cling to the sides of the storage bins, disrupting flow."
On the liquids side, the suspended solids present in fats, flavors and coatings can clog equipment and result in inconsistent ingredient flow.
APEC's equipment is designed to ease the flow of both dry and liquid ingredients. For dry ingredients, APEC uses the angle of repose, smooth welds and surfaces as well as agitation or vibration to assist the flow of these ingredients. For liquid ingredients, spray nozzles used to apply them to the dry solids can be a point of friction, Stank says.
"We have engineered our equipment to apply them to dry solids without the use of spray nozzles, which are prone to clogging," she says. "A series of spinning disks atomizes the liquids into a fine mist, rendering spray nozzles unnecessary."
After addressing challenges associated with specific ingredients, pet food processors need to address streamlining the operation of each line. "When blenders and other process equipment are idle waiting for an operator to scale and add the next ingredient, that is money off the bottom line," Cross says. "A thoughtful automation solution will ensure that the right material is waiting in the right quantity at the right location without downtime." Zeppelin combines system design with its PRISMA software to provide pet food processors that quick payback.
"Producers also need to consider the long-term operational requirements of different automation solutions when they evaluate their ROI," Cross adds. "The best-designed system will not perform well if the required sanitation and maintenance functions are not performed at the specified intervals." 
Safety and sanitation
Sanitation will also be a critical part of food processing and one that keeps evolving to become safer, cleaner and easier to accomplish. While it's in the pet food processor's interest to keep things clean so the final consumer has a positive eating experience, FSMA has gone so far as to introduce incentives in the form of regulations.
"Pet food manufacturers need equipment that meets FSMA regulations, which requires equipment to be food-grade, and they need a safe environment for their workers," Stank says.
To meet those regulations, APEC USA offers a line of food-grade equipment that features stainless-steel contact surfaces and food grade gaskets and components. "When paired with our control system, this line gives the added ability to track and trace each ingredient and batch through the manufacturing process," Stank adds.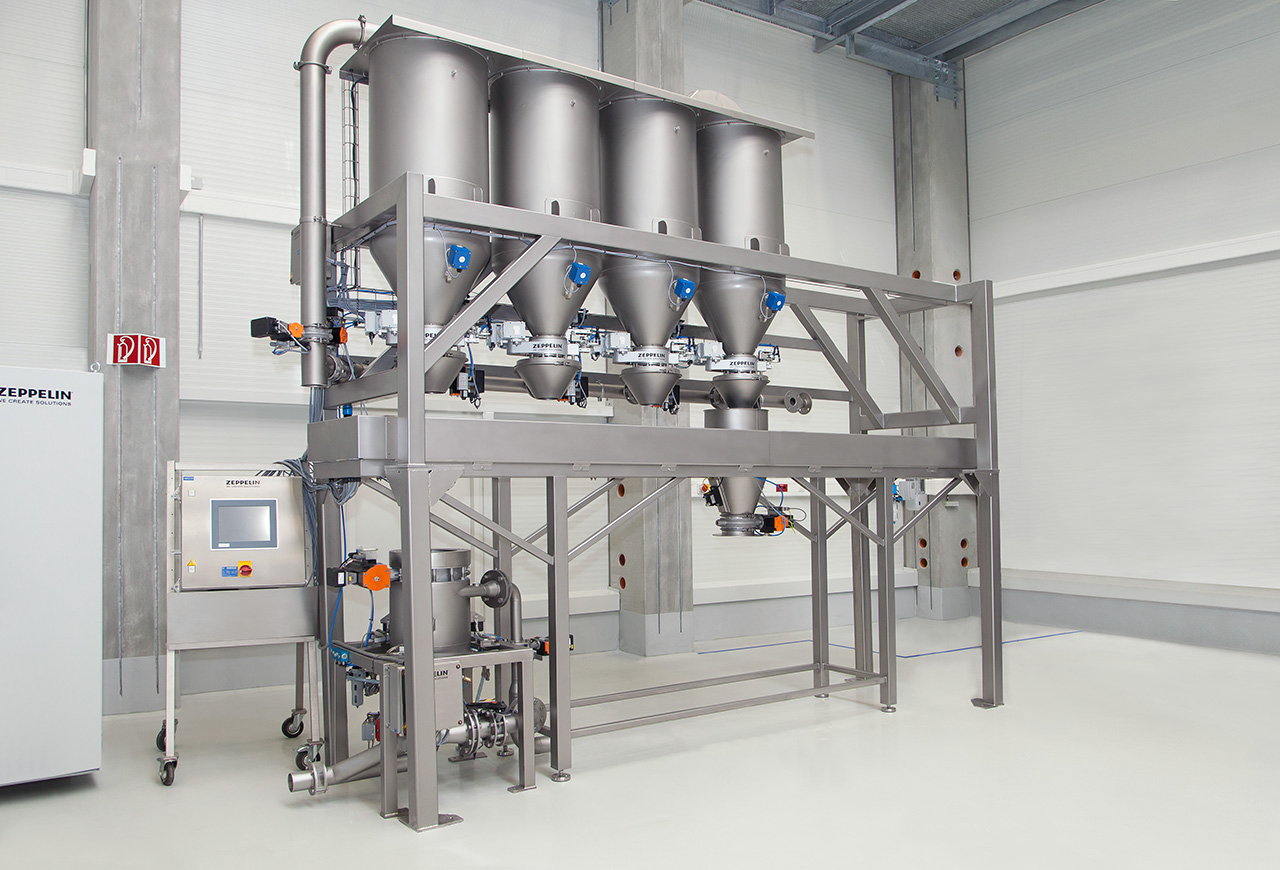 APEC's Automation Pro monitors the entire manufacturing process. Operators confirm the appropriate ingredients are received and used through bar-coded confirmation. Processors can use lot tracking to identify ingredient arrival and usage. Every transaction is time-and-date-stamped to provide processors a detailed report of usage at every stage of production.
Tracking ingredients throughout a batch of pet food helps manufacturers trace each ingredient should the company need to issue a recall. Springdale, Arkansas-based FPEC's software system enables its equipment to "shake hands" with a pet food processor's onsite ingredient storage and handling. These production systems will log which meat ingredients are being run through FPEC's equipment and report back to the plant ERP system with a batch report.  "They can use that information for all kinds of reporting and cross-tracking and any recall information they may need," says Brian Garber, director of systems integration, FPEC. "The system can even identify every batch an ingredient went into."
Shick Esteve also can provide pet food processors traceability through its AIM Production Management software. In addition to providing automated ingredient management, AIM keeps track of each ingredient's lot codes and tracks those ingredients through the batch report. This enables processors to have their eye on lot usage as well as inventory.
"Food safety and sanitation is paramount for pet food processors," Stricker says. "Shick Esteve has extensive experience in hygienic system design. This experience allows us to design and provide systems that meet the highest level of sanitary requirements."
Automating ingredient storage and handling can help a pet food processor get to the next level. "Processors stand to greatly reduce the cost of ingredients when they can switch from bags to bulk storage," Stricker says. "When it comes to minor ingredients, there is typically less in material savings, but the increased accuracy and consistency of final product can be quantified."
With measurable returns, pet food processors can be ready to take this next step in expanding.
Read more about the pet food process on our Operations page.