ORLANDO — Freshpet, Inc. leaders on Jan. 13 presented during the 2020 ICR Conference, an invite-only convention for public and private companies, investors, research analysts and private equity groups "with the goal of understanding consumer trends and public company prospects as the year begins."
Billy Cyr, CEO of the fresh pet food company, shared an overview of the company's success since 2016 and forward-looking strategies to maintain that strong growth.
Rolling into 2020
"Fundamentally, we're in the business of changing the way people feed their pets forever," Cyr began, providing rundown of the company's business model.
The company experienced a 23.7% compound annual growth rate (CAGR) from 2016 to 2019, with its latest quarterly earnings topping $65.3 million, annual earnings reaching more than $244 million, and household penetration, velocity gains, buying rate and awareness on a steady rise as well. 
Between 2016 and 2019, Freshpet grew its brand awareness by 31%, household penetration by 59%, buying rate by 29% and increased the repeat purchase rate by more than 300 basis points.
Part of the company's business model is to scale up through retailers, driving velocity gains at brick-and-mortar locations by selling product through its branded fridges and running a well-oiled cold supply chain. Freshpet increased its average dollars per store per week from $244 in 2016 to $365 in 2019, as well as its store count by nearly 5,000 locations over the same period.
Expansion abroad and at home
Cyr touched on the company's strategy for driving growth in the United Kingdom and Canada after tentatively entering those markets over the past year, saying Freshpet would be "doubling down" on international advertising investments.
"We're only in about 400 stores in the UK and about 1,000 stores in Canada, so we're using the same model that we validated here in the US to expand the business in those markets and particularly using advertising to do that," Cyr explained.
The company relied heavily on ad spending to drive awareness since 2016, committing $100 million over the four-year period. Going forward, Cyr said it would invest approximately 12% of net sales for its US advertising budget to maintain a quarterly growth rate in the 20% range.
"With this rapid growth that we have, that capacity will get us about $540 million in net sales. We're already envisioning the next increment in capacity that will provide us the opportunity to get up to $1 billion in sales and that will require new capacity to come online in 2022," Cyr said.
Freshpet told ICR attendees that it would reveal details about the site and scale of its Midwest facility, expected in 2022. Cyr said the company is on track to purchase land for the facility by the end of the first quarter 2020.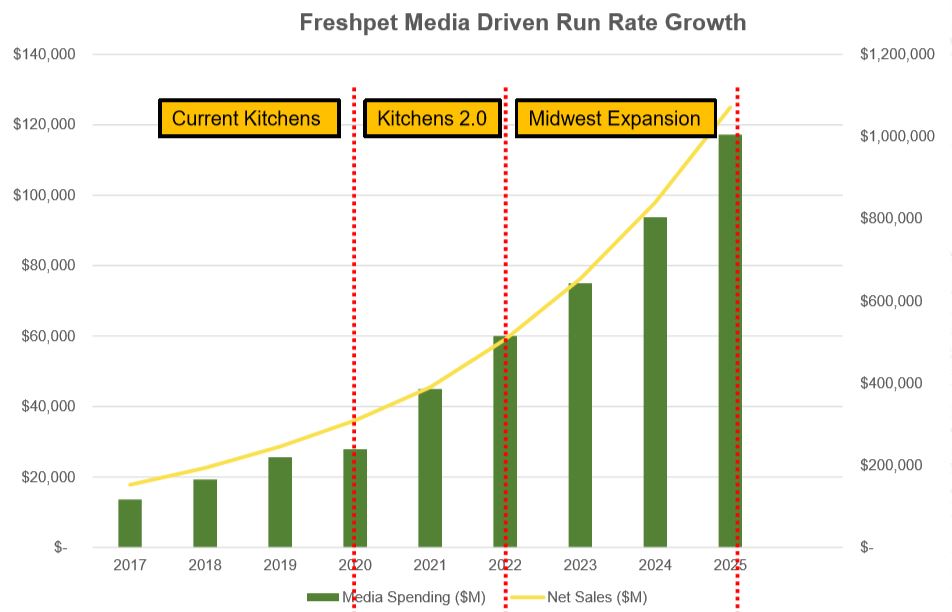 Keeping it fresh
Freshpet will focus on capacity expansion, system capability and incremental product innovation going forward, Cyr added, including an adjustment to account for a mix shift toward its bagged products.
"We are now installing an incremental bag line in Q1, which will start up this month, that will allow us to continue to support the growth of the business in 2020," Cyr said.
The line will run one shift five days a week, and although the company expects "some gross margin pressure," Cyr expressed confidence that the line, as well as other sub-scale specialized bag lines in the future, will support growth in the long-term.
Additionally, the company kicked up its fourth roll production line to a 24/7 run schedule on Jan. 8.
Cyr reiterated Freshpet's 2019 guidance during the presentation. It is expected to present its full-year and fourth quarter 2019 earnings in February or March.
As for 2020, Cyr said he expects continued net sales and EBITDA growth driven by a new guidance plan, to be revealed for 2020 to 2025.
To close, an audience member asked Cyr and other Freshpet leaders how long they think they can sustain this level of growth in the given industry.
Cyr responded, "We think it can go on for an awfully long time based on the fact that we're this big in a market that's this big, and the tailwinds that we have behind us between the humanization of pets and the desire for fresh and natural foods… it would suggest that we're on the beginnings of a very, very long growth curve."
The company will host an Investor Day at the end of February 2020, during which it will present more details on its strategic growth plans for 2020 through 2025.
The annual ICR conference is hosted by ICR, an independent communications and advisory firm.  
Read more about corporate strategy, financial performance, mergers and acquisitions on our Business page.