SECAUCUS, NJ. — Timely adaptations accounting for employee health and safety, distribution and production helped Freshpet, Inc. continue as an essential business amid the COVID-19 crisis and as a growing force in the fresh pet food category in the first three months of 2020.
The company reported a net loss of $3.6 million, up 5.9% from year-ago losses of $3.4 million. Freshpet's net sales totaled $70.1 million, increased 6% from fourth quarter 2019 sales of $65.8 million and up 27.9% from year-ago sales of $54.8 million.
"Amidst the challenges created by the COVID-19 health crisis and our capacity limitations, Freshpet's Feed the Growth plan generated another quarter of strong, consistent growth – delivering more than 25% net sales growth for the eighth time in the last nine quarters and doubling the Adjusted EBITDA from the year ago," said Billy Cyr, chief executive officer of Freshpet.
Capacity constraints, lower trade inventories and disruptions to operations set the company back in the first quarter. Freshpet leaders expect to regain that ground by the third quarter.
"We believe we will incur $4 million of extra costs related to COVID-19 crisis, including enhanced compensation for our employees, increased efforts to protect them, higher cost to protect our supply chain and other related costs," said Dick Kassar, chief financial officer of Freshpet.
These extra costs will be concentrated in the second and third quarters, of which approximately $220,000 was allocated in the first quarter and an estimated $2.3 million will be spent in the second quarter.
Much of the company's current outlook is defined in terms of a sharp surge in demand throughout March directly followed by a trough through mid-April, as shelter-in-place orders impacted shopping behavior and pet parents stocked up on supplies.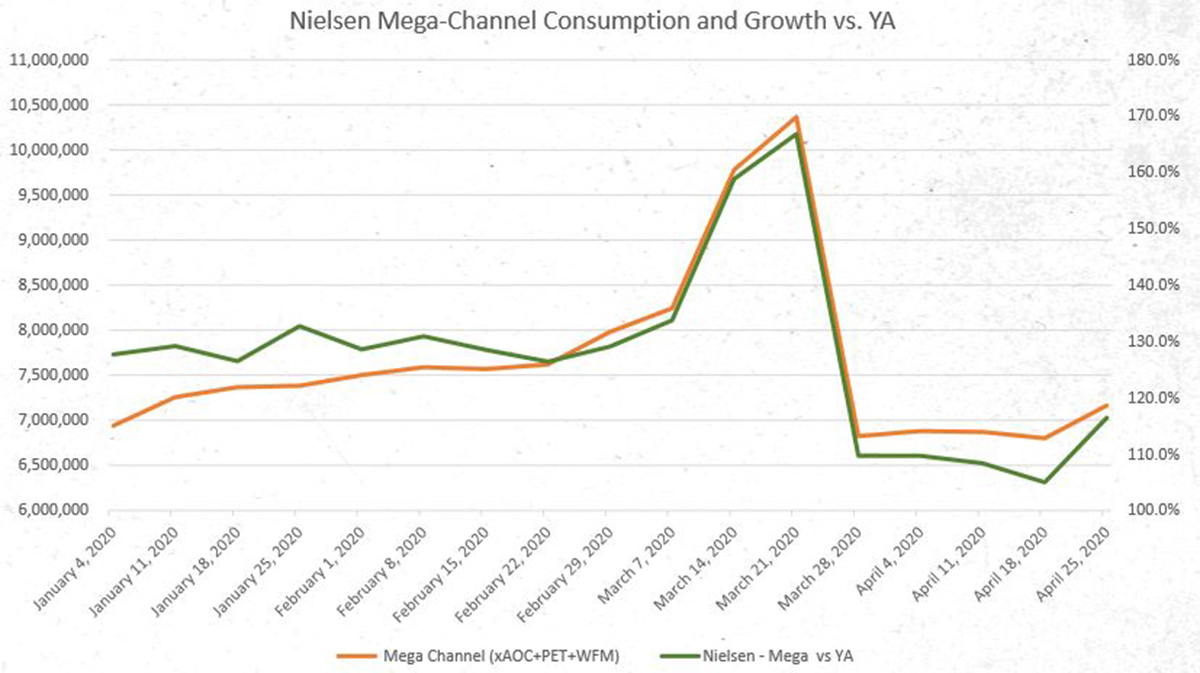 "We expect our April net sales to be up 30% [or more] versus year ago," Cyr said. "…we still have not restored normal trade inventories and we have a sizable backlog of orders to carry into May. At this pace, we expect to replenish trade inventories by the end of Q2 and having more normal shipment consumption balance heading into Q3."
Nielsen consumption data shows Freshpet sales beginning to emerge from that trough in late April, and the company expects supply and demand to increase in the coming months.
"We are seeing a gradual improvement in weekly consumption trends as April progresses and consumers draw-down the pantry inventory they built in early March and our in-stocks improve," Cyr said. "…May will provide a much clearer picture of the underlying consumer behavior and buying trends and should reflect much better in-stock levels for Freshpet."
Part of Freshpet's five-year plan, Feed the Growth, is to increase household penetration by 5 million homes by 2025. The company reported a 28% increase in penetration for all its products from 2019 to the first quarter of 2020. Overall buying rate was down slightly from $135.09 in 2019 to $132.08 in the first quarter of 2020.
Freshpet's plans for upgrading and installing additional in-store fridges were slowed in the first quarter, but the company managed to install 111 new fridges between April 1 and April 24 and continued adding full-size fridges in Walmart locations.
"At this point, we are expecting about 1,000 net new stores this year, down from 1,430 previously projected, and about 500 upgrades, down from 559 previously," Cyr explained. "We are however expecting to exceed our second/third fridge target of 500, likely exceeding 1,000."
The company added products to 297 new stores in the first quarter. This growth was described as "limited" by retail disruptions related to COVID-19.
The pandemic also put a hold on Freshpet's advertising efforts in the United States, Canada and the United Kingdom. The company said it will resume media spending and make additional investments in advertising and e-commerce partnerships through August to offset these disruptions.
E-commerce continued to grow in the first quarter, with more than 80% of online sales going through Freshpet's in-store fridge network in the first quarter, Cyr said.
"Our small but rapidly growing e-commerce business, which includes Curbside programs with our key customers, home delivery via services like Instacart and Shipt, and fresh e-commerce like Amazon Prime Now and Fresh Direct, was up 98% versus year ago and now accounts for 3.3% of our business," Cyr said.
The company's Kitchens 2.0 in Bethlehem, Pa. is now expected to be completed in October instead of September after construction was delayed by two weeks.
While the company reported no significant supply chain issues, Freshpet has added temporary ingredient and packaging suppliers to prepare for potential disruptions.
The company has implemented a number of safety and support measures for its employees, including wellness checks, a suspended absenteeism policy, paid sick leave, cash bonuses and other provisions. Cyr said absenteeism has increased 11% since Freshpet established these new policies.
"We believe that absenteeism is costing us about 5% to 10% of our output, even with the incremental staffing, we brought in," Cyr said. "Based on what we know, that issue will continue into Q3 - or into Q2, and likely in the Q3."
Freshpet maintained its full-year guidance to exceed $310 million in annual net sales, representing an increase of at least 26% from 2019.
"We feel very fortunate to have such a robust business, strong balance sheet, and to have a plan that is working to protect our employees," Cyr said. "There is nothing in the current situation that tells us that our long-term strategy, plans and goals need to be altered. In fact, we remain very confident that despite the short-term chaos we see today, the long-term opportunity for Freshpet remains significant, our strategies remain sound and our team has proven its capability."
Read more about corporate strategy, financial performance, mergers and acquisitions on our Business page.