SECAUCUS, NJ. — Freshpet, Inc. continued its upward climb in the fresh pet food category in the second quarter of 2020, despite disruptions to operations and retail channels during the global COVID-19 pandemic.
"We posted our strongest quarter of net sales growth since 2015 and we were able to drive a significant portion of that stronger top-line into our best bottom line performance ever," said Billy Cyr, chief executive officer of Freshpet.
Freshpet reported a net loss of $3.4 million in the first six months of 2020, compared to year-ago losses of $9.1 million over the same period. The company attributed this improvement to higher sales and gross profit. These improvements were partially offset by selling, general and administrative (SG&A) costs.
A $200,000 net income was reported for Freshpet's second quarter, compared to year-ago losses of $5.7 million. This was also attributed to higher net sales and gross profit.
Net sales for Freshpet increased 33.2% to $80 million in the second quarter compared to year-ago sales. Between January and June 2020, the company's net sales increased 30.7% to $150.1 million compared to year-ago sales. The company attributed this gain to increased velocity, innovation and distribution.
"Despite the incredible chaos in the world, Freshpet is hitting on all cylinders," said Dick Kassar, outgoing chief financial officer for Freshpet. "We are delivering very strong and accelerating growth and successfully taking the benefits of that growth to the bottom line."
Kassar will be succeeded by Heather Pomerantz on Sept. 30. Pomerantz has been serving in an intermediary role as executive vice president of finance since Jan. 13. Kassar will remain vice chairman of Freshpet following his departure from his chief financial officer position.
"The Freshpet Kitchens never stopped operating in the quarter, producing record quantities," Cyr said. "…We will, however, have very tight capacity on our Fresh From the Kitchen items until Kitchens 2.0 begins producing salable product in Q4."
The company has recently added a second shift at its Kitchens South location, which is expected to add $50 million in net sales to the company's total capacity. The company produces small-bag products at its Kitchens South site.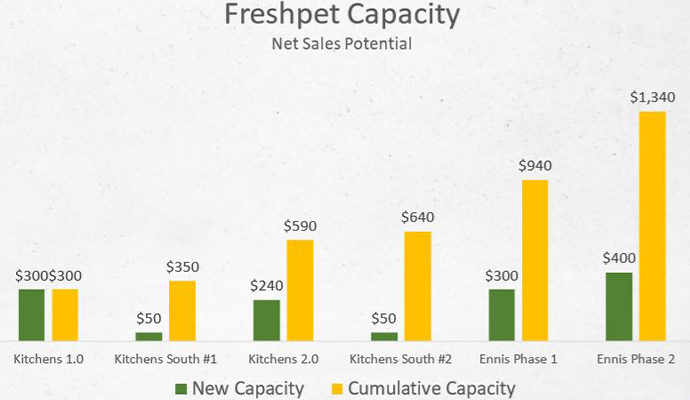 The company's retail consumption in the second quarter increased by double-digits in all channels except big box, which were hurt by shelter-in-place orders in late spring caused by the pandemic.
In June, the company's retail consumption grew by an average of 33%, with all channels, including big box stores, growing at double-digit rates. This was "in part due to the placement of second fridges in more than 744 stores and the foot traffic generated by the resumption of their services business," Cyr said.
He added that the company continued to accelerate retail consumption through July, which is now in the high 30%.
Freshpet's e-commerce sales were up 201% compared to year-ago.
"Curbside pickup and last-mile delivery services like Instacart grew the fastest, resulting in more than 90% of our e-commerce business going through our in-store fridge network," Cyr said.
The company continues to make strides toward its goal of increasing household penetration across the United States.
"Since the beginning of the year, we've added 350,000 households towards our goal of 5 million new households by 2025," Cyr said. "That is on pace with our expectations."
The company's new fridge installations and upgrades slowed in the second quarter, as expected. Freshpet added fridges to 253 new stores over the quarter, bringing its annual total to 550. The company is on track to meet its goal of adding fridges to 1,000 new stores in 2020.
The company added second fridges to 764 stores in the second quarter, bringing its annual total to 779 fridges. Another 186 in-store fridges were upgraded for a grand annual total of 218 upgrades, Cyr said.
"Freshpet has returned to the predictable growth that has been the hallmark of our business for the last several years. We are largely caught up on supply," Cyr said. "The stores are back in stock on the vast majority of our SKUs. Our advertising is on air and driving strong increases in household penetration and consumption.
"Our retail partners have returned to installing new and upgraded fridges," he continued. "And our Nielsen measured results show the impact of this with continually accelerating growth now running well in excess of where we were in the pre-COVID period and ahead of where we would have been if there had not been the COVID crisis."
Between May and December, Freshpet will focus on advertising, launching new e-commerce programs, retail coverage, increasing capacity with the construction of its Kitchens 2.0 in Bethlehem, Pa. and new Ennis, Texas facility, and investing in its supply chain and product safety procedures.
The company's Kitchens 2.0 is expected to be operational by the first quarter of 2021, according to Cyr. Freshpet will also break ground on its Kitchens 3.0 in Ennis next week.
"When the COVID crisis struck in March, our team quickly pivoted to address the changing environment and that enabled us to deliver very robust results – with the second quarter reflecting our strongest sales growth in years and we converted that growth into a sharp improvement in our bottom line," Cyr said. "By focusing our efforts on the safety and wellbeing of our team members, we have been able to rebuild supply, replenish stores and convert more families to Freshpet at a time when our pets mean so much to us."
The company has raised its full-year guidance, ending Dec. 31, 2020, to include a net sales increase to $320 million, up 30% compared to 2019, as well as an adjusted EBITDA of $46 million, up more than 57% from 2019.
Read more about corporate strategy, financial performance, mergers and acquisitions on our Business page.