This article was published in the June 2019 issue of Pet Food Processing. Browse other articles in this issue through our June digital edition.
Pet owners increasingly want to know more about the foods they feed their four-legged family members. Marketers are responding. Many are now communicating details on ingredient sourcing and manufacturing.
Minimally processed, whole food ingredients assist with this communication, as they make labels easier to understand and allow the pet owner to make more informed choices based on their personal preferences and, of course, their pet's nutritional needs.
Many marketers are using social media to invite pet owners into their manufacturing facilities to be fully transparent about a product's origins. There are even fresh pet food delivery services and companies that welcome customers into the physical kitchens and allow customers to watch as their order is prepared.
"Our relationship with our pets has evolved significantly over the decades. Pets have gone from barn cats and dogs sleeping in the backyard, to sharing the bed with us and getting birthday presents," says Mary Emma Young, communications director, Pet Food Institute (PFI), Washington, D.C. "As this happened, human food trends made their way into pet food."
"We see an increasing variety of choice in the market to meet new consumer requests. This can take the form of premiumization, such as fresh, limited ingredient and organic offerings, just as we see on the grocery store shelf when shopping for ourselves," Young says. "At the same time, pet food makers are working to meet the needs at a variety of price points while still providing complete nutrition."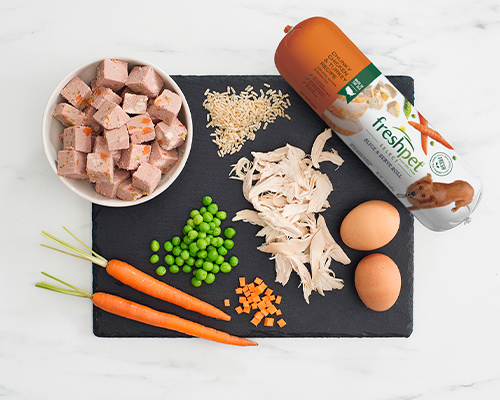 In an effort to better communicate what's inside the package while being truthful and transparent, members of PFI are actively partnering with regulators to modernize the pet food label and make it more relatable to today's shoppers. Beyond efforts such as this, PFI has taken many steps as the voice of pet food makers to help answer questions about pet food, the nutrition behind certain recipes, and answer common questions.
"Due to current regulations, the pet food label is not consumer friendly and, while full of information, can be difficult for shoppers to read and understand," Young says. "We launched a video and website narrative detailing how pet food is made. We demonstrate with interactive infographics the functions of a complete and balanced recipe. We are also working to further tell the story of the role pet food makers play in supporting their local communities and economies."
Fresh, whole food nutrition
Today's foodie consumers recognize that you cannot cook a great meal if you do not start with fresh, premium ingredients. Many pet owners believe this to be true with pet food, too.
Freshpet, Bethlehem, Pennsylvania, communicates its manufacturing habits to pet owners. All Freshpet meals start with 100% natural whole ingredients and are made fresh daily. The company uses only farm-raised poultry and beef and never any meat meals, by-products or preservatives. The ingredients are cooked gently with steam and then chilled for preservation.
"The cooking temperatures we use are much lower and for a shorter time than traditional dry and canned pet foods," says Gerardo Perez-Carmingo, vice president of research and development, Freshpet. "In fact, the cooking temperature profile at Freshpet is similar to the cooking temperatures people use in their home cooking. This process only allows for product to have a fraction of the shelf life of dry and canned pet foods, but we believe it is worth it."
Carey Tischler, chief executive officer, JustFoodForDogs (JFFD), Irvine, California, says, "We all know that better ingredients translate to better nutrition and in turn better health. This is also true for our pets."

A team of in-house veterinarians formulates JFFD's meals using only ingredients approved for human consumption by the US Department of Agriculture. The foods are made in public kitchens located throughout California with plans to open kitchens in Boston, Chicago, New York City, Seattle and more throughout 2019. The company has pantries and store-in-store formats within Petco and Pet Food Express locations across the country.
JFFD offers do-it-yourself kits for those who want to cook the daily meal recipes for their pets at home. The kits contain a shopping list, recipe, cooking instructions and a nutrient blend formulated for that recipe, which is compounded from 100% human-edible ingredients.
Farmhouse Pet Blends, Litchfield Park, Arizona, a company specializing in the pet treat industry, recently launched a new website for pet owners wanting to understand the health benefits provided by the foods they are feeding their pets. The company has developed a process that now allows the consumer to pick and choose each ingredient that goes into their pet treat baking mix, thus giving pets a one-of-a-kind treat that is tailor-made to its individual taste and health needs. Pet owners scroll through the ingredient choices and create their own baking mix, which gets delivered to the home for mixing and baking. It's easy to prepare, with water being the only addition.
When asked why using a customized bake-at-home baking mix is a better option, Teri Fulkerson, owner of the company, says, "For myself, personally, it's a much better alternative because it allows me to choose my own blend of ingredients to fit the individual needs of my pets. Having a senior dog, and also a dog with food allergies, means that every single ingredient I feed them makes a difference in their quality of life."
Halo, Purely for Pets Inc., Tampa, trademarked its transparency philosophy: "Because whole meat makes a whole lot of difference." None of Halo's products include meat meals or fish meals and the company only sources non-GMO fruits and vegetables.
"Consumers today are careful to eat a balanced diet complete with whole foods," says Werner von Pein, president, Halo. "We see that same trend in the pet food those consumers choose. They want to know that the pet food they choose meets their high standards."
Halo's pet foods are made without artificial flavors, colors or preservatives. "We choose to source wild-caught seafood from sustainable fisheries certified by the Marine Stewardship Council (MSC) for our dry diets, and to source meat and poultry from Global Animal Partnership (GAP) certified farms that prioritize raising animals naturally, with room to roam and without the use of antibiotics to promote growth," von Pein says. "We proudly share our certifications with consumers and our consumer messaging clearly speaks to our commitment to providing holistic pet food, treats and supplements that pet parents can trust."
Patrick Mendicki, vice president of sales and business development, PureLUXE Inc., Atlanta, says, "The bottom line is consumers want more from the people they entrust with their pet's health and we should provide it to them. We share proprietary information for each batch of food so the consumer can access this information to share with their vet or to simply understand what is going into the food."
PureLUXE packages include a production code that the pet parent can input on the company's website and in return receive a detailed report about the product. The website also provides a comprehensive list of all ingredients used by the company, including country of origin and function. Even an ingredient as simple as salt is explained.
"We will continue to look for opportunities to test new aspects of our food and share that information with our customers," Mendicki says. "It is imperative for us to give them the peace of mind they deserve when feeding our food to their beloved pet."
Champion Petfoods, Auburn, Kentucky, is taking a unique approach to addressing transparency through the formation of the industry's first Transparency Council, a four-person committee of third-party experts and pet lovers.
Transparency Council members attend on-site immersion experiences at Champion's kitchens, seeing from start to finish how products are made, learning from Champion managers about safety standards and procedures, and visiting regional ingredient suppliers. The team is encouraged to provide candid, periodic reports to the public on what they've learned.
"We are witnessing increased consumer interest in pet food quality standards, ingredient sourcing, nutritional attributes and product safety," says Julie Washington, Champion Petfoods.
"We are witnessing increased consumer interest in pet food quality standards, ingredient sourcing, nutritional attributes and product safety," says Julie Washington, chief marketing officer, Champion Petfoods. "People no longer accept at face value the assertions and claims made by pet food producers about the integrity of the products they provide. Pet lovers place a greater premium on transparency and want to know more about how foods are made and from where ingredients are sourced — and our Transparency Council provides an avenue to do just that."
Special considerations
Ingredient transparency is paramount for pets with food allergies or intolerances, as well as health problems. While only extensive and expensive testing can accurately identify specific dietary problems, veterinarians will recommend foods to omit based on symptoms. This often requires pet owners to seek out simply made, whole food nutrition to assure there are no hidden additives that may be an issue.
For pets with health issues, JFFD developed a line of veterinary support diets designed to meet key nutritional factors that support dogs with cancer, diabetes, kidney or liver disease, obesity, dermatoses, food or environmental allergies and more. Additionally, the veterinary team creates custom diets for dogs and cats with multiple health issues or complex needs.
Wellness Natural Pet Food, Tewksbury, Massachusetts, now offers clean, limited-ingredient foods for sensitive dogs. The Wellness Core Six line is made with only six ingredients, which most dogs find agreeable. All the recipes contain peas, chickpeas, flaxseed, canola oil, tomato pomace and one animal protein. Options are free-range lamb, cage-free duck, sustainably sourced salmon and sustainably sourced salmon for small breeds. These main ingredients are supplemented with essential vitamins, minerals and probiotics to ensure each recipe is complete and balanced. All recipes are crafted with no grains, chicken, potatoes, tapioca, dairy or wheat, and are free of artificial flavors, colors or preservatives.
While some mainstay pet food ingredients are hypoallergenic, formulators are getting more discerning with selections based on purported contributions to health and wellness. Better-for-pet often takes precedence over cost.
This is also trending in oil selection, a key ingredient in pet food because sufficient dietary fat is crucial for healthy skin and coat, as well as various biological functions. More and more, formulators are choosing oils higher in omega-3 fatty acids, as well as organic and non-GMO options. Some higher-end oils are prone to oxidation, so formulators claiming no preservatives often include natural antioxidants in the pet food, such as rosemary extract.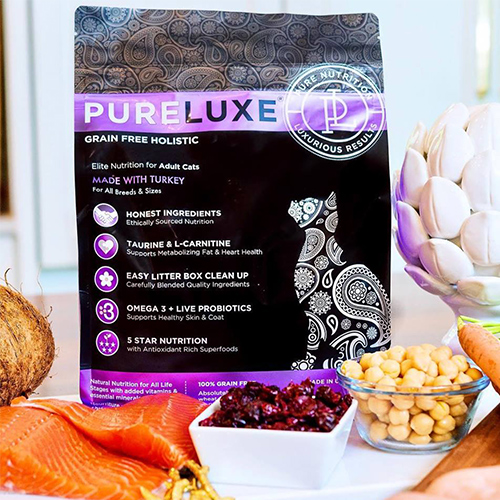 "Our oils are simple, usually only one ingredient or perhaps a few if a blend is needed for the formula," says Rick Cummisford, director of quality control, Columbus Vegetable Oils, Des Plaines, Illinois. "This simple approach helps keep product labels clean."
Moving forward, pet food formulators may want to use blockchain technology for full transparency. This information is a powerful marketing tool to pet owners who are attracted to products that align with their values. Blockchain creates a permanent record — from field to factory to retailer — of every ingredient and even every process. Such a data trail assists with tracking and tracing product if any safety or quality issues arise. It also provides assurances and accountability in terms of product origin and certifications.
"This level of transparency would help answer consumers' growing questions about where their food comes from," says Anant Kadiyala, director of blockchain and IoT industry solutions, Oracle, Redwood City, California. "Companies that can provide more accurate information on how food is grown, packed, processed and shipped along the supply chain will be in a better position to give consumers the confidence they desire."
Young says we can all play a role in supporting transparency and further advancing consumer trust in the industry. "Anyone in the industry with a public-facing platform, such as a website or social media handle, can utilize available materials to help them communicate with interested consumers about why a pet's complete and balanced diet is so crucial," Young says. "It's important for us all to remember that shoppers aren't just feeding a pet but rather a part of the family, and they expect answers to their questions. Let's all help share the stories behind our industry's track record of safety and nutrition and recognize the trust placed on us each time a pet parent sets out a bowl of food."
Keep up with the latest pet food trends on our Trends page.