This article was published in the March 2019 issue of Pet Food Processing. Read it and other articles from this issue in our March digital edition.
MILLSBORO, Del. — When Lisa St. Clair decided to start baking dog treats 16 years ago, production took place "in a shed," as she puts it, in Millsboro. Today, her company, Tail Bangers, has grown from producing in a "shed" to four buildings totaling 14,000 sq. ft. She employs 46 employees who hand-cut, hand-dip and hand-decorate each product.
Tail Bangers has an Everyday Menu, including Doggie Donuts, Canine Cannolis, Barkin' Biscottis, Twist & Barks and other baked dog treats, but the heart of the business is in its seasonal offerings. Seasonal products are constantly coming in and out of the bakery displays — Christmas trees swapped for Valentine's cookies, eventually replaced by Easter bunnies and eggs, and so on. "That's part of the appeal of our bakery case — it's constantly changing," St. Clair explains.
In an average day, Tail Bangers employees cut, bake and decorate about 30,000 cookies and other products and ship to wholesalers, pet retailers and specialty stores across the US. With such high demand, St. Clair realized she needed something to improve efficiency and increase her output. "We have grown by an average of 20% year-over-year," St. Clair explains. "We were having trouble keeping up with production because we were cutting all of our cookies by hand."
"That's part of the appeal of our bakery case — it's constantly changing," explains Owner Lisa St. Clair. 
St. Clair decided to contact Rondo Inc., a Swiss bakery equipment supplier with a regional office in Moonachie, New Jersey, for a sheeting and cutting solution. Rondo invited her to test out some equipment, which was crucial to the decision-making process because of the unique thickness of Tail Bangers' dough. David Kollar, regional sales manager for Rondo, worked with St. Clair to find the right equipment for her products, ending up with a Rondostar sheeter and a Polyline makeup line.
"The two machines provide excellent efficiency and consistency," says Kollar. The consistency comes from the computerized Rondostar reversible sheeter, he explains, because it performs reliably no matter who is operating the machine. It is easily programmable, and sheeted dough is automatically reeled onto a pin at the end of the process so it can be easily transported to the Polyline for cutting.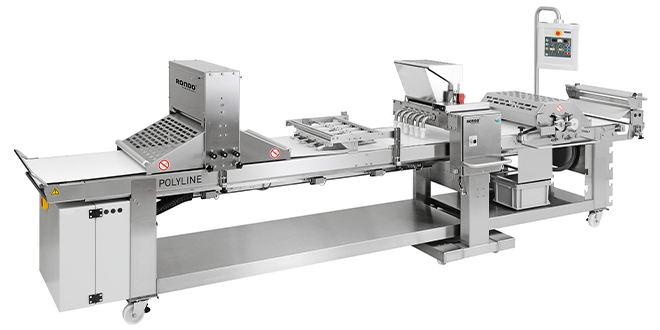 The electrical mechanical guillotine with stamping dies on the Polyline provides clean, efficient cuts and shapes. "There are no line stoppages or interruptions that typically occur with the use of rotary cutters," Kollar says, such as the dough sticking to the cutter and clogging the moulds.
Rondo designed custom stamping dies with spring loaded ejectors for Tail Bangers that cut select products that are staples of the company, such as candy canes at Christmas and traditional bone shapes for personalized treats. However, most other product lines are cut manually, after the dough has been sheeted and cut into blocks, using custom hand-held cookie cutters.
St. Clair says the machinery has helped her run a more efficient operation, while preserving a core part of her business — hand-dipped and decorated cookies. With the Rondostar and Polyline, St. Clair can sheet, cut, bake and decorate 20,000 cookies in an eight-hour shift with just six employees, whereas before it required twice as many people.
"We are known for our attention to detail," St. Clair said of her hand-dipped, hand-decorated baked dog treats.
The quality of the products also has increased, says St. Clair, because the two pieces of equipment produce dough with uniform thickness, ensuring consistency in size and weight. St. Clair can produce nearly all of Tail Bangers' products on the Rondostar and Polyline.
With her new Rondo systems, St. Clair trusts her dough will not only be consistent and that busy seasons won't slow her down, but also her products will always be hand-dipped and decorated. "We are known for our attention to detail," St. Clair says. "We will never stop having a manual line as it allows us to offer a wider variety of products and keep up with our demand." As Tail Bangers gears up to build another 9,350-sq.-ft. bakery in the next couple years, the Rondo line is poised to keep her tail-wagging customers licking their chops.
Read more about pet food manufacturers.