ORRVILLE, OHIO — On June 7, The J.M. Smucker Co. shared financial results from the fourth quarter and fiscal year, both ending on April 30. Quarterly and full-year sales reflected continued supply chain challenges, recent divestitures and strategic improvements across the company's US Retail Pet Foods segment.
"Fiscal 2022 was yet another unprecedented year," said Mark Smucker, president and chief executive officer of The J.M. Smucker Co., in the company's prepared remarks. "The operating environment remained dynamic as the pandemic, along with factors such as inflation, labor shortages, and supply chain disruptions, presented challenges."
The lingering effects of three divestitures were accounted for in the company's full-year earnings, including two pet food segments — the sale of Natural Balance in early 2021, as well as the divestiture of its private label dry pet food business in late 2021. Natural Balance was sold to Nexus Capital Management for roughly $50 million, and the private label dry pet food segment was sold to Diamond Pet Foods, Inc. for approximately $33 million. The third divestiture was of its Crisco business in late 2020.
Despite these divestitures, the company's US Retail Pet Foods segment remains its most profitable business, reporting fourth quarter net sales of $718.1 million, up 6.45% year-over-year. Fiscal 2022 net sales totaled roughly $2.76 billion, down 2.82% from fiscal 2021.
"Our strong finish in Pet Foods was driven by growth of 22% for cat food, 8% for dog snacks, and 7% for dog food," Smucker said. "Our growth in cat food and dog snacks reflects our increased focus on prioritizing and accelerating growth in these segments."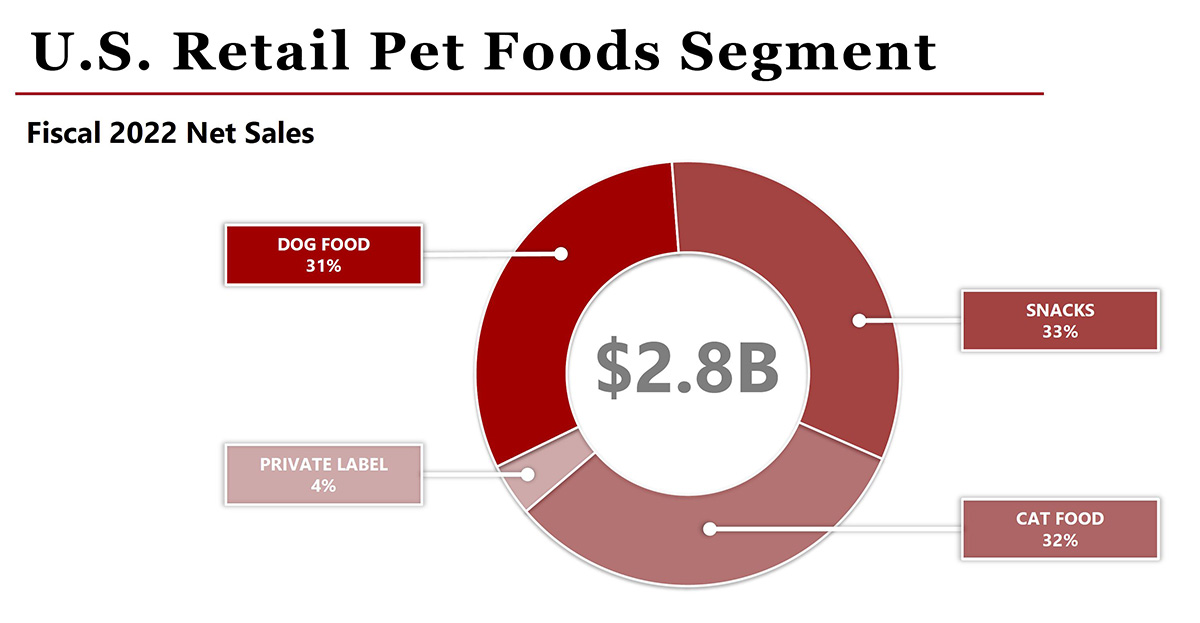 Sales of Meow Mix grew 29% over the fourth quarter, and market share for the brand was up by three points, according to Smucker. Sales for Milk-Bone dog treats were up 15% in the fourth quarter, reflecting price increases to cover inflated costs, as well as volume growth, premium innovation and improved marketing and sales execution, Smucker added.
Moving to dog food, the company's Nutrish brand saw a 14% sales increase in the fourth quarter.
"We are expanding the brand into faster growing segments such as wet dog food and dog snacks, and continue to refine our assortment consistent with consumer preferences," Smucker said. "We plan to upgrade Nutrish® dog food formulations with improved nutrition credentials in the back half of fiscal 2023. The launch will be supported by a new advertising campaign that showcases the brand's purpose to provide all dogs the highest quality of life."
Fourth-quarter segment profit for the pet food business grew 18.68% year-over-year to $120.7 million, but full-year segment profit was down 18.71% to $395.9 million compared to fiscal 2021.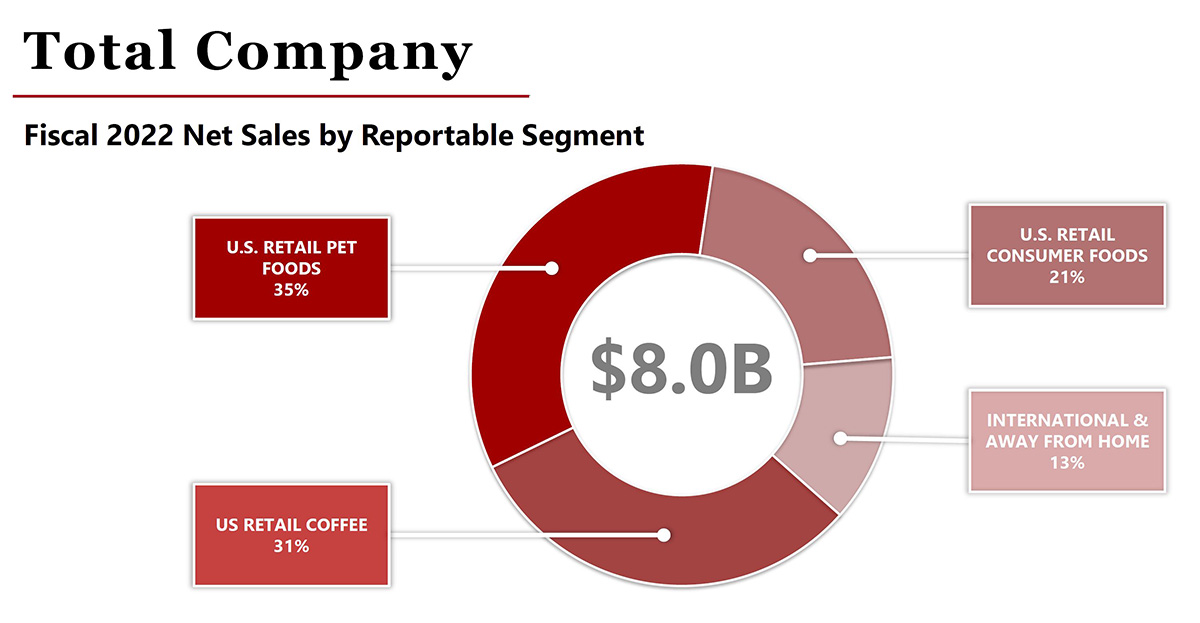 Continued supply chain disruptions and inflated costs resulted in across-the-board net pricing hikes for The J.M. Smucker Company. These pricing actions were implemented in April and May.
"As inflation persists, we will continue to partner with retailers to implement incremental pricing actions to recover costs, as necessary," Smucker said. "We remain focused on limiting the impact of inflation on consumers, while protecting profitability for our partners and our company by working together to reduce costs and complexity, enhance data sharing, optimize shelf sets and inventory, and improve logistical efficiency."
Overall, The J.M. Smucker Co. reported a net sales increase of 5.92% to $2.03 billion in the fourth quarter, and a decrease of 0.05% for the full fiscal year. The company's gross profit margin shrunk from 39.2% to 33.8% from fiscal 2021 to fiscal 2022.
"Gross profit declined in the fourth quarter, largely due to the impact of the estimated customer returns and inventory write-off related to the Jif® peanut butter recall," Smucker shared.
The recall of the company's Jif peanut butter products in May 2022 is expected to negatively impact sales and adjusted earnings per share in fiscal 2023. The company issued a voluntary recall of 49 Jif peanut butter varieties distributed across the United States due to potential Salmonella contamination.
"We anticipate an additional unfavorable impact of approximately $125.0 million, net of the remaining anticipated insurance recoveries, primarily related to the estimated impact of manufacturing downtime, customer returns, and unsaleable inventory, as well as other recall related costs," the company stated in its fourth-quarter and full-year earnings release. "The ultimate impact from the Jif® peanut butter recall could differ materially from these estimates."
The company's fiscal 2023 guidance puts net sales growth between 3.5% and 4.5%, adjusted earnings per share between $7.85 and $8.25, and free cash flow at $500 million. The company expects $550 million in capital expenditures in fiscal 2023.
The J.M. Smucker Company noted ongoing supply chain volatility, cost inflation, consumer behavior, retail inventory levels and macroeconomic conditions could impact its fiscal 2023 performance.
"While the supply chain remains volatile and the cost environment can change rapidly, we will continue to mitigate inflation with continued focus on cost management and further inflation driven pricing as necessary," Smucker said.
Read more about corporate strategy, financial performance, mergers and acquisitions on our Business page.