This article was published in the March 2021 issue of Pet Food Processing. Read it and other articles from this issue in our March digital edition.
In recent years, humanization, personalization and variety have been key trends guiding the pet food and treat market to where it is today. The emerging category of meal toppers and mix-ins encapsulates all three of these trends, offering owners the opportunity to mix-and-match their pets' mealtime experiences based on individual preferences, improve palatability, and provide a sort of unique, culinary experience.
"Toppers allow owners to put a personalized touch on their dog or cat's regular dry or wet food, enhancing both its palatability and nutrition, and tailoring meals to their pet's specific needs," said Ann Hudson, vice president of marketing for Whitebridge Pet Brands, St. Louis. "Consumers are no longer viewing toppers and mix-ins strictly as something to entice finicky, older or infirm pets to eat; they're seeing that these products can also be a tasty and economical way to customize meals with functional nutrition and other supplemental health benefits."
Meal toppers are a convenient way to offer variety. While these products are usually considered premium or super-premium, the cost and risk barriers of purchasing a topper or mix-in are significantly lower than switching diets entirely, which is appealing to pet owners.
"When pet owners are reluctant to completely change what they are feeding, an offer to enhance a pet's current diet is more approachable and easier for pet owners to envision as part of their daily lives," confirmed Lindsay Meyers, director of product development, veterinary channel, Primal Pet Foods, Fairfield, Calif.
Market research firm Packaged Facts listed meal toppers and add-ins as a key growth area in 2019 and, in a 2020 survey of pet owners by the same firm, 16% of dog owners and 14% of cat owners had already purchased a meal topper product, but 44% reported they generally like the idea of meal toppers.
"This gap is viewed as an indicator of the segment's strong growth potential," Hudson said.
Accordingly, pet food and treat manufacturers have recognized this opportunity in the market and begun to throw their hats in the ring.
Form and function
Meal toppers and mix-ins are available in a range of formats, from freeze-dried proteins and powdered blends to whole food toppers, frozen/fresh enhancers and liquid meal pour-overs. Several complete-and-balanced freeze-dried, dehydrated or fresh diets are also marketed as meal toppers for added nutrition or palatability.
"Freeze-dried toppers and mix-in products have certainly seen explosive growth and, even during the challenges of the pandemic, frozen food sales have continued to grow exponentially," Meyers noted.
Primal Pet Foods offers several different meal toppers and pour-over products. The company's Fresh Toppers are sold frozen in the refrigerated section of pet stores and have the consistency of a smoothie or a pesto, Meyers said. Its high-protein Raw Toppers include frozen kibble-shaped raw meat and organic vegetable pieces. The company also offers liquid topper options including Raw Goat Milk, which Meyers described as like "pouring milk on cereal," and Bone Broths in chicken, pork, turkey and beef flavors.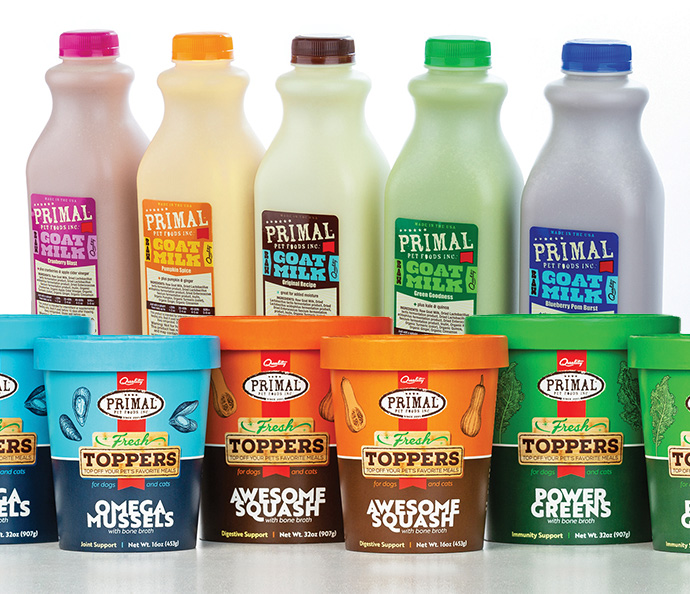 "Our fresh and raw foods can provide more moisture as well as probiotics, enzymes, and highly digestible proteins," Meyers said. "By skipping the high heat and processing required to make kibble, cans, and other highly processed foods shelf stable, antioxidants and other important nutrients are retained and can improve digestion, skin and coat health, as well as make mealtime more enticing for picky pets."
The Honest Kitchen, San Diego, Calif., a 100% human-grade super-premium brand, also offers goats milk and bone broth products that it markets as supplements but can be used as meal toppers. In addition, the company sells dehydrated, whole food cluster meal boosters under its Proper Toppers line, wet Pour Overs and limited-ingredient wet Meal Boosters for dogs.
Tiki Pets, owned by Whitebridge Pet Brands, offers several wet meal toppers for dogs and cats. These include Tiki Dog Aloha Petites Air-Dried Morsels, which Hudson described as chunks of whole meat diced into small cubes, slowly air-dried to maintain nutrients and enhance palatability. Also in the Tiki Dog Aloha Petites line is its Flavor Booster meal topper, a whole meat bisque formula for small breed dogs.
For felines, the brand offers Tiki Cat Filets — a moist whole-meat topper that can also be served as a treat — and Tiki Cat Complements, a high-protein wet food supplement intended to add hydration to a complete-and-balanced kibble or other dry food.
"[Hydration] is particularly important with cats, since felines evolved in dry climates where water was scarce, so they could not drink much and were forced to derive most of their hydration from their prey," Hudson said.
Stella & Chewy's, Oak Creek, Wis., offers two wet meal toppers for dogs: Marie's Mix-Ins and Broth Toppers. Its single-source protein Meal Mixers line caters to canines with food allergies and can be fed as a topper or a complete meal.

Aside from customization, variety and hydration, growing demand for functional nutrition is also driving this category forward.
"Toppers and mix-ins can provide a range of health and wellness benefits, including adding vitamins and nutrients, boosting protein intake, supporting healthy skin and coats, strengthening bones and joints, increasing energy and vitality, and aiding digestion," Hudson said.
As one example, Tiki Pets offers Tummy Toppers formulated with pumpkin and wheatgrass to promote healthy digestion for pets with sensitive stomachs.
Vikram Ghosh, technical lead, The Annex by Ardent Mills, Denver, shared that certain grain ingredients, such as wheat germ and wheat brand, can offer functional health benefits when included in meal toppers.
"Wheat germ provides fat, protein, B vitamins, and trace mineral content that delivers a high nutrient value to topper and mix-in applications," he explained. "Wheat bran contains starch, protein, and digestible fiber (especially in the aleurone layer), which can be used in formulations to address gastrointestinal health in animals."
Petcurean, Chilliwack, British Columbia, sells Meal Mixers that target key health concerns for dogs under its GO! Solutions™ line. Each formula features freeze-dried muscle proteins, fruits and vegetables combined with specific functional food ingredients. The pork formula, for example, includes glucosamine, chondroitin, turmeric and New Zealand green mussels to support hip and joint health. The GO! Solutions™ line also includes formulas targeting digestive health, skin and coat care, and weight maintenance.
Stella & Chewy's also offers several health-focused freeze-dried raw toppers that support digestive, immune, skin and coat, mobility, and heart health.
"Just like food and supplements, meal toppers will increasingly shift from indulgent to functional and contain active ingredients like glucosamine and chondroitin," said Ann Hudson, Whitebridge Pet Brands.
"Just like food and supplements, meal toppers will increasingly shift from indulgent to functional and contain active ingredients like glucosamine and chondroitin," Hudson predicted. "Supplements will reach more than $800 million in sales this year, as owners become more and more worried about health. Toppers are another way to deliver functional ingredients to the diet."
As of now, most companies are focusing on toppers with added health benefits, rather than solutions-based formulas. This opportunity for functional meal toppers poses another set of challenges and demands closer attention to formulations and possible meal combinations in order to ensure pets receive the appropriate levels of essential vitamins and nutrients in each serving.
Counting calories
It's important for pet owners to understand how meal toppers can affect overall nutrition.
"Adding fiber to our pets' diets can help slow down their rate of digestion, which can be beneficial to pets," Ghosh explained.
Primal Pet Food takes a whole food approach to add frozen fresh or minimally processed meat and vegetables to more highly processed diets, such as kibble.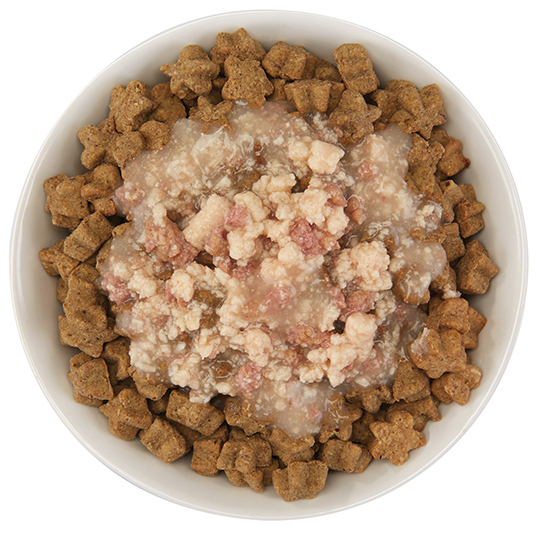 "We believe that frozen and fresh food toppers are the best solution for pets in that they're the least processed, for pet owners in that they are less expensive than the freeze-dried versions, and for retailers in that they bring customers back to brick-and-mortar retail more frequently," Meyers said.
Feeding pets too many calories is a main concern. Primal Pet provides thorough consumer support in determining how much and what kind of meal toppers are appropriate for each pet and their respective regular diets. Meyers suggested that 10% of a pet's meal can be replaced with a meal topper or mix-in, with emphasis on the word "replace" so as not to increase total calories per serving.
"We make it very clear that our topper products are not balanced and we offer a bowl builder tool on our website that guides pet parents to the proper ratios to make sure that the majority of their pets calories are coming from complete-and-balanced foods," Meyers said.
The meal topper and mix-in category is only expected to grow and evolve from here. Hudson said she believes the market for these products "will likely outpace many pet food segments," as pet owners see them as both a convenient and economical way to enhance nutrition, taste and variety.
"As more consumers use toppers and mix-ins this way, the market will register considerable growth, especially at the premium end," she concluded. "Consumer education will drive this growth, through retailers informing pet parents about the health benefits of meal toppers, as well as through innovative packaging and labeling."
Ghosh said he expects whole food toppers and those with human-grade or natural ingredients to grow, playing into visual appeal and pet owner preferences for high-quality nutrition.
"The beauty of this trend is that it's flexible and solves a lot of pet owners' needs," said Vikram Ghosh, The Annex by Ardent Mills.
"The beauty of this trend is that it's flexible and solves a lot of pet owners' needs," he said. "For example, if a pet owner is looking to add more moisture, enzymes, or probiotics to their pet's diet, toppers and mix-ins are a great addition to kibble."
As noted by Meyers, this trend could also be an opportunity for brick-and-mortar retailers to take back market share, differentiate themselves from e-commerce platforms — which introduce a whole new set of challenges for distributing fresh and frozen products — and entice customer loyalty.
"By embracing fresh/frozen toppers (and diets) as featured items in their stores, local retailers are creating a reason for consumers to keep shopping with them, because the items offer both a nutritional and strategic advantage," she said. "We believe the future is very bright for this category."
Read more about product development, ingredients and formulation on our Product Development page, and keep up with the latest pet food trends on our Trends page.