More pet owners are reporting concerns about their finances going into 2021, according to the latest volume of the American Pet Product Association's (APPA) COVID-19 Pulse Study. However, the organization did point out that financial instability does not seem to be translating to pet product purchasing behavior.
In the December survey, 61% of respondents said they are "very concerned" about their finances for the upcoming year, up from 55% of survey respondents in September. Another 57% are very concerned about their finances for the next couple of months.
Forty-eight percent of pet owners agreed with the statement, "The COVID-19 pandemic has significantly impacted my household financially," in the December survey, up from 43% of respondents in September and June.
"This financial impact has been building over time," APPA stated in the survey results. "…Millennials show the greatest percentage change between the percentage in May who agreed that their household has been significantly impacted financially by COVID-19 and the percentage who agree with the same statement in December."
Other groups whose financial sentiments have become slightly bleaker include Gen Xers, households with young children, and households bringing in less than $50,000 in annual income. Additionally, 66% of the urban pet population is very concerned about their finances, compared to 57% of suburban pet owners and 60% of rural pet owners.
Purchase rates of pet food and essential supplies remain steady. Additionally, APPA reported more pet owners responding to the survey said they have stocked up on pet food, treats, supplements, medications and other pet supplies in December compared to previous volumes of the survey, conducted in May, June and September. However, 34% of pet owners who have stocked up on pet food said they plan to purchase food again within the next week, up significantly from 29% in September.
"Food is the only pet supply category to show a marked increase between September and December in the percentage who will purchase pet food again within a week," APPA stated.
Slightly fewer respondents in the December survey said they have no plans to change their purchasing behavior due to the economy or their finances, compared to previous surveys. For example, 68% of pet owners agreed with the statement, "My pet's diet is very important to me, so I do not plan to make any changes to it regardless of the economy/my finances," down from 72% in September, 70% in June and 71% in May.
However, the number of respondents planning to spend less money on pet food slightly declined to 16% in December, down from 18% in September, and 17% of respondents plan to switch to another pet food brand to save money, down from 18% from September.
"Everyone's level of concern about their personal finances over the coming year has increased," APPA stated. "…Overall, respondents seem more concerned about their finances over the next year, rather than over the next couple of months."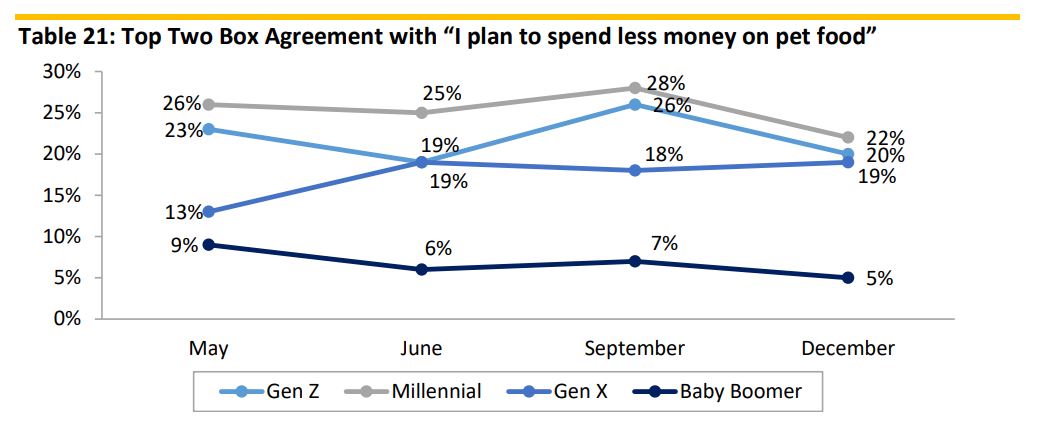 Overall, a majority (64%) of pet owners said they spent the same amount of money on their pet in December compared to previous surveys, while roughly 20% reported spending more and 16% reported spending less.
Online purchases of pet food have gradually tapered off since May, with 13% of respondents saying they most recently purchased pet food from an online-only outlet in December. The number of pet owners purchasing treats from online-only outlets remains steady at 13%. Most pet owners are purchasing pet food (27%) and treats (29%) at discount stores and/or from mass merchandisers, up from 24% and 25% respectively in September. Overall, 69% of December respondents said they purchased pet food and treats in-store most recently.
As far as overall pandemic sentiments go, more and more pet owners are recognizing the long-term nature of COVID-19 impacts to themselves and the economy at large. Fewer respondents (12%) believe life will return to normal within two to three months or less, down from 17% in September, 21% in June and 28% in May. More respondents believe pandemic impacts will continue for at least another year.
"At 10 months into this global pandemic, it seems that most people have accepted that circumstances are not going to change any time soon," APPA stated. "Nearly one-third of those surveyed said it will be more than a year until life will return to 'normal.'"
APPA released its fourth COVID-19 Pulse Study on Dec. 18. Read summaries of APPA's previous COVID-19 Pulse Surveys conducted in May, June and September.
Follow our breaking news coverage of the coronavirus/COVID-19 situation.