STAMFORD, CONN. — Pet owner sentiments surrounding the coronavirus pandemic have shifted ever so slightly since May, according to the most recent wave of a COVID-19 Pulse Study conducted by the American Pet Products Association (APPA). Consumers are returning to in-person shopping and are growing optimistic about the economic situation, although most agree the pandemic will continue impacting the United States for longer than initially thought.
Pet food remains a resilient industry and the market represents nondiscretionary purchases for what could be 71 million pet-owning households across the United States by the end of 2020.
Pet owners' economic sentiments and buying habits are slightly shifting as the COVID-19 pandemic continues to impact American households and businesses.
For example, while just 21% of survey respondents in May believed the pandemic would last more than a year, that percentage jumped to 31% in APPA's September survey.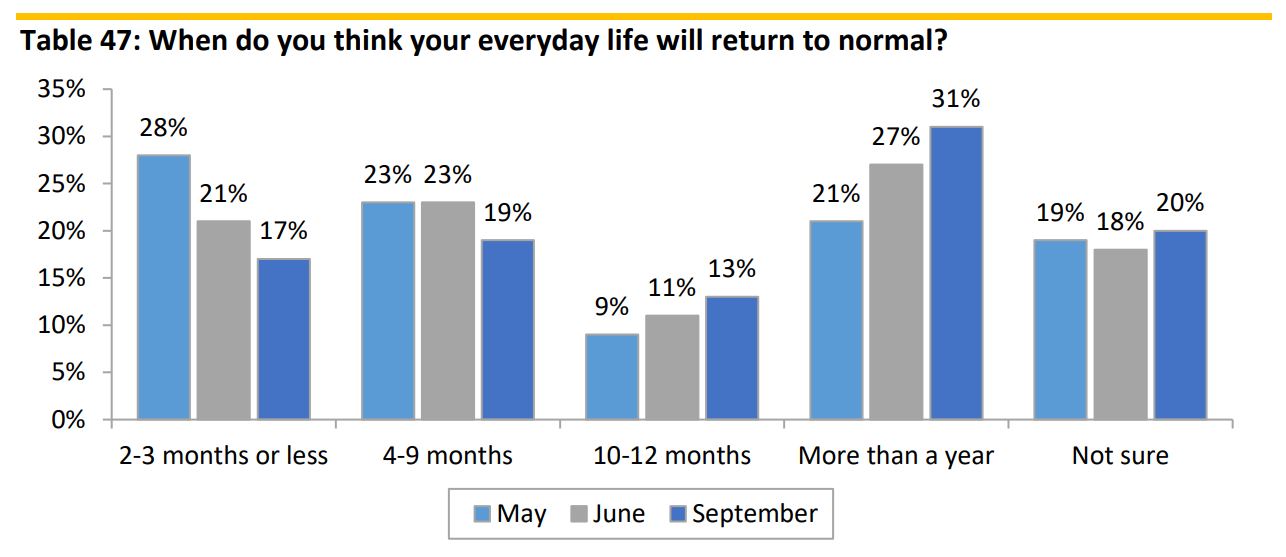 "The younger the respondent, the more optimistic they tend to be about normal returning sooner, but even still, that percentage declined across the three survey waves," APPA stated in its summary of the survey.
Pet food purchases made within a week of the September survey represented a significantly higher percentage of surveyed pet owners, with 54% having purchased pet food within that last week, compared to 49% in May and June. Pet treat purchases made within a week of the survey have been consistent at 33% of respondents in May, June and September.
In September, 14% of survey respondents reported purchasing pet food from an online-only outlet, compared to 13% in June and 15% in May. Discount stores remain the most popular outlet for pet food purchases, representing 24% of respondents in September, compared to 27% in May and June. Pet superstores are seeing continued pet food purchases, with 20% of pet owners consistently choosing this outlet since May.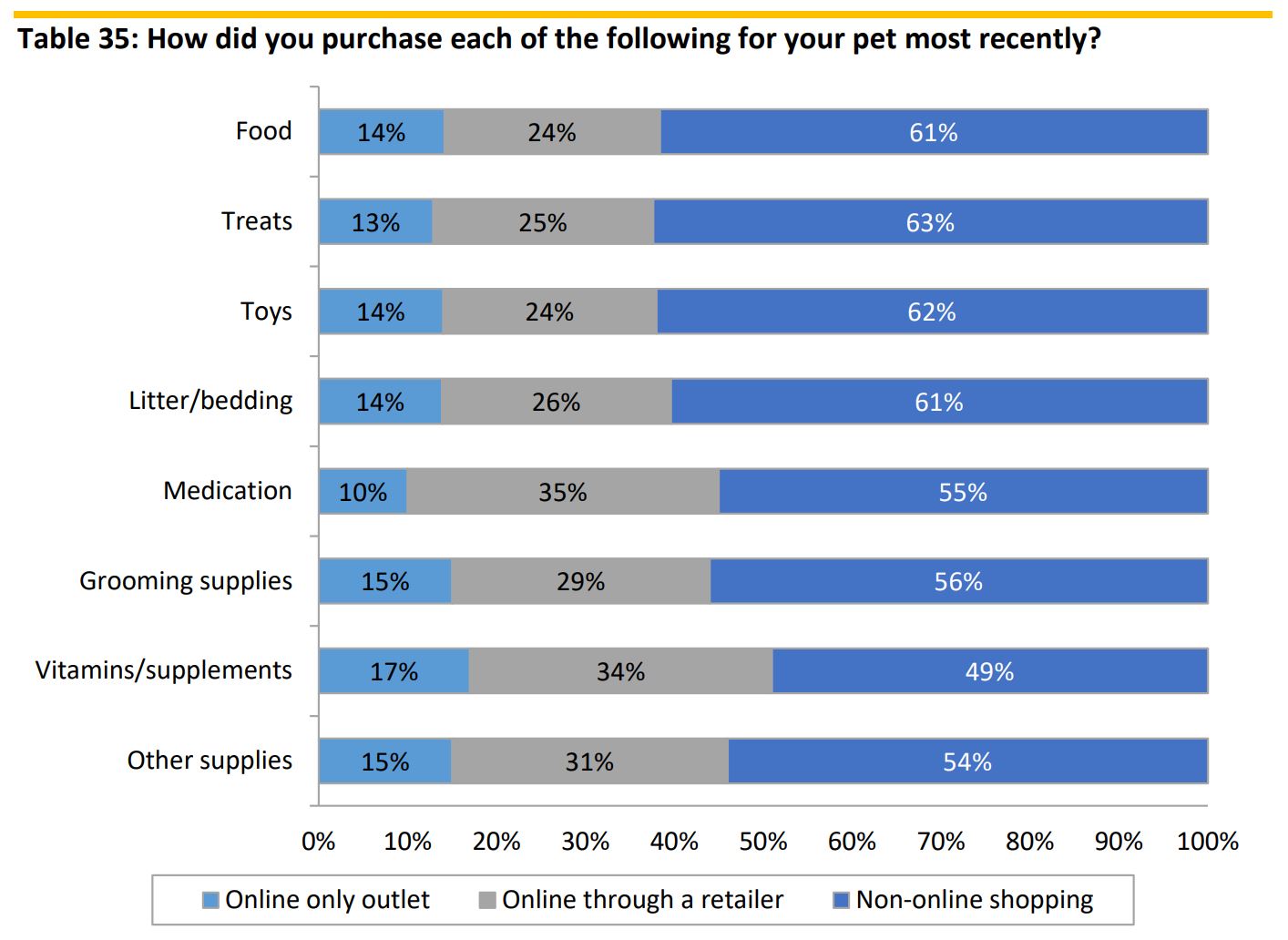 These sales channel trends are consistent across pet treat purchases, with 25% of respondents purchasing pet treats at discount store and mass merchandisers in September and June, compared to 27% in May. Eighteen percent of respondents reported purchasing pet treats at pet superstores in September, compared to 19% in May and June. Pet treat purchases through online-only outlets were reported by 13% of respondents, compared to 12% in June and 13% in May.
"The percentage of pet owners shopping at online-only outlets like Amazon or Chewy has remained consistent across survey waves regardless of the pet care item being purchased," APPA reported.
In-person shopping is making a comeback, with 72% of pet owners reporting having shopped for pet food and treats in-store in September. This represents a slight increase from previous surveys, with 69% of pet owners shopping in person for pet food in May and June, and 70% buying treats in person in May.
Gen Z pet owners are leading in-person shopping rates, representing 41% of respondents in September compared to just 26% in May. Millennial pet owners are also returning to the store at an increased rate, with 40% shopping in person in September compared to 32% in May.
"The increase in Gen Z and Millennials shopping in-person has come at the expense of online only outlets," APPA stated. "Use of online only outlets declined among Gen Z and Millennials from one-third [33%] to one-quarter [25%]."
Between 5% and 10% of survey respondents said they purchased pet products online in September but picked them up inside the store.
However, online retailers remain strong competitors to brick-and-mortar stores, with between 25% and 33% of pet product purchases made through an online retailer in September.
Overall economic sentiments of surveyed pet owners seem to be improving, with 55% expecting the economy to head into a recession due to the pandemic in September, compared to 61% in the May and June surveys.
APPA estimates 11.4 million households got a new pet during the pandemic. The growing pet population over this period, led by Gen Z and Millennial pet owners, Hispanic pet owners and those with young children in the household, will likely drive the market forward despite economic uncertainties related to the pandemic.
In lighter news, as we approach the holiday season 46% of surveyed pet owners said they plan to purchase their pet a holiday gift this year, "regardless of the pandemic or the recession." This compares to 47% of pet owners who reported purchasing holiday gifts for pets in 2019. Most respondents (44%) said they would purchase through a brick-and-mortar store, while 40% plan to buy through an online-only retailer.
APPA released its third COVID-19 Pulse Study on Oct. 8. Read summaries of APPA's previous COVID-19 Pulse Surveys, conducted in May and June.
Follow our breaking news coverage of the coronavirus/COVID-19 situation.