OAK CREEK, WIS., DANIA BEACH, FLA., ST. LOUIS and LOS ANGELES — Three pet food companies — Stella & Chewy's, Purina and Jinx — have launched donation campaigns to support animal shelters and pets in need. Chewy, a leading online pet retailer, is also pledging shelter donations.
In honor of Giving Tuesday on Dec. 1, Wisconsin-based Stella & Chewy's announced plans to donate 3,336 bags of dry dog food to the Oregon Humane Society, equivalent to 417,000 meals and more than $250,000 worth of premium pet food. The donation will support the animal shelter through the holiday season and into 2021, Stella & Chewy's shared.
"Stella & Chewy's is committed to supporting animal shelters and rescue organization across the country that are devoted to improving the lives of pets in need through our Journey Home Fund program," said Marie Moody, founder of Stella & Chewy's. "We're fortunate to be in a position to be able to help and we're happy to be working with the Oregon Humane Society for Giving Tuesday during this challenging year."
The Oregon Humane Society currently serves 500 pets in its care and helps an average of 11,000 pets find new homes annually. The organization has saved nearly 150 animals displaced by wildfires that have threatened the West Coast throughout 2020. 
"We're so grateful for this generous gift from Stella & Chewy's, as it will make a direct positive impact on the dogs in our care, and for pet-owners in the community," said Sharon Harmon, president and chief executive officer of Oregon Humane Society. "This year has brought so many challenges but OHS has continued to help animals in need and provide essential services."
The Oregon Humane Society will also provide dog food to community members in need, including those financially affected by the COVID-19 pandemic, as part of the shelter's Giving Tuesday pet food bank.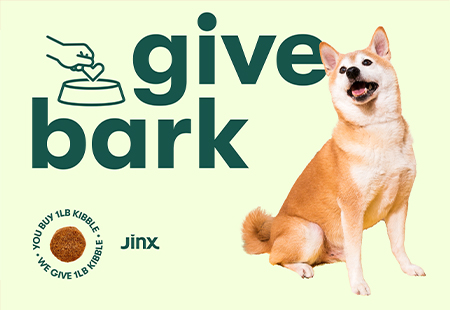 Jinx is also "giving bark" to pets in need. The premium pet food company will match every commercial kibble purchase with a donation to various animal shelters in New York and Los Angeles, pound-for-pound up to 2,000 lbs.
The company hopes to donate up to 8,000 meals for shelter dogs through this initiative, which kicked off on Dec. 1, Giving Tuesday, and will last throughout the holiday season until the end of December.
"From our inception, social responsibility has been a key element of Jinx's DNA," said Terri Rockovich, chief executive officer and co-founder of Jinx. "We know that clean nutrition powers everything great dogs do and believe that every dog should have access to quality options that help them thrive, so we've donated to shelter partners from the start. Now, especially since all of the founders have rescue dogs, as do most of our team members, this holiday season seemed like the perfect time to bring our customers into our giving back experience and make an even bigger impact to local shelters."
Jinx customers will be able to select where the company will send donations by selecting a shelter partner during the online checkout process. After checkout, customers can track Jinx's donation goal progress. Shelter partners include Labelle Foundation and West LA Animal Shelters in Los Angeles, and Bideawee and Animal Haven in New York.
Purina, a division of Nestlé, is providing $400,000 to several pet-focused organizations, including Petfinder Foundation, Red Rover, Greater Good Charities, CARE (Companions and Animals for Reform and Equity) and Take the Lead. They are inviting pet parents to join by making donations of their own in the spirit of Giving Tuesday.
"Our nonprofit partners have risen to the many challenges that we've faced this year, from the pandemic taking away fundraising opportunities to a rising tide of need among the pets and pet owners they serve. We want to say thank you, and we are here for you," said Nina Leigh Krueger, president of Purina. "And we hope others with the means to support will consider giving to these amazing organizations as well."
On Giving Tuesday only, Chewy will match up to $2 million worth of pet food and supplies purchased by its customers and donate them to animal welfare organizations and shelters in the United States. The retailer has partnered with Greater Good Charities to distribute the donations to various shelters and organizations in need. 
"At Chewy, our goal is to make the world a better place for pets and the communities that serve them, and this is especially important now given the challenges so many are facing across the country," said Mita Malhotra, vice president of healthcare and shelters at Chewy. "We wish to give back to this community of animal shelters and rescues in need, not only through our own donations but by also enabling the participation of millions of pet parents who want to contribute to the shelter and rescue community."
Chewy customers can also donate products to a shelter of their choice year-round directly through the online retailer's Wish List feature.
Stay up to date on news about the pet food processing industry on our News page.