This article was first published in our October 2020 Resource Guide. Read it and other articles from this issue in the Resource Guide digital edition.
As in human food, federal law requires that all pet foods be safe for consumption, devoid of harmful substances, and truthfully labeled. Over the past 10 years, the number of both individual claims and class actions based on alleged mislabeling have continued to rise. The types of lawsuits range widely, from those based on certain words used on labels such as "natural" and "real," to the stated origin of the ingredients, and even disputes over the imagery used on the food label.
Pet food labeling is regulated at two levels. At the first level, the US Food and Drug Administration (FDA) is responsible for enforcing the Federal Food, Drug and Cosmetic Act (FFDCA) for what can be referred to as identification information. FDA regulations require proper identification of the product, a net quantity statement, manufacturer or distributor's name and address, and proper listing of ingredients. In addition, some states enforce their own labeling requirements, many based on a model promulgated by the Association of American Feed Control Officials (AAFCO), which has been adopted by some states.
At the second level and besides identification information, the FDA reviews labels to determine whether specific claims are in fact truthful. Claims such as "maintains urinary tract health" and "hairball control" must be proven if challenged.
"The types of lawsuits range widely, from those based on certain words used on labels such as 'natural' and 'real,' to the stated origin of the ingredients, and even disputes over the imagery used on the food label."
Although it is the FDA and state agencies who enforce regulations, it is the private civil lawsuit that may consume more of a manufacturer's time and legal budget. A labeling lawsuit may be based on allegations that an animal was injured because its owner relied on information on the label that turned out not to be true. A class action lawsuit may be based on allegations that consumers paid more for a particular product because of a claim on the label, which turned out not to be true. This article discusses types of lawsuits that are arising more frequently, as well as trends which seem to be developing in the way courts have been handling those lawsuits. Because animal food labeling claims mirror human food labeling claims, trends in both will be discussed. 
The buzzword lawsuits
Numerous class action lawsuits have been brought against pet food manufacturers for using certain terms on product labels and in advertising. These class actions are usually based on state consumer protection acts, which prohibit the use of any terms that could mislead a reasonable consumer. The lawsuits allege that these buzzwords mislead consumers and entice them to pay more for a product than they would otherwise be willing to pay. Suits can be difficult to defend because the standard is not whether the claim is factually true but is instead whether the claim tends to mislead consumers.
The most commonly challenged word is "natural." These lawsuits include actions alleging that certain listed ingredients are not natural. They can also include actions alleging that products contain certain chemical residues or byproducts that a consumer would not expect to find in a product labeled as natural.
The threshold question is what the term "natural" actually means. Without a legal definition of a term, it is much easier for plaintiffs to make the case that consumers believed the term to be something other than how it was used and were therefore misled. The FDA has not yet defined "natural" as it relates to pet food. AAFCO first published the following definition of "natural" in 2001: "A feed or feed ingredient derived solely from plant, animal or mined sources, either in its unprocessed state or having been subject to physical processing, heat processing, rendering, purification, extraction, hydrolysis, enzymolysis or fermentation, but not having been produced by or subject to a chemically synthetic process and not containing any additives or processing aids that are chemically synthetic except in amounts as might occur in good manufacturing practices."
"Suits can be difficult to defend because the standard is not whether the claim is factually true but is instead whether the claim tends to mislead consumers."
This definition differs significantly from the FDA's proposed definition of "natural" in human food, which is: "nothing artificial or synthetic (including all color additives regardless of source) has been included in, or has been added to, a food that would not normally be expected to be in that food." The FDA's proposal adds a consumer expectation component that AAFCO does not include. If the FDA follows this proposed definition for animal food as well, this has arguably opened the door to a wider variety of "natural" food lawsuits in the pet food sphere.
One brand of pet food, Rachael Ray's Nutrish, has been the target of multiple lawsuits over its "natural" claims. In 2017, plaintiffs brought a class action lawsuit (Christina Grimm v. APN Inc., et al., Case No. 8:17-cv-00356, C.D. Cal.) alleging that Nutrish's "natural" label was misleading, since the food allegedly contained multiple synthetic or artificial ingredients, such as synthetic vitamin K and caramel color. Similar lawsuits were filed just this year against the Simply Nourish brand of pet food for falsely advertising and marketing the food as "natural" when it contained synthetic ingredients like folic acid, riboflavin, and citric acid. (Alexa Grossman v. Simply Nourish Pet Food Company LLC, et al., Case No. 2:20-cv-01603, E.D.N.Y)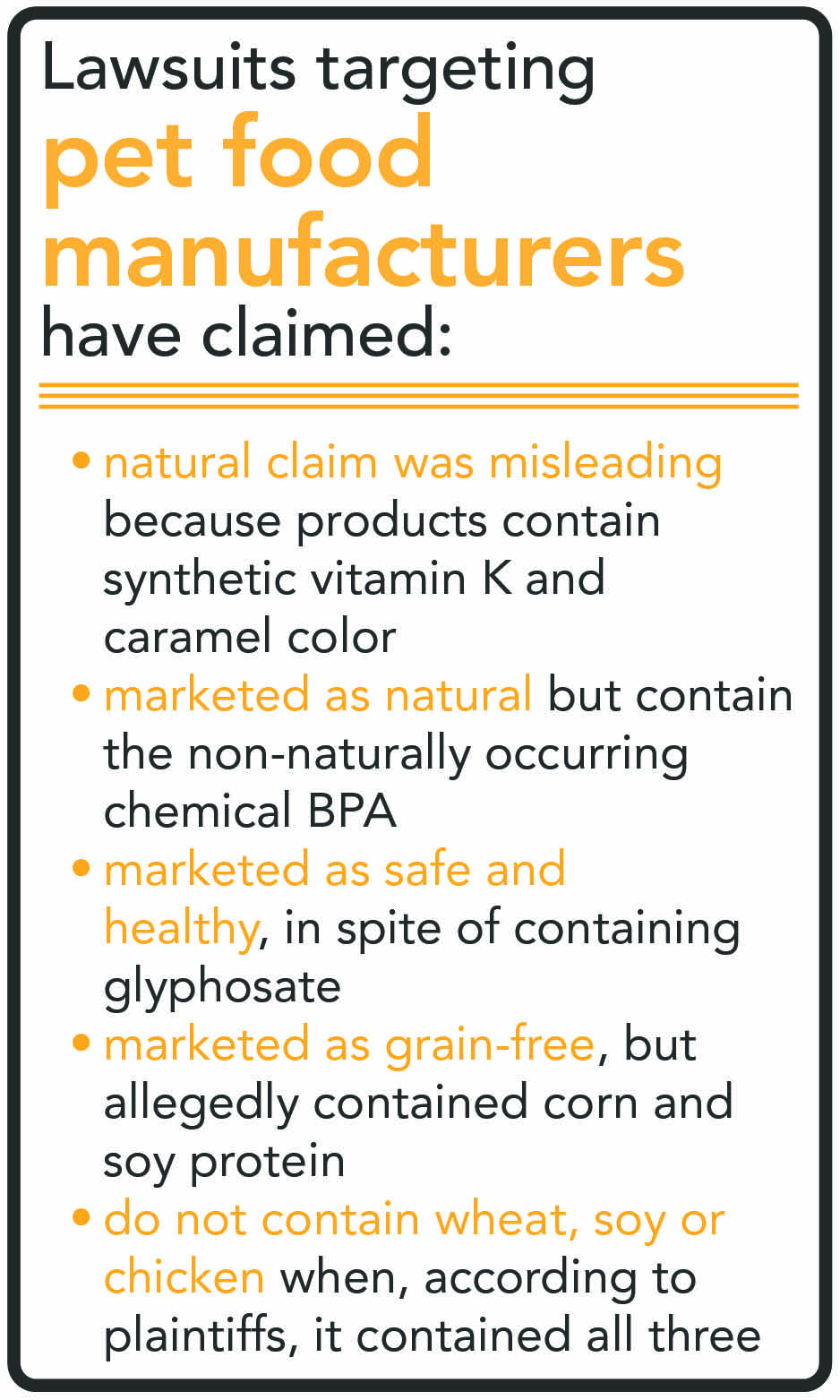 Some "natural" lawsuits focus on ingredients that a consumer wouldn't expect to be contained in a product promoted as natural.  In 2018, the first lawsuits involving an unintended, unlisted ingredient were filed against Champion Petfoods. The Slawsby, Colangelo, and Reitman cases involved a proposed class that alleged, "Defendants engaged in deceptive advertising and labeling practice by expressly warranting, claiming, stating, featuring, representing, advertising, or otherwise marketing on Acana and Orijen labels and related websites that the Contaminated Pet Foods are natural, fit for human consumption, fit for canine consumption, and made from 'Biologically Appropriate' and 'Fresh Regional Ingredients' consisting entirely of fresh meat, poultry, fish, and vegetables when they contain the non-naturally occurring chemical BPA." (Slawsby v. Champion Petfoods USA, Inc., Case No. 1:18-cv-10701, Dist. Court, D. Massachusetts 2018; Colangelo v. Champion Petfoods USA, Inc., Case No. 6:18-CV-1228, SDNY; Reitman v. Champion Petfoods USA, Inc., Case No. 2:18-CV-01736-DOC-JPR, C.D. Cal.)
These lawsuits have led to other lawsuits based on unintended, perhaps unknown ingredients. In August 2019, a proposed class action was brought against Nutrish dog food, alleging that the manufacturer's labeling of Nutrish as "natural" was false and misleading under state consumer protection laws, based on testing that showed the presence of glyphosate – a key ingredient in the herbicide Roundup. (Parks v. Ainsworth Pet Nutrition LLC, No. 1:18-cv-06936, S.D.N.Y.) Just this year, two proposed class actions were filed against Purina PetCare for allegedly falsely marketing their product as safe and healthy, in spite of it containing glyphosate. (Jacquin et al. v. Nestle Purina PetCare Company, Case No. 4:20-cv-00467-SNLJ, E.D.Mo.; GMO Free USA and the Clean Label Project Foundation, Case No. 2020-CA-002775, D.C. Super. Ct.)
Other buzzwords that have been the subject of complaints are "real," "holistic," "organic" or "premium." As with "natural" lawsuits, there is no legal definition for these terms, making it easier to claim that consumers were misled. Suits involving unexpected specific ingredient claims are also growing in popularity.
Pet food companies should know that consumers are willing to conduct detailed laboratory analyses of food composition looking for potential claims. In June 2019, a consumer class action lawsuit was filed against Big Heart Pet Brands regarding Nature's Recipe Salmon, Sweet Potato & Pumpkin Recipe, which was marketed as "grain free," but allegedly contained corn and soy protein, which plaintiffs claimed were "grains." (Miller et al v. Big Heart Pet Brands, Inc., Case No. 19-cv-3613, N. D. CA.) In May 2020, a similar lawsuit was filed against Mars Petcare for allegedly falsely claiming that its Nutro Limited Ingredient Diets dog food did not contain wheat, soy or chicken when, according to plaintiffs, it contained all three ingredients. (Michael et al v. Mars Petcare US, Inc., Case No. 20-cv-4845, C.D. Cal.) In April 2020, a class action lawsuit was filed against Ainsworth Pet Nutrition and The J.M. Smucker Co. for claiming that the Rachael Ray Nutrish Just 6 line of dog foods did not contain corn, wheat, soy, gluten or beef when, according to plaintiffs, the dog foods do contain those ingredients. (Kirchenberg et al v. Ainsworth Pet Nutrition, Inc. and J.M. Smucker Co., Case No. 20-cv-337, E.D. Cal.)
Little benefit to the consumer
As a whole, consumer class actions as a whole are unmistakably lawyer-driven, and pet food actions are no different. The premise of class actions is to join into one suit a large group of plaintiffs who each individually suffered insufficient damages to warrant filing an individual suit. But this laudable premise is frequently abused by some plaintiffs' attorneys. In The Food Court: Trends in Food and Beverage Class Action Litigation, Feb. 2017, The US Chamber of Commerce's Institute for Legal Reform (ILR) has stated that food "class actions result from lawyers shopping for cases, not consumer fraud." And the reasons for this are clear.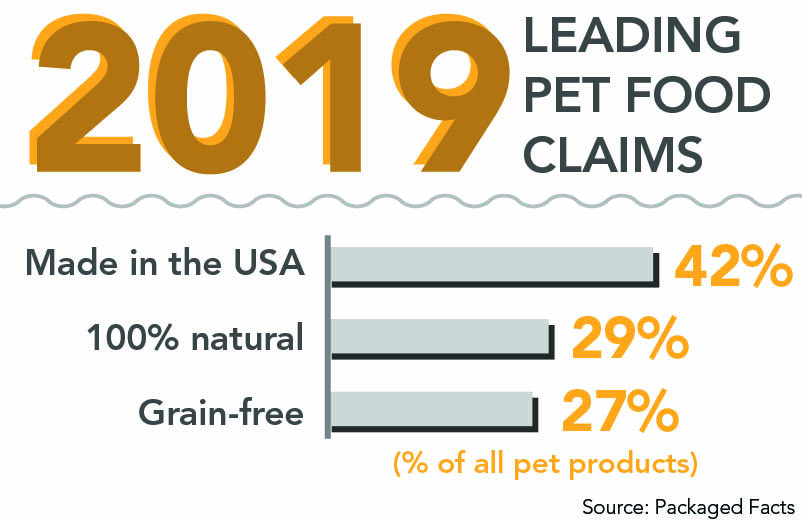 There are millions of products on the market, and all of their ingredients and packaging provide ample fodder for questionable lawsuits. According to the ILR, many plaintiffs' firms target smaller food companies in order to pressure them into settlement by merely threatening suit, knowing they want to avoid the cost of litigation. These settlement dollars are never passed along to the millions of consumers they claim were defrauded or injured. Ultimately it is the plaintiffs' attorney, not the consumer, who benefits from these actions. Even when these cases make it to court and get past the certification stage, most of the money goes to pay plaintiffs' attorneys fees, leaving the actual consumers in the class with nominal amounts of money or vouchers for free products. In the end, the increased cost of doing business is passed on to the consumer, as food prices rise because of the rising legal costs.
The good news
The good news for food producers and manufacturers — and ultimately consumers — is that, like food litigation as a whole, courts in pet food lawsuits are now trending toward a more "common sense" approach to cases and applying a "reasonable consumer" standard at an early stage in the lawsuit. With respect to human food, in Jessani v. Monini North America, Case No. 17-2904-CV, 2nd Cir. Ct. App. (12/3/2018), plaintiffs claimed that Monini, manufacturer of white truffle olive oil, deceptively suggested its product contained real truffles, when in fact it contained a synthetic truffle ingredient. The court granted Monini's motion to dismiss the lawsuit, and the Second Circuit Court of Appeals affirmed the dismissal, stating that "[i]t is simply not plausible that a significant portion of the general consuming public acting reasonably would conclude that [defendant]'s mass produced, modestly-priced olive oil was made with the most expensive food in the world." Not only did the Second Circuit rule that plaintiff's claims defied common sense, the court did so at a very early stage of the litigation.
This is akin to the court's order in Parks v. Ainsworth Pet Nutrition, which claimed that Nutrish Dog Food's "natural" label was misleading due to the glyphosate present in the product. The court dismissed the plaintiff's claims in 2019, stating, "A reasonable customer would not be so absolutist as to require that 'natural' means there is no glyphosate, even an accidental and innocuous amount, in the products." When Parks amended the complaint and refiled the suit, it was again dismissed on defendants' motion. The court again emphasized reasonable consumer expectations, stating, "[t]he level of glyphosate in the tested Products is negligible and significantly lower than the FDA's limit, which supports a finding that the Products' glyphosate residue is not likely to affect consumer choice, and that labeling them 'natural' is not materially misleading to a reasonable consumer."
"…Many courts have begun to recognize these suits as sometimes spurious and will dismiss the suits early on."
Finally, Weaver v. Champion Petfoods USA Inc. et al., case number 2:18-cv-01996 in the US District Court for the Eastern District of Wisconsin, was one of the many cases alleging that Champion Petfoods deceptively marketed ACANA and ORIJEN dog foods because they contained heavy metals and bisphenol A. The court dismissed the case early on, noting that the heavy metals and BPA were substances commonly found in the environment, and in most pet foods. The court stated that to "hold Defendants liable for the risk that their products contain unintended and non-harmful concentrations of these substances, a fact common to many other pet food manufacturers, would be extraordinary."
The number of false labeling lawsuits continues to increase, with the list of terms alleged to be misleading also continuing to expand. The use of a term without a fixed legal definition leaves enough subjectivity for a plaintiff to potentially allege they were misled. The good news is many courts have begun to recognize these suits as sometimes spurious and will dismiss the suits early on if the premise of the alleged misrepresentation is found to be unreasonable.
Kathy Hardee and Kirra Jones represent national law firm Polsinelli. Hardee is a trial attorney and mediator for food industry manufacturers, retailers and distributors. Jones is an associate of Polsinelli's Products Liability and Toxic Torts Practice Group.
Keep up with the latest pet food trends on our Trends page.