Tuffy's Pet Foods, Inc. is a third-generation, family-owned and operated company. With deep roots and a sprawling manufacturing campus in Perham, Minnesota, Tuffy's is seeing continued growth and success after 55 years in business. Tuffy's represents the pet food arm of KLN Family Brands producing more than 200,000 tons of dry pet food annually. The company's six brands of complete-and-balanced pet diets and treats include dry food, wet food, baked foods, jerky and freeze-dried treats.
Tuffy's started in the mid-1960s in a single facility with 13 employees. Today, the pet food manufacturer employs 290 people. They produce NutriSource, PureVita and Natural Planet diets sold exclusively in the pet specialty channel, as well as Supreme, Tuffy's and the Tuffy's Gold brands. Tuffy's also co-manufacturers dry pet foods and semi-moist treats for some other well-known national brands.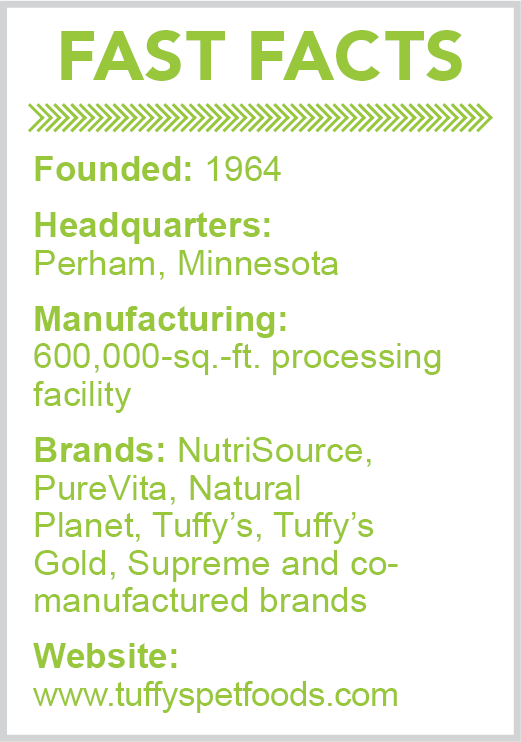 The company estimates that 60% of their production is for company-owned brands and 40% is for co-manufacturing partners. Tuffy's processing facilities today cover 600,000 sq. ft. All dry pet food processing and packaging areas have been constructed since 2010 at a cost of approximately $150 million and purpose built from the ground up to provide the safest environment for food safety and efficiency.
In August 2019, Tuffy's broke ground at a brand new 173,500-sq.-ft. pet treat plant in Delano, Minn. The facility will initially feature two extrusion lines and six packaging lines, with room for expansion. The new facility will produce approximately 9,000 lbs. of semi-moist treats per hour once it is up and running. This expansion is a sign of Tuffy's continued success in a competitive pet food and treat market.
Read more about Tuffy's Pet Foods in our exclusive processor profile from December 2019.
Read other pet food and treat company profiles featured in our 2019 Resource Guide.