This article was published in the December 2019 issue of Pet Food Processing. Read it and other articles from this issue in our December digital edition.
What could have ended nicely several decades ago as a successful business venture for the Nelson family, grew — after some last-minute negotiations — into a win for the entire community of Perham, Minnesota. Today, with deep roots and a sprawling manufacturing campus in Perham, Tuffy's Pet Foods, Inc. is a third-generation family-owned and operated company seeing continued growth and success after 55 years in business.
The company, which was started by Darrell "Tuffy" Nelson in 1964 in a single facility with 13 employees, now employs 290 and has invested more than $150 million just since 2010 into the company's 16-acre campus with 600,000-sq.-ft. of processing, packaging and warehousing space. But this growth and substantial investment almost didn't happen in Perham.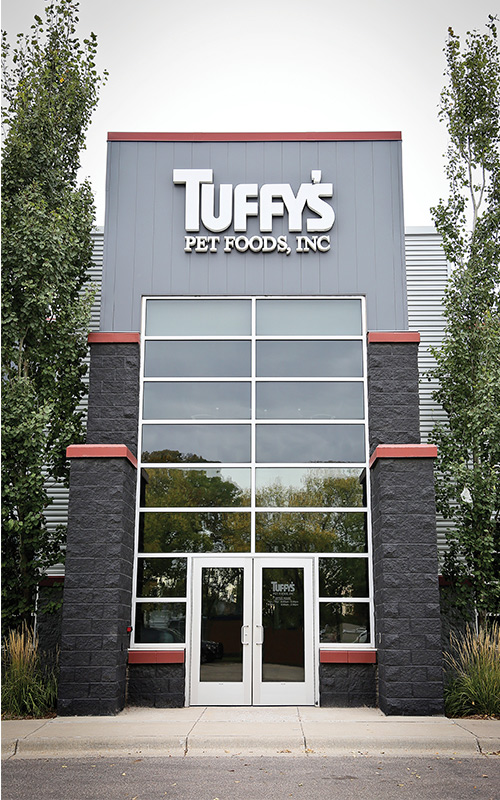 After several years of running the successful pet food business, Tuffy Nelson decided to semi-retire and sold the business. Although the pet food business continued operations in Perham, it changed hands a few times and in 2001 the current owners decided to close the Perham plant, potentially leaving roughly 150 employees jobless and leaving the town with a shuttered processing facility.
"Tuffy Nelson's son, Kenny, had been running successful salty snack and candy manufacturing businesses in Perham during this time and the family, being very community-minded, didn't want to see Tuffy's Pet Foods close," explains Chase Rasmussen, vice president for Tuffy's. "So, in what some describe as eleventh-hour negotiations, Kenny bought the company back sight unseen." At about that same time in 2001, Kenny's son, Charlie, joined the family business, KLN Family Brands. Charlie took an interest in pet food production and helped develop the company's flagship brand, NutriSource, which has helped drive the level of success the pet food company enjoys today.
Tuffy's produces more than 150,000 tons of dry pet food annually. The company manufactures NutriSource, PureVita and Natural Planet diets sold exclusively in the independent pet specialty retail space, as well as Supreme, Tuffy's and the Tuffy's Gold brands which are primarily sold regionally in grocery outlets and feed stores. The company's six branded product lines of complete-and-balanced pet diets and treats for dogs and cats include dry food, wet food, baked food, jerky, semi-moist treats and freeze-dried treats.
Tuffy's manufactures dry pet foods and semi-moist treats. The company co-manufactures for some other well-known national brands but the majority of production, approximately 60%, is for company-owned brands. According to Tuffy's, 93.5% of revenue currently comes from dry pet food sales with 6.5% of revenue coming from pet treats, biscuits and canned food. Nearly all, 94%, of revenue is from what the company considers domestic sales within the US and Canada.
Under construction
The pet food company has been racing to keep up with demand as the pet food and treat industry grows. In 2015, Tuffy's opened a new $70 million, 180,000-sq.-ft. dry pet food manufacturing facility. Since then, the company has added an $8 million meat processing operation and begun a $35 million mill expansion and renovation that is scheduled to be completed by early 2020.
The mill expansion includes a shiny new tower sporting Tuffy's and NutriSource logos that can be seen for miles. Even without this new landmark, Tuffy's manufacturing campus is a prominent feature in downtown Perham, stretching more than six city blocks and running parallel to both the railroad tracks that run through town and the thriving, historic downtown area.
"Perham is very much a forward thinking, aggressive community and we are a forward thinking, aggressive company," says Chase Rasmussen, vice president.
Having seemingly maximized the available space at the Perham campus and not wanting to stretch the available employee pool too thin in a town with 3,000 residents, Tuffy's broke ground in August on a new $65 million, 173,500-sq.-ft. pet treat plant in Delano, Minnesota, three hours south of Perham just outside the Twin Cities. 
"Perham is very much a forward thinking, aggressive community and we are a forward thinking, aggressive company," Rasmussen says. When the company started looking for a location outside of Perham to build the treat plant, Delano rose to the top of the list for some of its similarities to Perham. "Delano is industry friendly," Rasmussen says, "and the mindset of Delano's leaders and the community seems to be similar to what we have here in Perham."
This past fall, Tuffy's invited Pet Food Processing to tour its state-of-the-art dry pet food processing facility in Perham and learn more about what's been driving the company's success in the competitive pet food and treat market.
Safety first
Randy Ebeling, dry pet food production manager, says the priority for the new dry pet food production facility was food safety. "The old facility was from the '70s and was becoming dated. With the new plant, the whole facility is built with food safety in mind from air flow, to where people enter the buildings to separate lunchrooms, locker rooms, shower rooms and hand washing stations everywhere you go," Ebeling explains. "All the doors throughout require key cards and if someone isn't assigned to that area they can't get through the door. All the walls and the floor-to-wall joints are sealed and, with the equipment, all food contact areas are stainless steel." Employees allowed into the raw processing area within the dry processing facility are required to wear extra food safety protection that includes gloves, jackets and shoe coverings.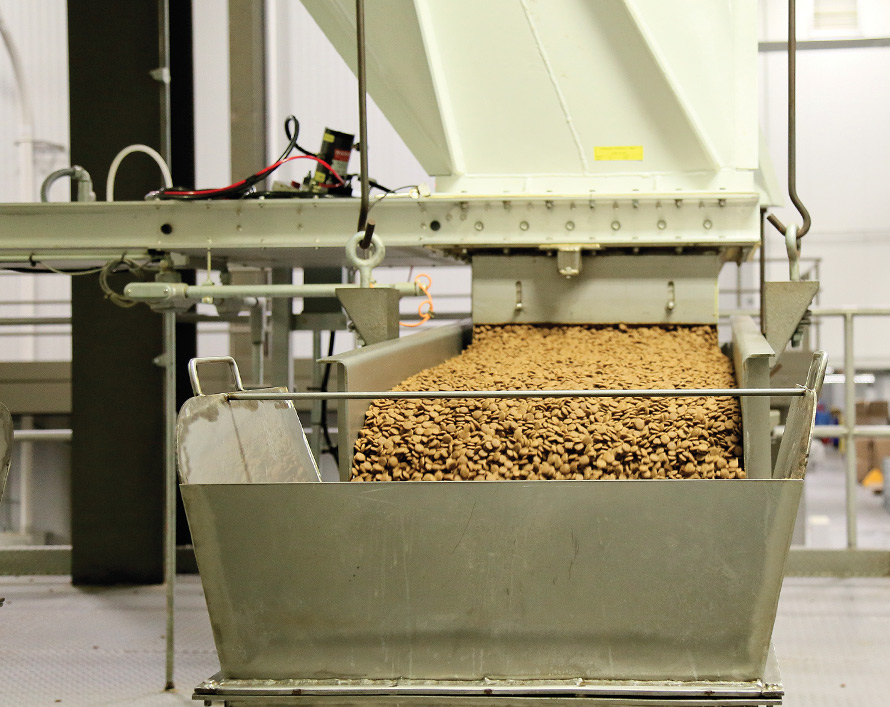 Building the new facility from the ground up allowed the company to place each stage of the process in its own dedicated room with some key processes in their own buildings. Completely removed from the dry processing facility is the milling and dry ingredient blending as well as the meat processing facility. Ingredients are blown and pumped to the dry pet food processing facility through pipes from the milling facility and the meat facility. No employees working in the mill or the meat building are allowed into the dry pet food facility.
Also, for the food safety benefit, all products are transferred with pneumatic conveying rather than augers and bucket elevators. Horizon PSI, Lawrence, Kansas, designed the dense-phase product transport system used for every transfer from the extruder room to the dryers to the coaters, coolers and then to the packaging bins. To sanitize the lines used to transfer products, Tuffy's employs "pigging" and "burn outs."
Pigging systems work by sending a special projectile called a pig through the pipe to clean and sanitize it. Burn outs heat the piping for a specific amount of time to prevent the growth of bacteria. In Tuffy's case, the product transfer pipes are heated to a kill temperature for four hours.
Hard decisions
With several decades of experience producing dry pet food, Tuffy's had the steps of the process defined, but the opportunity to purchase new equipment for Tuffy's formulations presented some hard decisions. Prior to building the new dry pet food processing facility in 2015, Tuffy's manufactured dry pet food on three Wenger extruders and then added an Extru-Tech extruder to the original facility.
When it came time to decide which extruders to purchase for the new facility, Tuffy's chose to go with three Extru-Tech 925, single-screw systems. They are currently in the process of adding a fourth Extru-Tech extruder, but this time they chose the model 750 to enable Tuffy's to produce a higher meat-inclusion kibble as well as other more unique product offerings.
"It was a very difficult decision for us," Ebeling says. "We grew up with Wenger extruders. We had three originally and when we added a fourth [to the original plant] we put in an Extru-Tech. So we had some experience with Extru-Tech extruders. When all was said and done, that's what we decided to go with. We spent a lot of time wrestling over that. The relationship we built with Wenger over the years was strong, but they took it in stride."
Tuffy's still works closely with both Wenger and Extru-Tech. Each of the Extru-Tech 925 extruders are paired with a Wenger preconditioner. The new Extru-Tech 750 is paired with an Extru-Tech preconditioner.
The process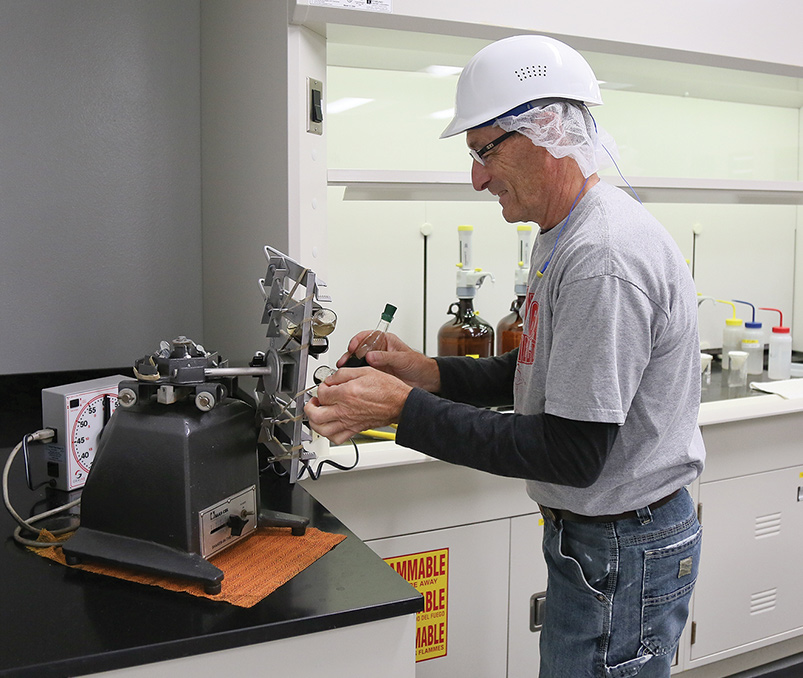 For dry pet food processing at Tuffy's, milled and blended dry ingredients and meat slurries are combined in the preconditioners that feed the extruders. From the extruders, products go to Extru-Tech double-pass dryers and on to coaters where both liquid and dry ingredients can be added.
Tuffy's coating system stores up to 26 possible liquid inputs and two powder additions, which are typically a prebiotic or probiotic and a dry palatant. The liquids are sprayed into the coaters and the powders are blown in before products are discharged into 25-ft., vertical, cone-shaped, stainless-steel Extru-Tech coolers that bring the product temperature down. Finished product is stored in one of 30 bins prior to packaging. With the exception of a few hand-added dry micro ingredients back at the mill, the entire kibble system is automated.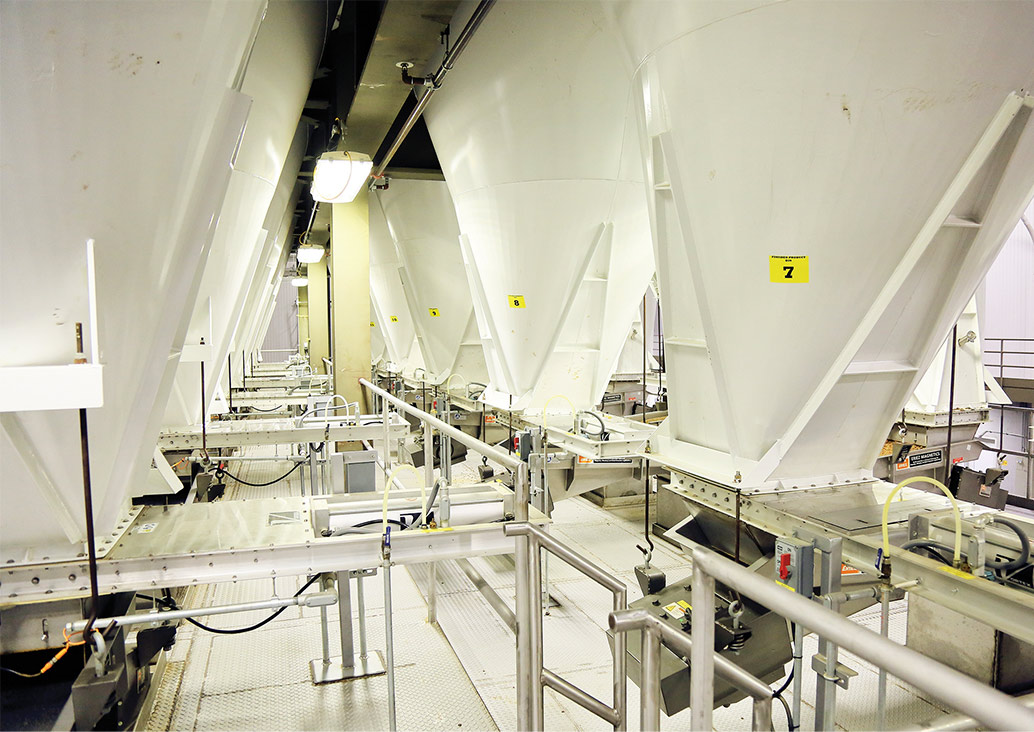 Samples are taken off of the dryers and the coolers and tested for bulk density and moisture. Both production samples and finished product samples are tested for proteins, moisture, fats, ash, pH, water activity, and glycols and sorbates on treats. All products are held for third-party pathogen testing results prior to being released.
Tuffy's currently has five packaging lines for its dry pet food production with a sixth line being installed to accommodate the increased production from the new Extru-Tech 750. Three of the operating bag lines are Thiele Technologies systems from BW Flexible Systems, Duncan, South Carolina, for bags that are 11 to 50 lbs. and two of the lines feature Parsons-Eagle small bag systems.
Packaged product is stored in Tuffy's 378,000-sq.-ft. warehouse, which houses what might be Perham's busiest intersection near its pick-and-pack pallet staging area. During a typical day, up to 32 fork trucks are in motion either storing product or preparing orders to ship.
To help manage all of the products and the data Tuffy's tracks, the company uses a warehouse management system from Manufacturing System Corporation (MSC), Ontario, Canada and an enterprise resource planning (ERP) system from IFS, Itasca, Illinois. While new management tools, a state-of-the-art processing facility and cutting-edge equipment is how Tuffy's manufactures its products, the company credits its success to both its quality products and a relationship-oriented approach to selling its products.
It's personal
According to Darren Fujii, chief growth office and national sales manager, one of the secrets to Tuffy's continued growth is how products are sold. "We have more than 40 salespeople who are on the street every single day," Fujii says. "That means we have a lot of contact with our independent retailers. We do a great deal of training with them, which is our bread and butter, to make sure they understand our products and how to sell them to consumers."
"We have a lot of contact with our independent retailers. We do a great deal of training with them, which is our bread and butter," says Darren Fujii, chief growth office and national sales manager.
Tuffy's is also working to help increase overall brand awareness and drive more people into its retailers' stores. "We are working to connect more with the end consumer in the digital world when they are contemplating pet foods so when they get to the store, they are already aware of our brands and are asking for them," Fujii explains.
The company helps retailers expand their own digital presence through the use of Promoboxx, a digital asset platform free to retailers. Tuffy's regularly uploads digital marketing campaign assets that retailers can co-brand and use on their own websites, social media channels or other media platforms to promote their businesses. "We are helping them brand themselves and taking some of that workload off of their plate," Fujii says.
Tuffy's does not compete with its retail customers online. "Tuffy's has always had a very strong focus on independent pet locations and that has continued to be the focus for NutriSource, PureVita and Natural Planet," Rasmussen says. "You won't find any of our products in Petco or Petsmart. We've also chosen to be very loyal to the independent brick-and-mortar store and to support those good partners of ours that have their own e-commerce businesses or platforms."
Rasmussen adds, "Pet food is a very passionate, people business. Consumers want to visit with folks, get recommendations and find out what's new. We've been fortunate to help foster that passion with our retail partners and then ultimately with our consumers because of our commitment to the industry and our commitment to that independent pet store owner." Rasmussen acknowledges that the industry changes rapidly and the company must continually evaluate its sales approach, but so far building strong relationships has served them well, as has the company's commitment to community.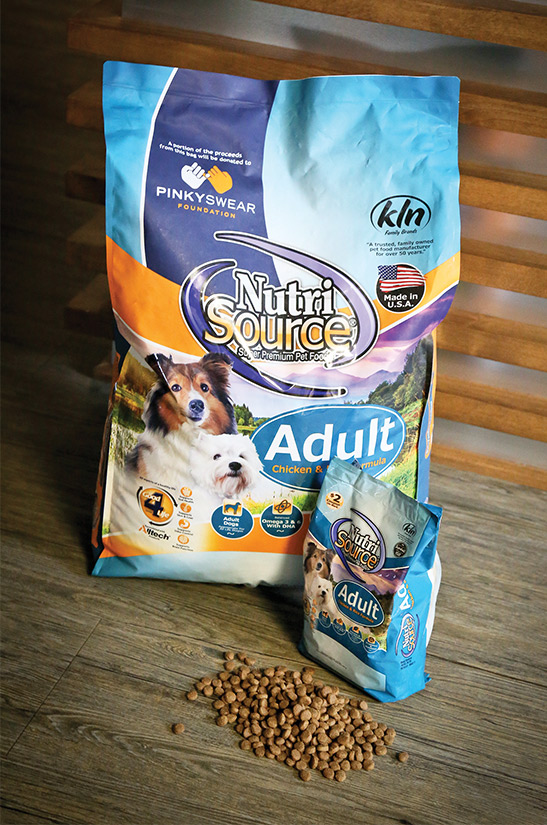 Giving back
Not only did the Nelson family keep the pet food plant in Perham, but the family and KLN Family Brands have supported the community with good paying jobs that feature many perks including profit sharing, greatly reduced health insurance costs, a free health clinic for company employees at the hospital where a large number of prescriptions are free, and — probably most impactful to the community — $10,000 in housing assistance for employees with three or more years of service. "KLN is heavily involved in civic causes. There is nothing that happens in Perham that KLN has not donated to," Ebeling says. "The employees see that and it's fun for them to be a part of that."
Rasmussen adds that the company's focus on community goes beyond the town of Perham. "The mindset of this company to invest in community also extends to the industry as well," Rasmussen says. "The pet food industry is something that's important to our family, it's important to this community and it's obviously important to our 6,000 doors of independent retailers that we partner with, and so we've been in a very nice position to be able to reinvest in the industry."
Read more about pet food manufacturers.