ST. LOUIS — Purina hosted entrepreneurs from 25 pet industry startups, as well as industry insiders and experts, at its inaugural Pet Care Innovation Summit the week of Oct. 1. Entrepreneurs had the opportunity to pitch their businesses to investors and 9 Square Ventures, Purina's corporate venture group, as well as network and attend educational sessions.
Basepaws, a Los Angeles-based company that built a cat genetics testing kit and a participant in Purina's 2019 Pet Care Innovation Prize, received a $125,000 investment from Purina during the summit. Purina and Centro, a digital media firm, also gave $50,000 in digital marketing support to Dig, a startup that has developed "the dog person's dating app," as the company describes.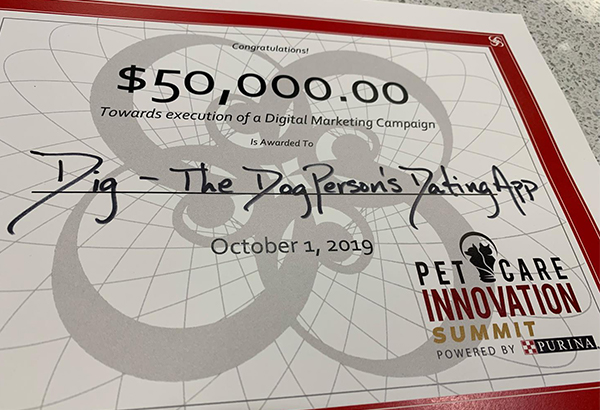 "We pitched fun plans to feature real dogs and their single humans in an interactive campaign," said Leigh Isaacson, co-founder and CEO of Dig, on LinkedIn Oct. 2. "Thank you Pet Care Innovation Prize teams, Centro, and Nestlé Purina North America for helping dog-lovers find someone they really Dig."
The educational focus of the summit was how to drive traction and growth digitally and sustain continuous innovation, according to Purina.
"Financial backing is important to any startup, but money alone won't drive success," said Bill Broun, co-lead of Purina's 9 Square Ventures Division and vice president of personalization and business development at Purina. "Having a network of support is key, and that is what we are providing with the Pet Care Innovation program at Purina."
Purina said it invited startups to the summit that are scalable, high-potential early-stage companies. These startups covered the gamut of the pet industry, ranging from pet nutrition products, pet health products and services, food and toy technology, and other product categories within the industry.
A comprehensive list of companies that attended includes: AnimalBiome, Basepaws, Bond Pet Foods, Dig, Playdate, NomNomNow, PupPod, DogSpot, Barkly Pets, CleverPet, BioDOGradable Bags, Pupjoy, Ewegurt, PetHospice, Shameless Pets, FetchFind, Whole Life Pet, SpotOn, and Sky Shepherd.
AnimalBiome, Basepaws, Bond Pet Foods, Playdate, Barkly Pets, Pupjoy, Ewegurt, Shameless Pets and FetchFind have participated in Purina's Pet Care Innovation Prize competition in the past.
The Pet Care Innovation Summit is part of Purina's overall Pet Care Innovation Program, which includes its annual Pet Care Innovation Prize competition and other resources for early-stage pet industry businesses.
Startups that partner with Purina through its Pet Care Innovation Program gain access to business tools, educational opportunities and exclusive networking events, as well as the opportunity to receive funding through Purina and other pet industry investors.
Stay up to date on news about the pet food processing industry on our News page.