Today's pet owners are searching for dog and cat treats that aren't just functional but also fun, interesting and reflect their pets' place as a part of the family. Treating occasions cover the gamut. It could simply be treats for treats' sake, a reward for good behavior or maybe a more functional purpose such as to provide a health boost to the pet beyond what's available from its food.
Many pet owners are drawn to treats that are aesthetically pleasing and similar to something they would eat themselves. Crystal K. Wiebe, founder of Beer Paws, craft beer dog treats made in Kansas City, Missouri, says people were uncertain about her beer treats for dogs at first, but now they are realizing that their dogs can enjoy the same benefits that their owners get from enjoying a craft beer. "Pet parents want their dogs to have the same things that we do, which is why treats like this are so popular," Wiebe says.
Other trends in both cat and dog treats are driven by a rise in sustainable sourcing for packaging and the use of alternative proteins in the treats. Lexie Berglund, president of The Pound Bakery, based in Harvard, Illinois, notes that both brands and consumers are looking for proteins that are different and more sustainable long term. "For example, we've had some customers interested in creating treats with cricket protein because they feel it is unique and more sustainable than beef or chicken," she says.
Fighting for attention
With the proliferation of treat brands and SKUs, it can sometimes be challenging for a product to be noticed by pet owners. GfK Market Research company reports that the number of US pet food and treat brands on the market are up 71% since 2011 and the price for pet treats rose from an average of $6.91 per lb. in 2011 to $10.93 per lb. in 2017, an increase of 58%. "Since there are so many options out there for consumers, catching their attention and getting them to relate to your brand is huge," Berglund says.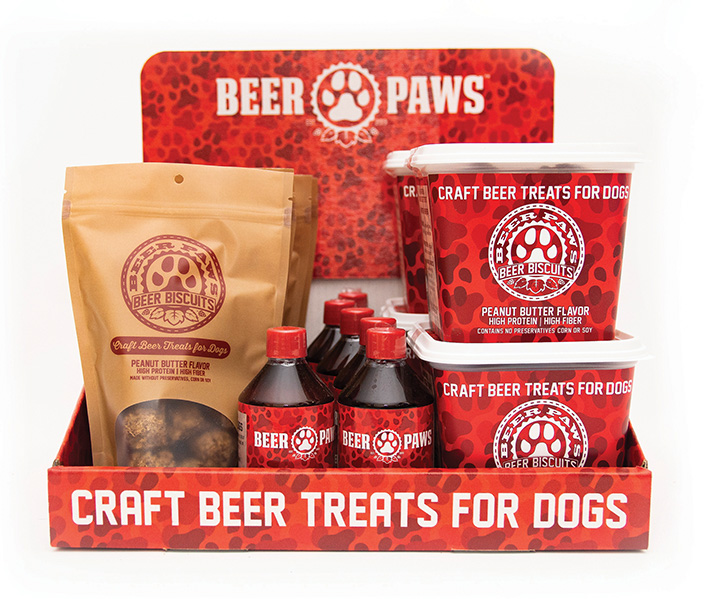 "Having packaging that is unique, eye-catching and attractive can play a huge role in grabbing a consumer's attention on the shelf or on social media. Brands need to consider what the overall message is and make sure the packaging represents that in a unique way."
Staying on top of social media is obviously important, but Wiebe states there's nothing wrong with old-fashioned methods for gaining consumer attention. "From the get-go, we hit up local events and some national events that we feel are good for the product, be it an arts-and-crafts fair or a whiskey festival," she says. "We look for places where people are going to get excited about getting a dog treat that ties in with their favorite local brewery. And we want them to see we are real people who know what we are putting in our treats and not some faceless company from overseas."
Once a brand has its consumers' attention, it helps to have a unique story or mission that customers can relate to. Consumers will remember a good story and keep coming back.
Julie Gasper, director of new products and innovation for Three Dog Bakery, a packaged treats company in Kansas City, Missouri, has nearly 50 bakeries that dog lovers and their pets can visit that offer an array of pastries and treats baked onsite, as well as shelf-stable packaged treats that can be purchased at Three Dog Bakeries and various other retailers.
"We believe the opportunity to visit a bakery just for dogs and then be able to carry that experience outside of the bakery is a differentiator." – Julie Gasper, Three Dog Bakery
"Our packaged treats business complements our bakeries nicely and provides a way for us to share some of the most-loved treats away from the bakery since we know that pet parents love to treat daily, but a daily bakery visit isn't always possible," she says. "We believe the opportunity to visit a bakery just for dogs and then be able to carry that experience outside of the bakery is a differentiator."
A healthy option
Pet owners are concerned about their dog or cats' health more than ever before, which has created a huge interest in functional pet treats. "Whether it's an immunity boosting formula, joint support treat, or snack that is naturally calming, functional treats are more popular than ever and continuing to grow," Berglund says. "Keeping a clean ingredient panel is important as well. We make it our focus to use as few ingredients as possible in all our treats or only use ingredients that consumers can easily recognize and trust."
Gasper notes that while pet owners expect their functional treats to provide the health boost advertised, that doesn't mean that health doesn't matter for indulgent treats. "For those treats, pet parents still want to provide the healthiest option possible. This often includes avoiding artificial flavors, colors or preservatives as well as added salt or sugars," she says. "Grain-free often plays into this also, even with consumers that don't feed exclusively grain free." With the treat options available today, there is no reason why a pet owner can't find delicious treats for their pet that still meet their baseline requirements for health, whatever those might be, Gasper adds.
The art of ingredients
Lucy Postins, founder and chief integrity officer for San Diego-based The Honest Kitchen, believes there's a growing focus for manufacturers to provide clean and responsible sourcing of ingredients as well as environmental conscientiousness in product formulation.
For example, The Honest Kitchen's extended line of Beams' fish skin treats for dogs uses skins from two different fish species rather than just one. In this way the company has been able to help prevent the excessive depletion of ocean fish stock numbers. "We're also laser-focused on gentle production methods like dehydration to help maintain the natural benefits of our raw ingredients," Postins says.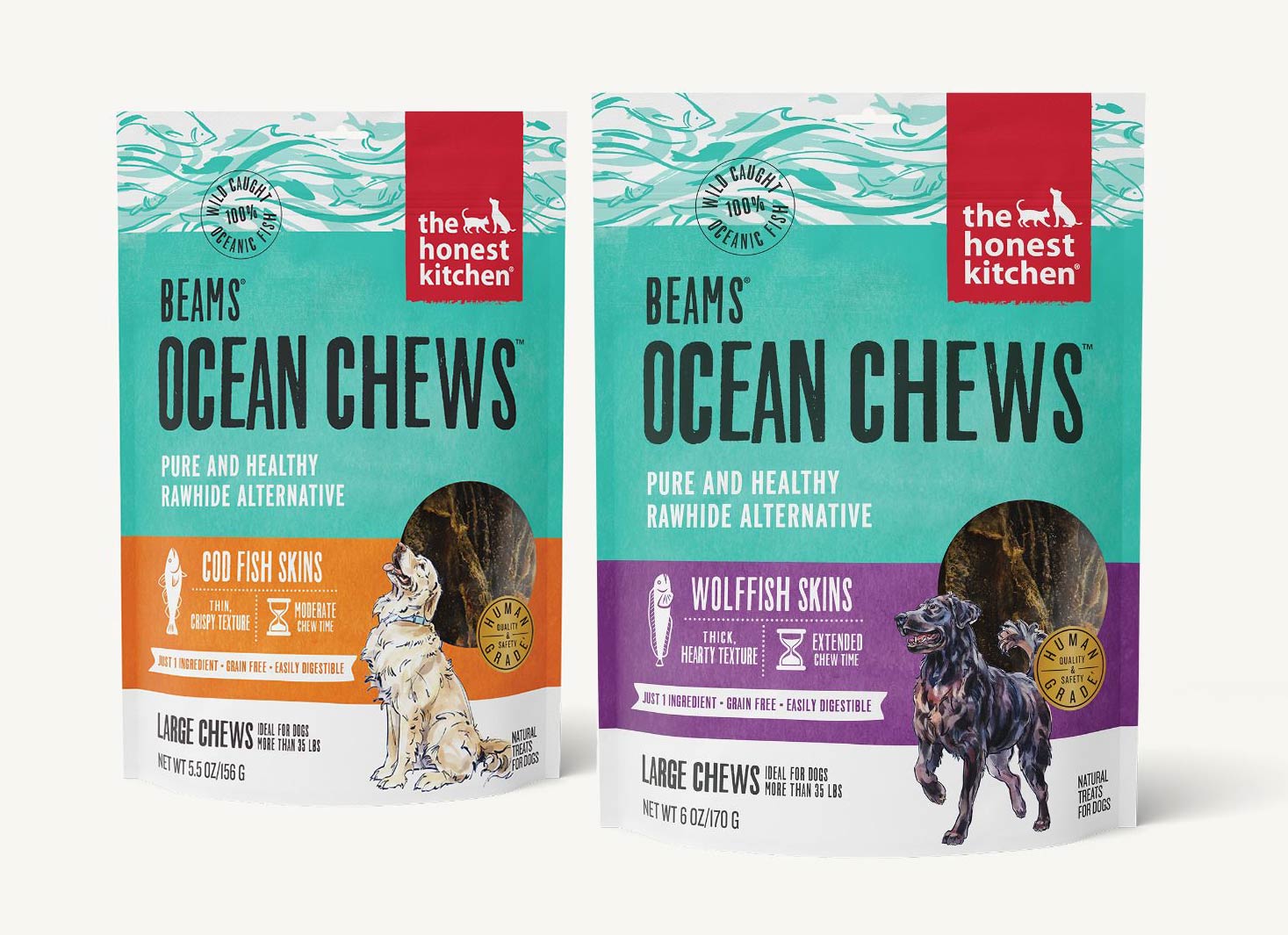 Berglund says that with the pet industry's nutritional trends constantly following human trends, it is sometimes challenging to source enough of the on-trend ingredients because The Pound Bakery is competing with human food manufacturers for those same ingredients. "If there's a huge spike in demand for a specific ingredient, there isn't always enough supply readily available to meet the human food demand as well as the pet food demand," she says.
Organic ingredient sourcing in high-volumes can be challenging as well. "Oftentimes, organic ingredients need to be contracted out before planting. If a brand comes to us and wants to place a high-volume order for an organic treat, we often need to know ahead of time to get those contracts in place to ensure we will have enough of the necessary ingredients," Berglund adds. "This can make it difficult to react quickly to new consumer trends in that area."
Unfortunately, there are some functional ingredients that are just not possible to add into treats that require a baking or extrusion process. Berglund explains some probiotics or other nutrients cannot withstand the heating process and lose their functionality. Because of this, trying to formulate a baked or extruded treat with specific functionalities is not always possible.
"Luckily though, over the past few years, we've seen improvements made to specific ingredients, like encapsulated probiotics," she says. "Some of these improvements have made it possible for us to use these ingredients in our treats without the heating process affecting the functionality."
Three Dog Bakery is unique in that, unlike its shelf-stable packaged items, the treats produced on-site at each local bakery are created to be eaten within a week. "This is a challenge compared to the majority of the treats industry, but this allows us to connect with pet parents who want a fresh, hand-baked option," Gasper shares. "In terms of specific ingredients, carob can create a challenge. This is used for decorating in our bakeries, but we only use the unsweetened variety. Not only is it a somewhat rare ingredient compared to the sweetened alternative, but when personalizing celebration cakes, it must have the right melting characteristics."
Looking ahead
In the future, Berglund anticipates continued growth in demand for treats made with superfoods, functionality and sustainable ingredients. "Pet owners want to feed their pets treats that are healthy and beneficial to them," she says. "With increased consumer knowledge, the demand for health in the pet industry is only going to continue to grow."
"With increased consumer knowledge, the demand for health in the pet industry is only going to continue to grow." – Lexie Burglund, The Pound Bakery
Humanization has moved beyond just being a trend and is, instead, the cost of entry into the market for many of today's brands and products, Gasper says. "In general, this currently seems to apply most closely to ingredient selection and ingredient quality," she says. "At Three Dog Bakery, we think this will continue to stretch beyond just ingredients and carry over to product shapes and forms as well as packaging."
Treating pets to special snacks made of 'real foods' similar to how a pet owner might treat themselves offers a rewarding way for people to indulge their pets.