Four new dog food formulas and six new single-serve cat foods have been added to Wellness Natural Pet Food's CORE brand, which includes food and treats for both cats and dogs. In addition, it has rebranded two of its CORE dog treat offerings, Puppy Bites and Petite Treats.
The new CORE SIX dog food products are limited-ingredient and high-protein. Each recipe includes a sustainably sourced animal protein: Free-Range Lamb & Chickpeas, Cage-Free Duck & Chickpeas, Sustainably-Sourced Salmon & Chickpeas, and Small Breed Sustainably-Sourced Salmon & Chickpeas.
The chickpeas in each formula provide complex carbohydrates to support high energy levels, while flaxseed supports the immune system, canola oil supports healthy skin and coat, and tomato pomace adds antioxidants and fiber to the diet. CORE SIX formulas contain no grains, chicken, potatoes, tapioca, dairy or wheat. They are also free from artificial ingredients.
CORE Tiny Tasters are grain-free, high-protein, single-serve pouches of paté cat food. Each serving is complete and balanced, and the small pouches are designed for convenience. Tiny Tasters are available in six flavors: chicken & beef, chicken & turkey, chicken, duck, tuna & salmon, and tuna.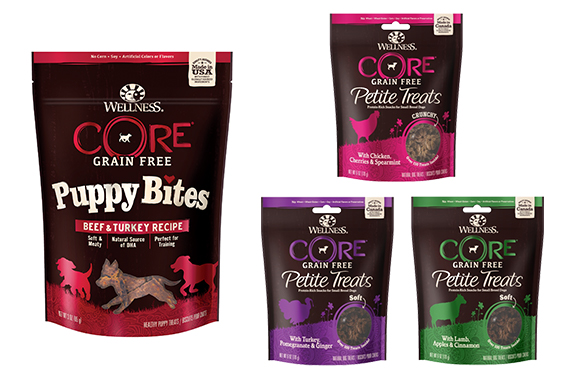 The natural pet food brand also revamped packaging for two of its CORE dog treat lines. Puppy Bites, previously WellBites, and Petite Treats are both grain-free dog treats. Puppy Bites are soft, while Petite Treats are available in soft and crunchy variations and formulated specifically for small breeds.
Wellness has also expanded the availability of its CORE RawRev cat food to retailers and consumers.
Read more about new pet food and treat products.