In an earnings call Jan. 15, Freshpet laid out its high and low points for 2018, set the stage for 2019 and reassured investors it is still on track to meet its goal of $300 million in net sales by 2020.
Billy Cyr, CEO of Freshpet, attributed the company's growth largely to velocity gains, as the company switched from a distribution- to velocity-based growth measure. Overall velocity growth has increased from 14.8% to 28.3% from April 2016 to December 2018. The company's re-purchase rate topped 70% in 2018, as household penetration increased to 2.02% from 1.77% and buying rate climbed 10.9% since from 2017.  
Successful innovation to the packaging of Freshpet's roasted meals products exceeded expectations in 2018, which created a stronger growth on the top line, due to the product being higher value and higher price-per-pound, which hurt the overall gross margin in 2018, according to Cyr. "The top line is better than we expected, the gross margin isn't quite what we wanted it to be, but the bottom line remained intact because we get a higher revenue for those units," Cyr said.
Freshpet also increased its production in 2018 to meet high demand. It added 40 employees to facilitate a 24/7 schedule on one production line starting in the third quarter, then added another 50 jobs in the last quarter of the year and increased from one to three 24/7 production lines as of Jan. 14. A fourth line will be converted to 24/7 production sometime in the second quarter of 2019 as Freshpet looks to hire an additional 40 employees soon, according to Cyr.
The company has increased ad spending by 60% each year since 2016 and plans to continue investing to increase household penetration of the Freshpet brand. According to the investor presentation released by Freshpet, household penetration has increased from just under 1.05% to about 1.43% with an increased media spending budget from $5 million to $40 million from January 2017 to September 2018.
Freshpet's prime real estate, its branded refrigerators, are currently in more than 19,000 retail locations nationwide. Cyr said the company is on track to reach its goal of upgrading 1,000 fridges in fiscal 2018 as it upgraded 805 fridges throughout the 2018 calendar year. In 2019, however, the company will shift focus from upgrading existing fridges to providing a second Freshpet Fridge to stores who already have one, increasing capacity at those locations by 10 items and introducing new cooler technology. In the long term, Freshpet plans to further innovate this real-estate aspect of its business.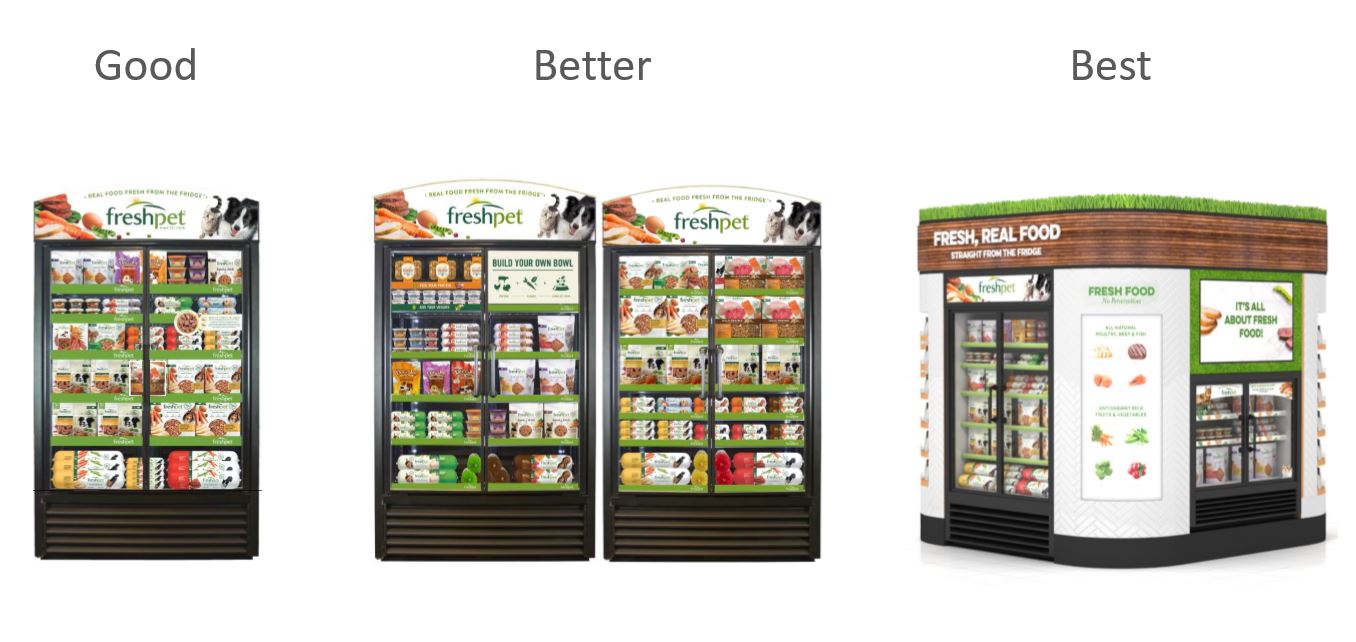 Cyr also unveiled the company's strategic motto for 2019: dig deeper. "We believe our strategy is working, we're going to stick to our strategy – we just want to dig deeper," explained Cyr. With this new strategy, the company will home in on increasing buying and household penetration rates, strengthening its retail presence and gross margins, and continuing developments in the UK and Canada. The company has validated its expansion into the Canada and UK markets, and will work toward an establishment in those markets looking forward.
By 2022, Freshpet aims to reach $500 million in net sales, according to the growth potential represented in its investor presentation. The company estimates its trajectory for net sales could reach nearly $1 billion by 2025.
"We live at the intersection of two very important macrotrends. One is the humanization of pets, which you hear about quite a bit, and the other is the desire for fresh and natural foods. When you put the two of those together it creates a tailwind for this business that we think has a very long life and provides incredible strength," Cyr said. 
Read more about corporate strategy, financial performance, mergers and acquisitions on our Business page.