DANIA BEACH, FLA. — Leading online pet retailer Chewy, Inc. is celebrating 10 years in business this year. Over the last 10 years, the company has grown to employ more than 18,000 people, serving 19 million active customers and drawing $7.25 billion in annual sales in 2020.
The company was founded in 2011 and opened its first fulfillment center in 2013. By 2015, it developed its first private-label brand and reached its first one-million customers, and in 2016 it launched a mobile Chewy App. Chewy cut the ribbon at its second headquarters in Boston, Mass. in 2017, followed by the launch of Chewy Pharmacy in 2018.
In 2019, the company went public on the New York Stock Exchange (NYSE) under the ticker symbol "CHWY," and joined the Fortune 500 list of companies in 2021.
In the first quarter of its fiscal year 2021, ended May 2, the company reported $2.14 billion in net sales and net income of $38.7 million. Net sales per active customer averaged $388 in the quarter, and autoship customer sales were up 34.4% from its first quarter 2020, accounting for $1.48 billion, or 69.3% of its total quarterly sales.
As part of its 10-year celebration, the company is commissioning two large-scale pet murals in Boston and South Florida.
"We are incredibly proud to place customers at the forefront of our 10-year celebration and to pay tribute to them with the Ultimate Pet Portrait," said Sumit Singh, chief executive officer at Chewy. "At Chewy, we are guided by a shared mission to deliver an exceptional customer experience every time, and to make compelling, long-lasting connections with the people and pets who are at the center of everything we do."
Chewy has been surprising its customers with hand-painted pet portraits since 2013, and will now take those portraits public with the two larger murals. Each mural will feature a range of companion animals to demonstrate the diversity of its offerings and customer base.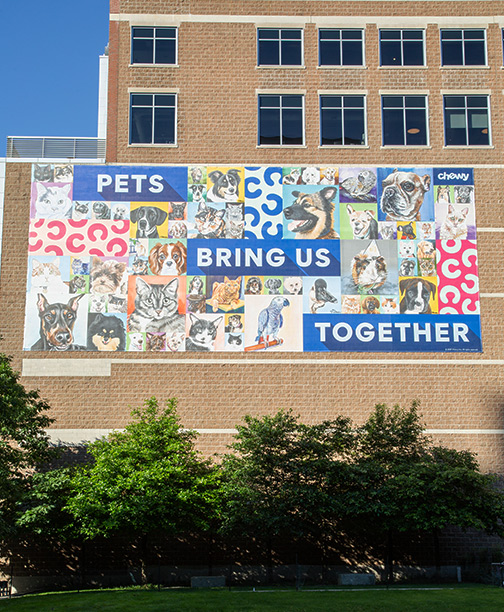 The South Florida mural in Wynwood neighborhood was created by Ernesto Maranje. The Boston mural in Seaport features a collection of personal pet portraits previously sent to its customers, and will be on display there through September.
Chewy will also donate $1 million worth of pet products to Greater Good Charities' Rescue Bank pet shelters, food banks and animal welfare organizations in the United States as part of its 10-year celebration.
Since 2012, Chewy has donated more than $76 million in pet products to shelters and rescue pets in need.
Stay up to date on the latest pet food processing industry headlines on our News page.