This article was published in the March 2021 issue of Pet Food Processing. Read it and other articles from this issue in our March digital edition.
Think about it: at the beginning of 2020, how many of your colleagues' pets' names did you know? Now, after a year of Zoom calls with cats walking across keyboards and dogs barking in the background, you probably recognize quite a few of them. If you did not know it before, it has become abundantly clear throughout the coronavirus pandemic the important role that pets play in our daily lives.
Although the pandemic has brought some industries, such as foodservice and travel, to a screeching halt, the pet food industry churned out more food and treats than ever last year. In fact, Packaged Facts recently estimated the US pet food and treats market at $39 billion in 2020, up from $37 billion in 2019, a rise it credits to increased pet adoptions as Americans turned to companion animals for comfort and a boom in e-commerce sales, particularly on websites like Amazon and Chewy.
"The crisis has exposed areas where our industry needs to continue working to be ready for the post-COVID-19 business environment."
To keep pets fed throughout the crisis — particularly in the early days as Americans stocked their pantries with staple foods, including pet food — over 500 pet food manufacturers across the country rose to the task. Many of these manufacturers, which I am proud to call members of the American Feed Industry Association (AFIA), recently spoke to our staff about how they adapted their businesses to meet the dual challenges of protecting employee health while providing a safe, abundant pet food supply.
Industry response to COVID-19
On the topic of safety, manufacturers worked to not only install barriers and safety signage, obtain personal protective equipment and train staff on new COVID-19 procedures and gear, but also to instill a sense of responsibility to one another to protect the health of all. Many recognized that one sick individual could cause an entire facility to shutter, so many companies regarded the manufacturing facility as "the temple," meaning, if someone did not have to be there, they were asked to avoid it. This protected the facility from additional exposure and allowed it to continue producing its essential product for the marketplace.
Travel stopped, facilities clamped down on visitors, team schedules changed to allow for greater segregation, job functions changed to allow for more physical distancing, and daily health screenings became commonplace. Companies upped their game with regard to cleaning high-tou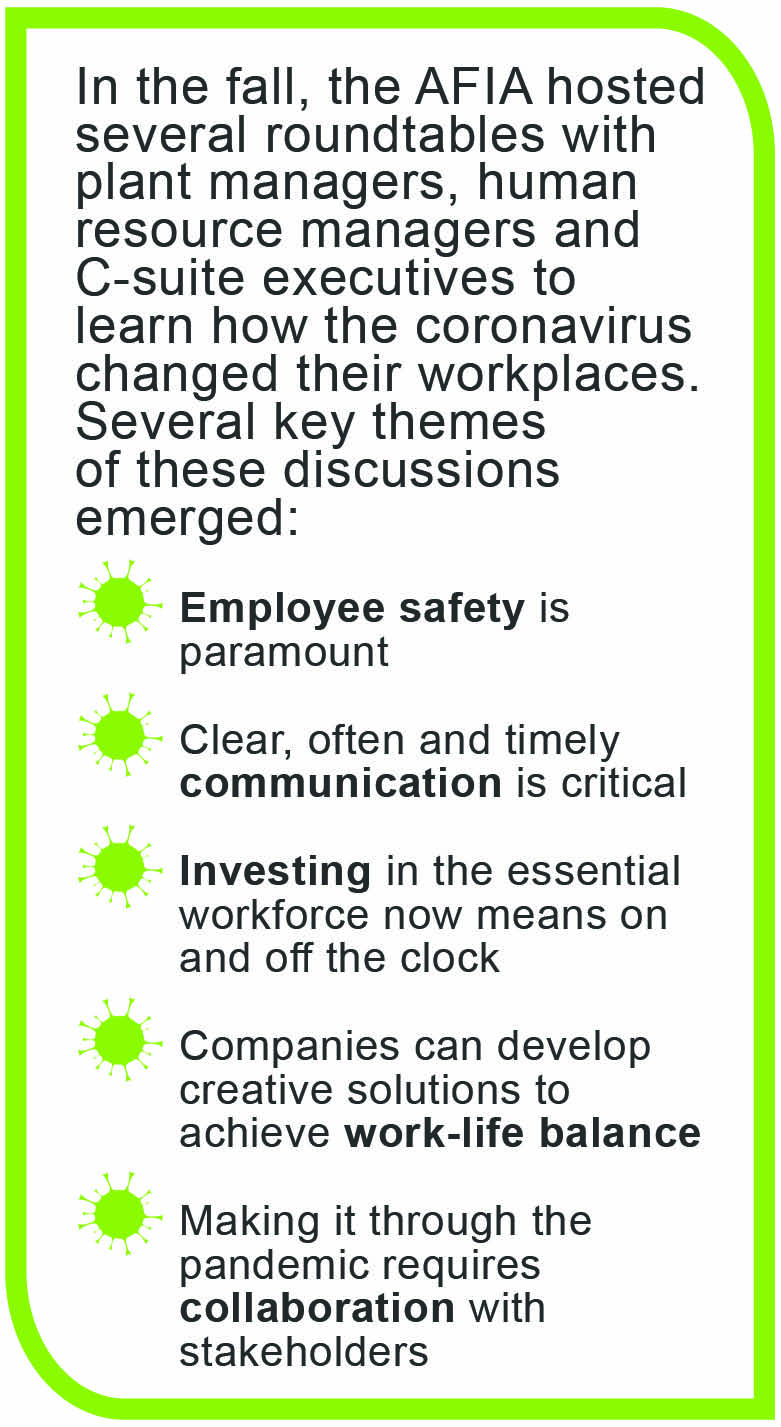 ch surfaces, improving their ventilation systems and leasing additional facilities, when necessary.
Companies also saw the need for clear, open and transparent communication about the rapidly changing events. Actions were taken to help remote employees feel connected to the mission, provide employees with a connection to leadership, build trust in corporate policies and vision, and clarify misinformation on social media about COVID-19. During the early days of the pandemic, companies found communication to be as big a challenge as safety.
Many companies found that the increased communication helped calm employees' and customers' concerns, while providing an outlet to ask questions and provide input on future policies. It also ensured everyone was on the same page about how the overall corporate strategy adapted to local and state ordinances affecting individual facilities and neutralize debates over political opinions.
Human resource managers worked diligently behind the scenes to treat their employees fairly in situations beyond their control. For instance, they reviewed their corporate leave policies and adjusted as necessary; adapted their recruitment and retention strategies; and worked overtime to maintain staff engagement and corporate culture in the new virtual environment.
In addition to keeping their houses in order, pet food companies coordinated with government representatives and those throughout the industry to ensure the supply chain could continue humming along. By mid-March 2020, this close collaboration yielded animal food manufacturers, ingredient suppliers and retailers the designation of "critical infrastructure" in federal guidance from the Department of Homeland Security's Cybersecurity and Infrastructure Security Agency. This proved to be a critical step forward for the industry and one that the AFIA hopes will stick long-term in state emergency planning procedures.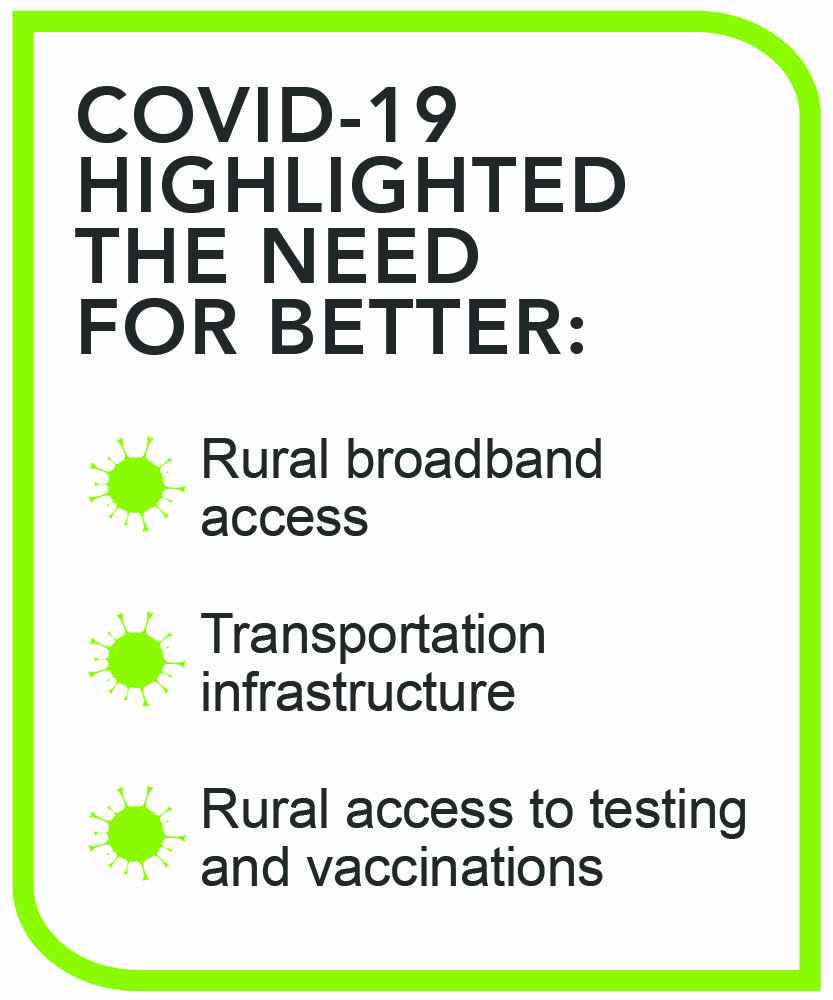 Strategizing for the future
Overall, our industry has adapted remarkably well to the new way of doing business, as evident in our success in keeping pet food stores stocked with a variety of animal food products. Moving forward, however, the crisis has exposed areas where our industry needs to continue working to be ready for the post-COVID-19 business environment. These include: boosting rural broadband access so our members in rural areas can stay better connected with their teams, regulators, suppliers and customers; enhancing America's transportation infrastructure so US agricultural products can continue to move freely; and improving rural America's access to COVID-19 testing and vaccination.
As an association, we will be working this year to ensure the Biden administration understands that any new regulations that come out of the pandemic do not burden our industry unnecessarily without improving employee safety and health. We will also continue impressing upon Congress the need for bills and actions that support the long-term economic viability of the US agriculture industry as it recovers from this recession.
Going forward, I am confident we will be better prepared for any future disease outbreaks – animal or human. We also learned more about our employees and their essential role in annually producing 9.8 million tons of dog and cat food for US pets. And hey, we have even learned a few pets' names too.
Follow our breaking news coverage of the coronavirus/COVID-19 situation.