NEW YORK — Kinship Partners, a pet-focused coalition established by Mars Petcare in April 2019, shared results from its inaugural Modern Pet Parent Report on Feb. 17. The report gathered pet owner sentiments surrounding the pandemic, pet ownership, purchasing behavior and the human-animal bond.
Overall, 71% of pet owners who participated in the survey said they would not have made it through 2020 without their pet(s), while 93% agreed their pet brought them comfort throughout the pandemic.
The vast majority (90%) of survey respondents also agreed they built a stronger bond with their pet in 2020, with 86% of pet owners feeling closer to their companions than ever, and 91% of owners believing their pet enjoyed having them home more often during the pandemic.
Additionally, 84% reported COVID-19 made them realize how much they benefit from having their pet, and 81% said that if they didn't have that pet, 2020 would have "taken a greater emotional toll." Almost all survey respondents (94%) said their pet was a source of emotional support on bad days, and 89% agreed their pet calms them when they are anxious.
Roughly one third of respondents said they are either concerned about their ability to be a "good pet parent" or concerned about being able to take care of their pet "in the way they deserve," Kinship shared. Pets getting sick, developing or suffering from chronic or long-term illness, unknown health issues and future health issues are all key concerns among pet owners.
When it comes to pet purchasing, a majority of pet owners are willing to spend extra on food and treats (85% of respondents) and toys (75%), with 48% saying they would even splurge on clothing for their pets. Most pet owners (86%) reported prioritizing their pet's health and wellness over cost, while 14% of owners said cost would take priority.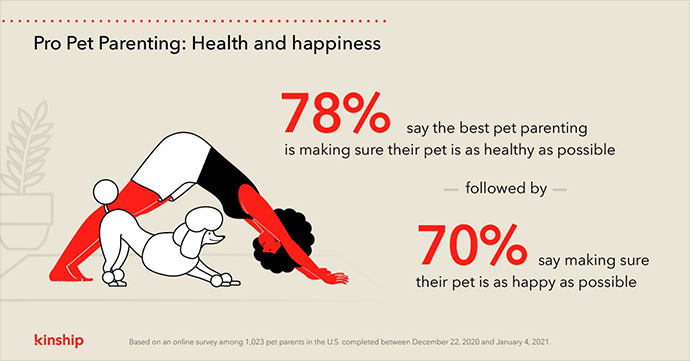 Pets' overall health and happiness are both measures of success and priorities for most modern pet parents, according to Kinship's survey. More than half (62%) of pet owners said their pet's happiness is their top priority. Pet health is among the top priority of half (50%) of pet owners, second only to happiness, while nearly all pet owners (93%) agree that ensuring a happy and healthy future for their pet is important to them.
A majority of pet owners (79%) said they wish they knew more about preventive care for their pets, and 76% said they would like to know if there are personalized healthcare options for their pets' specific needs.
"At Kinship, we believe that a world that cares is a better world for all," said Leonid Sudakov, president of Kinship. "That's why we are obsessed with making pet care as exciting and effortless as possible for the new generation of pet parents. To support today's pet parents, we must understand their journeys, from what inspires them to their biggest worries, and this report is a milestone in uncovering the most pressing areas of transformation in pet care."
The report included findings from a survey conducted by Kinship involving more than 1,023 pet owners in the United States older than 18. A majority of survey respondents were existing, long-term pet owners (731) and the remaining were considered newer pet owners (292). The survey was conducted between Dec. 22, 2020 and Jan. 4, 2021.
Stay up to date on news about the pet food processing industry on our News page.