TORONTO — Open Farm Pet Food announced July 2 that select freeze-dried raw dog food products will be available in reusable packaging through Loop, a sustainable initiative working with CPG brands to redesign existing product packaging to be zero-waste.
The reusable, refillable packaging options will be available exclusively through Loop.com in an effort to reduce single-use packaging. The stainless-steel containers can be collected, cleaned and refilled after each use.
"Sustainability is at the core of everything we do at Open Farm as we continue our commitment to raise the bar when it comes to feeding our pets and caring for our planet," said Isaac Langleben, co-founder and chief executive officer of Open Farm. "Joining Loop is an important next step in reducing our environmental impact and is the perfect way to offer consumers a waste free option."
Two Open Farm dog food products will be available through Loop, effective immediately, including its Freeze-Dried Raw Harvest Chicken Recipe and its Freeze-Dried Raw Pasture-Raised Lamb Recipe.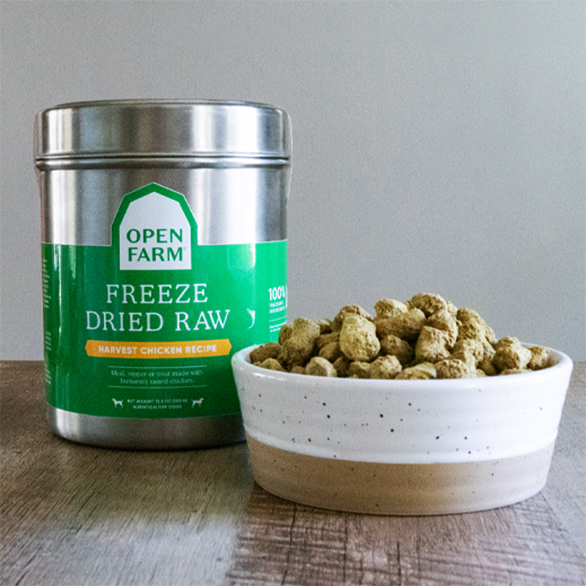 Currently, pet owners in the northeastern United States can purchase reusable containers of the two Open Farm products through Loop. This includes New York, New Jersey, Pennsylvania, Maryland, Washington D.C., Connecticut, Massachusetts, Vermont, Rhode Island and Delaware.
This is one of several steps Open Farm has taken to enhance the sustainability of its business. The brand, founded in 2013, is also partnered with Certified Humane, Global Animal Partnership (GAP) and Ocean Wise to improve animal welfare and sustainability along its ingredient supply chain.
Open Farm also offers full traceability for its pet food products, allowing pet owners to trace each ingredient back to its source.
Loop was officially launched by TerraCycle in May 2019 as a circular shopping experience for a variety of personal care, household cleaning and food products. Open Farm is joining both Mars Petcare and Nestle Purina who partnered with Loop in early 2019 to pilot the development of reusable packaging solutions. 
TerraCycle has also partnered with Wellness Natural Pet Foods and Mars Petcare to offer recyclable packaging programs and repurpose used pet food packages in the United States and abroad.
Loop first launched in the Mid-Atlantic United States and France in 2019, but expects to expand to other international markets, including Canada, Germany, the United Kingdom, Japan and Australia.
Read more about sustainability in the pet food and treat supply chain.