BOULDER, COLO. — Pet Sustainability Coalition (PSC) announced June 16 it is now enrolling pet industry companies in its 2020-2021 Positive Impact Accreditation program, one of the organization's methods to help companies assess, improve and validate sustainable business practices.
Companies who are accredited through the program gain access to retailer-facing, business-to-business marketing and communication materials, as well as benefits and amenities to showcase their sustainability at pet industry trade shows.
"Not only did the accreditation process help Petcurean benchmark and measure our impact, but the Positive Impact Program shared our sustainability achievements with an active retailer audience, showcasing our commitment to pets, people, and the planet," said Christine Mallier, community relations and sustainability manager at Petcurean.
PSC's 2020-2021 Positive Impact Accreditation program launches July 1, 2020 with expanded benefits for participating companies. These include virtual lunch-and-learns, new opportunities for retailer exposure, and earned media partnerships with pet industry platforms.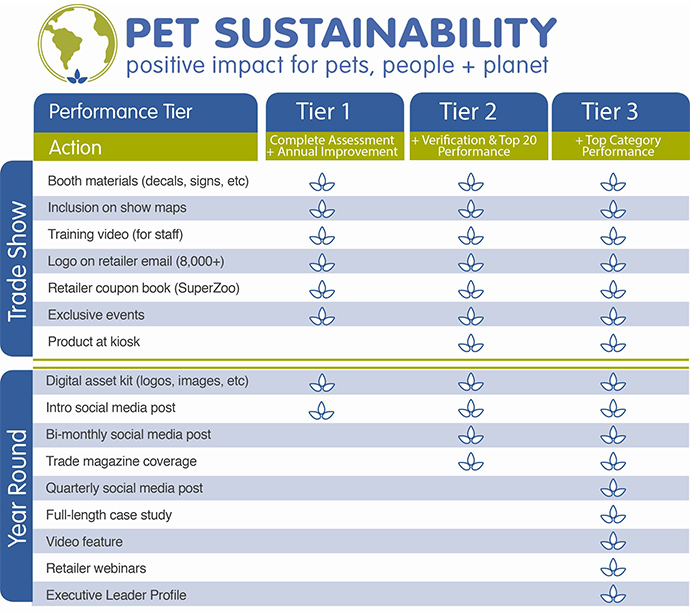 Companies participating in the program are required to complete a third-party assessment to establish a benchmark for their business. To become accredited, they must show marked improvements on an annual basis. More than 50 pet industry companies participated in last year's Positive Impact Accreditation program, according to PSC.
Pet food and treat companies that participated in last year's program include West Paw, which recently released its first line of pet treats, DSM, Earth Animal, "I and love and you," Petcurean, Polkadog Bakery, Zesty Paws, Do Only Good (D.O.G.) Certified Pet Nutrition, Health Extension, Midwestern Pet Foods, Mylo Petfood, Nature's Login, Portland Pet Food Company, Royal Canin, Wellness and Wet Noses.
Businesses who apply for the program before July 1 will be considered among PSC's Top 20 accredited companies for the year. Any pet industry company may apply, and those who cannot apply by July 1 can still gain accreditation throughout the year.
Learn more about PSC's 2020-2021 Positive Impact Accreditation program.
Read more about sustainability in the pet food and treat industry.