Creating biologically appropriate diets is at the heart of everything Champion Petfoods does. The company uses a low-temperature slow cooking process to optimize the bioavailability of nutrients in its companion animal diets and utilizes the "whole prey," including animal meats, muscle, organ, and edible bone and cartilage.
Champion summarizes its nutritional philosophy with an acronym, BAFRINO, which stands for "biologically appropriate food made with fresh, regional ingredients and never outsourced." The company sources ingredients for its premium pet foods and treats as close to home as possible, whether that means from regional farms in Canada or local fisheries in the United States. It refers to its two state-of-the-art manufacturing facilities in North America as "kitchens" in order to convey its core vision: to be trusted by pet lovers everywhere.
Growing premiumization in the pet food space has played into Champion's long-standing values. The company believes today's pets should be fed diets that resemble what they would have eaten in the wild, which means prioritizing fresh meats and other high-quality animal ingredients in its formulations. Anywhere from 60% to 90% of each Champion pet food consists of animal meat, poultry and fish, and the remainder of each formula is made with fruits, vegetables and botanicals.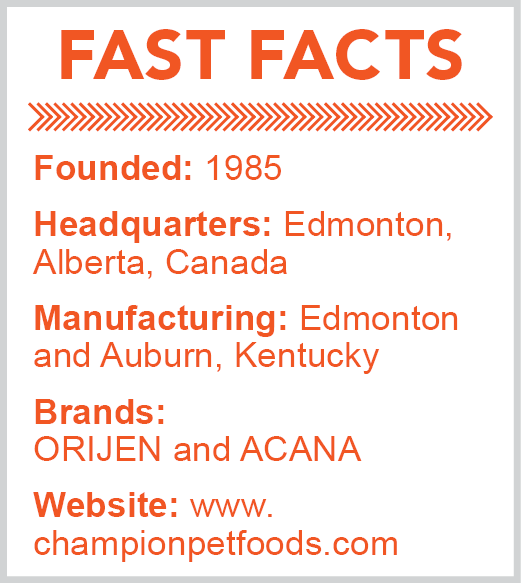 The company steers away from artificial ingredients and GMOs because it says most of the vitamins, minerals, essential amino acids and other nutrients pets need can already be found in the fresh meats and whole food ingredients it incorporates.
The pet food manufacturer has made it a point to provide transparency for pet owners at every step of its process. In March 2019, Champion announced the formation of its Transparency Council, consisting of four third-party members that are periodically invited to tour the company's facilities, visit its ingredient suppliers, and write candid reports detailing their observations to be released to the public. Two veterinarians and two pet owners that were selected to sit on the council visited Champion's Kentucky facility in April as part of the first Transparency Council meeting, where they witnessed all areas of production from ingredient take-in and cooking to food safety, quality management and packaging.
Champion also operates the BAFRINO Research and Innovation Centre, an "innovation hub" where pet food experts and scientists collaborate to develop the company's biologically appropriate diets, natural flavors, fresh meat technologies, and nutrient testing and validation.
Champion Petfoods remains open-minded as consumers demand more and more from the pet foods they buy. It refers to its consumers as "pet lovers" as a constant reminder to put the health and well-being of pets above all else.
Find more details about Champion Petfoods' DogStar Kitchens in Auburn, Ky. in our exclusive processor profile.
Read other pet food and treat company profiles featured in our 2019 Resource Guide.