ORLANDO, Fla. — Champion Petfoods, a Canada-based pet food and treat manufacturer, announced during Global Pet Expo it is releasing two new products: a limited-ingredient treat line under its ACANA Singles brand and package redesigns and formulation updates to its ORIJEN freeze-dried products. Additionally, the company announced it has launched a four-person council focused on providing transparency about its products to consumers and retailers.
The new limited-ingredient diet (LID) treats are available in two formulas, beef and pumpkin and turkey and greens. As part of ACANA Singles, which the company released in 2018, the treats are designed for dogs with dietary sensitivities and feature shorter ingredient labels with lower carbohydrate levels and higher protein.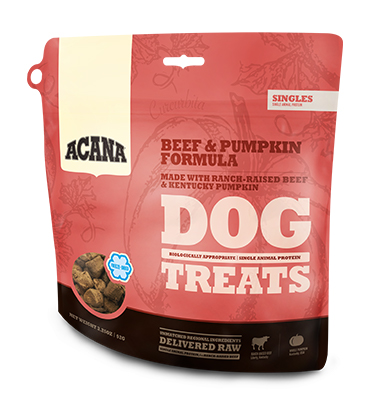 "LID doesn't have to mean less meat," said Julie Washington, chief marketing officer of Champion. "Our new LID ACANA Singles treats have over 70% quality animal proteins and 100% raw beef and turkey." The treats are between 45% and 55% protein and include non-GMO fruits and vegetables cooked at a lower temperature to provide optimized nutritional value.
According to Champion, the ACANA brand currently holds a 5% share of the dog treat category.
The treat category continues to proliferate, and the freeze-dried pet food market is also expected to grow in 2019.
"Freeze dried allows pet lovers to provide a raw food solution that's both convenient and safe," Washington said. "As pet lovers continue to look for the very best food solutions, we felt it was important to make some improvements to our ultra-premium ORIJEN Freeze-Dried products.
Champion's ORIJEN freeze-dried products are available in three variations: original, with poultry, eggs and fish; regional red, with meats and fish; and tundra, with meat, game and fish. Each formula includes muscle meat, organs and digestible bones and cartilage, as well as non-GMO fruits and vegetables. The meats include 90% quality animal proteins and 100% raw ingredients, according to Champion.
"Consistent with pet lover expectations for raw food diets, our freeze-dried foods are minimally processed. They can be served on their own as a fully balanced meal or as a topper for a dog's regular diet," Washington said.
Both products are manufactured at Champion's DogStar Kitchen in Kentucky and ingredients are sourced regionally.
The company's new Transparency Council will consist of third-party industry experts and consumers who will be exposed to Champion's manufacturing processes and provide candid reports on its product development to release to the public.
"We are witnessing increased consumer interest in pet food quality standards, ingredient sourcing, nutritional attributes and product safety," Washington said. "People no longer accept at face value the assertions and claims made by pet food producers about the integrity of the products they provide. Pet Lovers place a greater premium on transparency and want to know more about how foods are made and from where ingredients are sourced – and our Transparency Council provides an avenue to do just that."
Members of the council will be invited to Champion's manufacturing kitchens in Edmonton, Alberta, Canada and Auburn, Kentucky to experience how its products are made from start to finish, visit regional ingredient suppliers and learn about its safety procedures.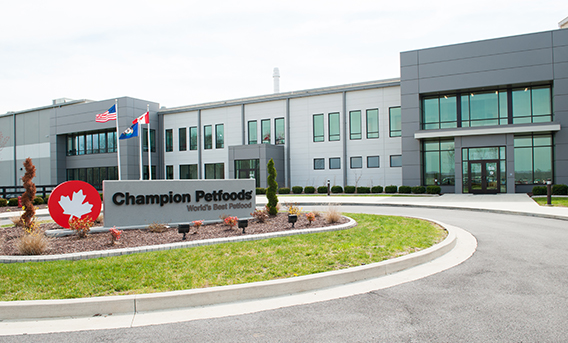 They will be encouraged to write articles, participate in interviews with the media and post on social media about their experiences.
As of March 21, two members have been appointed to the council.
Dr. Shawn Messonnier, a US veterinary physician, industry expert and author founded the Paws & Claws Animal Hospital in Plano, Texas in 1991. He frequently contributes to media outlets including Animal Wellness.
Dr. Clayton Greenway, a veterinary physician at West Hill Animal Clinic in Scarborough, Ontario, is the development director for VetStrategy, Inc. Greenway also hosts the veterinary radio program "Animal House," popular in Toronto, Canada.
"Champion's willingness to open the door and allow us to see what they do and how they do it is refreshing," Messonnier said. "We look forward to being the publics' eyes and ears on how Champion delivers on its promises."
The manufacturer announced via social media that it is currently accepting applications to fill the remaining two positions on the council. Applicants are asked to submit essays about their views on the importance of transparency and a statement of interest in the Transparency Council. The two remaining members will be announced around April 8, 2019, according to Champion.
"We think the Transparency Council program will elevate awareness of our trusted suppliers and the people who provide our ingredients – our goal is to verify the link between sources, fresh ingredients and how that translates into our kibble and freeze-dried ORIJEN and ACANA foods and treats," Washington added.
Champion Petfoods' mission statement is focused on producing biologically appropriate pet diets with fresh, regionally sourced ingredients. It manufactures two brands, ORIJEN and ACANA.
Read more about product development, ingredients and formulation.