This article was published in the March 2020 issue of Pet Food Processing. Read it and other articles from this issue in our March digital edition.
In 2016 when Canadian-based Champion Petfoods built its first United States processing facility in Auburn, Kentucky, the company looked to meet or exceed human food manufacturing food safety standards. The awards bestowed on the DogStar® kitchen, the certifications earned, and a tour of the impressive facility make it clear the company met its goal.
From Safe Quality Food (SQF) certification in its first year of operation to winning the first-ever Global Markets Award from the Global Food Safety Initiative (GFSI) to receiving a national design-build award for Lexington, Kentucky-based Gray from the Design-Build Institute of America (DBIA) to winning the Kentucky Governor's award for global trade, the accolades keep flowing as does the pet food and treat production at the 371,000-sq.-ft. facility on an 85-acre site, 30 acres of which are devoted to kitchen operations.
Strong growth in the United States market and a corporate commitment to formulate with fresh regional ingredients drove the decision by Champion to build a manufacturing plant in the United States. The United States is Champion's largest market and the company chose Kentucky because of the size and diversity of its agriculture.
"SQF certification is very difficult to get. In the food industry, it usually takes a couple years to accomplish. We did it here in year one," said Keith Arnold, Champion Petfoods.
"Kentucky is the 43rd largest state which means it's not a huge state, but it has the fourth-highest number of small to medium farms," explained Keith Arnold, director, treats and breakout innovation, and the original kitchen manager at DogStar. "Kentucky has a lot of agriculture, both ranching and farming, and that's the reason we looked specifically at Kentucky. We have what we call featured farmers and growers. We like supporting their businesses and they really care about their quality, and also where their products are going. We love the relationship that we have with our farmers."
Trust, a necessary ingredient
Staying true to the company's guiding principle, all diets were reformulated to include regional ingredients. As for the processing equipment, it didn't matter if Champion's Canadian facility used a particular equipment vendor or not.
"The approach we took was: Extrusion, who is the best? Drying, who is the best? Coating, who is the best? Fresh mixing, who is the best? Freeze drying, who is the best?" Arnold said. "No matter where they were in the world, we wanted to know who the very best was at what they do."
New people working with new equipment and new formulas made it all the more impressive that the DogStar kitchen became SQF certified in its first year of operation. This required an intensive training program and a lot of trust that each department had the knowledge they needed, even if they didn't have the typical length of experience at that particular task.
"SQF certification is very difficult to get," Arnold said. "In the food industry, it usually takes a couple years to accomplish. We did it here in year one."
He explained that SQF is three audits in one. The first audit looks at the facility. Is it secure? Do all the doors seal? Is there a pest control system in place? Are there good manufacturing practices in place? SQF looks at all the things required to make food safely.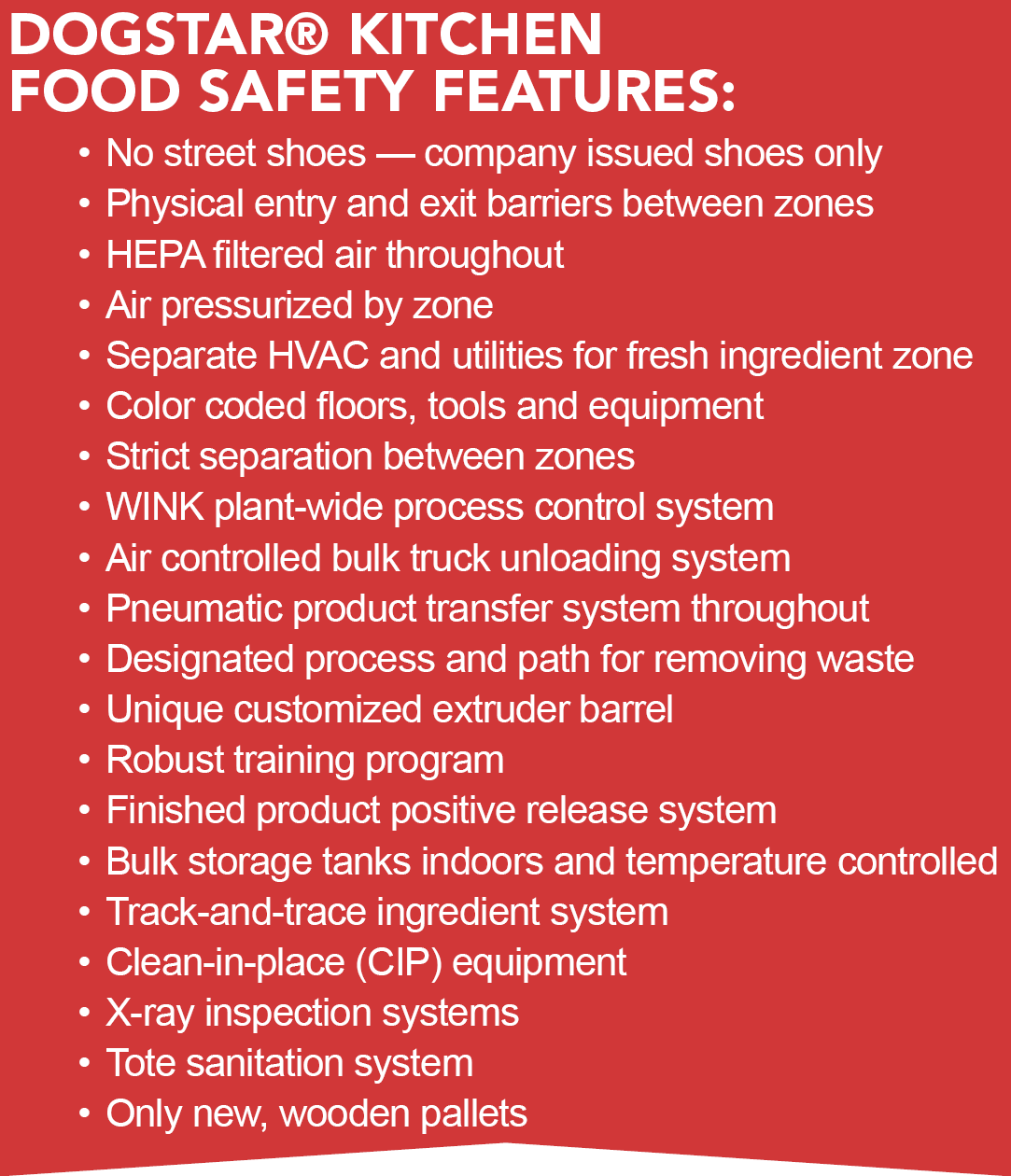 The second audit focuses on process paperwork and if what is happening in the kitchen is being properly documented. The final part of an SQF audit focuses on knowledge.
"The third part for us was the most challenging," Arnold said. "The facility was brand new, all the people were brand new, the process was brand new and the majority of the people were from some kind of processing but not necessarily food. We had to have an exceptional training program to get them ready. We scored in the high 90's out of 100. We didn't just get a base hit – we hit it out of the park, which we were very pleased with."
SQF certification is a food safety standard Champion set as a goal early and achieved it. The facility has successfully recertified every year since. As part of the third year of certification and beyond, SQF auditors show up unannounced. The company has also successfully passed US Food and Drug Administration (FDA) inspections. Being inspection-ready every day is the company's philosophy.
"We set a mission before we hired the first employee of being tour ready at all times." Arnold said. "We just expect the kitchen to be clean and ready all the time. People take a lot of pride in their kitchen, a lot of pride in their work area and they want to keep it neat. It makes it safer, better for food safety and it also looks nice."
Details deliver safety
The focus on hiring quality employees, investing in their training and trusting them to meet stringent safety standards has clearly been a successful formula for the company, which needed to expand DogStar within the first year to meet demand.
To produce a high volume of pet food and treats safely, Champion implemented a long list of design parameters and safety protocols, some of which are not typically seen in companion animal manufacturing facilities.
To start, no street shoes are allowed in the plant. Company-provided shoes stay at the plant for employees and guests are issued shoes when touring the facility. Plus, separate work boots are provided for those entering and exiting the fresh/pre-cook ingredient area. Physical entry and exit barriers between zones require hand washing and automated shoe sanitation. The addition of a three-stage entrance and exit barrier between the fresh/pre-cook zone and the rest of the facility was fashioned after sushi manufacturing facilities.
An employee entering the pre-cook zone is required to sit on a bench, remove and store the company-issued plant shoes, swing their legs over the bench, cross a sock-only room, select their personal, company-provided, pre-cook-only boots, carry them to another bench, swing their legs over the bench and put the boots on, then wash their hands with soap and water. When leaving the pre-cook zone, employees follow these steps in reverse. This system prevents cross-contamination from shoes and was designed specifically as an extra precaution.
All of the air in the facility is filtered and pressurized by zone to prevent potential contamination from traveling through the air to finished products. Additionally, if an outside door is opened anywhere in the facility, air will blow out, which helps keep insects and other contaminants from entering.
As part of managing air flow, the use of overhead doors between areas and to the outside are coordinated. For example, waste is collected in one central area and only one door servicing that area from each section of the building or to the outside is open at one time.
The pre-cook zone — or "fresh area," as it's referred to — is a separate, stand-alone structure with thick, concrete walls and floors that help maintain a constant temperature. The HVAC systems are separate for this area and an elevated walkway outside and above the pre-cook zone allows access to the utility service area so electrical, steam and water drops can be serviced externally without entering the pre-cook zone.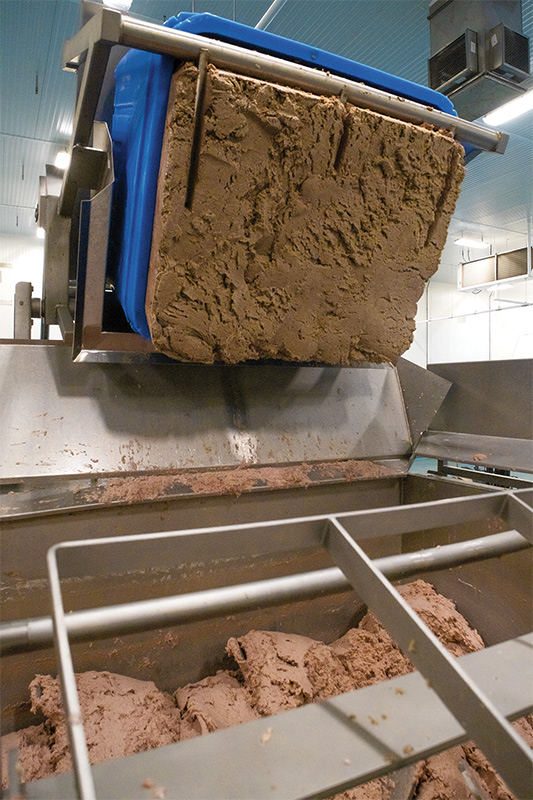 For tools and equipment within zones, color restricts their use to specific areas.
"All of our equipment that is white and green is only used in post-cook processes. Red is only used in pre-cook processes," Arnold explained. "Everything is marked. We keep an entire tool set for our maintenance crew in the fresh area because cross contamination is really easy with your tools. Our forklifts are designated so the forklifts in fresh and pre-cook never go into post-cook unless they go through sanitation procedures. All of our tools, our equipment and our people, we all make sure that we don't provide an opportunity for cross-contamination."
The strict separation of zones combats cross-contamination as well. Not only is the DogStar kitchen designed with separate areas for fresh ingredient handling, dry ingredient handling, pre-cook processing and post-cook product handling and packaging, but specific paths for waste from these separate areas are defined.
The waste room has an airlock with access outside to the trash dumpsters. Waste from the extruders' bypass feature in the back-pressure valves travels to this area via pipe, pre-cook waste comes directly through an overhead door in the pre-cook zone, and post-cook waste has its own designed overhead door from that zone. Employees restricted to the airlock remove waste from the building continually.
"A major food safety risk in food manufacturing is your waste removal process," Arnold said. "If you don't design a specific system around that, that's where rodents and insects will come in. That's where a number of your problems will be because of the waste. An efficient waste system can eliminate many of your food safety risks."
Additional food safety measures include clean-in-place (CIP) equipment, a sanitation system for the blue plastic totes used for incoming fresh proteins and the use of only new wooden pallets for finished product storage and shipping.
These safety standards implemented at DogStar, as well as the ingredient selection and handling, product formulating and processing approach were meant to set a new standard of manufacturing in the pet food industry.
Managing quality
Fresh ingredients for both freeze-dried products and kibble enter the fresh ingredient area, which is maintained at a specific low temperature. All ingredients, whether fresh or dry, are tested before they are unloaded. The Certificate of Analysis (COA) provided by the supplier is verified in the DogStar Quality Assurance Lab and all ingredients must be approved by QA before they are received into the system. Once received, fresh ingredients are typically processed into finished product by the next day.
DogStar's innovative, custom, kitchen-wide control system they call WINK, meaning "window into the kitchen," communicates from one process to another and controls the flow of the entire processing system and validates each ingredient added to a batch. Dry ingredient batches and fresh ingredient batches are prepared in advance and stored in holding tanks.
 "Once we have a proper quantity, the extruder operator will start the extruder and then the fresh-ingredient and dry-ingredient areas work to keep up all day and stay ahead of the extruder," Arnold said. "WINK is the brains, but the extruder is the heart of the operations. Once we get that heart started, we want to keep it consistently beating the correct rhythm all day long and that gives you the best efficiency and quality."
Champion's strict adherence to maintaining pre-cook and post-cook separation throughout DogStar drove a unique custom feature in the extrusion room in which the extruder barrel extends through the wall.
"We were determined to have pre-cook and post-cook everywhere," Arnold said. "Applying that requirement to the extruder area was the most important step. Wenger figured it out and it works fantastically."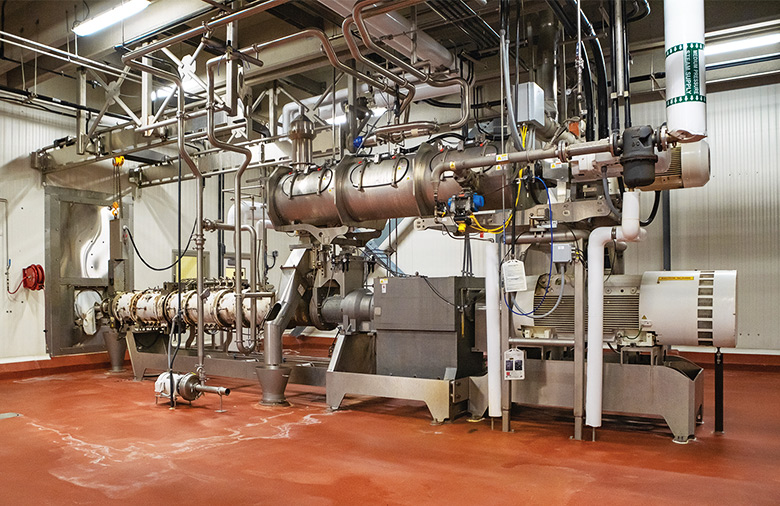 The space where the extruder barrel passes through the wall is protected by a boot that clamps down on the pipe and seals the pre-cook room from the post-cook room. The section of pipe that passes through the wall can swivel out to be cleaned.
 "The extruder is by far the most important process because it's where everything comes together," Arnold explained. "It's where the outcome of the finished product takes place. We give the extruder operators a lot of training and a lot of data to do their jobs because they are basically managing quality."
Arnold says the company has worked hard to become a preferred employer to attract talented people.
"When we started this kitchen, we knew that the core to success was the team," he said. "We try really hard to make it a great place to work. We have a great workforce in this area and we don't have any issues with hiring."
Champion will turn to its customers, closely watch market trends, and continually evaluate what is best for the pets to determine the company's future growth path.
"For us, if it's healthy for the pet, we're headed in the right direction. It's really something this company has done well for a long time," Arnold said.
Read more about pet food and treat manufacturers.