This article was published in the September 2019 issue of Pet Food Processing. Read it and other articles from this issue in our September digital edition.
After 87 years, Muenster Milling, Muenster, Texas, is still adapting to new market opportunities. The company that began in 1932 has produced dry extruded pet foods since 1989 and now processes freeze-dried pet foods and treats. Fourth-generation owners and brothers Mitch Felderhoff, president, and Chad Felderhoff, director of operations, purchased the business from their father in 2013 and last fall added a new, 17,000-sq.-ft. freeze-dry processing facility. Pet Food Processing visited Muenster in May and toured the company's operations.
The addition of freeze-dried products fits with the owners' pet nutrition philosophy as well as their focus on growth. For the freeze-dried diets, Muenster is targeting as close to zero carbohydrates as possible, especially for the cat formulas. "We have our overall philosophy of what we think pets should eat and then we work with a Ph.D. nutritionist," Mitch says. This philosophy took hold eight years ago when Mitch's family cat quickly doubled its body weight while on a dry food diet. After switching to an all-meat product, the cat lost 10 lbs. in 45 days and was a much healthier animal after that, Mitch reports. That experience, plus the company's proximity to ample meat suppliers in and around the Dallas/Fort Worth area and the brothers' goals of building upon the legacy they inherited, prompted the decision to add freeze-drying capabilities.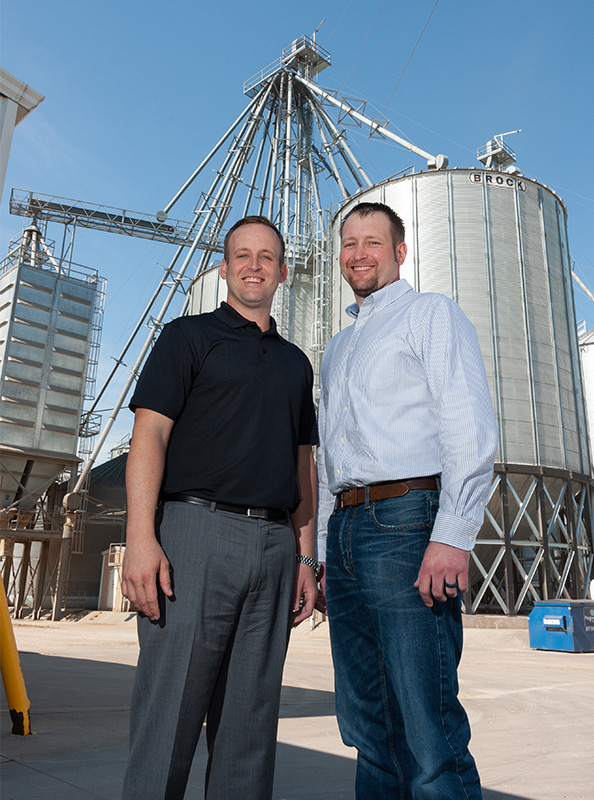 Following in his great-grandfather's, his grandfather's and his father's footsteps, Mitch joined the family business in 2007 focusing on sales, marketing and new business development; Chad joined him in 2013 after working for ConAgra Foods out of college and travelling the country righting distressed facilities. Chad's primary focus is the day to day operations of the business.
The Muenster brands of natural pet foods include Ancient Grains, Grain Free and Perfect Balance dry dog foods and freeze-dried dog treats along with freeze-dried meal toppers and complete-and-balanced freeze-dried pet foods for both dogs and cats. The company also produces the Milestone brand of horse food and chicken food and co-manufactures private label brands of both dry food and freeze-dried food and treats for primarily regional customers in and around Texas. 
Ahead of its time
Muenster first launched a freeze-dried pet food line in 2012 with unexpected results. "We were a little bit too early to the market and it just wasn't well-received," Mitch explains. "The East Coast and West Coast were ready for freeze-dried, but Texas wasn't so we shelved that idea. When Chad and I purchased the company, we agreed that one of our goals is to produce lower-carb diets. We can only lower the carbohydrates so far in an extruded food so we feel strongly that by incorporating freeze-drying into our product lines we can make a better product for the animals."
"We can only lower the carbohydrates so far in an extruded food so we feel strongly that by incorporating freeze-drying into our product lines we can make a better product for the animals," says Mitch Felderhoff.
According to Mitch, kibble has come about as far as it can go. There is only so much fat — a maximum of around 20% — that can be added to a kibble and there is only so much protein that a kibble formula can contain before calcium becomes an issue. In freeze-dried diets that include low ash meats and high-fat products, the fats and proteins can be increased without the calcium levels being too high. "It really achieves what we want to do from a diet standpoint," Mitch says, "and we feel like the markets we serve are ready." The company designs the formulas and works with a nutritionist with a doctoral degree to make sure each diet accomplishes what it is designed to do, is good for the animal and meets all of the regulations.
More of an art form
Led by Chad, the company spent a year learning enough about freeze drying and the available suppliers to feel confident in the decision to build a new facility and purchase a customized system. The final decision came down to flexibility. Although Mitch and Chad prefer not to share the name of the supplier they selected, they say the equipment they purchased offered them the most batch flexibility and gives them the ability to run up to three formulas per cycle.
Trays of Individually Quick-Frozen (IQF) products go into rolling carts and the carts fill the freeze dryer. Chad says freeze-drying up to 2,500 lbs. of meat at one time sounds fairly straight forward but it's more challenging than they anticipated. "What we were told, and what has proven to be true, is every protein and product size runs differently," Chad says. "It's taken us almost 12 months to get the machine dialed in to where we know exactly what temperature and time the product needs to spend in processing in order to make the perfect product."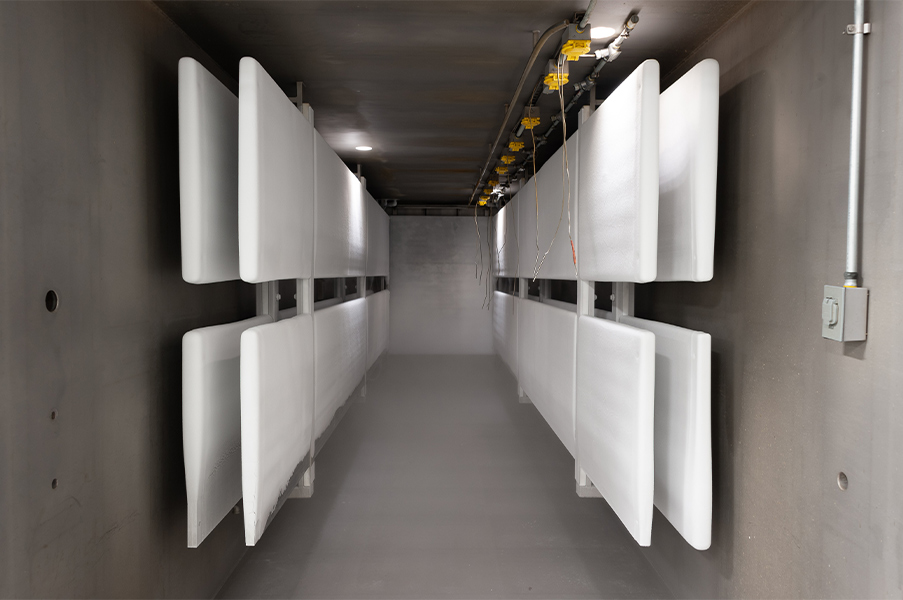 The company has a small, tabletop freeze dryer that Chad based his expectations on when they transitioned to the large, in-house system. "We had to dig into why it didn't work [as well as the small volume, tabletop system] and figure out what we needed to do differently on the next run," Chad says. 
Although blended formulas run more consistently than single ingredient products, each batch requires more problem solving than anticipated. Mitch says there was a lot of trial and error building out the product profiles. "It turns into an art form really quickly," Mitch explains. "Weird things happen in a vacuum."
It also took time to get their protein suppliers on board. The meat is sourced from US Department of Agriculture (UDSA) facilities nearby where it is blended and formed to Muenster's specifications before being blast frozen and delivered to Muenster. Once received, the frozen products are spread onto metal trays. The trays go into carts and up to 10 carts go into the freeze dryer. A vacuum is pulled on the chamber and the temperature inside lowers. After the target low temperature is reached, the shelves in the carts are gradually heated. As the trays warm up, the product goes through a sublimation process where the water goes straight from a solid form of ice to a vapor and the vapor collects on the cooling plates.
"At the end of the batch you have a dried product that you haven't cooked, and all the water is in the form of ice," Chad says. "We may put 2,000 lbs. of meat in and pull 600 lbs. of dry meat out and have 1,400 lbs. of ice." The trays gradually heat up over the course of the run cycle until the products reach the desired moisture level.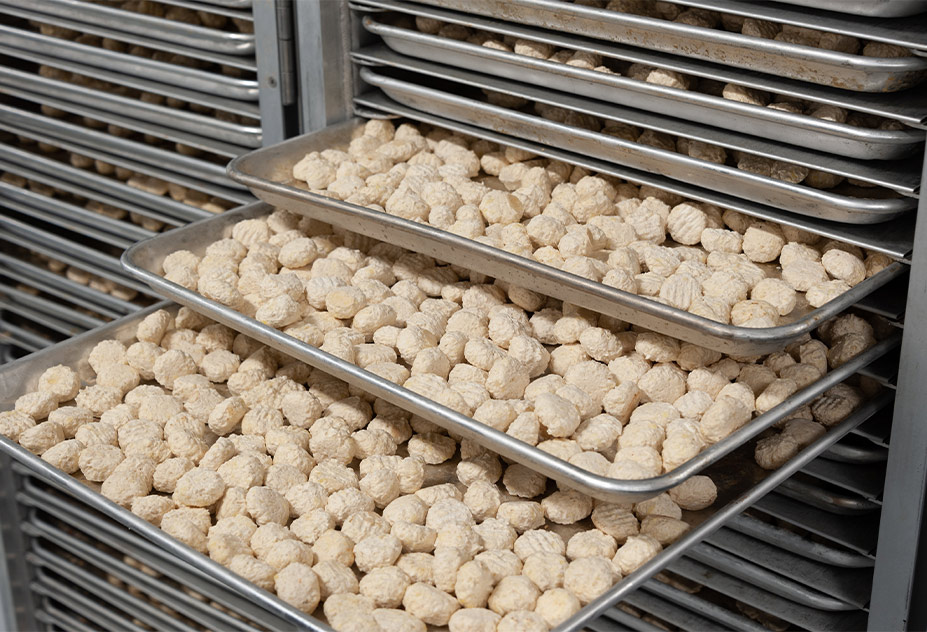 Each cycle of the system can accommodate 2,000 to 2,500 lbs. depending on the product mix and will yield 28 to 32% of that weight in freeze-dried product. Items can overlap slightly on the trays but it's key that all product has some contact with the metal surface. Too much overlap will result in product with mushy spots indicating it didn't reach a uniform low temperature. Also, if the temperature change during freeze-drying is not gradual enough, an outer layer will form that can prevent moisture from leaving the middle of the product resulting in a gummy mess. Including the three hours it takes the system to fully defrost, the entire process typically takes 18 to 24 hours, or as long as 48 hours, depending on the formula.
Muenster ensures the safety of the freeze-dried products in one of three ways: either the incoming meat is high pressure pasteurized before arriving at the freeze-dry facility; product reaches a high enough temperature during freeze-drying to be an effective "kill step;" or finished product is sent out for cold pasteurization after processing. Once product exits the freeze dryer, it's tested for both moisture and water activity and then held for a minimum of 48 hours for third-party quality testing before it is ready to package. Once packaged, freeze-dried products have a shelf life of 18 to 24 months.
Muenster currently produces round and square patties, meatballs and diced whole-muscle products. The company strives to source all natural ingredients with the exception of vitamins and minerals. The beef meatballs are a blend of beef and beef parts and the chicken meatballs are ground chicken breast. Blended diets include the necessary ingredients to meet complete-and-balanced requirements.
Muenster plans to offer more product types such as beef tripe and duck hearts. Currently, the company has one freeze-dry system and expects to add two more by the end of the year. The new facility has room for up to eight.
Tied to Texas
The company primarily distributes its branded Muenster Pet Food in Texas, Oklahoma, Louisiana and Arkansas. It's not that there is anything wrong with the other states, but Mitch and Chad are committed to helping support the region they serve from sourcing locally to limiting their distribution regionally.
Muenster buys as much local grain as possible. To ensure a local supply of ancient grains, the company leases land from area farmers for those ingredients. "Most of the ancient grains are grown in North Dakota and Colorado," Chad says. "We worked with farmers here to provide them with better market opportunities than their normal cash crop." This gives Muenster a bit more control over the availability of certain ingredients and confidence in the ingredients they purchase. "We have been buying from these farms for 87 years," Mitch says. "Chad and I went to kindergarten with the farmers that we are buying from now."
"We don't want to ship the Muenster brand all over the country. We can't support that, but we can make food for a group of stores in a particular location," Mitch says. "The fact that we manufacture all of our own food is a big selling point."
The company's commitment to being regionally focused prompted a major change in how its products are distributed. "Over the past five or six years we have pulled out from all the distributors that we were working with which is very much against the channel," Mitch explains. "As distributor consolidation took place, pretty much everybody became part of a national distribution channel and we became one of 50 dog foods that these distributors carried, and we were told that we need to put our food in all of their locations. We didn't have the marketing budget or available sales staff capacity to support it, so we chose to go a different direction."
The company also pulled out of Chewy last year. Muenster sells direct to independent pet stores, feed stores and boutiques and produces private label products for regional feed mills. Its niche is smaller-scale private label customers with a volume of 20 tons or less. "We are less efficient, and we realize that, but there is a need for it," Mitch says.
He expects the private label freeze-dried business to stretch their reach beyond the area they currently support. In addition to being more cost efficient to transport, Mitch believes the Muenster freeze-dried brand will help independent retailers offer that option and successful stores will eventually transition to private label lines.
An additional business line for Muenster is specifically designed to bring private label to the independent retailer. My Custom Pet Store produces custom pet food for individual stores. "We don't want to ship the Muenster brand all over the country. We can't support that, but we can make food for a group of stores in a particular location," Mitch says. "The fact that we manufacture all of our own food is a big selling point."
Muenster has designed packaging with a complementary aesthetic and has the ability to print die-cut labels in house that seamlessly blend into the package design and customize the product for each private label customer. The minimum volume for an order is 600 lbs. per SKU. "My Custom Pet Store is currently the smallest portion of our co-manufacturing but it's our fastest growing portion," Mitch says. "We are just now starting to hit our stride with it because honestly it took us a year to figure out how to do it efficiently. It's labor intensive with many moving parts."
Muenster is up to 300 dry pet food SKUs for this business line and quite a few customers are waiting on freeze-dried to expand their private label offerings. The company's goal is to offer as much as possible to each store. "We are very diverse for as little as we are," Mitch says. "We have to be because we are regional." Offering more or different products is nothing new for the nearly century-old company.
No one-trick pony
Over the course of 87 years, four generations of Felderhoffs have had to pivot and adjust as markets changed, business evaporated, and new opportunities presented themselves. Muenster Milling was opened in 1932 by the current owners' great-grandfather, Joe Felderhoff. Joe was a sharecropper in Muenster and, with backing from a couple of the local farmers, he began milling flour. When Joe died unexpectedly, his son Arthur eventually took over the business and in time welcomed his son, Ronnie, into the company. When flour became cheaper to purchase in Kansas City than it cost for Muenster to mill it, the company converted the mill to livestock feed.
At one point, Cook County, Texas, where Muenster Milling is located, had 108 dairy farms, many of which produced cheese. Muenster supplied feed to the majority of those dairies until the cheese plants consolidated and formed a co-op with several of the other local dairies and built a large facility in Amarillo, Texas. Muenster tried to replace the business lost by manufacturing livestock feed for beef cattle and for show animals. "We made good product and business was OK, but all five other feed mills in the area tried to do the same thing," Mitch says. "It was very competitive with low margins, so Dad and Grandpa put in an extruder in 1989."
One of the first products they produced using a combination of extruded kibble, livestock feed and show rations was Emu and Ostrich feed. That business quickly ramped up and Muenster was running around the clock to keep up. Unfortunately, less than three years later, that market died.
For the next five or six years, the company produced whatever it could and settled into extruded horse feed. Then in 1999, Muenster produced its first all-natural dry dog food and that has been a primary focus until the addition of freeze-dried foods and treats.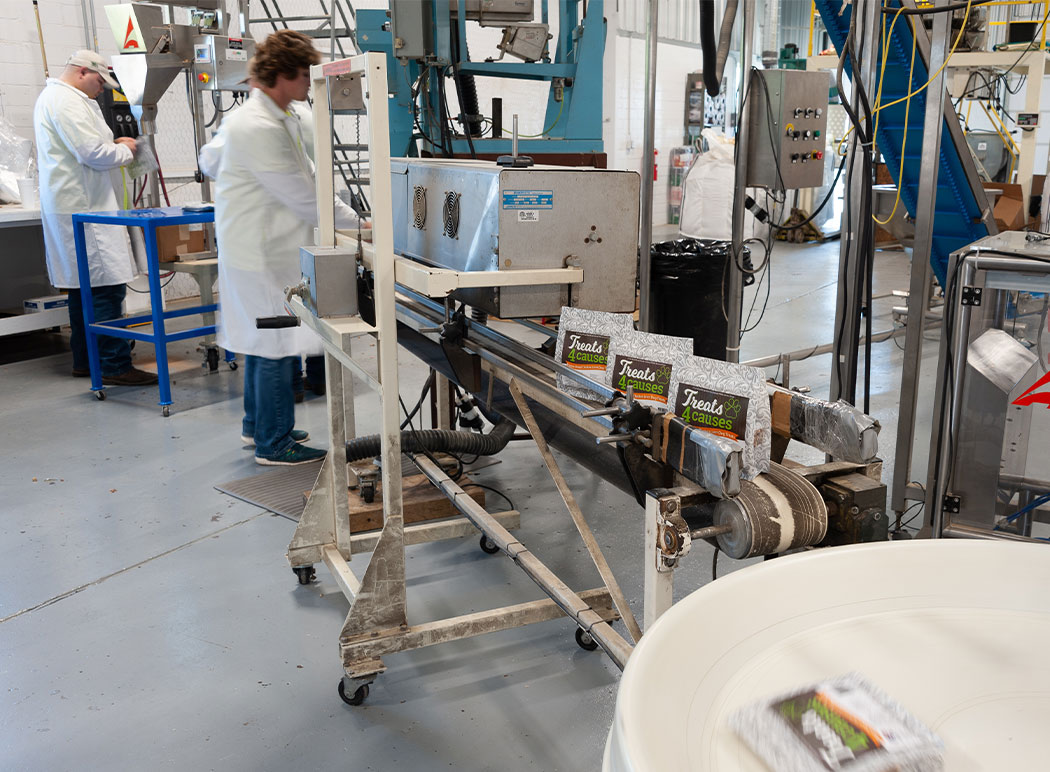 Starting in 1989 with the addition of a Wenger 185 single-screw extruder and dryer, the company began making dry pet food using all dry protein meal. Then in 2016, with the addition of an Extru-Tech preconditioner and new screw configurations, Muenster started including wet protein in its formulas. Today, the dry dog food operation produces 6 tons per hour on a system that includes an Extru-Tech preconditioner, a Wenger extruder and dryer, an Ever Extruder knife and die plate system, an APEC fat coater that feeds a Hamer Automatic bag hanger, and a packaging line that utilizes a Chantland robot palletizer that was added when Mitch and Chad went to college. Prior to that, they were the palletizers.
The company has four small bag packaging lines and one large bag system at the milling extrusion facility. They have three All-Fill machines for packages from 1 oz. to 8 lbs., a Matrix form/fill/seal system with an Ishida scale for packages 3 lbs. up to 25 lbs., and a large bag system at the mill with the robotic palletizer for anything greater than 25 lbs.
With the addition of the freeze-drying facility, Muenster currently employs 48 people across three campuses: the new facility for freeze drying and small packaging, the original mill location that now produces extruded pet food and feed, and a 10-acre campus with two warehouses and a 400,000 bushel grain elevator. Across both warehouses, the company has five loading docks and room for more than 2,800 pallets of finished product. The mill and extrusion plant are ruminant free because the company produces horse feed. On the dry side, about 50% of production is pet food and 50% is equine. Muenster produces a small amount of dry cat food, but that will be phased out to focus on freeze-dried food for cats instead. Including both dry-food and freeze-dried processing, the company's production is approximately 30% Muenster brand and 70% co-manufacturing or private label.
Focused on the fifth
The company has been growing an average of 12% per year with a few recent years of 25 to 30% growth. Mitch and Chad plan to continue growing the company by adding new capabilities and additional capacity over the next few years. After adding six to eight more freeze-dry systems, they plan to offer kibble mixed with freeze-dried products. They also plan on expanding their dry food capacity by building a new extrusion facility and adding a second extrusion line. 
The brothers are focused on building a strong business for the fifth generation. Mitch explains what drives their decisions by saying, "We are fourth-generation family-owned and we don't have shareholders to answer to, so our goal is to make the best food so that when we pass this on to the next generation we can sleep at night knowing we fed the animals well." Until then, the nights are short for Chad. "The feed mill closes at midnight, so from midnight to 6 a.m., I can actually sleep."
Read more about pet food manufacturers.