This article was published in the June 2019 issue of Pet Food Processing. Read it and other articles from this issue in our June digital edition.
In today's increasingly niche pet food and treat market, the versatility and flexibility of processes is crucial to keeping up. The influx of complex formulas, coupled with strict standards for food safety, has called for innovation to perhaps the most popular method for cooking traditional kibble, baked treats and long goods alike — extrusion technology.
Dry kibble alone, which is typically produced on extruders due to the equipment's ability to efficiently produce a high capacity of consistent product, makes up 72% of the US pet food market, according to Packaged Facts' Pet Food in the US, 14th Edition. Considering many pet treats are also extruded, this processing method is crucial to the growth of the industry.
"As processors develop more sophisticated products and complex recipes, they typically need an extruder that provides intensive mixing (both dispersive and distributive), with specific shear rates and mechanical energy input," says Alain Brisset, EPT business development manager, feed extrusion expert, Clextral, Firminy, France. These are just a few examples of the innovations extrusion suppliers have developed in recent generations. 
Pursuing productivity
Today, the flexibility offered by extrusion equipment is unprecedented even in the face of complex formulations. "Recent generations of extrusion equipment have been able to blur, and in some cases remove, the line between extruders being pegged for only certain types of products and recipes," says Galen Rokey, director, process technology, pet food, Wenger Manufacturing, Inc., Sabetha, Kansas.
High-meat kibble, baked treats and long goods are just a sample of products that can be produced on an extruder and, thanks to recent advances, can even be manufactured on the same extruder. "Each of those three categories requires its own ancillary equipment, but the most modern generations of extruders have this capability," Rokey says.

Additionally, innovations in preconditioners, a process used to hydrate, mix and begin the cooking process, have supported the proliferation of extruded pet food formulas by increasing the consistency of product entering the extruder. "More homogenized products entering the extrusion barrel can allow for increased throughput while decreasing extrusion wear costs, product clumping, operational downtime and discoloration of portions of the final product due to non-uniform hydration and cooking," Rokey says.
Innovations in sanitation and automation have also revolutionized extrusion systems. "The primary
technology that has allowed for greater flexibility in production of an ever-widening range of formulations is the proliferation of the twin-screw extrusion technology with its intermeshing, self-wiping, positive displacement characteristics," Rokey adds. These features make it easier to clean equipment and ensure consistent, continual throughput.
Extruder manufacturers across the board are picking up the pace of new offerings to meet the needs of processors. To help test and launch new products more quickly, the TwinLab-F 20/40 laboratory-sized twin-screw extruder from Brabender GmbH & Co., Duisburg, Germany, has been specially designed for research and development applications with a low output rate of 0.5 to 10 kg/hr. It also features a horizontal, clamshell-designed barrel that allows individual processing steps to be visually assessed and enables a multitude of screw configurations from a segmented screw design for maximum product flexibility.
Amandus Kahl, Reinbek, Germany, has developed a new extrusion product family with four machine sizes covering production requirements from lab-scale up to industrial large-scale applications. All machines feature a replaceable and hydraulically adjustable die.
Trends driving innovation
The increasing demand for high-protein kibble, gentler processing methods and the inclusion of nutraceuticals is fueling recent innovations in extrusion systems. "Production challenges that processors face with the growth in popularity of high-protein extruded pet foods are much greater without the latest generation of technology, especially with systems that may have more than one generational gap in technology," says Daniel Tramp, technical sales, companion animal division, Wenger. These trends necessitate specialized production parameters that have been tried, tested and implemented by extrusion technology experts.
"The ability to retain and slow cook (relatively speaking) the product in a gentle manner is a key to making repeatable quality high-meat kibble," says Daniel Tramp, Wenger Manufacturing, Inc.
High-meat inclusion formulas in particular have introduced several challenges. "The first being the need for a more positive style of pumping characteristic from the extrusion screws for creating pressure within the extruder barrel on ingredients that naturally have more slip due to their high moisture nature," Tramp says. "The second being the increase in starch restrictions. With starch as a lower portion of the recipe, we are often seeing the need for starches with high-end binding capabilities. These starches often need precise and gentle handling throughout the cooking process."
Both single- and twin-screw extruders have improved in recent decades to accommodate high-protein diets and food safety standards. "The single-screw architecture has performed very well within this genre of products, achieving on various diets above 100% inclusion rate of fresh meat (as a percentage to dry feed rate)," explains Will Henry, director, research and development, Extru-Tech, Sabetha, Kansas. "It is more critical to understand the process economics of a high-protein diet, especially yield loss due to shrinkage."
High-protein pet food and pet treat formulas can be difficult to process efficiently and cost effectively in high volumes, but Henry says Extru-Tech has found solutions that work. "The ever-changing landscape of pet food products has required us to continually enhance our single-screw solution to competitively produce these complicated diets," Henry says. He adds that innovations to auxiliary extrusion equipment, such as preconditioners and product diversion systems, have been a key factor to making it possible for these complex formulas to be produced on single-screw extruders.
Wenger and Clextral have found success in adapting twin-screw extruders to produce high-meat pet food formulations reliably and with relative ease. "The twin-screw extruder, due to its intermeshing screw design, achieves the highest levels of mixing intensity and quality to ensure density control, starch gelatinization, controlled protein denaturation and homogeneous mixing, which are essential to more complex, multi-ingredient pet foods and treats," Brisset says. This ensures all ingredients are exposed to the same temperature, shear and retention time, and enhances the consistency and safety of the finished product.
"Another key feature for production of high-meat kibble is the important ability to measure and control process parameters such as moisture, water activity and product density through on-line sensors," Rokey adds. These additions have improved extrusion technology making it possible to achieve reliable results when processing specialized pet foods.
Reliability and consistency are two crucial hallmarks of the extrusion process. "The ability to retain and slow cook (relatively speaking) the product in a gentle manner is a key to making repeatable quality high-meat kibble," Tramp says. "And consistency of items such as recipe homogenization, barrel pressures, barrel fill levels and incoming product temps can greatly affect the consistency and quality of the final product."
Preconditioners play a vital role in achieving product homogeny before extrudate enters the extruder. "Preconditioners are used to 'pre-process' the extrudate by mixing ingredients with the addition of heat and moisture. They initiate starch gelatinization before the product enters the extruder which allows the process inside the extruder barrel to perform more complex processing tasks," Brisset explains. Preconditioning offers many benefits, including increased consistency and quality of the product throughout the entire process, energy savings, and greater flexibility and control over operating parameters regardless of formulation.
Specifically, for high-meat formulations, Brisset says the fresh meat is mainly injected in the preconditioner as it contains a high level of water (up to 70%) and therefore needs longer residence time for mixing with dry ingredients and steam injection to bring it to the proper temperature. Preconditioning allows extra processing time (3 to 4 minutes) compared to the typical residence time in the extruder (10 to 20 seconds) where the cooking is completed.
Clextral's Preconditioner+ includes Advanced Filling Control (AFC), a screw device inside the mixing chamber that intensifies processes, and a new steam injection design that facilitates better product absorption. It also includes a reversible conveyance screw, allowing it to be completely emptied for cleaning.
Similarly, Extru-Tech's Aseptic Dual Preconditioner (ADP) allows operators to incorporate low steam pressure and adjust product retention time, resulting in starch gelatinization levels up to 60% formula dependent, temperatures over 90 C (194 F), high meat addition and low energy consumption, Henry explains. The stainless-steel preconditioner also has a sanitary design.
Henry says Extru-Tech's ADP is one key advancement, along with energy management features, higher extruder shaft speeds and more horsepower, that has allowed single-screw processes to deliver on complicated formulas, such as high-meat.
High-meat inclusions aren't the only trend driving innovation in extrusion equipment. "Demand is focusing on premium, high-quality products that combine ideal nutrition with other health-oriented properties," Brisset says. "One area that has sparked innovation is nutraceuticals that deliver nutrients, vitamins or medications in a pet-friendly format. These new products can gain high profit margins, but require processing that is reliable, adaptive and scalable, and protects the integrity of sensitive ingredients in their recipes."
To support the inclusion of nutraceuticals in pet foods and treats, Clextral's Evolum+ twin-screw
extruders include a temperature control feature that continuously monitors and automatically adjusts production parameters, according to Brisset.
Another formulation trend includes exotic protein sources. "Interestingly, many of the novel ingredients that have recently been trending in the market (such as algae, fungi and insect meals) are able to be handled by the most recent generations of extrusion technology with a few appropriate adjustments," Rokey explains.
Food safety
One of the main reasons for processors to replace an extrusion system entirely is to meet the evolving pet food safety standards set by the Food Safety Modernization Act (FSMA) in 2011. Sanitary designs and screw innovation in extrusion technology have allowed processors to stay on top of market trends while adhering to FSMA standards.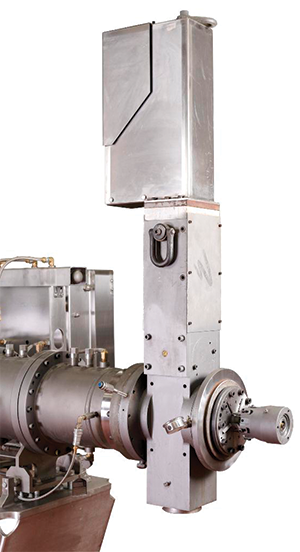 "Today's extruders are equipped with state-of-the-art controls and many have self-learning systems that monitor production and adjust to changes automatically to ensure product quality and consistency," Brisset says. "They have hygienic designs and features to simplify maintenance and cleaning, which translates into reduced downtime and lower costs for the processor."
A key development in food safety for extrusion is the addition of a valve to divert product at a CCP that has not reached the appropriate temperature or quality standards.
Wenger's Back Pressure Valve (BPV) controls the restriction on the discharge of the extruder and allows for product diversion. By changing the restriction at the discharge of the extruder during operation, the product density can be varied by up to 25% without changing the screw configuration or the final die.
The product diversion feature allows for startup and shutdown waste to be diverted from the final die, which keeps the die area from becoming contaminated and protects downstream processes and product integrity, which has become increasingly crucial in the age of FSMA. Startup temperatures are monitored by an integrated probe system. The BPV also features a shutdown die relief setting, which reduces extruder pressure built up behind the die for operator safety, Tramp explains.
A similar development is the Energy Management Valve (EMV) from Extru-Tech. "The Energy Manage-
ment Valve (EMV) is one of the newest offerings from Extru-Tech that completes food safety requirements," Henry says. "The EMV system prohibits under-processed product from entering the die and will automatically divert in the event of CCP violations." Extru-Tech's EMV also eliminates the dead zone where residual product can harbor pathogens.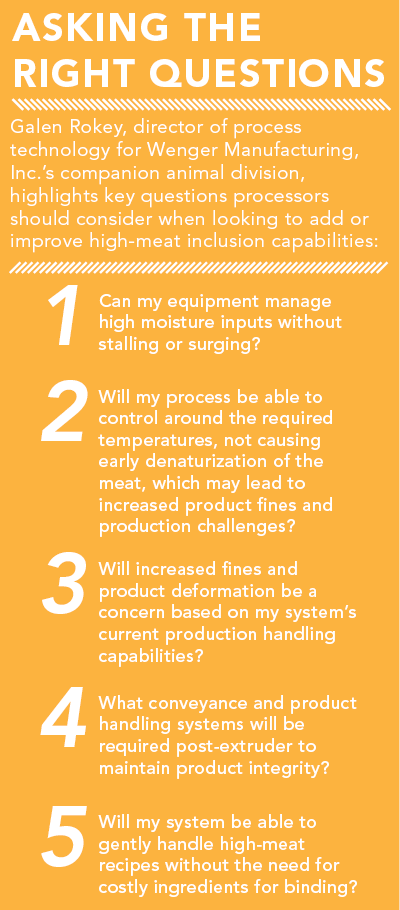 Careful consideration
Processors looking to add capabilities for complex formulas should consider throughput, consistency and process control, says Rokey. Although extrusion equipment has the capacity to produce an ever-broadening range of products, it may not be in a processor's best interest to take on all these formats.
"Often times, we would not suggest that one extrusion system does all three categories though. This is due to capacity restrictions that commonly occur in the packaging area when producing long goods and the fact that optimum ROIs for the other two categories are often better realized at throughputs above those used for long good production," Tramp says.
When considering new equipment or formulations, extrusion technology experts can be a processor's best friend. "By relying on the expertise of their suppliers when developing high protein products, pet food processors can learn and understand how to manage different ingredients, so they do not become a production challenge," Brisset concludes.
As processors look to develop into niche areas of pet foods and treats, durable extrusion systems, cutting-edge technology and knowledgable suppliers are prepared to overcome any formulation challenge.
Find more articles related to pet food processing equipment on our Equipment page.