This article was published in the June 2019 issue of Pet Food Processing. Read it and other articles from this issue in our June digital edition.
A growing segment of pet owners are interested in making mealtime more of a culinary experience for pets by introducing new options or supplementing a standard fare with meal enhancers or treats. What perhaps started out as an occasional special meal may now be a daily occurrence, spurring a growing market for multipacks of pet foods and treats.
Mindy Barry, marketing director for Mars Petcare, part of Mars, Inc., McLean, Virginia, underscores the effects of changing purchase dynamics. "The growth of multipacks is a combination of both a thriving market and consumer expectations. It's simple. People like options and those human food trends are consistently trickling over into the pet industry," she remarks.
The same-old, same-old just won't do for today's pets in the era of humanization and personalization. "As pet parents have focused on the pet as a member of the family, the appreciation of having a quality, nutritious meal and a variety of meals has taken hold. As you and I, as individuals, prefer to have a variety of food choices, that same approach is being taken by the families of pets," says Tom Egan, vice president of industry services for Reston, Virginia-based Packaging Machinery Manufacturers Institute (PMMI).
That assessment is shared by Barbara Liss, vice president of marketing for Merrick Pet Care, with offices in Amarillo, Texas and Evanston, Illinois. "It's definitely similar to what you see in our own lives. Whether it's a variety pack of chips or lunch or something else, we all seek variety. Pet parents want to humanize their pets more and we're seeing growing trends in this area," she reports.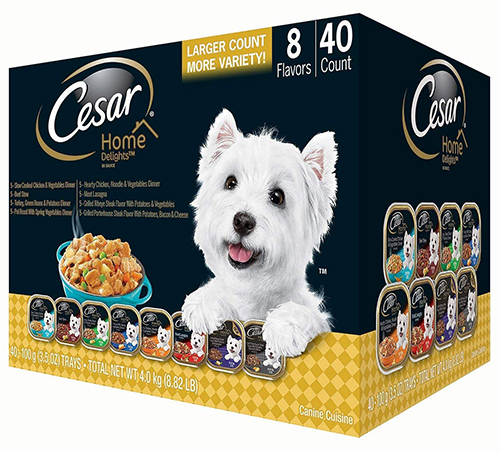 Pets hold a very prominent seat at the table. In a survey released in April, Merrick found that nearly seven out of 10 dog parents agreed that their dog is the favorite member of their household and 92% agree that the dog is part of their family.
Variety show
Broadening a pet's menu options is often referred to as rotational feeding. Brands are supporting this nutritional approach by offering more multipacks or packages containing a variety of recipes. Product combinations are especially notable in the cat food category, as felines live up to their finicky persona. By nature, cats like to try new foods.
"Cats in general have a passion for new," says Joe Toscano, vice president and director of trade and industry development for St. Louis, Missouri-based Nestlé Purina North America. "The pack is no good if it offers a flavor your pet won't eat, so offering an assortment of flavors and forms can meet the needs of the variety pack buyer. And retailers should definitely consider 24-count, 32-count and even 40-count variety packs as everyday items. These offer a huge convenience to wet cat food buyers." 
According to Liss, Merrick is answering the demand for cat food variety with items like a new wet food variety pack for cats under its Backcountry brand. In addition, the company offers a popular Purrfect Bistro Pâté multipack for cats, including seven of the brand's most popular flavors, she adds.
Other cat food brands have also expanded their variety pack lineups. The Friskies brand from Nestlé Global offers variety packs of Savory Shreds in different flavors and a multipack of its newer Lil' Soups line.
It isn't just variety for the sake of variety for cats. "In addition to offering variety, Mars Petcare offers package innovations based on consumer needs," Barry says, noting that such insight led to the launch of SHEBA Perfect Portions, a single-serve option available in a case format that provides cats with just the right amount of wet food for each meal.
Packaging suppliers agree that this area has been active. "Growth is mainly centered on cat products. For pet food, the fastest growing multipacks are multipacks of retort pouches and multipacks of single serve cans," reports Rebecca Casey, vice president of marketing and consumer market development for TC Transcontinental Packaging in Chicago.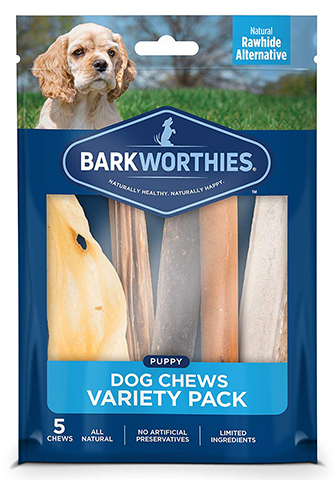 For dogs, variety packs are available mostly for canned products in trays with overwrap, typically printed with high-impact colors and graphics. The Pedigree brand from Mars Petcare is one example, with multipacks of wet dog foods in various flavor combinations, including one with chicken, beef and beef/chicken/liver. The Purina ALPO brand is also sold combo style, with 12-can variety packs of wet dog food, like its "Gravy Cravers" option with beef and chicken.
There are variety packs for smaller dog breeds, too. The Cesar Home Delights line from Mars Petcare consists of trays of turkey and pot roast dog food packaged in a case of a dozen 3.5-oz. containers. Cesar also offers a "Steak Lovers" multipack of gourmet wet dog food, with 36 trays of flavors like Classics Filet Mignon, Classics Porterhouse Steak and Sunrise Grilled Steak and Eggs, among others.
 "The growth in multipacks is not just about the shopper ease. Mirroring trends in human food, we are seeing growth in the premium dog food category as more consumers are looking for something a little more special for their pet," Barry explains.
Toscano points out that while dogs don't crave variety as much as cats do, there is opportunity for pet food makers and retailers to get more traction in this arena. "We still see six-count, 12-count and 24-count variety packs offered regularly. All meet different consumer needs," he says.
Treats are another area where variety is the spice of life for dogs. Barkworthies of Richmond, Virginia, has added a new variety pack of treats containing different types and chew durations.
Beyond flavor differences, variety packs are a way to spotlight different types or themes of pet food. "It isn't just combinations of items like four shredded and four chunk items – you're also seeing things like a 'beef lovers' variety pack," Egan points out.
Easy does it
Convenience is another key driver in multipacks, given the busy lives of today's shoppers and the growth in online purchases of pet food and treats. A recent study from Edge by Ascential found that sales of pet food on Amazon.com alone topped $1 billion in 2018, a 20% jump from the previous year. Many pet food items on Amazon are multipacks.
"There is absolutely a convenience element," Egan says. "Rather than taking six individual cans and putting them in a shopping basket and then taking six other flavors, unloading them from the basket, having them scanned and then taking them home and putting them away, people can purchase a multipack. That's all done for them and there is a great storage advantage to that, too."
Barry agrees. "Making the shopping experience convenient, both at shelf and at checkout, is a key reason for multipack growth. From decision making at the shelf to the convenience of scanning the product at the register, buying multipacks makes the shopping experience more enjoyable while also offering variety," she says.
Liss explains that multipacks hold particular appeal in the e-commerce channel because consumers often buy larger quantities of nonperishables — especially pet food — online. "It's easier to order a variety pack that's prepackaged that you can just order and it comes to your door for you to bring in and put on the shelf. From ease of purchase, delivery and transportation, there is certainly a convenience factor," she says.
Also akin to the human marketplace, multipacks are a way of metering out food and snack consumption. "Variety and health portion control are a few of the consumer trend options that can be met by multipacks," Casey observes. There may not be 100-calorie packs of treats for pets as there are for humans, but multipacks are a way to control portions of food and treats for pets.
Package deal
Pet food processors and their suppliers have had to evolve to keep pace with consumer preferences. "Our technologies have had to change, and we had to build new capabilities," Liss says, noting Merrick Pet Care made a capital investment in its operation in order to bring variety packs to the marketplace.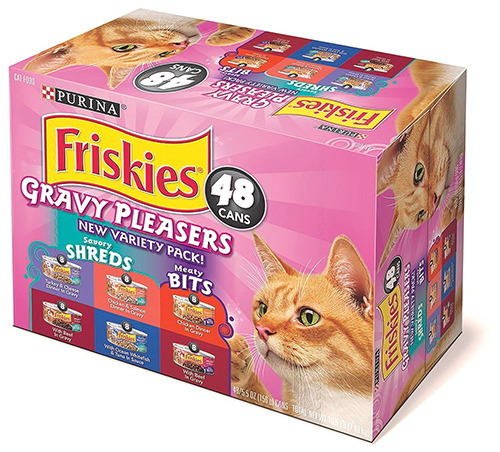 Packaging suppliers are also keeping pace and, in some cases, ahead of trends with more options for their pet food customers. "For multipacks, the current growth appears to be in secondary packaging utilizing cardboard. Cardboard boxes provide a storage convenience and a basic easy-reclose option. The shrink film option provides premium billboarding to the brand, light-weight and convenience for in-store purchases and transportation home," Casey says.
Meanwhile, the push to reduce package waste is affecting some multipacks. The UK-based Butcher's brand, for its part, is now using biodegradable paperboard for its multipacks instead of plastic shrink wrap.
Another area of development is in multipacks of pouches, which have been gaining ground in the pet food category in recent years. The Pedigree brand offers 18-pouch multipacks of Pedigree Choice Cuts in gravy, with varieties like beef, noodle and vegetables in sauce, and grilled chicken flavors in sauce.
While pet parents are embracing multipacks because they fit their lifestyles and their pets' preferences, pet food companies are exploring more options in packaging to engage shoppers and boost sales. "The premium pet food category is pretty competitive, not just for the flavor profiles, but with things like natural ingredients and health benefits. So, you have to look at how to differentiate yourself, and pet packaging can help you do that," Egan concludes.
This article was published in the June 2019 issue of Pet Food Processing. Browse other articles in this issue through our June digital edition.