Note: The US Food and Drug Administration released an inflection point about canine DCM and implications to pet diets on Sept. 29.
WASHINGTON — The US Food and Drug Administration (FDA) on June 27 published its third report updating the status of its investigation into the increase in reports of canine dilated cardiomyopathy (DCM) and the potential connection to certain dog diets. The report includes an updated case count and new testing results.
The investigation began in July 2018 and is ongoing.
The report states, "Although the FDA first received a few sporadic reports of DCM as early as 2014, the vast majority of the reports were submitted after the agency notified the public about the potential DCM/diet issue in July 2018."
The FDA received 515 reports of canine DCM between Jan. 1, 2014, and April 30, 2019, of which 219 were filed between Dec. 1, 2018, and April 30, 2019. Some reports involved more than one animal in the same household, bringing the total number of dogs affected to 560, according to the FDA, of which 119 were fatal cases.
Reports considered in this investigation were limited to those including a diagnosis of DCM given by a veterinarian or a veterinary cardiologist.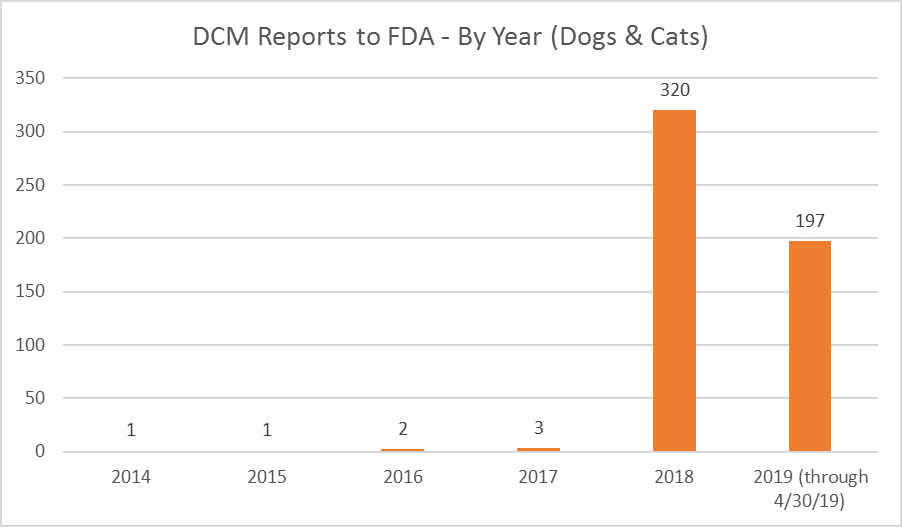 "It's not known how commonly dogs develop DCM, but the increase in reports to FDA signal a potential increase in cases of DCM in dogs not genetically predisposed," the report states.
The FDA acknowledges in the report that canine DCM is typically recognized in large or giant breeds. The average weight of the dogs involved in the investigation is 67.8 lbs.
While Golden Retrievers were reported overwhelmingly, the FDA suggests it is an outlier "due to breed-specific social media groups and activities that have raised awareness of the issue in these communities and urged owners and vets to submit reports."
To examine the potential connection between canine DCM and certain dog diets, the agency included information about the most frequently reported dog food brands. The data is based on reports that included brand information; not all reports did, and some named multiple brands.
Refer to the full FDA report for a comprehensive list of dog food brand names provided in the investigation.
Of the 515 reports of canine DCM received by the FDA, 88% (452 reports) involved dry pet foods. Raw, semi-moist and wet foods were represented as well.
Ingredient labels of reported dog food brands were also analyzed for potential correlation to DCM. The FDA found, "more than 90 percent of products were 'grain-free,' and 93 percent of reported products had peas and/or lentils." Products with peas (and without lentils) made up 89% of reported diets, dog foods with lentils (and without peas) accounted for 62% of reported diets, and 42% contained potatoes.
Grain-free dog foods have been a suspected cause of canine DCM since the investigation started in July 2018. At the American Feed Industry Association's (AFIA) Pet Food Conference in February 2019, Greg Aldrich, Ph.D., research associate professor for the department of grain science and technology at Kansas State University, addressed pet food ingredient implications posed by the spike in DCM reports.
Aldrich made the case that while data suggests a correlation between grain-free diets, or those containing peas and/or lentils high in the ingredient list, and canine DCM, the number of cases is relatively small compared to the estimated 22 million dogs living in the US that are fed a grain-free diet.
Taurine deficiency is another suspected cause, but Aldrich said more research is needed to determine the bioavailability of nutrients from various ingredient sources, and how those nutrients interact with others in each unique dog food formulation.
Since the July 2018 update, the FDA's Veterinary Laboratory Investigation and Response Network (Vet-LIRN) has been testing grain-free and grain-containing dog food products for protein, fat and moisture content, as well as crude, total dietary, soluble and insoluble fiber, starch, and essential amino acids cystine, methionine and taurine.
The report states, "The average percent protein, fat, total taurine, total cystine, total methionine, total methionine-cystine, and resistant starch content on a dry matter basis were similar for both grain-free labeled and grain-containing products."
Additionally, Vet-LIRN concluded that methionine-cystine values were above the minimum nutritional requirement in nearly all grain-free diets that were tested, but the FDA states it will continue to gather information "to better understand if (and how) taurine metabolism (both absorption and excretion) may have a role in these reports of canine dilated cardiomyopathy."
Pet Food Institute (PFI) issued a statement in response to the FDA's DCM update, saying: "PFI agrees with statements from the US Food & Drug Administration (FDA) that this is a complex issue with many factors requiring scientific evaluation. As an industry, we have come together to further study the impact of pet food ingredients, product formulation and processing, and pet physiology, on canine health and longevity. PFI members are collaborating internally and sharing relevant information for scientific analysis as we work together to expand the understanding of any potential connection between DCM and diet. We welcome the continued dialogue among veterinarians, ingredient suppliers and pet food makers that advances information-sharing in this regard."
The FDA states it is working closely with the pet food industry to understand ingredient, processing and formulation factors that may have contributed to this rise in canine DCM.
The report concludes by stating, "The FDA is continuing to investigate and gather more information in an effort to identify whether there is a specific dietary link to development of DCM and will provide updates to the public as information develops."
Stay up to date on news about the pet food processing industry on our News page.