This article was published in the March 2019 issue of Pet Food Processing. Read it and other articles from this issue in our March digital edition.
If farm-to-table applied to pet food, it would describe Evanger's Dog and Cat Food Company Inc.'s manufacturing process where daily deliveries of locally-sourced ingredients dictate the production schedule. Located 30 minutes south of downtown Chicago in Markham, Illinois, the company's refrigerated trucks pick up fresh ingredients daily within a 50-mile radius of its production facility and those ingredients are typically processed that day or the next morning, according to Co-Owner Joel Sher.
Joel and his wife, Holly Sher, purchased Evanger's in 2002. At that time, the company was primarily a co-manufacturer and the Evanger's brand represented less than 5% of the company's business. Today, company-owned brands, including Evanger's, represent 80% of production. The manufacturing arm behind the production facility is operated by Joel, his son Brett Sher and daughter Callie Sher. The Evanger's brand is owned and operated by Holly with help from her daughter Chelsea, and another brand, Against the Grain, is owned solely by the second generation — twins Brett and Chelsea, who recently brought on their younger sister, Callie. Starting with just 10 employees in 2002, the Shers' not-so-small, family-owned business now employs about 100.
Cut out the ingredient middleman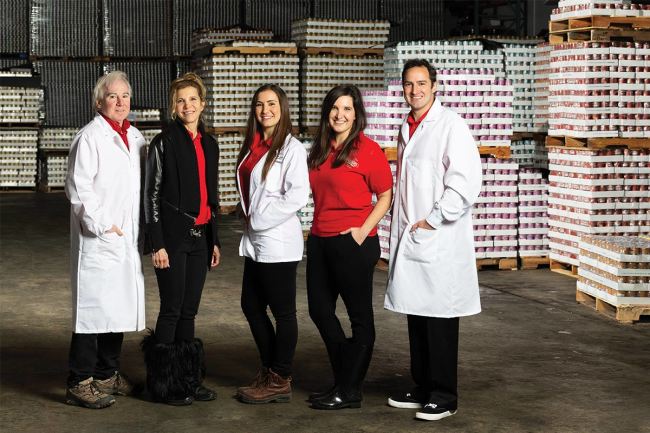 Evanger's has been family owned for all of its 84 years, however not by the same family. The company's pet food history dates back to 1935 when Fred Evanger, an immigrant from Norway who raised championship Great Danes, started making pet food on his dairy farm in Wheeling, Illinois. He sold the company in 1959 to two families who sourced fresh ingredients through local distributors. Then, in 2002, when the Sher's took over, they started sourcing ingredients directly from local suppliers by cutting out the middleman, who at the time was Joel.
For more than 10 years before purchasing the company, Joel supplied Evanger's with locally sourced fresh beef and poultry through his family's business. "In the 70's, my father was in the meat business and he got my grandfather involved in providing raw materials to canned pet food companies in the Chicagoland area, but the canneries he supplied closed up," Joel explains. "I worked in my family's business since I was a teenager and around 1990 I learned about Evanger's and I started doing business with them. I had access to raw materials from meat packing houses. That was my business."
"That's how the opportunity to purchase Evanger's came about," Holly says. "The previous owners decided if they were going to sell to anybody, they wanted to sell to Joel because of his work ethic, the quality of meat, and service he had provided to them for so many years." Joel had a commercial driver's license and could drive trucks, which was a rare qualification for a buisness owner, so occassionally he would run the route to meet with his customers. "One day when Joel stopped by, they asked if he wanted to buy the company," Holly says.
Before premium was popular
When the Sher's purchased Evanger's they inherited a brand of ground, loaf-style canned pet food and a processing system that had been triaged a few too many times. Joel made rebuilding equipment a priority to keep production running reliably. Holly focused on promoting the brand. Together they developed new innovative products using the simple, fresh, limited ingredients they already had.
"We get fresh, unprocessed beef, trim off some of the fat, hand pack it in a can, seal it and cook it. It's one of the most unprocessed canned pet foods on the market," explains Brett Sher.
After one of their first trade shows, they realized that although they knew Evanger's formula was different than the other ground, loaf-style pet foods, it looked generally the same as everyone else's. They decided their products needed a visual difference. So instead of grinding all the meat for their loaf-style recipe, they cubed some of it and combined that with the ground meat for more visual appeal.
Continuing on that quest to produce pet foods that visually showed the ingredients they contained, the Sher's began a new concept of producing pet food by hand-packing bone-in chicken and hand-cut vegetables into cans and perfecting the retort or pressure-cooking process so the bones became soft and edible.
Thanks to their dog, Yukon, who preferred beef over chicken, Joel created the Hunk of Beef line that is a single, can-sized chunk of beef pressure-cooked in a can. "We have all of these fresh, whole-muscle chunks of meat and it just seemed a shame to grind all of it into a homogenous loaf. We wanted to find a way to keep the whole natural look that would visually show the quality of the meat we were using to both pet owners and their dogs. So now we trim them to fit the can and that's all it is, beef in its own juices," Joel says. Hunk of Beef is 16% protein. "We get fresh, unprocessed beef, trim off some of the fat, hand pack it in a can, seal it and cook it," Brett explains. "It's one of the most unprocessed canned pet foods on the market. We are one of the only brands to have a product like this. The benefit of being one of only a handful of pet food canneries in a market with hundreds of different brands gives us the advantage to develop these revolutionary pet food concepts."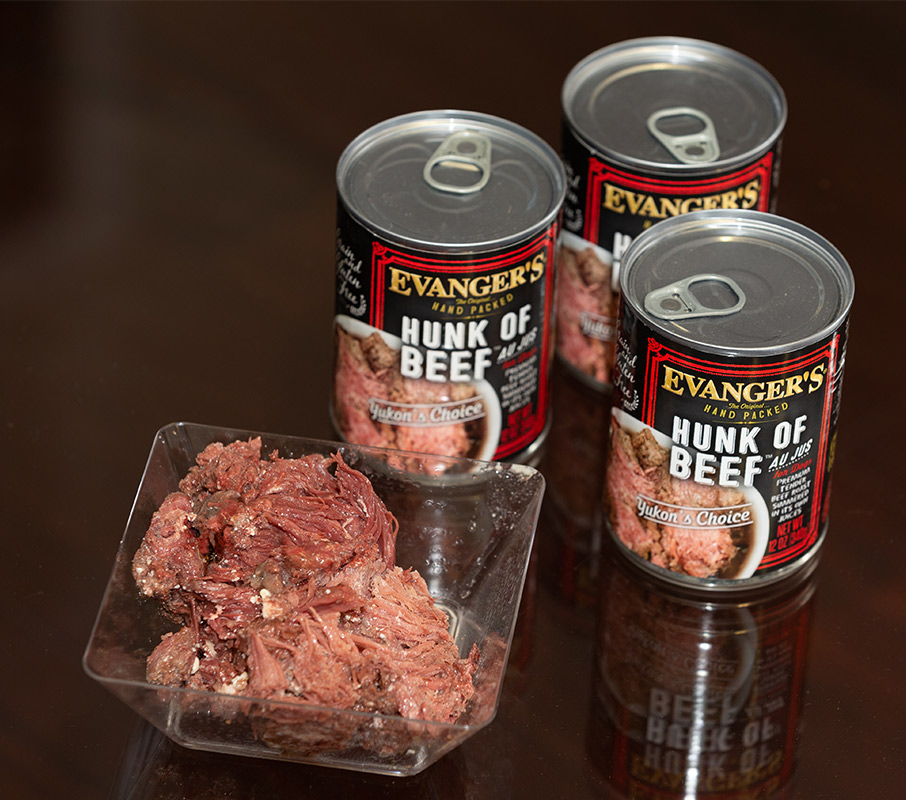 One of the company's more recent innovations is the Against the Grain brand's single-ingredient line called Nothing Else. Each can contains one single ingredient: beef, chicken, pork, duck, salmon or turkey. The texture is a loaf-in-gravy texture, and the gravy creates a natural bone broth.
As Evanger's expanded their line of canned pet food for cats and dogs, many of their recipes contained no grain and most of their formulas had a very limited ingredient list with meat as the first ingredient. Through the co-manufacturing side of the business, they are known for working with boutique brands and helping them find a niche. Chelsea explains that the company has always been committed to the independent pet specialty retailers. "We're independently owned and it's important to us that we support other independent companies. As Holly and Joel innovated and grew the Evanger's brand and formulated product for other brands, they helped influence the shift toward more premium canned pet food, but my generation's focus is back on our house brands because, as a cannery, we are positioned to be the most unique and affordable niche product on the shelves," Chelsea says. 
His and hers
Although the Evanger's brand was just a small portion of the company's revenue in 2002, the Sher's focused more on new product offerings and growing that segment of the business and less on co-manufacturing. While Joel mastered the processing side, Holly grew the Evanger's brand. She is the sole owner of the Evanger's brand, which is separate from NutriPack, the processing arm, and she was determined to grow it into a successful product line.
Holly came into the pet food business with a strong marketing skill set and a mission to prove that a woman could own a business, but mostly she says she's just competitive. "Joel had his part of the business and I had mine and I was determined to show my independent success," Holly admits. "Plus, I didn't know what I didn't know or how to get the distributors to give me the time of day so I just talked to everyone I could."
While canned products are the core of the Evanger's brand, other offerings including dry pet food have been added to make a more complete line. Currently, Evanger's works with a co-manufacturer to produce its dry pet food line.
A move to Markham
Evanger's recently outgrew the 80-year-old facility at its original Wheeling location and moved its cannery in 2017 to a 5-acre property in Markham with room for future expansion. Evanger's renovated a 70,000-sq.-ft. building to prepare to move production 50 miles across town. About 20,000 sq. ft. is devoted to production and the rest is raw material storage, warehouse, shipping and receiving. There are five canning lines total, of which four lines accommodate different can sizes: 5.5 oz., 6 oz., 13 oz. and 22 oz. The fifth line produces 13 oz. hand-packed products. The company has the capability of a 3 oz. line but are not currently producing that size. Up to three lines can run simultaneously.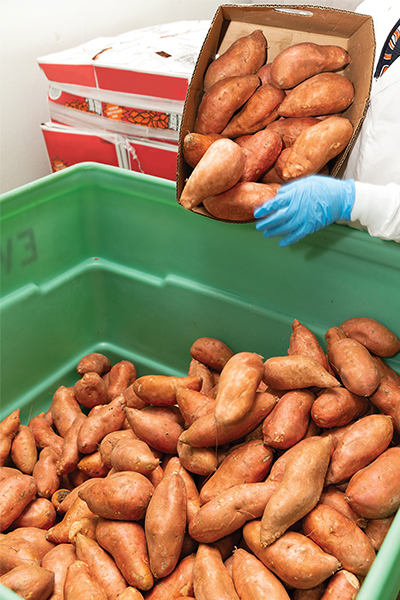 Each line was designed to require seven or fewer steps from raw materials to finished, packaged product. After raw materials are staged for a recipe, the batch starts at an MTC stainless steel heavy-duty dumper. Fresh meat and produce is lifted and delivered to an MTC stainless-steel belt conveyor. Ingredients are visually inspected before they are dropped into a 100 horse power Weiler grinder equipped with a die plate with 1/2-inch diameter openings. Some ingredients that are tough to grind, such as tripe, or other ingredients that are not local and must be brought in frozen, such as venison, are sent through a Reitz Extructer for size reduction.
After ingredients are ground to a uniform size, they are blended in a Wolfking twin-shaft paddle mixer, constructed of stainless steel, with an open design for easy cleaning. Each blended batch is pumped to an Angelus inline filler/seamer. Hand-cut ingredients are packed by hand into cans before those cans go through the seamer.
Just prior to sealing, steam flushes out any ambient air and, once sealed, the steam condenses and creates a vacuum. Lids are sealed to the can body creating a hermetic double seam on the Angelus Seamer. This is a highly regulated step that requires visual inspection every 30 minutes and a destructive inspection every four hours of production, which involves pulling samples from each line and destroying the can to measure each segment of the double seal against defined parameters and tolerances to ensure the safety and integrity of the hermetically sealed cans before they are released to market. After sealing, cans are washed and put into large wagons with slatted sides to go into the retort cooking chambers, the door of which must be closed and the cooking process initiated within 60 minutes of sealing the first can in the batch.
Up to eight wagons can fit inside each retort chamber. When Evanger's renovated the new production facility, they designed a recessed area for the retort machines so the wagons can be rolled directly in without being lifted. Evanger's has six retorts that were custom manufactured to the company's proprietary specifications, with plans to install more in the future.
Federal regulations require commercial processors of shelf stable, low-acid canned foods in a hermetically sealed container intended to be sold in the United States to register each establishment and file scheduled processes with the US Food and Drug Administration (FDA) for each product style, container size and type, as well as the processing method.  Evanger's has invested heavily both in third-party and in-house quality process testing to ensure every style of food in every size can it produces has been evaluated and filed with the FDA, and verifies its operating procedures to ensure the food is processed in accordance with its FDA filed process.
The scheduled file process evaluates all steps from loading the wagons, product temperature measurements, ramping up to the defined cook temperature, the time held at that temperature and finally the cool down procedures.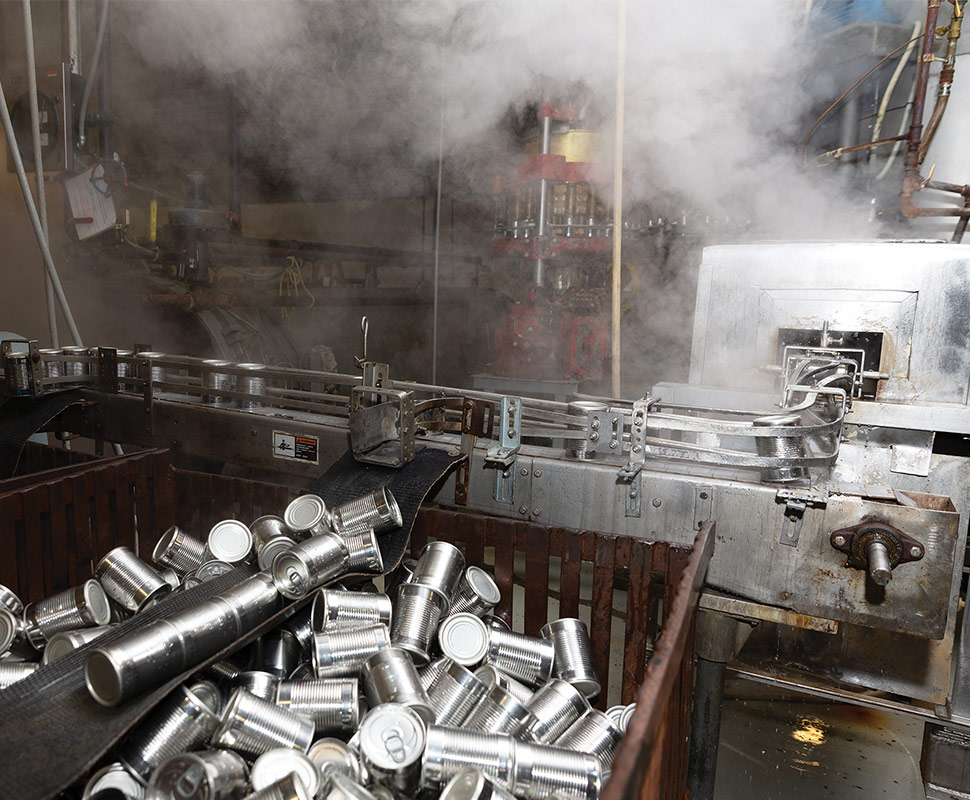 Additionally, thermometers and recorders must be calibrated according to the Code of Federal Regulations (CFR). All of these steps are recorded, logged and verified to ensure the requirements are fully met or suprassed. The end result of this process ensures a commercially sterile and safe product free of any potential pathogenic bacteria.
Once cans are cooled, they go to labeling where they are coded with a traceable lot code and best by date printed by a Videojet Technology printer. Next, a label is applied to the can by a roll-through Burt Labeler at speeds up to 800 cans per minute. From there the cans go to the case packer where they are lined up and ejected into a 12-pack or 24-pack case and onto a Texwrap shrink wrap system. Evanger's can run three canning lines simultaneously with an average canning speed of 350 cans per minute.
Up for a challenge
Food manufacturing for humans or pets is challenging and requires compliance with multiple regulatory bodies. The regulatory environment can be even more challenging for pet food than it is for human food due to the many agencies involved. "Pet food processing from an independent, family-owned perspective is like a chain with 50 links," Joel says. "We're responsible for every link and every link has to be solid all the time. The special part of having multiple generations here is that I didn't ask my kids to work for us – they each wanted to be a part of the business when the time was right for them, and they are each a significant part of keeping the links intact."
On the production side, Callie has a degree in mechanical engineering and a background as a quality engineer, so she is responsible for quality control, product testing and production planning with a goal to get NutriPack ISO 9001 certified. Brett has a business degree and manages operations, customer service and food safety regulations. He attended Better Process Control School (BPCS) for canning and completed a course on Food Safety Preventative Controls Alliance for Animal Food. Evanger's certifications and inspections include: US Department of Agriculture (USDA)-Animal and Plant Health Inspection Service (APHIS), USDA National Organic Program, Illinois Department of Agriculture, European Union (EU) approved, FDA inspected and its products are endorsed as Kosher for Passover by the Chicago Rabbinical Council (cRc). The company currently exports to multiple countries which also requires meeting additional regulatory or certification standards.
Two years ago, Evanger's experienced its first recall in the company's 83-year history. According to the company, a supplier substituted one ingredient for another. Following that, the company expanded product testing protocols to validate incoming ingredients specific to a broader range of potential food safety issues. It also follows strict vetting and monitoring procedures for new and existing vendors as well as multiple in-house quality and auditing programs.
"Pet food processing from an independent, family-owned perspective is like a chain with 50 links. We're responsible for every link and every link has to be solid all the time," says Joel Sher.
The Sher family makes a point to emphasize their dedication to the quality and the reliability of the products they produce. They are also committed to growing the company through other family-owned and independent companies. Not only do they adore the dogs and cats they serve, which is evident in many of their creative marketing materials, but they are also dedicated to the independent businesses who distribute and carry their products.
With Chelsea's business and marketing background, she has helped the company expand both their domestic and international sales. "We work with more than 20 US and 20 international distributors," Chelsea says. "We're committed to working with independently-owned companies, both retailers and distributors, so we make sure to offer exclusive programs redeemable only in brick-and-mortar stores."
Joel and Holly were the first owners of Evanger's to put more of a spotlight on the company's own brand and have grown the company, and specifically the Evanger's brand, for the next generation to take over. "We're really excited to have our children involved," Holly says. "Historically, the second generation is usually the one to take a brand and run with it. It's cool to have them involved and watch them learn the ropes."
Chelsea says she admires what her parents have accomplished. "Although the company is over 80 years old, our parents are the backbone of its growth and innovation," Chelsea says. "They inspire us to become the next generation to revolutionize the pet food industry as they have.
Find more articles related to pet food and treat processing on the Pet Food Processing landing page.