This article was published in the March 2019 issue of Pet Food Processing. Read it and other articles from this issue in our March digital edition.
The pet food industry continues to grow by leaps and bounds with global sales of all pet care products and services registering a 14% increase from 2012 to 2017, according to Euromonitor International. As products accommodating good health and good taste continue to boost the industry, processes like coating and spraying make it easier than ever for processors to offer pet owners quality, nutritious products with improved palatability for their four-legged friends.
"Wet and dry coatings supply nutrients and build favorable relationships between an owner and their pets as they show appreciation for the food choices," says Dave Carney, area sales manager, Bühler Aeroglide, Cary, North Carolina.
Common coating ingredients include poultry-based fats, vegetable- and marine-based oils, antioxidants and palatants. Fats and oils that flavor the kibble with antioxidants are typically in liquid form, which can serve as a bonding agent for dry materials. Vitamins and dental hygiene additives are dry, and palatants and prebiotic/probiotic digestive aids can be liquid or dry.
"A main reason for applying palatants is to improve the taste of extruded kibble to ensure the animal can and will eat the material, assuring an adequate supply of nutrients, vitamins and minerals," says Gordon Stirling, senior director, global process engineering, AFB International, St. Charles, Missouri. Also referred to as "digests," palatants are designed to enhance palatability and perform best when maintained at 70 F to 110 F, according to Stirling. For optimal kibble performance with a liquid palatant, Stirling recommends keeping air out of the palatant application process, avoiding over-application, preventing overspray and overlapping the palatant and fat spray nozzles. For dry palatants, he recommends evenly coating the kibble and avoiding impeded flow and buildup on the coating system.
"Given the amount of effort put into optimized coating formulation for nutritional adequacy, palatability and product performance as well as the cost of these ingredients, accuracy of the application is very important," says Brian Streit, director of pet food and aquatic technology at Wenger.
"Treats with coatings are less common because pet owners handle the treats and many don't want the resulting oily feeling or texture on their hands after handling," says Brian Streit, director of pet food and aquatic technology, Wenger Manufacturing Inc., Sabetha, Kansas. "One exception to this is basted-type products that improve aromatics and flavor of the treats. Typically, these are very-low inclusion addition levels."
Multiple methods
"Most premium brands of pet foods will use several different types of coatings on their products," says Terry Stemler, president, Automated Process Equipment Corp. (APEC), Lake Odessa, Michigan. "This often includes a type of fat or oil, a flavoring and a dry topical coating."
Manufacturers spread coatings using a coating drum or a continuous blender with liquid usually applied first in a uniform application to the outside of the product. Batch coating systems provide processors optimized coating uniformity, gentle product handling, high precision and accuracy, and 100% cleanout, while continuous coating systems offer constant material flow in a smaller footprint with a lower capital investment. Vacuum coating systems use a differential in pressure to force liquids through the outer layer into the porous area of the pellet and can hold up to 35% of dry matter weight, offering a no-dust, gentle-handling option.
The DFSC coating drum from Bühler offers a special spray-pipe design and easy maintenance with multiple couplings and the ability to simultaneously coat product using up to three different liquids with a maximum liquid addition rate of 8% of the product throughput. Product is continuously fed through the inlet into the coating drum and turned by flights. The adjustable drum inclination conveys to the outlet.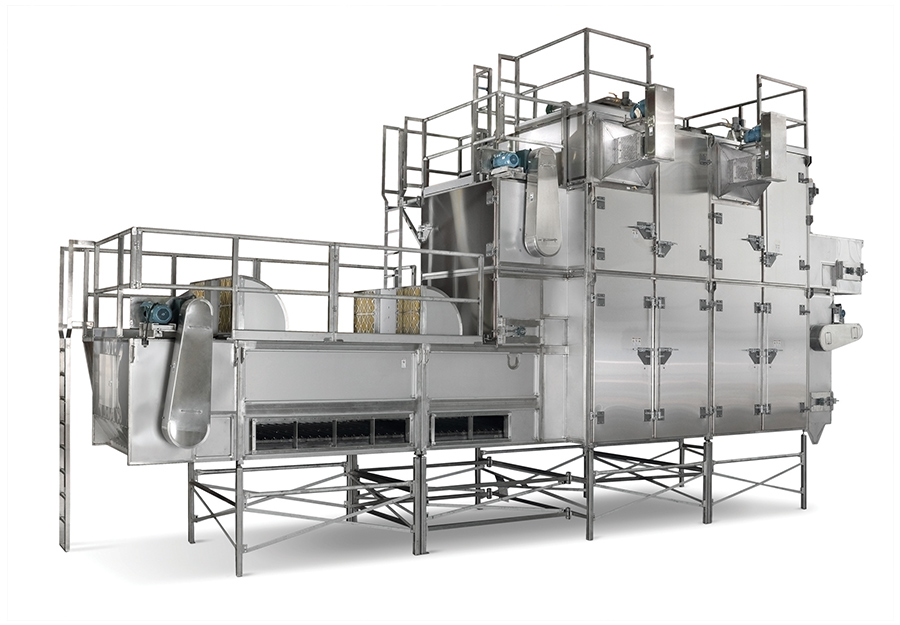 The delivery of dry powders is typically accomplished through a loss-in-weight feeding device with an auger to the coater, scarf plate distribution tray and/or spinning disc applicators. Auger-type, paddle and reel coaters use different actions and speeds to control uniformity. Entry may be through a single point or a rectangular entry, depending on the action of the coater, with some systems using compressed air to deliver a fog of powder into the coater.
Andritz, Graz, Austria, is adapting vertical mixing elements to coating technology and offering batch coating systems with or with-out vacuums. These systems possess high spraying efficiency and flexibility when it comes to batch size. The use of a vertical trans-port screw allows all the product to be exposed over time at the top of the mixing vessel to ensure uniform application of liquids or powders.
Equable delivery of liquid to all sides of the product and subsequent tumbling and spinning can assist with uniform coating. While hot liquid and hot kibble absorb liquid better, product must be appropriately extruded and uniformly dried to en-sure equal absorption of liquids to the dried product. The maximum coating without vacuum assist is 12% to 20%, according to Keith Erdley, technical manager, Wenger. When the total liquid inclusion level is greater than 15%, many recommend using vacuum batch systems.
Different flow rates may demand multiple spray systems to ensure the liquid is atomized enough at various rates. Nebulization systems disperse an atomized fog of fat or oil for very-low inclusion levels of less than 1%, applying liquids to dry solids using a spinning disk to create a 360-degree curtain of dry product evenly and accurately, negating waste through over-application.
APEC offers the Mistcoater Liquid Applicator that uses spinning "dry discs" instead of spray nozzles to apply liquids with suspended solids to dry solids in a continuous process. Multiple liquids can be applied through one inlet point with less head pressure required of liquid pumps because of the lack of liquid inlet restriction. The liquid is atomized and applied to the falling dry material.
Measure and contain
"It's critical to have a good way to monitor the coating performance, measuring the liquid and dry forms," Stemler explains. "If using spray nozzles, monitor the liquid pressure to make sure you don't have a plugged condition. To determine if there needs to be more nozzles for more liquid flow, it's important to investigate the specific performance curve."
"It's critical to have a good way to monitor the coating performance, measuring the liquid and dry forms," says Terry Stemler, president of APEC.
A batch mixer operating under a vacuum works well for coatings with very high liquid percentages, allowing more absorption of the liquid into the kibble, Stemler explains. Applying liquid first improves the adherence of the dry product, which might include the addition of meat slurries dried to the outside of the product or antioxidants for preservation.
The ETI Batch Coating System from Extru-Tech, Sabetha, Kansas, can handle up to 40,000 lbs. per hour at batch sizes of 2,500 lbs. at 63% fill level. The system applies coatings by liquid, powder or via a fogging application and provides 3.75 minutes of product retention time, exceeding that of a traditional coating system. An automated control system determines the optimal spray time for each liquid and sets the spray pressure for even and accurate coating.
Liquid coating equipment can benefit from the use of a pumping system that's easy to flush and clean. With dry product delivery systems, add a dust-collection system to keep fugitive dust off surrounding equipment. In drum-type systems, if the ends of the drum are open, atomized product can migrate out of the ends and settle on surrounding equipment, necessitating a method for containing the atomized liquid.
"Prior to the 1990s, open environment coating systems were acceptable," explains Tim Nanney, technical sales manager, Spray Dynamics, Heat and Control, Hayward, California. "Because of the nature and the content of the liquid and dry ingredients in the coating used for pet food and treats, new requirements for enclosed coating systems were implemented. These requirements were primarily created to protect operators and plant personnel from any potential long-term effects from exposure to these products." 
"Since the requirements' implementation, Heat and Control has offered an enclosed coating system to isolate the coating process to contain and collect any airborne mist or dust associated with the coating process," Nanney added.
Maintaining safety and accuracy can also mean using strainers in-line to the coater to prevent potential plugging of the liquid spray nozzles, which can lead to non-uniform application. It could also require taking steps to reduce degradation in fragile product or uniquely shaped feline products. Today's current gentle handling designs and lower operational speeds or RPMs help to further reduce these challenges.
To optimize consistency in finished coated products with liquid application, Heat and Control features an enclosed, continuous coating system with multi-nozzle spray manifolds. For dry coating, the company features a powder feeder with scarf plate distribution tray. The coating drum provides the necessary dwell time and product exposure for coating. "Using multi-nozzle spray manifolds for the liquids and the scarf plate distributor for the dry application provide an expanded coating zone that allows for a gradual application of the targeted amounts of the liquid and dry additions," Nanney says.
Food safety strategies
To manage the risk by maintaining the closed system and normal operation, Wenger recommends a product purge and diversion after the coater on the start-up of the next production. Proper care and maintenance can also deter oxidative rancidity that can occur within the liquid storage systems, scales or transfer lines if they aren't regularly cycled, purged and cleaned. Product retention after each production lot can lead to mixed product and any intervention of opening the system or cleaning it between productions can increase the risk of cross contamination from the atmosphere or operators.
Outcomes can also be impacted by improper temperature. To ensure optimum coating of the products, Wenger suggests a post-coating cooling process to set the coating and bring product within 10 F of ambient storage conditions. Streit prescribes a product temperature range of 50 C to 60 C (122 F to 140 F) before entering the coater. Products that are too hot run the risk of poor cuts, shrinkage or deformation. Higher temperatures also court the possibility of condensation forming on the material. Cooling product prior to packaging prevents condensation in the bag that can decrease shelf life. Any microbes and mold in the final product will be related to lack of temperature control.
To alleviate this issue, Wenger designs and sizes horizontal dryer and dryer/cooler styles for specific applications, ranging from 0.2 to 22 tons per hour. Options include the TrueTemp dryer series and the company's new Enhanced Sanitary Dryer, designed to reduce the potential for cross-contamination and bacteria build-up, and resulting production time lost to off-line inspection and cleaning.
"Condensation is a significant food safety risk," Streit says. "Along with the inherent product and dry palatant fines in the coater, condensation provides the medium for accelerated bacteria growth. This risk can be mitigated via insulated jacketed heating systems."
Processors can also mitigate sanitation concerns by insisting on equipment with Clean-in-Place (CIP) accessibility to all components. This is an important step toward having the means for thorough inspection and the ability to clean and provide maintenance of all liquid systems, scales, meters, bins and coaters. Design features must promote ease-of-product delivery, quick product changeovers and easy cleaning. This includes equipment access doors with admittance to the entirety of the coater along with a recommended product purge and diversion after the coater on the start-up of the next production.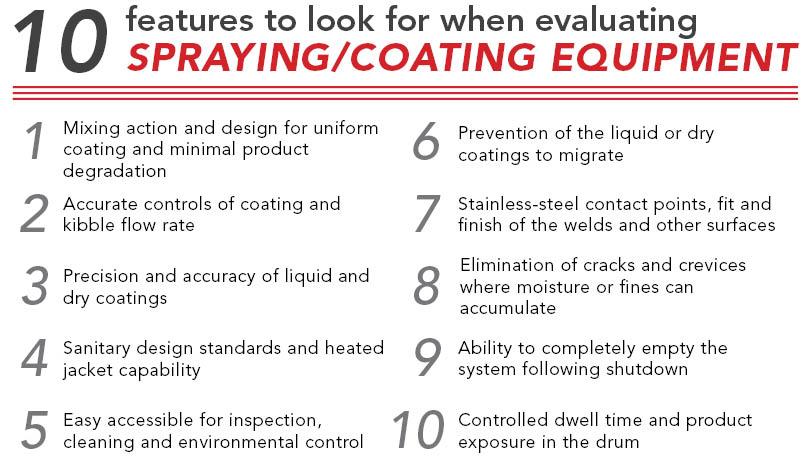 "Given the amount of effort put into optimized coating formulation for nutritional adequacy, palatability and product performance as well as the cost of these ingredients, accuracy of the application is very important," Streit concludes.