This article was published in the December 2020 issue of Pet Food Processing. Read it and other articles from this issue in our December digital edition.
Demand for more natural pet food products has grown alongside the general market for more natural consumer products, from food to household cleaning supplies and everything in between. To this end, synthetic ingredients in pet food formulations are being swapped with more natural ingredients to offer a cleaner label, market functional health benefits, and appeal to pet owner preferences.
"Non-synthetic ingredients are usually natural, easy-to-understand ingredients," explained Tom Asquith, director, research and development, The F.L. Emmert Company, Cincinnati. "Because many natural ingredients are co-products of edible foods, formulators can develop diets with obvious benefits for nutrition, health, sustainability and customer peace of mind."
Non-chemical and non-synthetic ingredients fit most neatly into the Association of American Feed Control Officials' (AAFCO) definition of "natural" ingredients, which is: a feed or feed ingredient derived solely from plant, animal or mined sources, either in its unprocessed state or having been subject to physical processing, heat processing, rendering, purification, extraction, hydrolysis, enzymolysis or fermentation, but not having been produced by or subject to a chemically synthetic process and not containing any additives or processing aids that are chemically synthetic except in amounts as might occur in good manufacturing practices.
"Our research shows consumers are searching out niche botanical ingredients and functionalities," said Mary Joe Fernandez, Layn Natural Ingredients. "…Consumers are searching for benefits for their pets and brands are delivering."
"Our research shows consumers are searching out niche botanical ingredients and functionalities," said Mary Joe Fernandez, global vice president, sales and business development, Layn Natural Ingredients, Newport Beach, Calif. "They routinely search ailments, and just like we do for our own health, are looking for natural remedies for their pets, too. From rosemary to green tea, an entire class of botanicals known as polyphenols, and even CBD – consumers are searching for benefits for their pets and brands are delivering."
Obstacles and opportunities
While formulating with non-chemical and non-synthetic ingredients is certainly on-trend, there are some challenges for processors to consider.
"When it comes to formulating new ingredients into a pet food formulation, cost, ingredient form, bin space, ingredient efficacy and labeling are all factors considered," said Lisa Schole, co-owner, tech services and formulation, Evolve Consulting Group, Fremont, Neb. "Typically, new ingredients don't end up in a finished product formulation before they have undergone an extensive R&D process, which takes time and money, both of which are typically limited."
Some of the most common ingredients in this category used in pet food include natural flavorings, antioxidants and colorants, according to Schole. She explained natural flavors can improve palatability and natural antioxidants can improve finished product stability and extended shelf-life, adding that most natural colorants are derived from plants or insects.
In the antioxidant realm alone, Serge Jean-Charles, vice president and co-founder, FoodSafe Technologies, Deer Park, N.Y., shared several clean label alternatives being used in pet food and treat products, including mixed tocopherols, rosemary extract, vegetable oils from canola, sunflower and soybean, and even certified natural citric acid.
"A downside to natural ingredients is that some are less stable and/or more expensive," Asquith said. "Colors are a good example – natural colorants tend to be less effective than synthetic. Another example is propylene glycol – it's more effective than [natural] glycerol at binding water in soft, moist treats."
Variability in certain nutrients can be caused by several factors, including the stage in which they were harvested, storage conditions, processing conditions and individual ingredient sensitivities.
"For example, the variability and stability of vitamins in fruits can be high due to the reasons mentioned above," said Trevor Faber, Ph.D., companion animal nutritionist, Trouw Nutrition, Highland, Ill. "Once incorporated into the food, the vitamins will have a lower stability than synthetic vitamins, which can affect the nutritional adequacy of the food over the long shelf-life."
According to Jean-Charles, natural antioxidants can require higher PPM [parts per million] rates, meaning a higher concentration of the nutrient per measurement, which can cost more for the manufacturer and result in a higher-priced finished product.
"Chemical/synthetic options in many cases are tried and true, making it hard to provide enough data to change the industry perspective on new options," said Kent Cooper, Evolve Consulting Group.
"Acceptance into the market, the expense, labeling and effectiveness of the new product are all challenges," added Kent Cooper, co-owner, ingredients and processing, Evolve Consulting Group. "Chemical/synthetic options in many cases are tried and true, making it hard to provide enough data to change the industry perspective on new options."
Cost is also a barrier but, for companies that can make ends meet, also a potential benefit.
"When customers demand these types of products, they are typically willing to pay for them as well," explained Eric Allphin, vice president, business development, Renew Biomass, Aurora, Mo. "This affords the opportunity for profits within a company."
There are also operational and marketing benefits to incorporating non-synthetic and non-chemical ingredients into a pet food formulation.
"The main benefit of formulating with these ingredients is the marketing message stating that they only use 'natural' ingredients, or their product is free of some substance," Faber said.
"The main benefit of formulating with these ingredients is the marketing message stating that they only use 'natural' ingredients, or their product is free of some substance," said Trevor Faber, Ph.D., Trouw Nutrition.
Formulations that include non-synthetic colorings can allow processors more flexibility in scheduling, less clean-out waste, and reduced risk of cross contamination, according to Schole. Fernandez pointed to a myriad of health benefits that could be attributed in part to the inclusion of polyphenol-rich botanical extracts in pet food, including improved antioxidant capabilities, inflammatory response support, joint health, gut health and immune system support.
"In addition to the health benefits, polyphenol-rich botanical ingredients can also be used for preservation of pet food and treats and can naturally help to extend the shelf life of lipids used in these products," she said. "We are also seeing increased interest in using natural, plant-based ingredients as flavor and sensory additives, adding palatability and helping to achieve improved intake and overall diet efficiency."
Knowing your options
There are several suppliers actively exploring this space and offering new non-chemical and non-synthetic ingredients to pet food processors.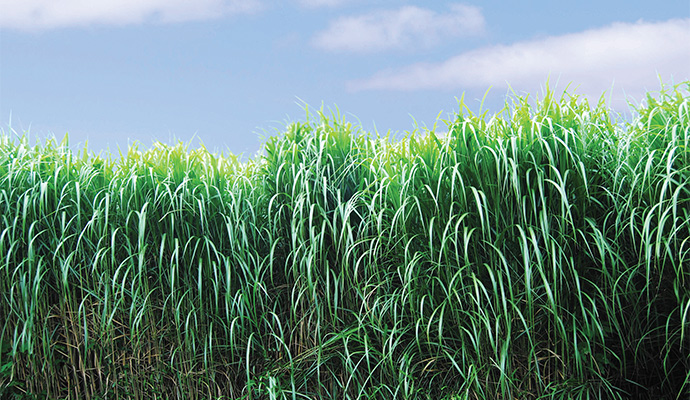 Trouw offers two ingredients in this category, one of which is its Beneo Inulin ingredient for dog and cat food formulations. The ingredient is a naturally derived source of chicory inulin, in which chicory root pulp goes through a hot water extraction process to create concentrated inulin.
"This provides a variety of fructooligosaccharide chain lengths that have greater microbial benefits than synthesized fructooligosaccharide products," Faber explained.
Fructooligosaccharides (FOS) can serve as a source of fiber in pet food formulations, aiding in digestibility and gastrointestinal health.
Tasco Kelp is another branded ingredient by Trouw that it describes as a "superfood of the sea." The ingredient is harvested from Ascophyllum nodosum, a species of wild macroalgae native to Canada's North Atlantic region. It serves as a source of various prebiotic fibers, protective compounds and antioxidants to support pets' immune systems and fortify against environmental stressors that could result in oxidation.
Faber explained that once harvested, the kelp is sun-dried to protect polyphenolic compounds and soluble fibers. Due to the naturally harsh climate in which it grows, the compounds are resilient all the way through to a pet's food bowl.
"Because of the limited processing, none of the natural compounds are destroyed by heat or moisture, nor are the soluble prebiotic fibers washed out of the plant," Faber said.
The F.L. Emmert Company offers a portfolio of all-natural brewers yeast (Saccharomyces cerevisiae) ingredients for pet food applications. Each ingredient is a proprietary blend of yeast, nutrients, yeast cell walls, amino acids, vitamins, minerals and palatability enhancers.
"Emmert's ingredient solutions have always been all non-synthetic," Asquith said. "Raw materials are sourced as co-products from human food processing, which provides consistency and peace of mind. All Emmert products provide the 'bundled benefits™' of better palatability, high-quality protein, and beta-glucans for gut health and sustainability."
TruGro® by Layn® offers a portfolio of natural, botanical extracts to address growing consumer demand for more natural, functional, healthy ingredients. The line includes TruGro INTEGRITY to target intestinal barrier function, TruGro AOX to extend shelf life, TruGro CARE to target metabolic health, and TruGro RELIEF, a blend of full-spectrum, broad-spectrum or isolated cannabinoids from organically grown hemp, to target overall health and wellness.
Renew Biomass offers MFiber, a ground miscanthus grass ingredient and alternative to traditional powdered cellulose, which offers more than just clean label benefits.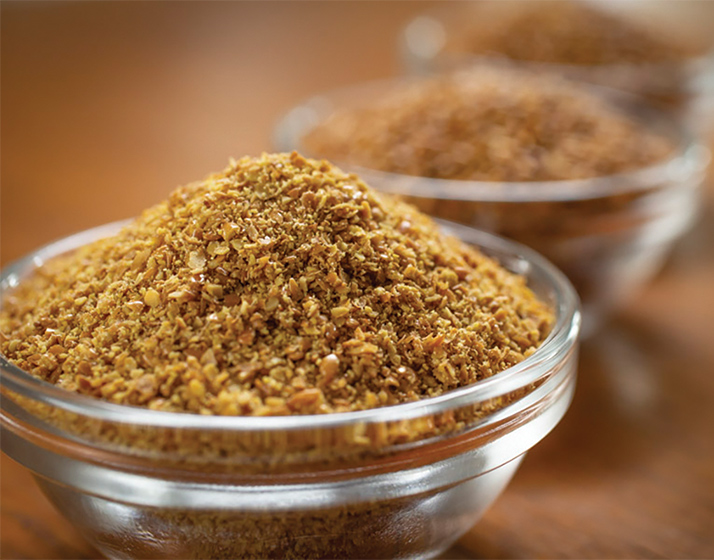 "Luckily for us, MFiber is actually cheaper than its chemically produced competitor powdered cellulose," Allphin said. "It is also sustainable and traceable. MFiber uses 86% less fossil fuel, 87% less GHG emissions and 98% less water to produce than powdered cellulose and can be traced from field to the bag of dog food it goes into."
CanMar Foods Ltd, Regina, Saskatchewan, Canada, offers human-grade flaxseed ingredients to the pet food processing industry. Flaxseed is a rich source of Omega 3 fatty acids.
"CanMar is specialized in heat treating and roasting flaxseed and we own a Canadian patent on the roasting process," said Ilona Beck, nutritionist and technical marketing manager, and Myles Hamilton, president, CanMar Foods. "Heat treatment plays a huge role in the food industry as thermal processes are generally designed to reduce microbial load that occurs naturally in raw seeds."
The company describes flaxseed as a "powerhouse of nutritional value" for pets, with improved coat health being the most visible benefit, while also offering anti-inflammatory properties.
FoodSafe Technologies offers its SafeNature collection of plant-extracted antioxidants in both liquid and dry formats. These plant-based antioxidants can assist in extending shelf life by protecting fats, oils and lipids. The company promotes its SafeNature portfolio as a cost-effective alternative to synthetic antioxidants.
The scoop
Processors seeking to replace synthetic ingredients with natural ones should be ready to test and retest formulations to ensure optimal nutrient availability before releasing them to the market. Those who succeed in incorporating these ingredients will be able to more adeptly meet pet owner demands for cleaner, more natural products.
Read more about product development, ingredients and formulation.