This article was published in the March 2021 issue of Pet Food Processing. Read it and other articles from this issue in our  March digital edition.
It took a pandemic for consumers to wake up and understand the fragility of our food chain. The concept of sustainable agriculture and sourcing of food ingredients has resonated with many. More consumers are seeking out companies that prioritize efforts focused on feeding the growing human and pet populations and preserving the planet at the same time.
"Sustainable ingredient sourcing is fueling product development," said Deena Krestel-Rickert, chief executive officer, Four Paws Solutions, St. Louis. "Access to such information is just a click away."
A company's sustainability story can make or break a sale. This is especially true in e-commerce, where pet care, followed by pet food, are the second- and third-largest consumer packaged goods categories for online sales, according to market research firm Statista, New York.
"Ingredient sustainability is ultimately a matter of whether the production and use of the ingredient creates net positive impacts for its users and every community it touches, from source, throughout the supply chain and to consumption, even post-consumption health," said Andy Gale, marketing manager, Pet Sustainability Coalition, Boulder, Colo. "This includes environmental impacts, as well as additional considerations of animal and human welfare. 'Sustainable' in the context of ingredients is not about being 'less sustainable' but more about ensuring that there are no external costs that negatively impact ecological or human wellbeing.
"Proteins are perhaps the most important ingredient to address with respect to sustainability due to the importance of proteins as a pet food ingredient, and the resulting magnitude of impacts in producing most proteins used in pet foods," Gale added. "Most commercial dog foods, for example, have a protein content averaging around 25% (by dry weight mass)."
These proteins provide concentrated energy and nutrition for pets, but the supply chain that creates them has a greater magnitude of impact (by mass) to ecological and social systems. Thus, it's not surprising that preliminary research suggests that proteins have, by far, the highest environmental impact compared to other ingredients.
"The push to use up more land and water to feed people and animals eats up the planet," said Anne Carlson, founder and chief executive officer, Jiminy's, Berkeley, Calif. "The UN projects the planet will go from 7 billion people to 9.7 billion by 2050... Sustainability isn't a luxury anymore. It's a necessity."
"Sustainability isn't a luxury anymore. It's a necessity," said Anne Carlson, Jiminy's.
A report commissioned by the American Feed Industry Association's Institute for Feed Education and Research, the Pet Food Institute and the North American Renderers Association estimated that US pet food manufacturers purchase 6.9 billion lbs of animal protein per year, many of which are derived from rendered products.
Eliminating protein waste
One approach to sustainability is eliminating food waste. In the pet food world, this has been a long-time practice through the process known as rendering. To render means "to reduce, convert or melt down (fat) by heating." The term comes from the French word, "render," which means "to give back." Rendering reclaims the meat and bone scraps from animal agriculture and grocery store leftovers and transforms them into ingredients for new products, including high-quality protein for pet foods.
Without rendering, roughly 50% of each meat animal would go to waste, according to the North American Renderers Association, Alexandria, Va. But rendering does more than that in terms of sustainability. It diverts billions of pounds of food waste from landfills; water is reclaimed by not using it to wash animal leftovers into waste streams; and by using these animal parts to make protein ingredients for pet food, less protein needs to be grown and processed. This translates to reducing greenhouse gas emissions.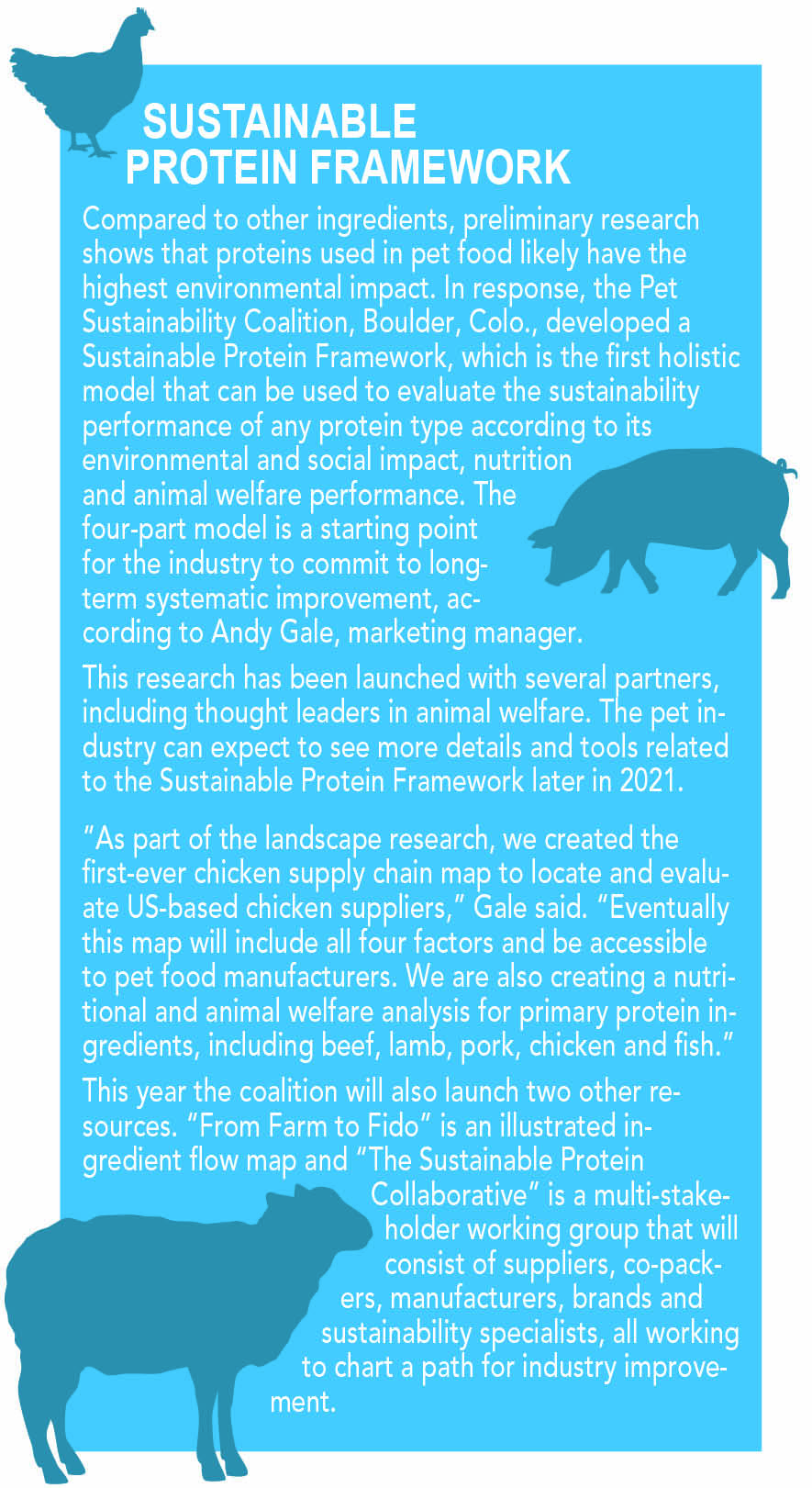 Companies such as Biomega Group, Bergen, Norway, have developed technology that allows for zero waste in salmon harvesting and processing. Parts that do not go into the human food chain are used to deliver protein, omega-3 fatty acids and other essential nutrients to pets.
"Our patented process — known as enzymatic hydrolysis — transfers fresh and pure Norwegian salmon parts in a natural and gentle way into premium food-grade ingredients," said Marianne Warnaer, director of global sales. "Essentially, our biorefinery hydrolyses the salmon parts into hydrolysed proteins (peptides), and we gently separate the oil, proteins and sediments, making total use of rest streams with zero waste.
"The advantages of our enzymatic hydrolysis process are not only increased digestibility and bioavailability (due to lower temperatures), but also reduced allergy risk and increased solubility and palatability, especially in pet food," she continued. "What makes this process more sustainable compared to a like ingredient is the way it's manufactured. Instead of using a batch-based process, which can result in higher energy costs and increased impact on the environment, we use a continuous process that provides consistent quality and yield."
As one of the largest pet food makers in the world, Nestlé Purina PetCare, St. Louis, also believes it is critical that the company be a good steward of the global food supply chain for both humans and pets.
"Every ingredient in our food serves a purpose and we formulate for the nutrients needed for the pet," said Jack Scott, vice president, sustainability and responsible sourcing, Purina. "A large majority of the animal protein that we use in our pet food today is quality sources of meat not used in the human food stream. The use of these ingredients, like the nutrient-rich organ meat that is not generally consumed by people, provides a source of high nutritional value for pets and helps offset the environmental impacts of the human food system.
"The practice of sourcing nutrient-rich ingredients from the same suppliers working with the human food supply chain supports the utilization of the whole animal and demonstrates our respect for the environment and the overall food system," Scott said. "[We are also] looking at a portfolio of protein sources, including traditional animal-based protein, as well as plant- and marine-based proteins."
Alternative proteins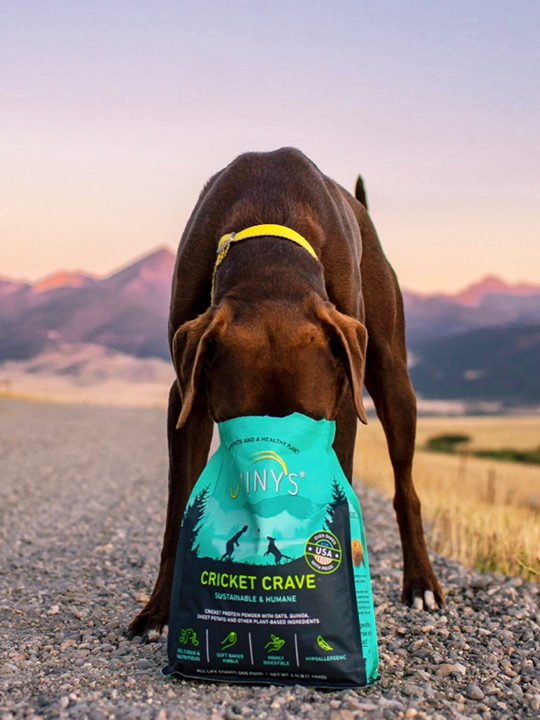 Jiminy's started with the concept of "what if we could reduce our dog's carbon footprint?" The star ingredient in the company's products is insect protein.
"We started with crickets — roasted and ground with nothing else added — and have recently added recipes with grubs," Carlson said. "It's simple. If you're sourcing your protein from smaller animals, you're using less land and water. Using insects is of course a huge advantage, as you can't go smaller for your protein.
"Grubs and crickets are an amazingly efficient food source, as they take up a fraction of the acres required by a cattle feedlot," she added. "Water usage is similar. Insects require a fraction of the amount needed by cattle or chickens. The delivery system itself prevents waste too, so we're getting mileage out of every drop of water."
One 5-ounce bag of Jiminy's treats saves 200 gallons of water, according to Carlson. The shelf life of Jiminy's products is 1.5 to 2 years, which assists with reducing waste due to spoilage, staling or nutrient loss.
"Insects provide a great protein source for pets and people alike since they reproduce in great numbers, have high nutritional quality with very low water and land utilization," said Tony Lawlor, chief executive officer, Because It's Better Inc., Ridgefield, Conn. "Other novel protein sources are beginning to be used in pet foods and treats."
Krestel-Rickert added, "Algae, yeasts and fermented proteins are just a few of the alternatives to consider."
"Algae, yeasts and fermented proteins are just a few of the alternatives to consider," said Deena Krestel Rickert, Four Paws Solutions.
Bond Pet Foods Inc., Boulder, has been working with biotechnology to make animal-free and protein-rich pet food. Its first product, the Protein-Packed Dog Treat Bar, is made with a novel dried yeast protein that is produced using less land, water and energy than conventional proteins. The company is also working on production of chicken and other conventional meat proteins made through a similar fermentation process.
"With our proprietary approach, we're producing proteins that are nutritionally identical to their meat counterparts without the environmental, animal welfare and safety downsides," said Pernilla Audibert, co-founder and chief technology officer at Bond. "Utilizing microbial fermentation and the biochemistry of yeast, we're harvesting cultured animal proteins like chicken, turkey and fish, without the animal, and then using the ingredients as the foundation of our complete recipes."
Products made with these cultured meat proteins will be commercially available within the next three years.
"We need new and alternative proteins to feed a growing global pet population, and also to minimize the environmental impact of feeding that growing population," commented Ryan Bethencourt, chief executive officer, Wild Earth, Berkeley, Calif. "Using biotechnology gives us the ability to scale and to get a product to market safely, quickly and affordably."
Wild Earth uses cultured protein made from human-grade koji, an ancient Asian protein and member of the fungi kingdom. The company's kibble delivers 31% complete protein in every scoop.
Beyond protein
Pet food is more than protein. In fact, there is a growing movement to get pets to eat more fruits and vegetables.
Wild Earth, for example, includes an array of purposeful ingredients, such as oats, sweet potatoes, chickpeas, blueberries, pumpkin and spinach, providing dogs with antioxidants, enzymes, fibers, minerals and vitamins. These compounds are critical to the health and wellness of not only companion animals but humans as well.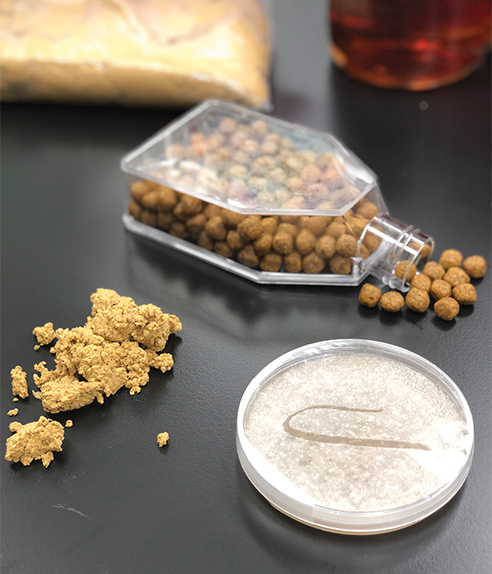 Unfortunately, a lot of fruits and vegetables grown for human consumption become waste because they are overripe, bruised or don't meet the consumer's standards. For this reason, Kemin Nutrisurance, Des Moines, Iowa, is collaborating with CSS, McClellan, Calif., a company dedicated to reducing food waste by bringing new life to unsold fruits, vegetables and meats and converting them into valuable products before the food perishes. The two companies aim to develop high-quality, environmentally sustainable products that are safe, shelf-stable, tasty and nutritious for the rapidly growing pet food market. CSS's patented Harvest to Harvest technology enables the collection and repurposing of recovered food from supermarkets and other food recovery partners. Kemin Nutrisurance partners with pet food manufacturers and renderers across the globe to solve challenges through every step of the pet food supply chain.
"Pet parents are increasingly demanding natural and sustainable solutions for their companion animals," said Yannick Riou, president, Kemin Nutrisurance. "This is an exciting step in offering our industry new solutions to address the ever-changing needs of pets and pet parents."
James Bello, co-founder, Shameless Pets, Chicago, recognized the opportunity of turning nutritionally safe "food waste" into pet treats when he was a corporate food buyer for Target Corp., Minneapolis. Every week he would see the vast amount of food that would go unused in stores. Bello founded the company with Alex Waite, a food scientist, and in October 2018, the duo launched a line of treats that were all-natural, grain-free and boosted with superfoods.
"Our treats are nutritionist crafted while rescuing neglected, underused and misfit ingredients," Bello said.
Labels identify the unique upcycled ingredients that are in each Shameless product.
"Shameless Pets focuses on rescuing ingredients from agricultural production, post-harvest leftovers and food processing," Waite said. "These ingredients are ridiculously tasty, highly nutritious for your pups and have a positive impact on the planet."
Read more about sustainability in the pet food and treat industry.