LEWISBURG, OHIO — Cargill held a virtual ribbon-cutting ceremony Jan. 11 to celebrate the opening of its new premix animal nutrition facility in Lewisburg. The 220,000-square-foot facility features advanced technology that allows the use of less resources to produce feed ingredients for pet food production and animal agriculture, while ensuring high quality and ingredient traceability.
Construction on the $50 million facility began on Nov. 8, 2018 and its opening is the result of six years of planning. Cargill purchased the site from a pet food manufacturer and the design team looked for ways to repurpose much of the existing infrastructure. The facility produces non-medicated feed and supports Cargill and Provimi branded animal nutrition premixes and products, along with additives and specialty and custom blends.
"It started with thinking differently about how to best meet the changing needs of our customers, along with a commitment to invest and innovate for the future," said Adriano Marcon, president of Cargill's animal nutrition business. "Now, we believe the new facility sets a new standard for premix production giving our customers unmatched confidence in our animal nutrition offerings."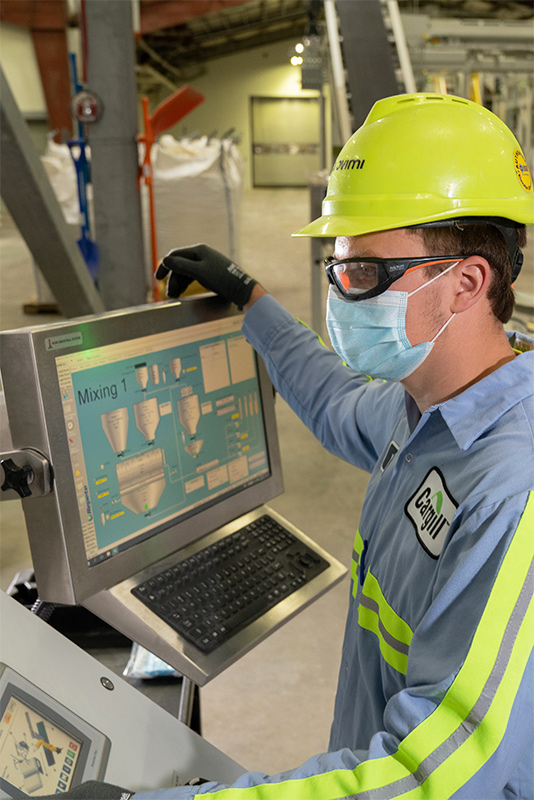 Vitamin-trace mineral premixes are essential for animal nutrition, and the need for products with small inclusion rates continues to increase. The facility, named Lewisburg West by Cargill, includes a 160-foot steel premix tower, along with automation and controls technology that provides precise measurements and traceability that exceed industry standards and significantly reduce cross contamination risks, according to Cargill. Soft, flexible hoppers for micro-ingredient dosing provide gram-level precision in production, and stainless-steel design makes cleaning the systems easier and more effective.
The highly automated production process with continuous human monitoring ensures accuracy and reduces the risk of injuries to employees. Among several new features, the facility's humidity and temperature controls, strict management of ingredients and plant access will further protect food safety as well as customers' brands.
Each of the plants' four segregated production lines can run a mix from start to finish in approximately one hour, providing increased capacity across Cargill's network of feed facilities. As a non-medicated facility, it opens new opportunities for the company within the pet food market and allows for more support to livestock and poultry operations raising animals without the use of antibiotics. It is estimated that Lewisburg West will produce 154,000 tons of non-medicated animal nutrition products and premix across its production lines each year.
"This project is the culmination of several years of thoughtful work, reimagining our facilities from the ground up," Marcon said. "I'm really proud of our team. The expanded capacity the plant gives us means we can help more customers have confidence in the safety and quality of the premix they use for their animals."
In the 160-foot steel tower, gravity is a key design feature to reduce shear forces applied to sensitive materials that would come from traditional conveying methods. Gravity and conveyance work together to reduce the risk of cross-contamination. There is no mechanical conveying where traces of material can be left behind.
Additional features of this new facility include: localized dust control that ensures ingredients remain in the system as well as in the finished product; two separate unloading pits for trucks delivering ingredients to provide separation of proteins and non-proteins; and locked access points for additional security throughout the production system. Cargill's teams document safety, purity and traceability from the dock receiving the ingredients to the premix products' shipping dock. These records are readily available to customers.
The automated weighing and dosing system of Lewisburg West ensures gram-precision dosing of premix nutrients for accuracy. Vitamins and minerals are measured with gram precision and then weighed throughout the premix production process. The automated weighing and dosing system includes more than 100 micro-ingredient bins, handling dosing weights from 2 lbs up to 2,000 lbs per weighment.
Stay up to date on news about the pet food processing industry on our News page.