ARLINGTON, VA. — The American Feed Industry Association (AFIA) recognized three animal feed industry members Oct. 21 for their contributions and support.
Cassie Jones, Ph.D., associate professor of animal sciences and industry at Kansas State University (KSU), was named AFIA Member of the Year during the organization's fall Board meeting. The recognition represents Jones' support of the organization.
"Cassie is collaborative and welcoming, yet always objective and steadfast in completing the task at hand," said Paul Davis, Ph.D., director of quality, animal food safety and education for AFIA. "Science, research, experience and facts prevail when working with Dr. Jones."
Jones is the academic liaison for AFIA's Nutrition Committee, where she has contributed to the committee's achievements and initiatives. This includes assembling speakers for the association's foreign animal disease program at International Production and Processing Expo 2020, working with the Institute for Feed Education and Research (IFEEDER) on African swine fever research, and communicating domestic and international biosecurity and feed safety topics to industry members.
She also contributed to AFIA's digital Feed Manufacturing Technology publication, specifically the chapter on biosecurity. Jones served as an expert on AFIA and the pork industry's feed risk task force as well.
Jones earned her bachelor's and master's degrees from Kansas State University, and went on to achieve her Ph.D. in nutritional sciences from Iowa State University.
Additionally, Keith Behnke, Ph.D., a retired feed industry expert, was presented with the AFIA-KSU Feed Manufacturing Lifetime Achievement Award during the fall Board meeting.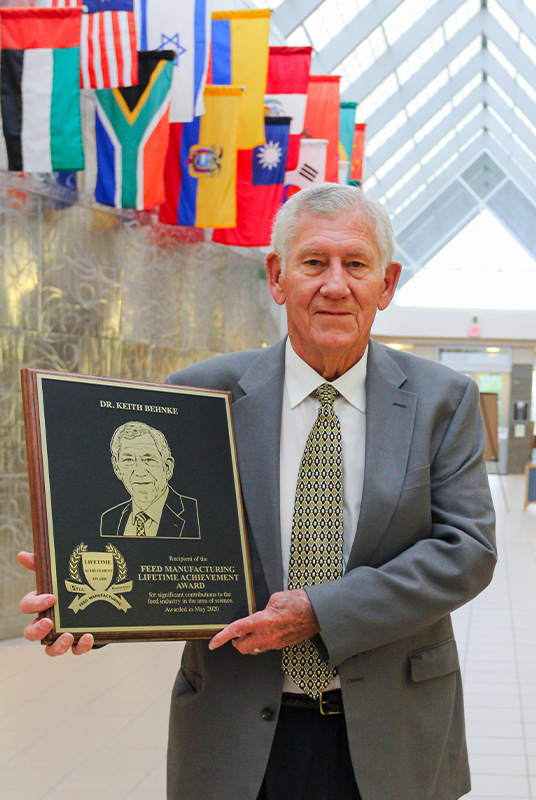 "Dr. Behnke has spent over 40 years working in the feed and grain industry, making him more than deserving of this award," said Gary Huddleston, director of feed manufacturing and regulatory affairs for AFIA. "I first met Dr. Behnke in 1988 when I attended a feed short course at Kansas State University. I've always respected Dr. Behnke as a great educator of future industry professionals. He has been a great representative of our industry over his career."
Behnke joins 20 other animal food industry retirees in the United States who have received this award after dedicating their careers to the animal food manufacturing business.
He started his career as a processing research coordinator at Far Mar Co. before returning to Kansas State University to teach and conduct academic research in 1977. Behnke taught feed manufacturing science and ingredient quality courses from the basic to advanced levels, tutoring more than 150 undergraduates, 18 doctorate students and 20 masters students throughout the years.
Behnke has also published several scientific and press articles on feed manufacturing, as well as presented at more than 120 conferences and symposiums in the United States and abroad. He has visited nearly 50 countries as a consultant and member of KSU's International Grains Program.
He retired from his position at KSU in July 2010, but continues to serve on the university's feed science advisory team, which helped to design and construct a new campus feed mill for the Department of Grain Science and Industry, according to AFIA.
Behnke earned his bachelor's in feed technology from KSU in 1968 before serving three years in the US military. After serving, he earned his master's in feed science and a doctorate in grain science.
William "Bill" Braman, Ph.D., formerly with Chr. Hansen Animal Health and Nutrition, was also recognized with AFIA's Distinguished Service Award during the association's fall Board meeting. The award is AFIA's highest honor, recognizing Braman's continued support of AFIA and the animal food industry throughout his career.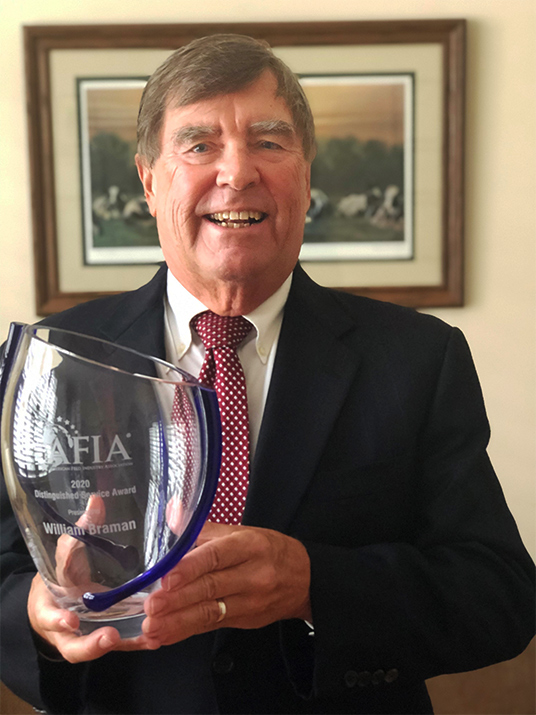 "Anyone who has worked with Bill knows how much the animal feed industry means to him – he truly put his heart and soul into everything he did to support the industry," said Sarah Novak, vice president of membership and public relations for AFIA. "Bill's many contributions to the feed industry, the AFIA and IFEEDER make him an exceptional choice for this honor."
Throughout his career, Braman has supported AFIA and IFEEDER in their research, events and projects in various roles. He served on the board of IFEEDER until 2015 and as a pioneer trustee, as well as on the budget task force and research committee. Braman served on AFIA's board from 2011 to 2014, on its Nutrition Committee for more than 10 years, and on AFIA's Liquid Feed Committee for five years.
Braman also played a leading role in the silent auction held during AFIA's Purchasing and Ingredient Suppliers Conference for several years.
Aside from his work directly with AFIA, Braman remained active in several industry groups, including the American Dairy Science Association, the American Society of Animal Science, the Poultry Science Association, and the American Registry of Professional Animal Scientists (ARPAS). He was president-elect and president of ARPAS from 2009 to 2011, and from 2006 to 1009 he served as director for the Midwest chapter of ARPAS.
Braman was raised on a dairy and crop farm in Indiana. He earned his bachelor's degree in agricultural education with honors from Purdue University in 1969. Braman also received both his master's and doctorate degrees in animal nutrition from the University of Illinois.
Read more about personnel changes throughout the industry.