As a dream-team co-manufacturer of pet treats, Pedigree Ovens and The Pound Bakery leans on humanization to drive success for the numerous brands it produces It is heavily involved with helping its clients break into new markets and expand product lines. In fact, that's the way the company began.
Pedigree Ovens and The Pound Bakery grew with the small businesses and brands it worked with in the beginning, running 300- or 500-lb. batches to work out kinks in product development and packaging.
Pedigree Ovens and The Pound Bakery manufactures complete-and-balanced companion animal diets, bird and fish food, horse and reptile treats, and even treats for kangaroos, but its bread and butter is baked dog treats. Aside from baking, its capabilities include extrusion, cold-extrusion and dry blending. Since completing its new processing facility, Pedigree Ovens and The Pound Bakery can run small-batches and large volumes of product.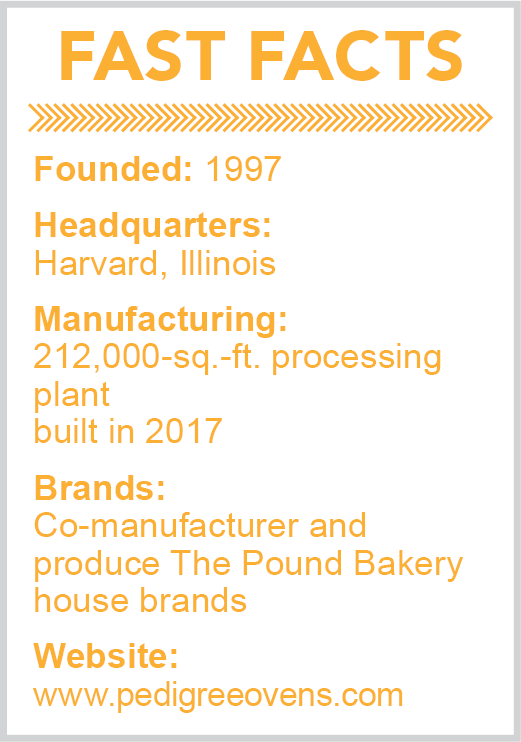 The co-manufacturer invested $32 million in a brand new, 212,000-sq.-ft. manufacturing plant, which was completed in December 2017, to maximize its processing flexibility and capacity. Its goal is to be highly reactive to new trends and innovations in products, ingredients and packaging. By keeping one eye on the movements in the market and the other on growing its clients, Pedigree Ovens and The Pound Bakery have secured success for themselves and their brand partners.
Kurt Stricker, president of Pedigree Ovens and The Pound Bakery, started the business with a piece of equipment he bought from an auction and a 5,000-sq.-ft. space in an old dairy building. Today, the co-manufacturer continues to make clean pet treats with human ingredients, just on a much larger scale.
Read more about Pedigree Ovens and The Pound Bakery in our exclusive processor profile from June 2018.
Read other pet food and treat company profiles featured in our 2019 Resource Guide.