Acquired by General Mills, Inc. in April 2018, Blue Buffalo Pet Products is a leader in the wholesome natural category with several brands that can now be found anywhere in the spectrum of retail channels. Most recently, the brand entered the Food, Drug and Mass (FDM) space and has made huge strides gaining market share in that channel, as well as e-commerce, over the past year and a half.
"We're focused on significantly expanding Blue's availability so that pet parents can get the Blue products they can want anywhere they shop for pet food," said Billy Bishop, founder and brand advisor at Blue Buffalo.
Blue Buffalo has retained key leaders, including co-founder Billy Bishop Jr., throughout the merger, as well as it's nutritional philosophy: "Love them like family. Feed them like family." The manufacturer does not formulate product using chicken or poultry by-product meals, corn, wheat or soy proteins, or artificial ingredients. Blue Buffalo's nutrition is centered around high-quality protein sources, fats and carbohydrates, wholesome fruits and vegetables and vitamins and minerals.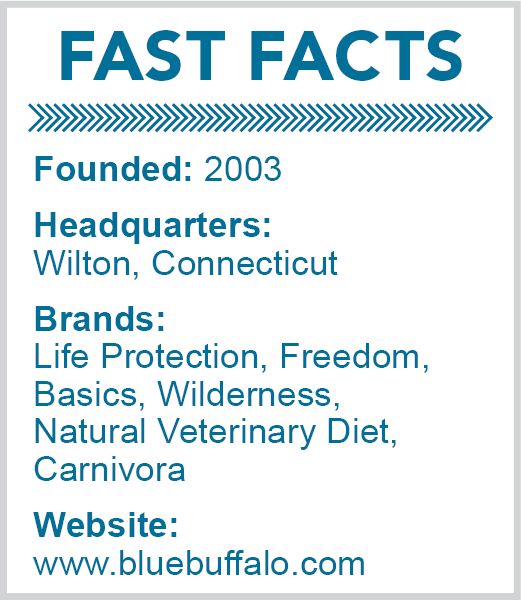 The brand's signature is its proprietary kibble inclusions, called LifeSource Bits, which are formulated with a careful blend of vitamins, minerals and antioxidants, cold form processed to maximize their nutritional efficacy, and then mixed into each dog and cat diet. LifeSource Bits promote a healthy oxidative balance, immune system health, and overall health and wellness for specific life stages, according to Blue Buffalo.
The Blue Buffalo Co. itself was started by the Bishop family and inspired by their large breed Airedale, Blue. When Blue was diagnosed with cancer, the Bishop family became increasingly interested in crafting a wholesome, natural pet food. Billy Bishop Sr. and his two sons, Billy Jr. and Chris, consulted with animal nutritionists and holistic veterinarians to eventually develop the company's first pet food line, Life Protection, for dogs and cats.
Blue's bouts with canine cancer are foundational and continue to be a big part of the company. Blue Buffalo leads the Pet Cancer Awareness campaign, which raised $2.3 million for research and treatment during May 2019 alone. Money raised is allocated to a variety of research initiatives and organizations nationwide. The campaign was started in 2003. Blue Buffalo also supports organizations such as Sierra Delta Service Dogs for Veterans and the Animal Cancer Foundation, with which it started the Canine Cancer Genome Project for tracking and tracing canine tumor genomes.
According to Blue Buffalo's website, all its pet foods and treats are manufactured in United States facilities, except for its Chomp 'n Chew dog treats, which are co-manufactured in Ireland.
Read other pet food and treat company profiles featured in our 2019 Resource Guide.