This article was published in the March 2019 issue of Pet Food Processing. Read it and other articles from this issue in our March digital edition.
Creating the perfect batch of pet food takes a combination of consistent product flow and product uniformity and relies on proper temperature, humidity and efficiency of the process from beginning to end. The equipment involved, therefore, must be working properly and in tangent with the rest of the processes and be able to troubleshoot any problems that might occur along the way.
Pumping up innovation
Tom Hoffmann, director of sales at Mepaco, part of Apache Stainless Equipment Corp., Beaver Dam, Wisconsin, says when selecting pumping equipment, it's vital to understand the product density, temperature and viscosity, along with the distance the product will be pumped.
"The product characteristics coupled with the distance, piping diameter and vertical/horizontal runs will help dictate the best pumping solution for the application," he says. "In many cases, our pumping systems are being used as a surge device to allow our customers to begin blending the next batch while the finished product is being metered to a filler or another step in the process. In some cases, product may bridge at the inlet of the pump, so leveling ribbons ensure there are no voids which fosters a consistent flow of product on demand."
Some products have what Hoffmann calls a "viscosity speed limit" when being pumped. Therefore, he says having larger diameter piping with shorter runs will reduce the discharge pressure; and ensuring the necessary net inlet pressure is also important. 
"Sizing the equipment correctly and striking the balance between proper features (i.e. diameter of screws, number of screws, size of pump) will create the proper flow to the pump and out of the pump to the final destination," Hoffmann says. "How does the equipment help in this regard? It's all in the understanding of the product and the selection of the correct features coupled with the control capability to dial the equipment into the product and the customers process."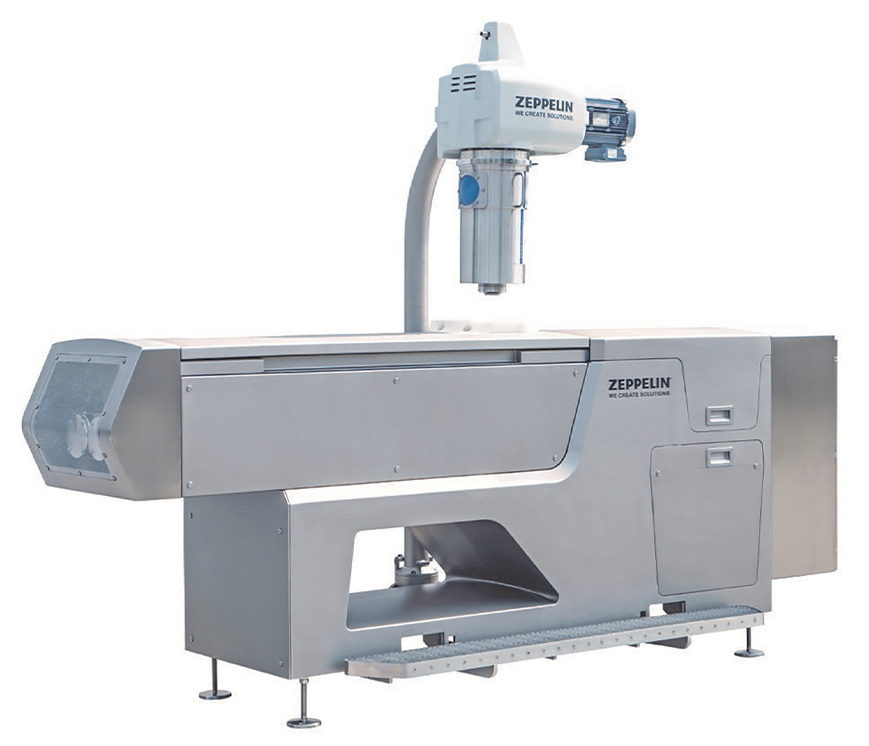 Mixing notes
A proper finished product relies on mixing, which is why companies regularly work to update and improve their mixing equipment. Marc Ferree, sales engineer, Shaffer Mixers, Urbana, Ohio, says the company's sigma arm agitator mixers are designed to ensure uniform blending of ingredients. "We do this by engineering a close tolerance between the agitator and the mixer bowl to minimize unmixed ingredients," he says. "The shape of the agitator provides a consistent flow and mix of ingredients. We have multiple sigma arm designs."
A key component of mixing and blending efficiency is proper metering of raw materials to the mixing system. Joseph Cross, process manager, Zeppelin Systems USA, Inc., Odessa, Florida, says if you don't get your recipe into the mixer precisely and consistently to begin with, you must constantly make adjustments downstream.
Temperature talk
Temperature is a critical variable in many processes, and a small difference in product temperature can have a tremendous impact on processing characteristics downstream. "We typically include temperature sensors at all key points to allow us to provide feed-forward control when necessary to maintain the ideal product temperature through mixing to optimize downstream processing," Cross says.
Ken Langhorn, technical director, Charles Ross & Son Co., Hauppauge, New York, says it's vital to understand the needs of each application throughout the process to ensure everything is working properly. "For temperature control, we start by assessing what mixing intensity is required for the process, because the higher the intensity usually the higher the product temperature will be," he says. "We would identify what's the best fit for the process and then we can look at areas like jacketing the vessel, a scrape sidewall so that we can transfer heat from the vessel itself to the product."
In applications where temperature is critical, this is likely to be achieved during the mix or cook process and the pumping system may simply be maintaining that temperature using an external water or steam jacket. When it comes to temperature control in mixing, Ferree notes it depends on the product. The company's mixers are equipped with a jacket that allows for cooling or heating to ensure proper temperatures are maintained.
"For temperature control, we start by assessing what mixing intensity is required for the process, because the higher the intensity usually the higher the product temperature will be," says Ken longhorn, Charles Ross & Son Co.
The speed and efficiency of mixing is also dependent upon the product. Mixers can be equipped with variable speed agitator drives which allow them to be programmed for specific recipes. Both time and speed are equally adjustable based on the needs of the batch and can be saved for easy recall within the operating system.
Sanitation and product changeovers
Improved sanitation and quick product changeover are relative to the demands of the customer within the given environment. It's critical that processing equipment adhere to the strictest standards in sanitary design. Hoffmann says electropolishing product contact surfaces prevents build-up and fosters easier transfer. In addition, electropolished surfaces are easier to sanitize with less manpower, water and chemicals.
"When we talk about product changeover and sanitation, it really starts with sanitary design — if you can have smooth finishes, equipment will clean out really well from batch to batch and during sanitation it will clean up as well," he says. "When I think of transfers and batch to batch, no loss yield and avoiding product stuck in corners starts with good sanitation design."
Zeppelin Systems' DymoMix hydrates dry ingredients with a variety of liquids and can be used as a pre-mixer or, in some cases, as the final mixing element. "The unit has a small footprint in terms of the wetted product area, making cleaning and changeovers faster and simpler than when using a larger, more traditional mixer," Cross says.
Shaffer Mixers offer an open frame design built from stainless steel plates and tube construction with water-tight enclosures, which provides easy access for sanitation and maintenance. "Additionally, we have an optional clean-in-place system for full washdown of the agitator and the bowl between batches," Ferree says.
Reducing bottlenecks
Bottlenecks in the mixing process usually stem from operators having multiple responsibilities and being downstream or away from a mixer when operator intervention is needed. "Our mixers can be configured to automatically integrate with ingredient systems, and, with the use of programmed formulas, the mixer can basically operate on its own from the addition of ingredients to discharge," Ferree says.
"If you can have an automatic formulation system that can load in five minutes so it can start blending, it will create more turns per hour than if you do everything manually," says Tom Hoffman, Mepaco.
Selecting the proper size mixer for the production volume is important. Hoffmann says equipment should be sized so that it's ready to deliver product at the rate needed to keep the processes in sync. "You never want to have equipment standing idle due to poor sizing or performance limitations that create processing voids or delays," he says. "If you can have an automatic formulation system that can load in five minutes so it can start blending, it will create more turns per hour than if you do everything manually."
A heating or cooling step often requires a prescribed amount of time, which can slow production. Langhorn says if a bottleneck is a heating or cooling step, having a device that has better heat transfer is one way of minimizing that bottleneck. "If the bottleneck is a batch cycle time and we can put more mixing intensity without damaging the product, then providing an agitator that is more intense, maybe runs faster, and provides better agitation would be one way of speeding that," he says.
Staying consistent
Provided the product, temperatures and processes remain consistent, the equipment performance should be repeatable if maintained and operated consistently. "Upon start-up, it's good to create a baseline for success that documents the product, temps, processes, settings, etc. Once the desired outcome is realized, the applicable people should be very protective of maintaining consistency throughout so that any change can be quickly identified and remedied when comparing back to the control," Hoffmann says.
Once the product begins to change and the processes or operation of the equipment begins to vary, that's when a company will start to see varying results. "If we're talking about batch to batch consistency, then control systems start to play a bigger role," Langhorn says. "Most of the big improvements we've had have been in control systems. You can have a control system that'll prompt an operator through every step or change speeds based on run durations and make sure that the process is being performed precisely with every single batch."
Technology is ever-changing in the industry and manufacturers are constantly looking for ways to improve products with innovation and new developments driven by the needs of customers. Langhorn says the continual focus on fine-tuning the process for consistency has fostered innovation. "When we see a shortcoming or we see an inefficiency in a particular batch or formulation, that's when we try to identify it and to possibly change a design to better accommodate that," he says. "Design changes are not very frequent but what I see is a very subtle, very slow evolution of improvements in this area."
Find more articles related to pet food processing equipment on our Equipment page.