This article was published in the March 2019 issue of Pet Food Processing. Read it and other articles from this issue in our March digital edition.
Pet food and treat processors who have pledged to reduce the amount of waste going to landfills must critically evaluate material and asset usage plant-wide, engage employees in the process and be a good steward of all resources. "It's a matter of changing business systems all in an effort to have a net gain," says Tim Cesarek, executive vice president, Gevo, Englewood, Colorado, and a veteran in the field of renewable resource and organic recycling. Cesarek says there is no one silver bullet that will solve the world's waste management issues. "Companies trying to make a positive impact should look for the low hanging fruit and improve small pieces at a time. It's not an insurmountable challenge as long as we continue to make strides in the right direction."
Hill's Pet Nutrition is leading the way in Colgate's efforts toward zero waste. The first three Colgate facilities to achieve Zero Waste to Landfill were Hill's factories. Hill's sustainability efforts include working to responsibly source ingredients and reduce its operational footprint.
The J.M. Smucker Company, Orrville, Ohio, parent company of Ainsworth Pet Nutrition, has established specific environmental goals to reduce its impacts related to waste, water and greenhouse gas emissions by 2020, including diverting 95% of waste from landfills, reducing water use intensity by 15% and reducing greenhouse gas emissions intensity by 10%.
As part of its sustainable-in-a-generation plan, Mars, parent company of Mars Petcare, announced at the end of 2015 that the company achieved its goal of sending zero waste to landfill from direct manufacturing at all 126 of its production facilities around the world. Looking to continue making impactful improvements, the company says its ongoing efforts to reduce food waste will focus on all parts of the value chain including upstream post-harvest losses and downstream logistics.
Holistic approach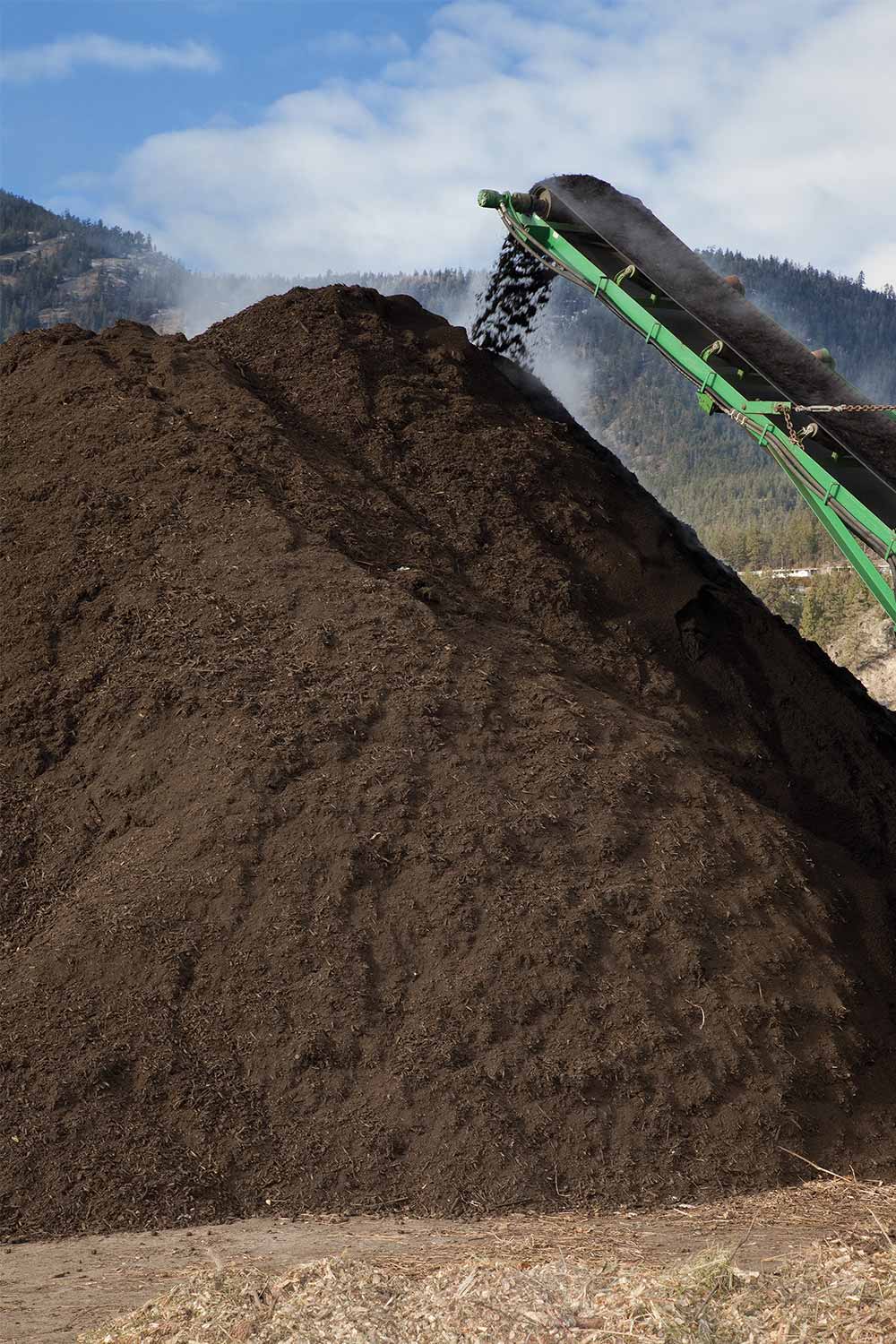 Efforts to become more sustainable stretch across all areas of operation for a processor and solutions that work are unique to each facility. What St. Louis-based Nestlé Purina calls its "war on waste" began as an internal movement in 2010 to engage associates and implement ways to eliminate unnecessary waste within its processes. "The environmental benefits were apparent from the beginning," says Gopi Sandhu, director of sustainable operations, Nestlé Purina North America. "After we understood our waste streams, we could identify beneficial use destinations. Each factory set its own timing, strategy and ultimate path to reach our 2020 commitment, and they do an amazing job of supporting each other on this journey."
Purina is working toward zero environmental impact in its operations. "Along with our parent company, Nestlé, Purina has set clear commitments and objectives to use sustainably managed and renewable resources, operate more efficiently, achieve zero waste for disposal, and care for water," Sandhu says. "By 2020, it is our goal to achieve zero waste for disposal across all of our sites – all 21 factories and headquarters." More than 75% of Purina facilities have achieved this milestone and are on track to meet the company's 2020 target.
Pet food and treat processors are finding a wide range of opportunities to lessen the industry's environmental impact. Netherlands-based WHIMZEES, part of WellPet's family of brands, chose three primary areas to focus on improving. "The first was energy efficiency. We invested in machinery with energy recovery capabilities, which means it uses 40% percent less," explains Felix Mueller-Ohl, COO, WHIMZEES' Netherlands factory. "Similarly, we reuse heat produced from our refrigerators, machinery, and utilities to warm up our production facilities and help power our material processing, helping us reuse energy that would otherwise be wasted and released back into the environment."
The second area WHIMZEES addressed was waste reduction. "While most of our raw materials are sourced locally, waste is somewhat inevitable once those raw materials get processed into a finished product," Mueller-Ohl continues. "To alleviate that impact, 90% of our waste goes into composting, with the remaining 10% being recycled."
"Taking this holistic approach to our process, examining everything from machinery to waste management, has helped us make tremendous strides toward zero waste," says Felix Mueller-Ohl, WHIMZEES.
Lastly, WHIMZEES evaluated other facets of its facilities and found other opportunities to minimize the company's environmental footprint, including zero waste water usage, running only environmentally friendly refrigerators and LED lighting. The company also ensured that no noise or air pollution is emitted from its factory. "Taking this holistic approach to our process, examining everything from machinery to waste management, has helped us make tremendous strides toward zero waste," Mueller-Ohl adds.
Going local
Purina's effort to reduce waste focuses on three key areas: employee engagement; improving processes to minimize production of waste at the source; and partnerships with credible vendors that specialize in recovering the ecological and/or economic value of the material. "We call these 'beneficial use' destinations and commonly include recycling, energy recovery and compost," Sandhu explains. "Each of our factories defined an approach that worked for their location based on the partners and available options in a close proximity, so it made sense from both an environmental and economic standpoint."
At the local level, Purina's Clinton, Iowa plant began its waste reduction program by inviting a cross-functional team spanning quality, technical, operations and engineering to examine the waste the facility was sending to the landfill. "Through this process, we found a lot of material that could be recycled, but we didn't know how to recycle it at the time," says Bart Vander Bleek, senior specialist, environmental and energy, engineering at Purina's Clinton factory. "From there, we did a lot of research and took a phased approach to identify solutions for each waste stream, in every area of the factory. Associates who were motivated to make a difference have really driven our journey."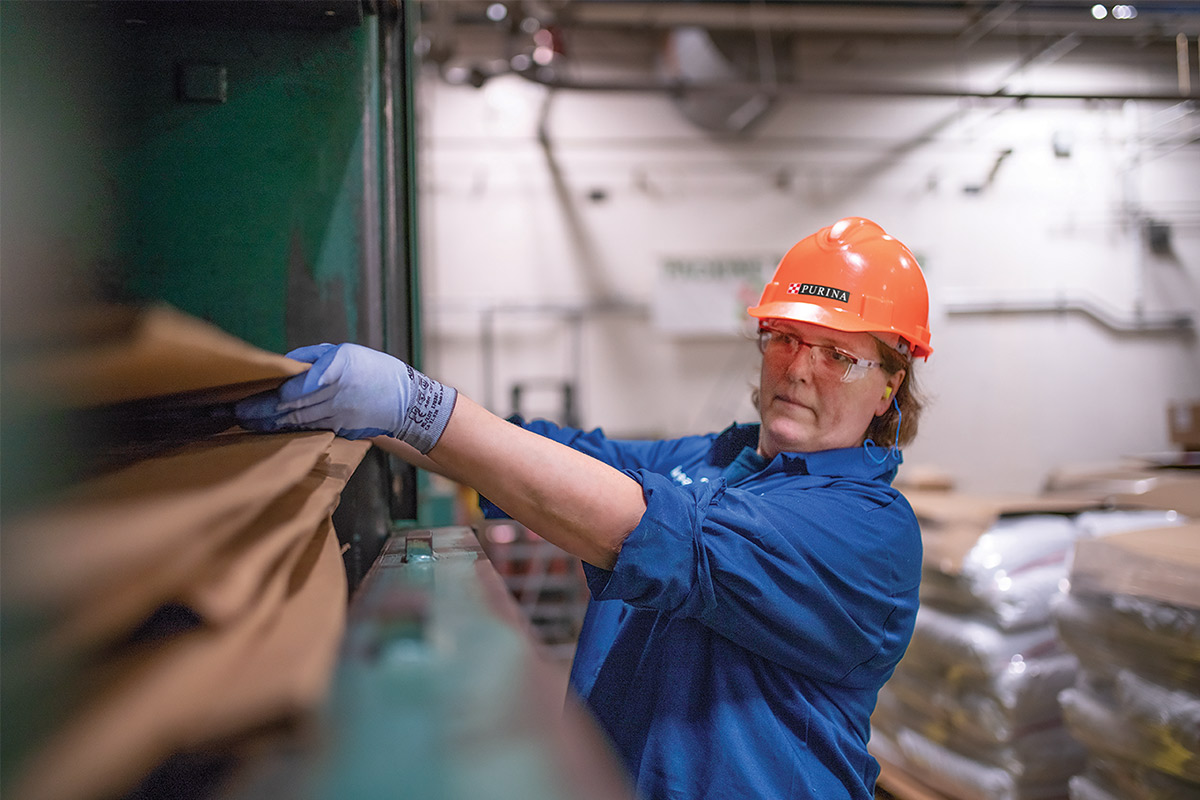 Focusing on one area at a time, Purina made strides toward its goal. "In Clinton, we implemented a phased approach, beginning with the factory floor where we do packaging, processing and ingredient unloading, and it became part of everyone's responsibility to find solutions and ensure we remained compliant. Once we celebrated that initial win, we expanded to other areas of the factory," Vander Bleek says.
Although zero waste for disposal is a global commitment, Purina finds success by taking a very local approach. "Partnerships and resources vary and depend on the location," Sandhu says. "We identify composters and recyclers in or around the communities where we're operating who share similar values when it comes to the environment, and we look for resources as close to our facilities as possible, as we consider the environmental footprint and overall efficiency of this initiative. Partnerships include local municipalities, composting facilities and material recyclers of metals, cardboard, paper and plastic. We regularly validate our partners' ability to meet our requirements and to promote their own compliance with applicable laws."
Other processors are working locally at the consumer level to provide waste solutions. In addition to having a program in place that diverts food waste from production away from landfills, WellPet, Tewksbury, Massachusetts, was the first US-based pet food manufacturer to partner with Trenton, New Jersey-based TerraCycle in 2015 and offer a program to recycle post-consumer packaging materials. At the end of 2018, WellPet announced that it had recycled 100,000 bags from its pet food through the TerraCycle program. Currently, WellPet has more than 2,700 active collection locations and over 250,000 individuals participating in the program; the company is looking to expand retailer participation in 2019.
Supporting change
Purina made room for zero waste and kept the focus on waste reduction with small changes and simple efforts. "Because we already had a recycling program before we began our zero waste for disposal journey in 2014, we had existing balers in place, but they were limited for cardboard," Vander Bleek says. "We purchased additional balers for plastic. We also needed to ensure there was infrastructure and space inside the factory to allocate for recycling hubs in a variety of locations that could quickly be reached in a safe way. Signage and labeling was also critical. We color coded containers and balers and created pictograms to help associates identify what materials to sort into which bins. We took photos of many common materials inside the facility and placed them with the bins assigned to that material."
"It's exciting to see the momentum around the reduction of waste not only within Nestlé and Purina, but at other companies in a variety of industries and by consumers in their homes as well," says Gopi Sandhu, Nestlé Purina North America.
In addition to labeling and repurposing containers, Purina also removed desk-side trash cans. Associates now visit a common sorting station to dispose of any waste. Purina says three key things really contributed to the company's success of reaching zero waste for disposal in Clinton. "First, the initial waste to landfill examination was eye opening and those involved became champions for driving the initiative," Vander Bleek explains. "Second, signage throughout the factory and on containers to educate and create awareness was critical. And third, as we were kicking off the initiative, we held events in breakrooms for all shifts where associates could ask questions and learn more about the commitment and our plans, in addition to sharing ideas. We held a drawing and provided incentives, such as reusable water bottles and cloth grocery bags, to generate excitement and momentum."
Call for creativity
Many people working with the same focus to reduce, reuse, recycle or recover value out of manufacturing waste streams and resource consumption have come up with some clever solutions to make small improvements along the way. WHIMZEES, for example, works with a nearby biogas facility that uses the grass from its property to create sustainable energy and lessen the company's use of fossil fuels. To truly minimize its waste, WHIMZEES reviewed all its outputs to determine what's not being used that could be. "One of the solutions we're most proud of is using the heat produced from our refrigerators to warm raw materials that would ultimately create new WHIMZEES all-natural daily dental chews, allowing us to minimize both waste and spend on additional energy for manufacturing," Mueller-Ohl says.
In Clinton, a portion of that Purina facility's waste is being used by a local cement producer to help power a kiln. Purina is also in the process of renovating a former textile manufacturing facility in Hartwell, Georgia, to become Purina's 21st factory in the US. Production is expected to begin later in 2019. "The project has involved a variety of renovations inside and out, including landscaping," Sandhu says. "Through a composting partner of our Atlanta pet food factory, we were able to turn materials discarded from their operations into mulch to beautify the grounds of our new factory location in Hartwell."
Second life
Managing resources on a circular basis is critical to reducing waste generated as a result of manufacturing and processing. A little attention and some creativity is being applied to find uses for previously unwanted organic product streams. Small companies are developing creative solutions and testing the financial viability of their ideas.
In an effort to lessen its carbon footprint, Pacific Foods, Tualatin, Oregon, uses the spent byproducts from crushing soybeans for the company's non-dairy beverages to make high-protein animal feed. Giving organic materials a second life is helping Pacific Foods close the loop on its waste streams.
Earth Energy Renewables, Austin, Texas, is another company focused on giving byproducts of food processing a second life. Working with Texas A&M University, Earth Energy Renewables has developed a natural fermentation process using secondary streams of organic material from food processing to produce molecules – either in the form of fatty acids or as edible oils (i.e. triglycerides). 
"We are using natural bacteria to digest organic discarded materials in a process that we have always known about," says John Wooley, managing director, Earth Energy Renewables. "You can ferment organic material from side streams and get biogas or you can ferment them in a different way and extract more value." The company is using fermentation to create a form of triglycerides that could potentially serve a purpose in the health of animals as a functional ingredient. "Companies like ours help our society close the circle," says Wooley. "From our research we are sure the possibility is there for us to produce a useful ingredient for pet food and treats but getting the industry to see that it is a piece of the puzzle, we're working on finding the right point of entry."
The younger generation is paying attention and seems to understand the benefits of a circular-focused society. "The consumers have the biggest impact," Cesarek says. "Their focus on sustainability is affecting the brands' efforts and as the investment community comes on board we will develop more financially viable solutions."
Purina looks at sustainability as an investment in the future. "We work together today to make a real difference for the environment, people and pets for generations to come," Sandhu explains. "It's exciting to see the momentum around the reduction of waste not only within Nestlé and Purina, but at other companies in a variety of industries and by consumers in their homes as well."
Read more about sustainability in the pet food and treat market on our Trends page.