According to the Global Economic Forecasts published by market research provider Euromonitor International, global real GDP is forecasted to decline from 3.7% in 2018 to 3.6% in 2019. Growth for advanced economies will also decline from 2.3% to 2.1%, while emerging economies are predicted to remain at 4.7% GDP and will account for 77% of global real GDP growth.
In 2018, the US demonstrated better-than-expected performance, causing the GDP to rise from 2.2% to 2.9%. However, trade disputes with China have called for a reduction of GDP growth to 2.4% going into 2019.
Canada and Mexico GDPs will fluctuate less, according to Euromonitor International. From 2017 to 2018, Canada's GDP dropped from 3% to 2.1%, and it is expected to drop slightly again to 2% in 2019. Mexico is forecasted to return to 2.3% GDP in 2019, after falling from 2.3% to 2.2% from 2017 to 2018.
Euromonitor outlines positive and negative global growth factors. Positive factors included low interest rates, confidence in the private sector, ongoing fiscal stimulus and recovery dynamics to boost growth in advanced economies, the gradual, controlled slowdown of China's economy and long-time lows in unemployment in some advanced countries.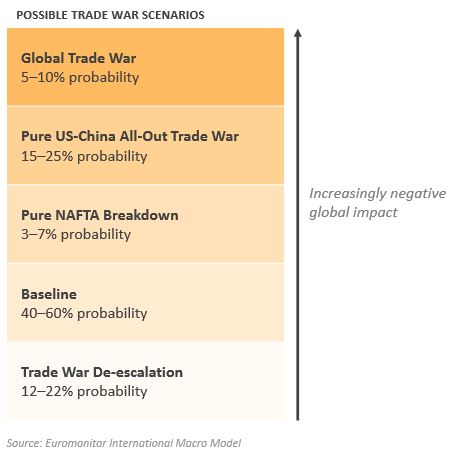 As for negatives, trade war uncertainty tops the list, followed by a rise in protectionism among global trade, peak confidence in private sector in some advanced countries such as the Eurozone, stock market volatility, high global debt, limited monetary policy, slow labor productivity growth and US monetary tightening for the emerging economies.
In sum, Euromonitor concluded the risk of global downturn or emerging markets' slowdown is heightened due to current global financial market conditions stemming from the Eurozone recession and Italian fiscal policy tensions. In the US, democrats' taking Congress could diminish the risk of Trump's trade policies causing a global trade war, but US-China relations continue to pose the risk of an all-out trade war between the two countries.
Find more articles related to pet food and treats on the Pet Food Processing landing page.