Film may be a physical barrier that preserves and protects products, but there doesn't seem to be as many barriers to the use of film in pet food packaging these days. Just as flexible packaging has changed consumer goods in the grocery aisle and other retail stores, it's also impacted the variety of products available in pet food stores and in the crowded pet food aisles of supermarkets and other retail channels.
Dave Potter, vice president and general manager for Plastic Packaging Technologies, LLC, Kansas City, Kansas, says that he and his company have been involved in the pet food processing industry for several years and have seen a growing competitive climate. "The pet food industry is a very dynamic, highly competitive marketplace with more than 200 domestic producers, plus some off-shore producers. Significant margins have drawn a lot of interest, and we continue to see significant consolidation of some of the major producers," he reports.
At the same time, there has been an evolution in how pet owners view products they feed their animals, with more humanization of items in the pet categories. "We've seen a lot of similarities between human food and pet food, especially in treats and flavors," says Rudolf Schaich, market development manager for Atlanta-based Printpack.
Potter shares that perspective. "People are willing to spend money on their pets, as part of their family, and so you're seeing a lot of attention to broader offerings and differentiation, which is leading to a proliferation of units," he explains.
That differentiation includes a growing variety of package types that utilize more or different kinds of film, from stand-up pouches to chub packaging. Poly-clip System, Mundelein, Illinois, for example, has increasingly worked on packaging solutions for chub and roll-style pet food that can be used for fresh, frozen, heat-treated and shelf-stable products, according to the company's technical applications manager, Kohl Schrader, Ph.D.
That growing product assortment and competition within the marketplace has spurred pet food processors to come up with packaging that again mirrors packaging for human foods. "It's essentially the same standards as human foods. For pets, too, people want U.S. Food and Drug Administration compliant materials and packaging that is compatible with packaging for human foods," Potter remarks.
The eyes have it
Plastic Packaging Technologies, which provides a variety of laminated film structures including rollstock and pre-made bags, has worked with pet food processors on newer and trending film-based packages for pet food products. According to Potter, one of the drivers of package design and film used in the pet food industry is appearance, given the intensifying competition, the expanded product mix and the humanization analogy. He notes that pet food processors are looking for more tactile surface coatings and varnishes, including "soft touch," "paper touch" and "rough touch" features. Schaich, too, has seen a greater emphasis on appearance. "Everything has to look premium when you're talking about packaging — including finishes and varnishes," he says.
Tied into the eye-catching, premium look of the package, flexible packages, including rollstock films and pouches, are also tailored more for the processor and product. "Another thing we're seeing is personalization. There are more products for specific breeds, ages and conditions of pets," Schaich says of the ever-growing variety of package materials and uses. "Eventually, we may reach a point where you can get down to the personal level of your pet."
Easy does it
In addition to package appearance, functional features link back to the discerning consumer's needs and demands. For example, similar to consumer goods, opening and closing features are important to today's pet owners, which impacts the application of films and bags. "One thing we've seen is the growing demand for convenience, with easy-opening features and recloseability," Schaich notes.
Likewise, Potter says convenience has contributed to interest in features like audible zippers and pocket-zip zippers that allow users to tear open the entire width without terminating the gussets, along with easy-tear zippers that provide a clean tear line without having to laser-score the package. That said, some package scoring is related to the senses as well as to convenience, Potter adds. "We even have a package with micro-scoring. The brand owner wanted users, when they pick the package up and push air out, to be able to smell the particular treat right away," he says. 
Sustainability matters
Emerging over the last few years, sustainability has a significant influence on package design or, at least, views of package design. "A huge trend is recyclability," declares Potter, who cites consumer concerns about waste and its impact on the environment. While consumers look for more sustainable packaging, Potter notes the benefits of films, including those used for pet food products. "Fundamentally, flexible packaging is a good configuration to start with. If you look at the volume of food waste in a landfill, two to three percent of material in a landfill is from flexible packages," he explains.
"Store drop-off of all-polyethylene pouches for recyclability is a growing trend and brand directive in some cases," says Dave Potter, vice president and general manager for Plastic Packaging Technologies, LLC.
Today's pet food processors can choose from materials that are more sustainable or at least less impactful on the environment. At Printpack, Schaich says that the company has been focused on various ways to improve sustainability. "We are working on sourcing from renewable resins, to stay away from petroleum resins," he says.
Printpack is also looking at solutions for the end of a package's life. "One area is the recyclable path and another path is the compostable path. We are developing things in both areas," Schaich reports.
Several other suppliers have come up with options that address material waste. Emmerson Packaging, based in Nova Scotia, Canada, has introduced PetPack-BDG biodegradable packaging, a shelf-stable packaging material for pet food. The biodegradable packaging is suitable for a variety of formats, including moist or wet pet foods.
This spring, the environmental packaging firm Elif, based in Turkey, launched a new pre-made pouch solution that has been deemed "neo-eco" packaging because of its improvements in functionality, performance, cost-efficiency and ecology. The 100 percent recyclable polyethylene (PE) stand-up pouch solution eliminates the need of lamination with other substrates and enables consumer recycling with other PE materials. ProAmpac, Cincinnati, Ohio, has expanded its portfolio of packaging products to include a pouch made of recyclable HDPE, approved for post-consumer recycling.
There are other ways to reduce the footprint of packaging. Potter underscores the idea of going through store drop-off programs to recycle materials. "Store drop-off of all-polyethylene pouches for recyclability is a growing trend and brand directive in some cases," he says.
Smooth operators
To help processors stay competitive, packaging material suppliers work to provide innovative films and bags that work efficiently with packaging equipment. At Poly-clip System, Schrader says integration of technology used on processing lines allows processors to maximize uptime and efficiency. She cites Poly-clip's latest fully automated sealing and clipping system, the TSCA 160, that uses the latest R-ID clip. "Known as the 'talking clip', R-ID clips also communicate with the TSCA to avoid incorrect settings of the machine by alerting the operator if the clip size and die are mismatched to prevent damage and downtime due to improper machine settings," she explains, adding that the clip technology provides optimized geometry for tighter clip closure and decreased oxygen transmission, among other benefits.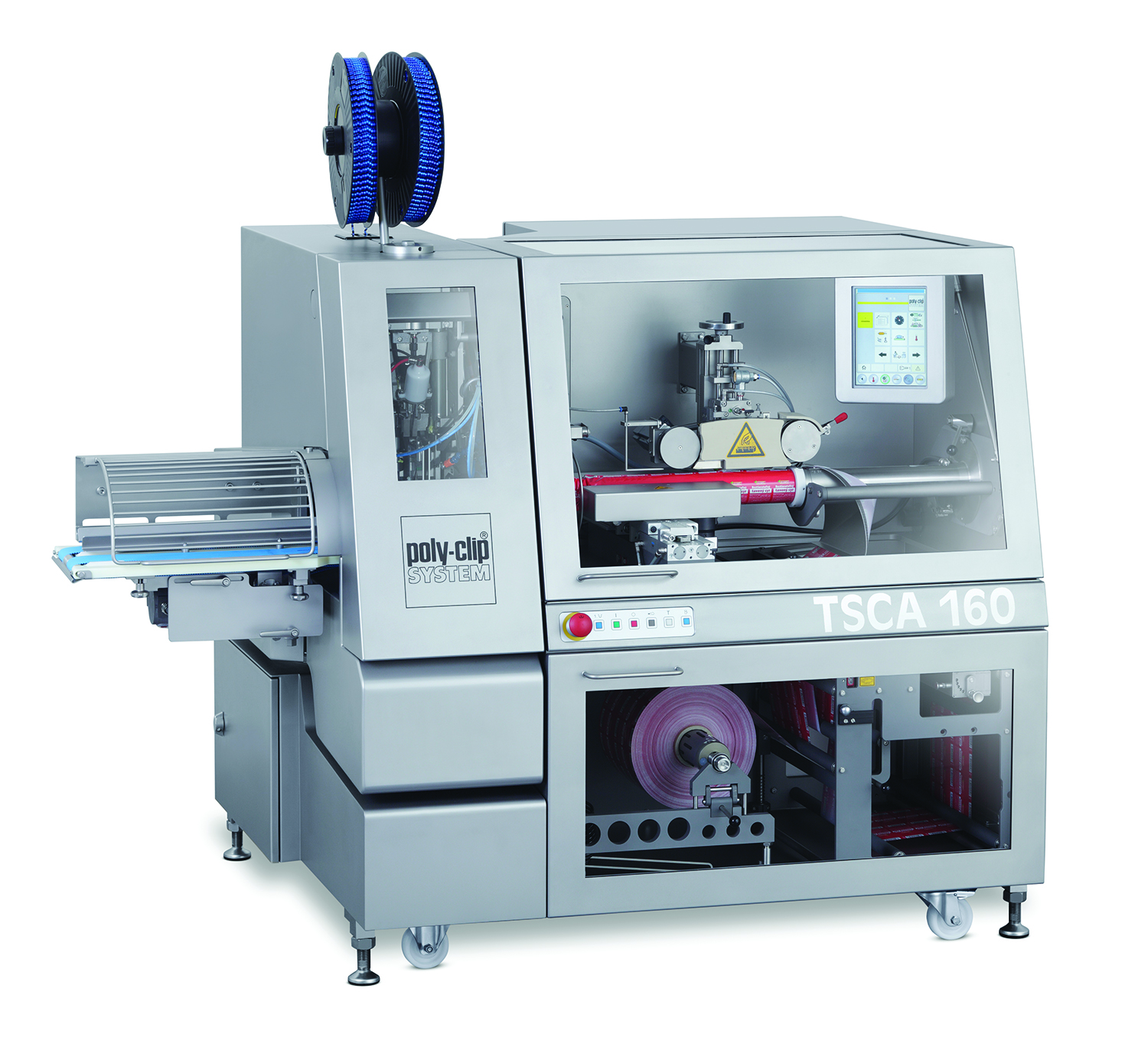 Potter, meanwhile, underscores today's high-speed, high-volume production environment. "'Tons out the door' is the normal measurement," he points out, noting that that is a mindset at the same time as a proliferation of smaller quantities across more SKUs in a targeted, diverse market for pet foods and treats.
Reflecting the business goal of optimizing resources, Schrader says that Poly-clip's fully automated sealing and clipping system is a two-in-one pet food packaging solution that uses less expensive flat film instead of shirred casings. Because the film is taken from the roll and sealed to a ready-to-fill film tube, which is then filled and securely clipped in the integrated clipping unit using the double-clipping process, she reports that users can achieve an average of a 30% reduction in packaging costs along with reduced storage space and shipment costs.
While they keep pace with production demands and expectations, processors also have to contend with challenges associated with the packaging of pet foods and treats in film materials. "All of the proteins have various animal fats, and there is a grease barrier. The last thing you want to do, whether in foods or treats, is put it back in corrugated and get grease stains. So, in this category, there are grease-out tests to make sure your seals and barrier films are retaining," Potter says, noting that Plastic Packaging Technologies offers high barrier film combinations for moisture and grease resistance, as well as anti-fog clear films for windows.
Schaich also points to the importance of barrier properties in any kind of film packaging. "Dog food can be very greasy. Everyone wants the best package, and that includes the best protection for your products," he says. That protection is a focal point for materials going forward, especially those that are more eco-friendly. "If you want recyclability or compost-ability, you still have to maintain levels of barriers," he remarks.
Read more about pet food packaging trends.