SECAUCUS, N.J. – Freshpet shared its third quarter earnings, reporting its overall growth is on track to meet its expectations. Net sales were up 26.6% to $50.8 million from the third quarter 2017, and increased by 6.7% from the second quarter 2018.
"We still have a long way to go to fully demonstrate the long-term profit potential of the business, but this quarter is an important step towards proving that we can grow into our scale and thus drive our profitability," Chief Executive Officer Billy Cyr said in an earnings call.
Cyr said 70% of e-commerce sales supported retail sales, as customers ordered online and picked up in-store or had the product delivered from a local store. Freshpet products are sold at retail locations, from grocery stores to pet specialty stores, in branded refrigerators. According to Cyr, the company offered its products in 19,701 stores in the US by the end of the third quarter 2018. Freshpet upgraded its retail refrigerated cases at 761 locations in the third quarter 2018 and plans to increase retail capacity and sell in 23,000 stores by 2020.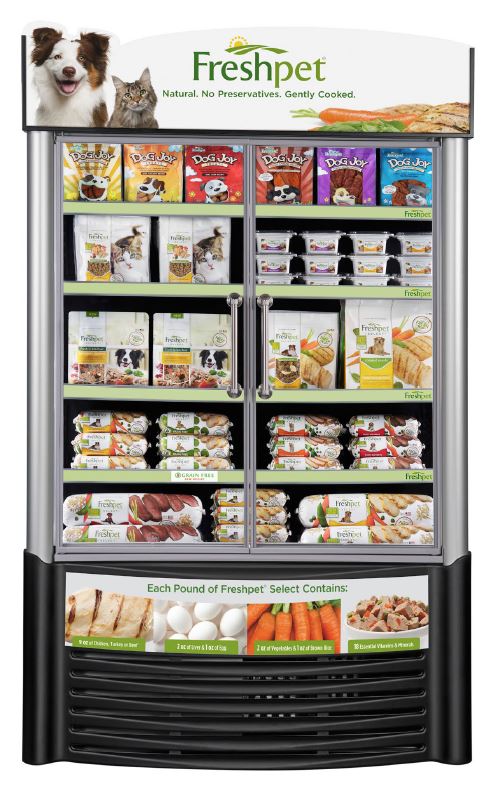 Freshpet's core dog food products, which include rolls, roasted meals and Fresh From the Kitchen main meal products, had the fastest-growing consumption rate at more than 34%, which the company attributes to new product innovations, such as roasted meals and food for small dogs, and strong US household penetration, which increased by 22% last quarter. Total brand household penetration was 2.02%.
Freshpet recently discontinued its baked product lines and now offers fresh pet food only, a move which has skewed recent year-to-year net sales comparisons.
"This is the last quarter with any meaningful baked business impacting the year-on-year comparisons," Cyr said.
Looking forward, Freshpet's goal is to exceed $190 million in net sales for the full year 2018, which would be a 25% increase from the previous full year net sales. Cyr told investors the company aims to reach $300 million in net sales by 2020.
"Looking ahead, we are off to a very good start for Q4 and expect to see our strong consumption growth rates continue enabling us to deliver the 25% growth we committed for the year," Cyr said.
After launching a new corporate strategy in 2017 called "Feed the Growth," Freshpet refocused around three tactics to drive its brand: building awareness in retail and social media, adding specialty and premium variety, and expanding production capability with a new facility.
Read more about corporate strategy, financial performance, mergers and acquisitions on our Business page.