WASHINGTON — The US House of Representatives passed the United States-Mexico-Canada Agreement (USMCA), set to replace the North American Free Trade Agreement (NAFTA), on Dec. 19 by a vote of 385-41. Democratic House leadership and the White House reached an agreement in their negotiations regarding the trade deal on Dec. 10, leading to the USMCA's passage in the House.
US Trade Representative Robert Lighthizer commented, "The USMCA is expected to create between 176,000 and 589,000 new American jobs and substantially increase economic growth. The International Trade Commission's analysis shows that USMCA will have a more positive impact on our economy, jobs and wages than any other US trade agreement ever negotiated.
"I would like to thank the many members of the House and Senate for getting us to this point. I would also like to acknowledge the leadership of the business community, agriculture groups, and organized labor who have supported the agreement," Lighthizer added.
Several associations involved in the pet food and animal feed industry praised the passage of USMCA in the house, including the American Feed Industry Association (AFIA), the National Grain and Feed Association (NGFA), and the US Department of Agriculture (USDA).
AFIA stated, "The long-awaited passage by the House is a momentous step forward in finalizing a more than two-year process of renegotiating our most critical trade agreement. Trade with Canada and Mexico is tremendously important to the animal feed, ingredient and pet food industry with exports more than quadrupling since the inception of the North American Free Trade Agreement 25 years ago."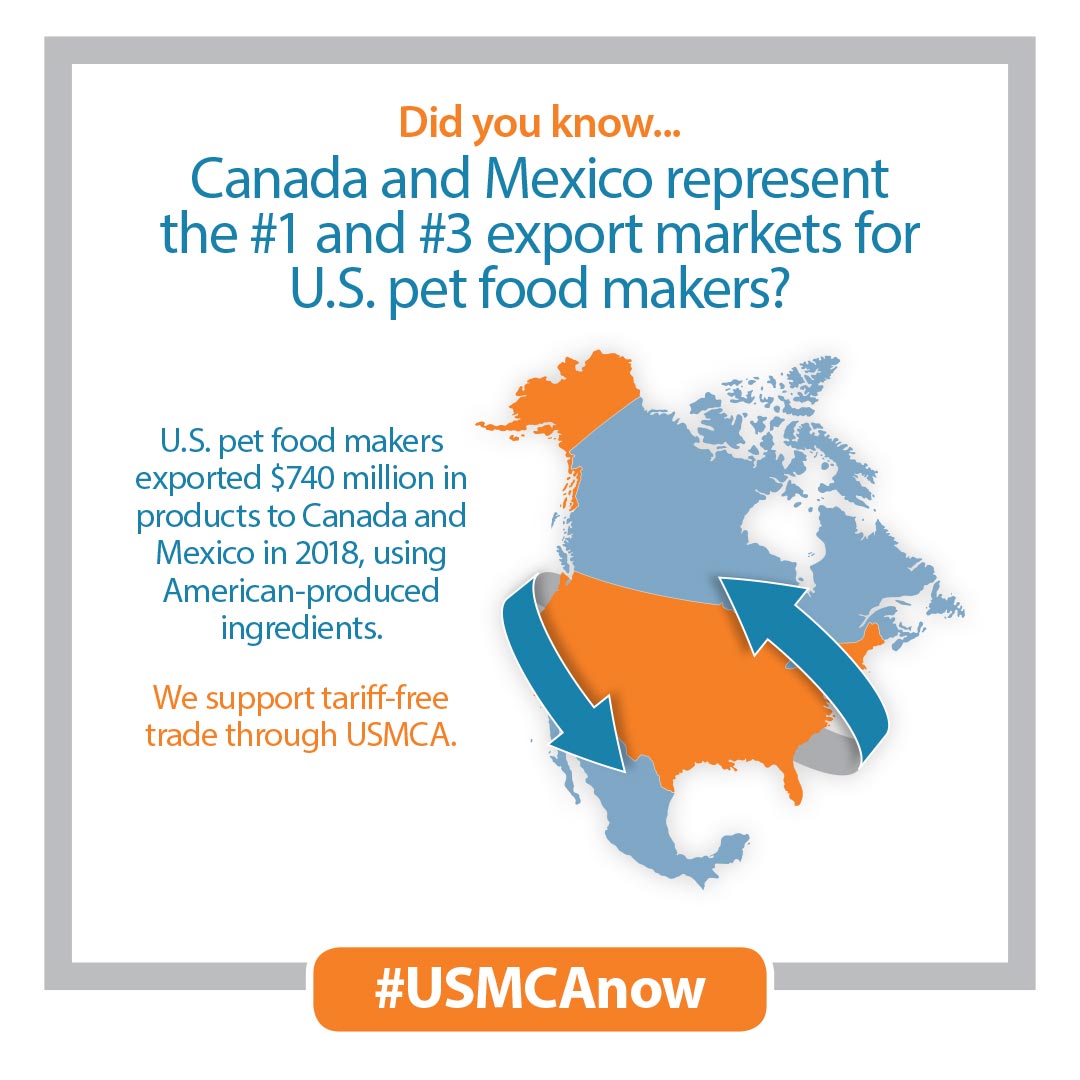 Randy Gordon, president and CEO of NGFA, also commended government officials for the achievement. "Having a sound and competitive trade agreement with Mexico and Canada is critical to the continued economic success of U.S agriculture and for the U.S. economy as a whole. The USMCA preserves or expands upon critical market access for U.S. agricultural products in the North American market and provides a 21st century blueprint for future trade agreements," Gordon said.
US Secretary of Agriculture Sonny Perdue issued a statement on behalf of the USDA, saying, "This agreement will unleash the bounty of America's agricultural harvest to two of our largest trading partners in the world and it is critical to the success of rural America."
All three of these organizations also urged Senate to take quick action in passing the trade agreement, which is expected to happen in January 2020. The trade deal was initially signed by leaders of the US, Mexico and Canada in Nov. 2018.
Pet Food Institute, which is a widespread representative and lobbyist for US pet food and treat manufacturers, has voiced continuous support for USMCA over the last year, pointing to the importance of US pet food and animal feed exports to Canada and Mexico.
Stay up to date on news about the pet food processing industry on our News page.