The humanization of the pet food and treat industry, as well as the pet products landscape as a whole, has challenged manufacturers and suppliers to source better ingredients, optimize their processes and packaging for sustainability, and cater to evolving consumer preferences.
According to Nick Sterling, an expert on supply chain sustainability and current associate director of sustainability for The Cheesecake Factory, there is no "silver bullet," but a combination of several approaches could help put the global food system on a more sustainable path.
Sterling has been working with the Pet Sustainability Coalition (PSC) since its founding in 2013 on sustainability initiatives. On Nov. 19, he presented during a PSC webinar on sustainable protein sourcing to identify opportunities for pet food processors to source more sustainably and responsibly based on the four tiers of sustainability – environmental, social, animal welfare and nutrition.
"Regardless of whether in human or pet food, consumers are looking for really exceptional products that fulfill a purpose," Sterling said.
Although the conversation was focused around pet food, Sterling explains that in order to develop a holistically sustainable solution, we must make changes to our entire global food system.
"Our distribution of calories and nutrients is incredibly imbalanced globally, and there's limitations and failures with our current food system that raise not just sustainability concerns but also moral and ethical ones," Sterling said. "It's an important consideration as we look at how we might be able to go forward, particularly with the challenge of not necessarily just how do we improve the sustainability of our protein sourcing for pet food, but how do we improve the overall sustainability of our food production system."
Environmental impacts
To gauge some of the environmental and nutritional impacts of farming animal proteins, Iowa State University conducted research across five common types — beef, poultry, pork, lamb and fish — and determined their human-grade and by-product contributions. Researchers looked at five main impact categories: greenhouse gas, land use, water use, eutrophication and acidifications.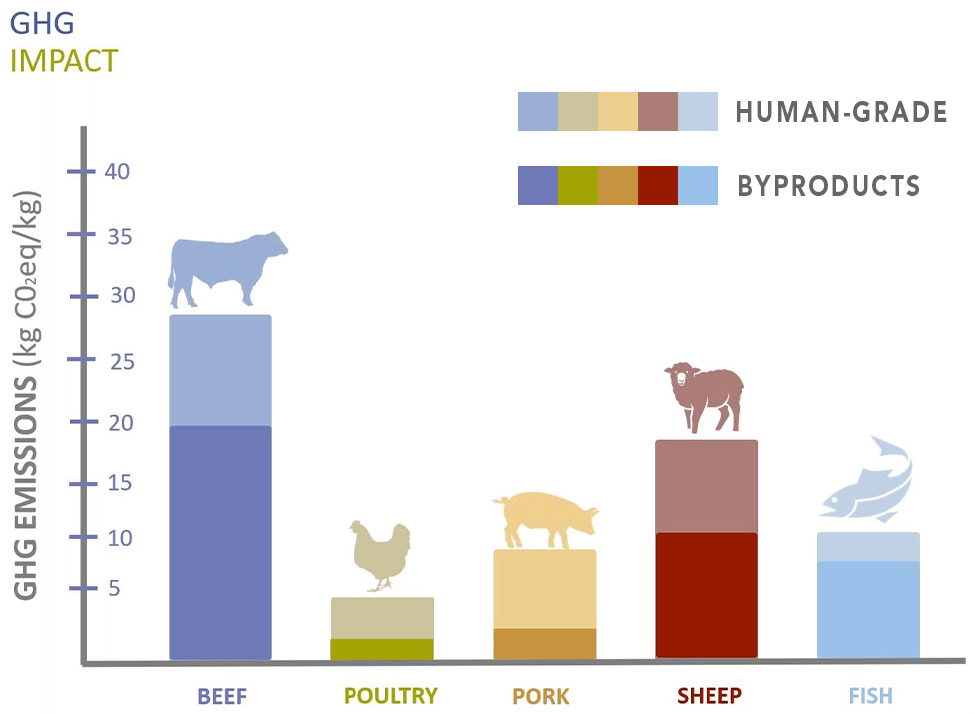 Overall, beef has the highest impact for greenhouse gas, land use and eutrophication, which is when runoff causes overly enriched water bodies nearby resulting in excessive algae growth and lower oxygen levels in the water.
Wild-caught and farmed fish have the highest impact on water use and acidification, which is a harmful occurrence for oceans ecosystems caused by increased carbon dioxide levels that decrease or neutralize the ocean's pH. Poultry had the lowest impact in all five categories.
Across the board, human-grade proteins generally have a larger environmental impact than by-products, which Sterling sees as an opportunity.
"There's large environmental improvement by sourcing by-products, compared to human-grade meat, and it was something that was pretty clear in and concise from what the researchers found across the research they reviewed," he said.
Social impacts
Demand for products that are made in the US, with ingredients that are sourced in the US whenever possible, continues to grow. However, some ingredients must be outsourced, making it tricky to track the social sustainability of those ingredients and the conditions in which they are produced.
Sterling explained the US Department of Labor plays an important role in benchmarking the social sustainability of both domestic and global suppliers, from the cocoa industry to apparel to pet food ingredients. The department gathers this data based on documentation it receives about forced or child labor incidents.
"Looking at what some of the common ingredients are for pet food… there are 57 different ingredients that currently our US Department of Labor says are coming from child labor, and there are [at least] 16 that are coming from modern forms of slavery," Sterling said.
It's important for companies to do their due diligence, Sterling suggested, by establishing standards and practices that enable a traceable and transparent supply chain, with expectations that are either clearly documented or contractual and a way to evaluate and monitor real-time practices against those standards.
"There are 57 different ingredients that, currently our US Department of Labor says, are coming from child labor, and there are [at least] 16 that are coming from modern forms of slavery," Sterling said.
"You're really opening yourself up to a lot of undue risk just from a standpoint of, if you can't point to [your] minimum standards of how [you] operate as a company," Sterling said. He went on to say that writing a code of conduct "should be your minimum level of compliance, but then you should be continuing to evaluate against that code of conduct."
Lastly on the social side, Sterling said that when companies encounter forced labor, child labor or other poor labor practices, it's crucial to either discuss corrective actions with that supplier directly or to report those incidents to third-parties, such as PSC, so they are exposed, addressed and corrected in the long term.
"[For] a lot of companies, their initial indication is to immediately sever that partnership or that contract and walk away. What that ends up doing is it just drives those practices further underground, and all it really teaches is making sure that supplier or producer gets better at hiding things," he explained.
Nutritional sustainability
Pets require a very specific combination of nutrients to sustain their health and wellbeing, which is one aspect unique to pet food compared to the overall food and beverage market. This attribute makes nutrition an essential consideration in the larger conversation about sustainability, especially when talking about fine-tuning the ingredient supply chain.
"Nutrition is a key component though of a sustainable food system. If we're not providing adequate nutrition, then really nothing about our food system would be sustainable," Sterling said. "Looking at how to balance and support the overall sustainability impacts and making sure nutrition has a seat at the table is a really important thing to look at."
A lack of data linking the nutritional content of pet food ingredients to sustainability makes this a complex topic. When considering the relationship between nutritional efficacy and sustainability, Sterling said the focus should fall in four main areas: ingredient selection, nutrient composition, digestibility and consumption rates. Sterling added that PSC plans to lead research on this topic in the future.
Sterling did bring up a crucial topic, however, which is the effects that changing consumer preferences are having on popular pet food cooking methods and ingredients, and how some of those preferences are actually counterproductive to achieving sustainability in the supply chain.
"Wild-caught seafood and human-grade ingredients are potentially problematic as they tend to overprioritize one super specific aspect of sustainability at the expense of others," Sterling explained.
For example, he said, "Wild-caught seafood and human-grade ingredients are potentially problematic as they tend to overprioritize one super specific aspect of sustainability at the expense of others."
Considering nutritional value and the sustainability of pet food ingredients and how they play into the big picture of global food sustainability would contribute to the more holistic approach, according to Sterling.
"I think we have the opportunity to really address these challenges a little bit more holistically through the product design, our ingredient sourcing and formulations and manufacturing processes, so there's a more sustainable food system overall, both for pets but also for humans," he added.
Animal welfare
While pet food ingredients become more and more humanized, the living conditions, treatment and quality of life for animal-based ingredients such as cattle, sheep, pigs and chickens are becoming more important among consumers as well.
"This is something that is growing, as both a consumer and stakeholder area of concern," Sterling said.
He went on to explain that state legislators are beginning to pass laws, specifically in California, that demand higher-quality animal welfare standards for laying hens, pigs and other livestock animals. For example, on Jan. 1, 2020, California will enact a law that requires food, beverage and pet food manufacturers operating within the state to make sure the eggs they are sourcing are cage-free.
This, along with other non-profit and non-governmental organization (NGO) involvements, is something pet food manufacturers should be aware of. According to Sterling, a handful of organizations with substantial funding are starting to turn their eye to the pet food processing industry after establishing a strong influence in the food service and hospitality markets.
"If it's not on your agenda right now, it certainly should be," he added.
Holistic solutions
While there may be no "silver bullet," as Sterling said, the use of by-products and non-traditional cuts of animal proteins, AKA utilizing the whole animal, as well as alternative proteins offer to improve on the sustainability of our current global food system.
Sterling explained that a typical restaurant chef will source different parts of a chicken from several different birds, wasting at least 10 to 25% of that animal's market value and tacking on added costs in the case of specific attributes such as organic or antibiotic free proteins. This poses an opportunity for pet food manufacturers to step in and put that wasted value to use.
"There's a huge opportunity here for pet to come in and align some of the buying that is asked for by food service and hospitality and be a huge lever for change, because essentially you're looking at engaging that 10 to 25% of the animal that today is not at all taken into consideration when it comes to environmental, social and animal welfare practices," he said.
The continued use of by-products is another way to make sure as much market value is redeemed from a livestock animal as possible.
Another way pet food processors are mitigating sustainability impacts is by utilizing insect proteins, cellular agriculture and invasive species. Sterling said there are cost barriers for cellular agriculture and that it could be another decade before it is "fully commercially viable."
The industry must leverage all these sustainable solutions to reduce adverse environmental, social, nutritional and animal welfare impacts, Sterling said. Each solution comes with its own set of questions and concerns about its sustainability but, when combined, could help to transform the global food system.
"Regardless of whether in human or pet food, consumers are looking for really exceptional products that fulfill a purpose. Also, better value propositions and to connect on a personal level," Sterling said. "That's where some of these things like the invasive species, whole animal utilization, insect proteins and cellular agriculture land right there in the middle."
Sterling went on to say that each of the sustainable alternatives currently available to the market have their advantages and downfalls. Although few options balance sustainability between the environment, animal welfare, nutrition and the social aspect, there is still room to further develop and adapt these technologies and practices to become real sustainable solutions for the future, he concluded.