LAS VEGAS — SuperZoo 2022 returned in full force last week. According to early estimates, more than 1,025 exhibitors and 16,000 visitors poured into the Mandalay Bay Convention Center from Aug. 23 through 25 to reconnect with industry colleagues, make new connections, and find out about the latest and greatest or soon-to-be pet products hitting the market.
Exhibitors, buyers and industry stakeholders flocked to this year's trade show, following the cancelation of the show in 2020 and a lingering hesitancy for face-to-face interactions in 2021. The 331,500-square-foot show floor had much to offer, including educational insights for retailers and brands, a record-breaking number of New Product Showcase entries, totaling more than 900 new products, according to Mike Karsting, senior vice president of events at the World Pet Association (WPA).
"As evidenced by this year's attendance, SuperZoo continues to be the industry's go-to trade show for the pet retail community —  spanning one-door independent retailers to the biggest household names in retail," said Vic Mason, president of WPA. "SuperZoo 2022 attracted high-quality decision makers and delivered a show floor filled with emerging products and grooming trends, a highly popular and successful live animal area, an education program packed with thought leaders and rich content offerings, and a fun-filled atmosphere for pet professionals to connect and network with their community. We are counting down the days until we can do it again in 2023."
The 2022 show also welcomed 262 first-time exhibitors overall, along with 72 startups featured in the Emerging Brands section of the show floor. Roughly 13% of SuperZoo's total attendance this year came from outside of the United States, including strong representation from Canada, the United Kingdom, Columbia and Brazil. 
Pet Food Processing editors walked the show floor from open to close and met with countless brands to learn more about their latest and greatest pet food and treat products. Looking back on what we learned, three major trends stood out — formulations and ingredients that target specific pet nutrition and wellness needs, the continued emphasis on sustainability (and where the industry is coming up short), and a variety of package redesigns aiming to make brand claims and key differentiators as clear to the consumer as possible. Continue reading for specific examples of each of these trends seen on the SuperZoo 2022 show floor.
Targeted nutrition
The concept of "food as medicine" continues to be an underlying driver for premium product innovation in the pet food, treat and supplement space. NielsenIQ shared pet food sales with specific functional attributes are growing rapidly, including products offering mental health, mood and stress relief (up 34% from August 2021 to July 2022), performance support (up 32%), urinary health (up 27%), kidney health (up 22%), heart health (up 19%), skin and coat health (up 18%), cellular function support (up 18%), immune system health (up 15%), digestive health (up 15%), and joint health (up 15%).
According to NielsenIQ, online search volume growth across pet retail channels indicates continued interest in dental health, hairball control and anxiety health products. Other most-searched attributes include calming, urinary health, sensitive stomach and weight control, although hairball control and anxiety health have shown the most search volume growth from August 2021 to July 2022.
Additionally, pet supplement purchases are growing at a faster rate than vitamins, minerals and supplements for humans. NielsenIQ reported pet supplement sales were up 11% from August 2021 to July 2022, compared to 6% sales growth for human supplements, vitamins and minerals. On a three-year basis, pet supplement sales were up 50%, compared to 34% growth for human supplement products.
Key trends in the pet supplement space include probiotic ingredients, gut health, behavior assistance, the use of hemp, joint health, stress relief, sleep aids using melatonin, and the use of superfoods. Dollar sales for gut health products grew 213% from the second quarter of 2021 to the second quarter of 2022, while behavior assistance supplements were up 132%. Supplements including probiotics saw sales growth of 78% over this period, while hemp supplement sales increased 63%, and superfood supplement sales were up 43%, according to NielsenIQ.
More specifically, sales of pet food and supplements containing CBD are outpacing overall sales growth for the CBD product category — including products for humans. The total category saw a 2.7% increase in sales from August 2021 to July 2022, while CBD-inclusive pet supplements grew 22% and CBD-inclusive pet food products were up 35%. On a three-year basis, CBD pet supplement sales were up 236%, while CBD pet food sales grew 377%.
Clearly, the trend toward solution-based products is here to stay and is likely to influence the future of the pet nutrition space at large. As pet owners continue to seek pet food, treat and supplement products with ingredients and formulations that support specific areas of health and wellness, brands will continue looking to enter and expand their offerings to meet demand.
Sustainability
A number of companies chose SuperZoo as the forum to share their sustainability initiatives with booth visitors, touting their accomplishments to date and their upcoming company goals.
The Pet Sustainability Coalition (PSC) called on pet food companies to sign its Packaging Pledge during the show. The pledge provides pet food companies with the tools they need to achieve sustainability goals and achievements. On Aug. 23, Canidae, Earth Animal, Instinct, Petcurean and Primal Pet Foods publicly signed the pledge at the Earth Animal booth.
"We want to reduce our environmental impact and inspire the industry to do the same," said Stephie Volo, chief marketing officer at Earth Animal, following the public announcement.
According to PSC about 99% of multi-laminate packaging used for pet foods and treats do not have a sustainable, end-of-life solution. The pet industry produces 300 million lbs of food and treats packaging that ends up in landfills each year in the United States. With this in mind, the coalition is hoping to further the industry's sustainable packaging efforts with the Packaging Pledge.
The pledge asks pet industry companies to develop measurable strategies toward the use of refillable, compostable, and recyclable packaging by the end of 2025. In exchange for their commitment, PSC will provide informational tools, including:
A marketplace of vetted, pre-qualified packaging suppliers
Methods of measuring packaging life cycles
Packaging design guides and labeling support from How2Recycle
Legislative updates from North America and the European Union on sustainable packaging
Marketing assets, including badges and social media promotion opportunities.
"We're on a mission to create a better planet for everyone," said Wally Shaw, chief operating officer at Canidae Pet Food, after signing the pledge.
Earth Animal, Tyler Packaging and Thanh Phu Plastic Packaging Co. have made donations to PSC to help support the Packaging Pledge initiative.
According to PSC, with a collaborative effort from pet food manufacturers and packaging companies, through programs such as the Packaging Pledge, "the pet industry can achieve rapid adoption by 2025 and near 80% transition of all pet food multi-laminate packaging by 2030."
In addition to the PSC's announcement during the show, Chilliwack, British Columbia-based Petcurean shared its latest Sustainability Impact Report and the company's latest achievements, in addition to signing the Packaging Pledge. The company's sustainability initiatives and future goals include:
Saving around 553,000 lbs of waste pet year by switching to recyclable packaging for its GO! SOLUTIONS and NOW FRESH dry food.
Reducing water usage in its protein production by 82% by launching an insect protein recipe.
Offsetting 100% of its scope 1 and 2 greenhouse gas emissions, thus reducing its carbon "pawprint" by 105 tonnes.
Following donations of 1,563,965 meals to pets in need in 2021, the company plans to donate even more in 2022.
Both the Packaging Pledge and Petcurean's ongoing sustainability efforts outlined in its Sustainability Impact Report are "demonstrating our team's commitment to sustainability," said Christine Mallier, sustainability manager for Petcurean.
Pet brands continue to invent their own sustainability initiatives, which includes partnering with other organizations, to achieve eco-conscious milestones in their own businesses and for the industry at large. However, according to Fray, the pet care industry is "still lagging a bit" in sustainability compared to other CPG categories including food and beverage and health and beauty.
"We're not seeing the growth in pet that we're seeing in the rest of the store," Fray said, referring to the number of sustainability claims seen in pet aisles. These claims span five major sustainability categories: social responsibility, sustainable farming, environmental sustainability, sustainable packaging, and animal welfare.
According to NielsenIQ data from July 2021 to July 2022, pet food claims of sustainable farming grew 33.7%, while environmental sustainability claims were up 28.8%, sustainable packaging claims up 24.4%, and animal welfare claims grew 30.1%. However, social responsibility claims were found to be down 3% over this period, compared to total store growth of 15.2% for social responsibility claims over the same timeframe.
Pet food sustainability claims do seem to be outpacing those seen in the pet industry at large, including pet supplies and treatment products. Overall, the pet care industry is reporting a 3% decline in social responsibility claims, a 33.7% increase in sustainable farming claims, a 26.7% increase in environmental sustainability claims, a 24.4% increase in sustainable packaging claims, and a 29.8% increase in animal welfare claims, NielsenIQ shared.
Speaking to social responsibility, one brand that made its industry debut at SuperZoo 2022 aims to reduce the carbon footprint of the pet nutrition industry while supporting medical dog adoptions for children who have suffered trauma. The company, O.T.I.S. — which stands for "Overcoming Trauma, Inspiring Survivors" — donates $1 of every product purchased to support medical dog programs at children's hospitals. Its product portfolio currently includes wet and dry supplements and treats, all ethically sourced and formulated with natural ingredients, of which some include CBD.
One environmental sustainability trend seen at SuperZoo 2022 stems from companies incorporating seafood into their pet foods, treats and supplements.
For example, Pure Cravings — which took first place in the Cat Category of the New Product Showcase Awards at Global Pet Expo 2022 — noted its team is looking at ways to incorporate oils, trappings and other byproducts of fish processing to create new products while reducing overall waste.
Brilliant Salmon Oil is a zero-waste, carbon neutral pet product company focusing on the functional benefits of wild-caught Norwegian salmon oil for pets. At SuperZoo, the company shared its newest products — two supplements utilizing fish bones and salmon protein, two byproducts that might otherwise go to waste. Brilliant Salmon Oil's Bone Health supplements contain 100% natural calcium bone powder and also deliver collagen. The Energy and Vitality supplements are made from 100% natural salmon protein hydrolysate powder offering 97.5% protein.
A protein paradigm shift
Conversations around the role protein sourcing plays in the sustainability of the pet industry at large have spurred the adoption and development of several protein alternatives.  Several brands are turning to plant-based proteins, lab-cultured protein alternatives that eliminate the need for slaughtered or rendered protein sources, and insect proteins.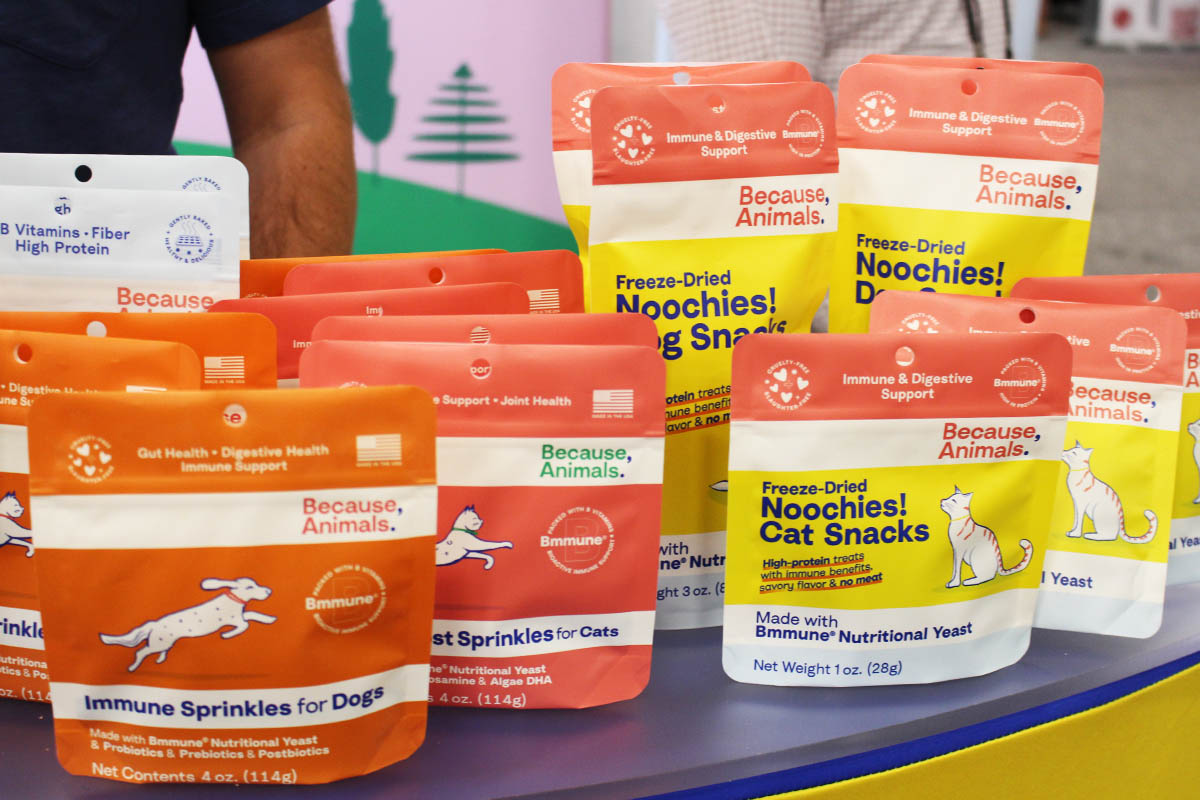 Because, Animals is one example. This Oakland, Calif.-based brand is building out its supplement and treat line with new Wellness Sprinkles for dogs and cats, as well as a new line of freeze-dried, nutritional yeast-powered treats for dogs and cats. Because, Animals is currently developing a complete-and-balanced dog food portfolio with visual inclusions, using cellular biotechnology to develop proteins without harming animals in the process.
Wild Earth is another player in the lab-cultured protein space that showcased upcoming innovations at SuperZoo 2022. This brand started in 2018 with a line of koji dog treats and has since expanded to release complete-and-balanced, vegan diets for dogs, Complete Protein Dog Food, as well as a line of vegan Superfood Dog Treats. The company's new dog food will officially launch in 2023 with two recipes: Rotisserie and Classic Roast.
According to data shared from Wild Earth, plant-based dog diets have shown to help support overall health and wellness, as 86% of pet parents who served their dogs plant-based diets reported health improvements. Forty-four percent noticed improvements in their dogs' energy levels, 50% witnessed improvements in skin and coat health and 43% reported a reduction in itching and scratching after switching to plant-based diets.
Packaging for clarity
Wild Earth also showcased package redesigns at its SuperZoo 2022 booth, which speaks to another trend seen across several brands at the show. The company partnered with Smack, a New York-based agency, to create its new package designs. The updated designs are intended to drive continued growth for the brand and resonate better with its current target audience. Ryan Bethencourt, co-founder and chief executive officer, shared the company's DTC model has experienced triple-digit growth since its founding in 2018.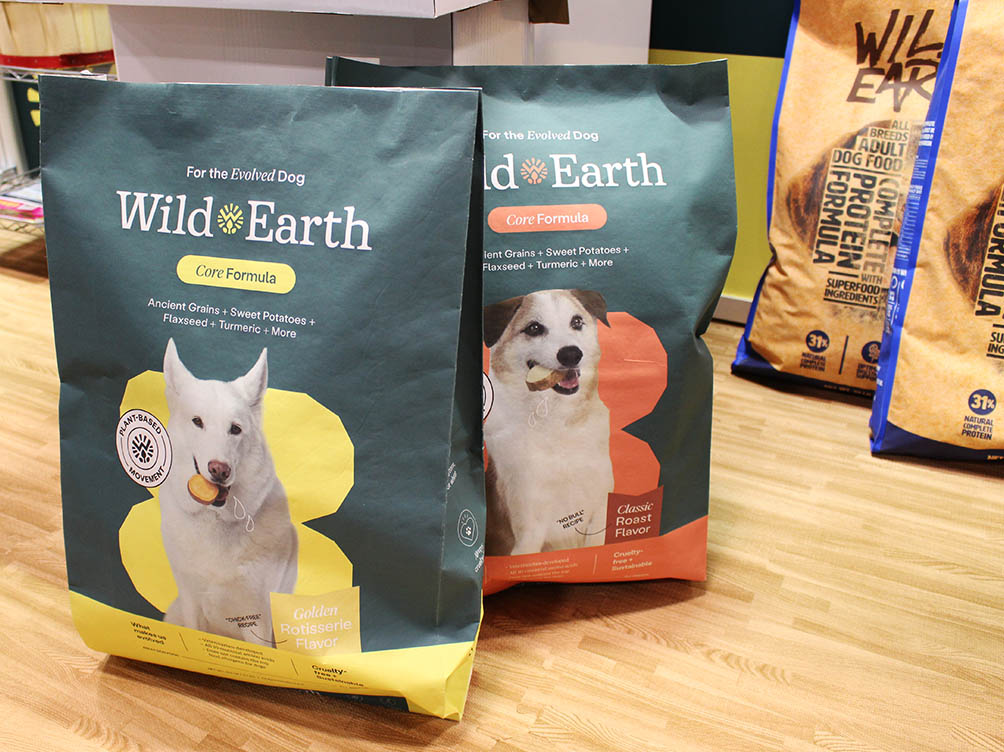 Better Choice Company showcased a relaunch of its Halo Holistic pet food line, featuring new formulations with functional benefits and updated package designs. The new recipes are formulated with higher levels of responsibly sourced protein and offer skin and coat health and digestive support benefits through probiotics and postbiotics, among other attributes.
With Halo Holistic's new package designs, the company aims to communicate more clearly about key brand claims and product differentiators. For example, the redesigns call out "cage-free" and "wild-caught" protein sourcing attributes, as well as displaying GAP and MSC certification logos on the front of qualifying packages. The new designs also feature improved distinction between grain-free and grain-inclusive formulas in the line.
Natural Balance also showcased a new line of pet treats with packaging that was intentionally designed to be fun and enticing for consumers. The Rewards Dog Treats line includes Jumpin' Stix, Minis, Crunchy Biscuits formats and in Beef, Peanut Butter, Bison, Chicken, Duck, Salmon and Venison flavors. Additionally, the company's new Freeze-Dried Raw Treats for Dogs can be served as a meal topper or a stand-alone treat and are formulated with protein-rich animal meat in two recipes: Chicken & Sweet Potato and Beef & Brown Rice.
Across the board, these redesigns aim to better address each brand's target consumer and clarify key brand claims that are most important to pet food and treat shoppers without being visually overwhelming.
Honorable mention: Innovations seen on the show floor
Aside from the more than 900 official new product entries seen in the New Product Showcase, several pet nutrition brands were featured in the Emerging Brands section, where hand-picked startups had the opportunity to showcase their early-stage innovations.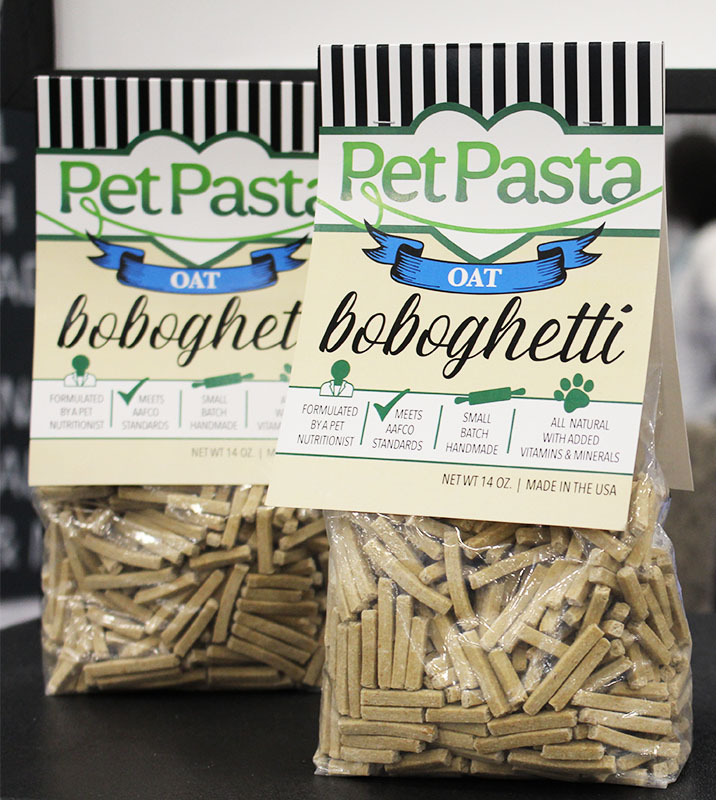 Pet Pasta was one such emerging brand with a new twist on home-cooked pet food. The brand's "Boboghetti" product is an oat-based pasta with added vitamins and minerals meant to make a home-cooked dog food complete-and-balanced. While the product is intended for intermittent or supplementary feeding, the company states on its website, it can be used as a nutritious base for a home-cooked dog meal. The product was developed by a board-certified veterinary nutritionist and a board-certified veterinarian.
Kitchen Table, a new brand by Pet Nutrition Kitchens, also debuted at SuperZoo with a line of high-protein, high-moisture jerky-style dog snacks intended for on-the-go feeding and treating. The smoked meat snacks are formulated with proteins sourced in the United States and gently cooked in a smokehouse in the Midwest. The recipes are shelf stable for 18 months and should be refrigerated after opening. Guaranteed analyses for each formula vary between 28% and 32% protein, 8% to 24% fat, and 35% to 45% moisture.
Of course, tenured pet industry brands also introduced notable new product innovations at this year's show. For example, Himalayan Pet Supply's yakyCHARMS product is a "pop-able," cheesy dog snack sold in microwaveable bags. This spin on popcorn is 100% natural, free from lactose, gluten and grains. While they may not "pop" in the bag, they do serve as a limited-ingredient regular or training treat and are formulated with locally sourced ingredients, according to the company.
Also in the Primal Pet Group family, Primal Pet Foods will soon launch its first gently-cooked fresh dog food. The line includes four recipes — Beef & Carrot, Chicken & Salmon, Chicken & Squash, and Fish & Kale — all cooked using a sous-vide style inspired by Founder Matt Koss's experience as a West Coast chef before founding Primal Pet Foods in 2001. The fresh diets are cooked in pouches and sold by recipe or in variety packs.
Last but certainly not least is a new brand offering flavored bubble products for dogs to enjoy alongside human children. As seen in the Emerging Brands section, BubbleLick was created by pediatricians to jump on the trend toward pet humanization. The bubbles contain FDA-approved food additives to give the bubbles flavors enticing to canine companions, such as bacon — which are also safe for children.
All in all, this year's tradeshow experience put the "super" back in SuperZoo. The excitement among brands and buyers alike was palpable on the show floor, and Pet Food Processing looks forward to learning more about some of the new products, trends and conversations that took place.
Keep up with the latest pet food trends on our Trends page.