KANSAS CITY, MO. — Animal diseases circulating the world are posing risk for food supply chains in North America, including protein supplies for the pet food manufacturing industry. With highly pathogenic avian influenza (HPAI) ebbing and flowing across North America and affecting the supply of poultry ingredients, as well as the risk of African swine fever (ASF) entering the United States and potentially devastating pork production, a strong biosecurity plan and knowledge of regulatory guidance could help reduce the severity of risk.
Pet Food Processing spoke with two topic experts to dive into the current risk environment for each of these animal diseases, as well as best practices, federal tools and funding granted to address HPAI and ASF in the United States.
Continue reading for insights on the HPAI virus, strategies for maintaining poultry supply and preventing the spread from Billie Johnson, Ph.D., food safety and regulatory compliance manager at BHJ North America.
What is HPAI? 
According to the USDA's Animal and Plant Health Inspection Service (APHIS), avian influenza is caused by the Type A influenza virus. The virus spreads from wild birds to poultry flocks, including commercial and backyard chicken flocks, as well as turkey, duck and pheasant, all of which are used in the development of dog and cat food to some extent.
For the pet food manufacturing industry, the threat HPAI poses for chicken protein sources is particularly acute.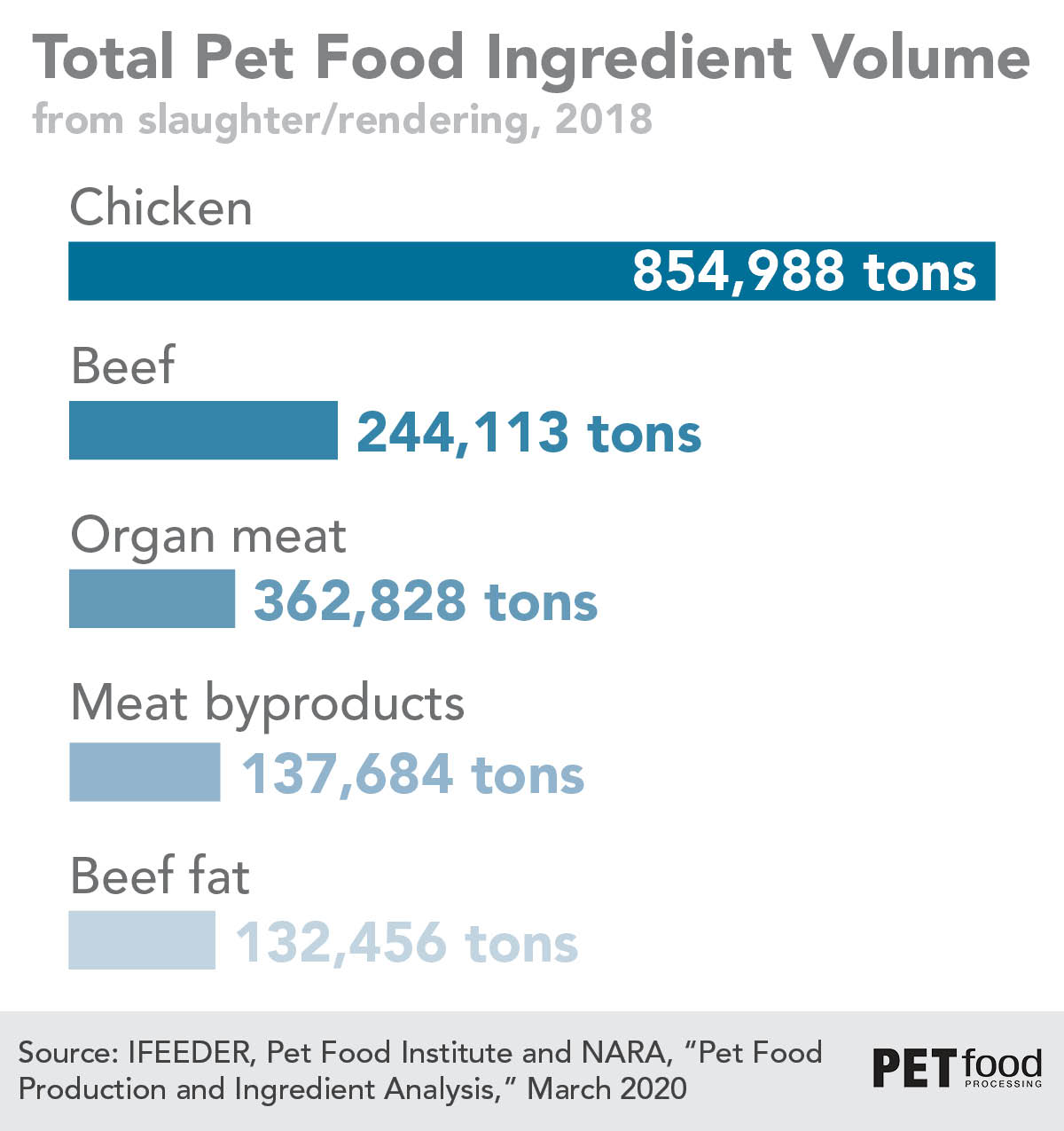 Chicken is the most widely used protein source in pet food, with approximately 854,988 tons of chicken-based ingredients incorporated into US dog and cat food formulas in 2018. Additionally, 74,734 tons of turkey and 10,221 tons of duck was used in pet food formulations in 2018, not to mention the number of poultry byproducts — such as rendered meals, fats and organ meats — also incorporated in pet food.
The specific strain currently moving across Canada and the United States first originated in Europe in November 2021. The strain — dubbed H5N1 — can infect poultry flocks with mortality rates as high as 90% to 100%, and spreads quickly throughout a flock once one bird is infected. The disease causes multi-organ failure, and infected birds typically perish shortly after being affected — within the first 48 hours or so — making it critical that poultry farmers and pet food processors keep close watch of animals for symptoms of infection.
According to Johnson, outbreaks of HPAI tend to crop up in a seasonal pattern, peaking in February or March and declining in the summer months.
"We will see about the lowest incidences of HPAI highly pathogenic avian influenza in September, but then it begins to rise in October," she said.
In 2022, the peak for H5N1 happened in March, preceded by a peak in Europe in February. Johnson described the impact of the H5N1 strain so far as "a slow burn" that rapidly expanded to the United States.
"If you look at a map from Canada to the US, you can see how the birds flew into the US, and that's where they started affecting," or spreading the virus to commercial and backyard poultry flocks, Johnson said.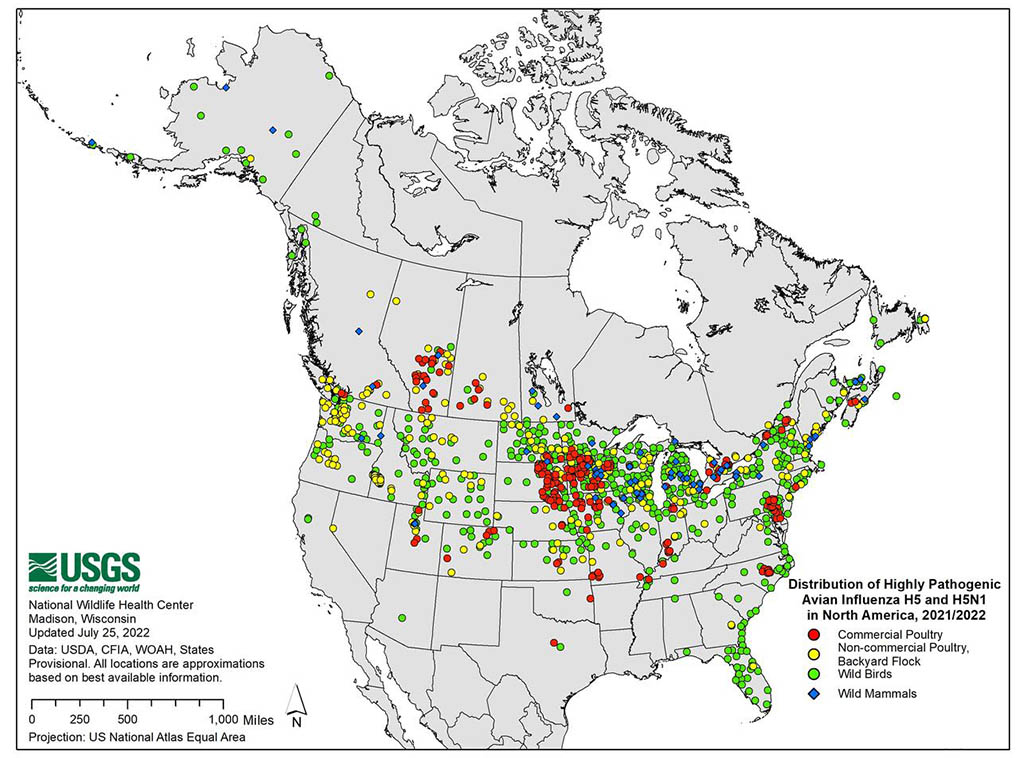 According to the United States Geological Survey (USGS), commercial poultry flocks are being hardest hit in Alberta and Saskatchewan, Canada. In the United States, Johnson noted HPAI is hovering in commercial poultry flocks in North Dakota, South Dakota and Minnesota.
"The commercial flocks are hit the hardest up in the North, right around the Great Lakes," she said.
Additionally, the USDA's APHIS has been continuously updating its HPAI 2022 Confirmed Detections tracker to keep industry stakeholders informed. As of Aug. 1, 40.14 million birds have been affected by HPAI, including 189 commercial flocks and 209 backyard flocks across the United States. Iowa is reporting the highest impact by far, with 15 commercial flocks and 4 backyard flocks infected, affecting a total of roughly 13.37 million birds across the state.
Overall, the USGS has reported the presence of HPAI H5 and H5N1 in commercial flocks in seven of the 10 Canadian provinces, with Alberta the hardest hit, and 19 of the 50 United States. Backyard flocks infected with the H5N1 variant have been detected in 28 states, and HPAI-positive wild birds have been detected in all 50 states.
Aside from these tracking tools, both APHIS and USGS host a range of useful tools to help poultry producers and industry stakeholders mitigate the situation as it develops.  
Procurement and biosecurity
Luckily, Johnson noted the biosecurity measures already in place to meet regulatory standards for pet food in the United States serve as a double-edged sword to prevent the spread of animal-borne diseases like HPAI.
"All poultry operations must have that plan in place for their biosecurity to make sure they're not getting visitors or that they're isolating any birds that might be showing signs," she said. "…I send weekly notes to my QA groups to make sure they're aware of what biosecurity practices need to be involved and ensure we've put the measures in place that we need to."
As the number of HPAI cases in the United States continues to rise, procurement professionals are tasked with ensuring a consistent supply of poultry products.
"As we start to see the rise or the increase in cases, procurement folks will make sure they can get as much chicken as possible," Johnson said. "…All you can do is try to get as much protein in as possible, and get it frozen to achieve a longer shelf life."
She added her company, BHJ North America, began seeing a diminished amount of turkey availability in December 2021 and January 2022, and a diminished supply of chicken in March, April and into May.
"We may go ahead and do a bunch of freezing and then when we get a large request for chicken material, say in July or August, a lot of our facilities have the product and a block crusher to crush those frozen blocks back into a slurry for those customers," Johnson explained.
According to Johnson, the virus is easier to detect in chickens, while turkeys and ducks "hardly show any kind of symptoms" when infected. Therefore, if a flock of ducks is housed too close to a chicken flock, the virus could spread subtly from the ducks to the chickens. It's crucial in these situations to keep flocks separated and monitor closely for signs of illness.
It is also important for poultry producers to keep food and water fresh for their flocks, as the virus can be spread through bodily fluids. There's also the matter of keeping flock operators safe and prepared.
The USDA suggests that commercial growers wear PPE, clean enclosures thoroughly by emptying them first and removing all debris, cleaning, rinsing and drying all surfaces, using disinfectant, and discarding any PPE and washing hands thoroughly afterward.
To prevent H5N1 from infecting a flock, the USDA recommends growers keep equipment and vehicles clean through an established set of procedures, do not share tools with other flock owners, define clear instructions for employees and routes, and ensure all workers know the warning signs of HPAI to identify the virus quickly. Additionally, limiting site visitors can go a long way in preventing the spread, and being communicative and transparent with industry partners and employees is also an important part of any biosecurity plan.
Signs of illness in birds include reduced energy or appetite, lower or misshapen egg production, swelling, purple discoloration, difficulty breathing, runny nose, twisting of the neck and head, stumbling or falling down, diarrhea, tremors, circling or complete stiffness.
"As soon as one of those birds starts to demonstrate even a few of those symptoms, you need to make sure that you're pulling those birds apart and keeping them separated so that you don't get a rapid dissemination through the entire flock," Johnson said.
The H5N1 virus is highly susceptible to heat, which explains why cases tend to diminish in the summer months. It also means that infected birds can be harvested and slaughtered for use in pet food and the virus cooked out of the meat, but not if the bird succumbs to the virus before it is slaughtered, due to strict regulatory standards.
If a flock is infected, it can be exterminated and recouped between 30 days to eight weeks, meaning the lack of supply would be shorter-lived compared to a herd of sheep or cattle, but would still have a significant impact — approximately a two-month gap, according to Johnson — on the protein supply chain.
In late May, APHIS announced that Agriculture Secretary Tom Vilsack had approved a $400 million transfer of funds to directly support HPAI response efforts across the United States. Funds were transferred from the Commodity Credit Corporation to APHIS to conduct research and provide emergency support to poultry producers affected by the virus.
"Safeguarding US poultry and egg producers from the effects avian influenza could have on agriculture and trade is a critical aspect of this response, and this funding will allow APHIS personnel to continue to deploy and support the emergency wherever they are needed," said Jenny Lester Moffitt, undersecretary for marketing and regulatory programs at USDA.
The funding is critical not only for the poultry industry at large, but especially for smaller flock owners and businesses with fewer resources, Johnson noted.
"Helping them understand and use the same types of biosecurity measures [as larger corporations] to prevent it affecting their full flock is very vital to them, and very vital to us as well," she said.
For better or for worse, this is not the first time the United States has faced the threat of HPAI, and federal agencies and industry stakeholders alike are equipped with more knowledge than ever to stave off the negative impacts of the disease.
"The biggest thing is that we all be prepared," Johnson said. "The instant we get any kind of indication from Europe that the actual cases are worse than usual, we all need to go on the defensive to make sure that we keep everything as contained as possible."
Stay tuned for an update on African swine fever (ASF), including insights from David Meeker, Ph.D., senior vice president of the North American Renderers Association (NARA) and director of research at the Fats and Proteins Research Foundation.
Continue reading about the risk environment and potential impact of African swine fever on the pet food industry. For more regulatory news affecting the pet food market, visit our Regulatory page.